Soft toasted marshmallows and candy bars make this batch of Peanut Butter Fluffernutter Cookies the perfect after school snack or cookie jar treat.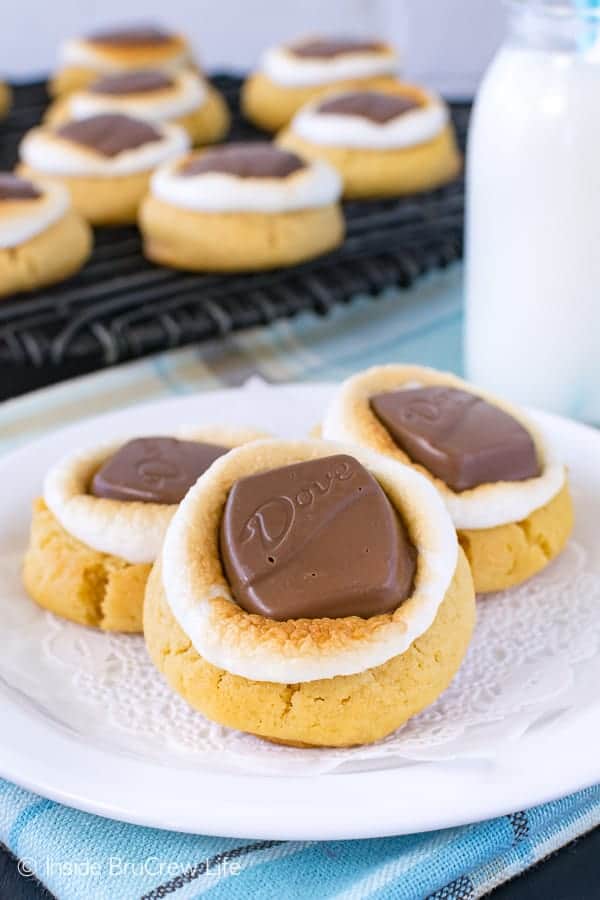 Well, it's Monday, and we are back to another week of work and school. Our kids are so funny. If you ask them what day tomorrow is they are going to say Friday no matter what day it really is.
They live for the weekends and sleeping in. Not that I blame them. I'm a big fan of lazy mornings where the alarm doesn't rule the day too.
But I also love the fresh start of a new week. It's like a brand new slate every single week just waiting to be filled with exciting things. Of course, I absolutely love my job.
I mean I get to stay home, work in comfy clothes, and make and share awesome things like Banana Caramel Cupcakes each week. Who wouldn't love that kind of job? You can see why I kind of enjoy Monday's, right?
One day maybe the kids will share my enthusiasm for the start of the week. Until then, I will have to bribe them with some goodies to get through the day.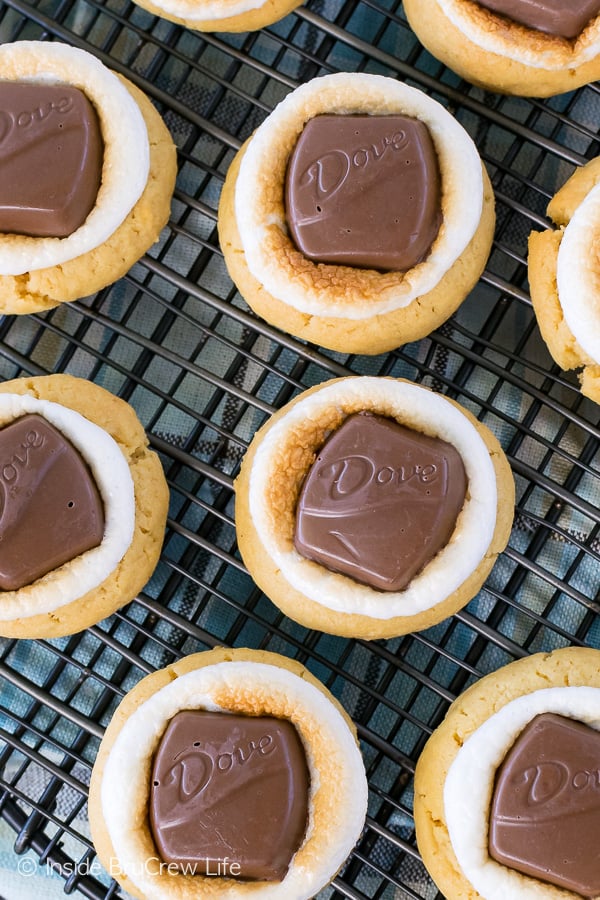 Last summer I made these Easy Chocolate Marshmallow Cookies for a church activity. Our oldest loved them so much that he didn't want me to send the pan of cookies away.
We compromised with me promising to make another batch for one of his classes at school. Definitely check out those cookies because there is a quick video showing you just how easy they really are.
Of course, that got me thinking of how I could make those same cake mix cookies, but with a fun twist. Enter the fluffernutter!
What is a fluffernutter?
A fluffernutter is a sandwich made with peanut butter and marshmallow cream (fluff) usually served on white bread. This creates a pretty awesome lunch. Just saying!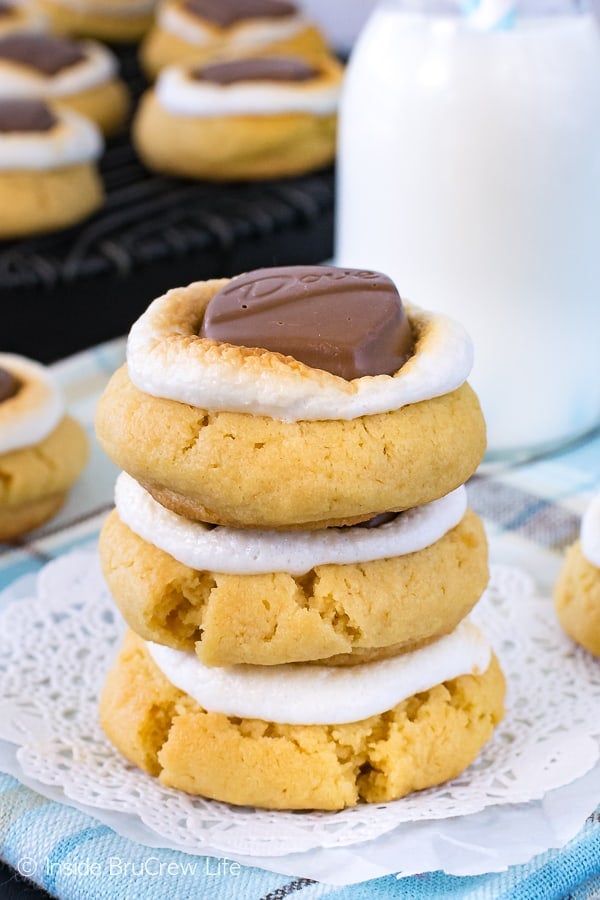 I grew up eating those fluffernutter sandwiches, and I'm proud to say that I passed the love for those sandwiches on to both of our boys. Our daughter on the other hand has no interest in them. I'm afraid she might be an alien...
When I found these chocolate peanut butter candy bars at the store, I knew right away that I wanted to make cookies loaded with lots of peanut butter and marshmallow goodness. Cake mix cookies are my absolute favorite cookies to make.
Although, these Reese's Peanut Butter Pudding Cookies are a very, very close second. It really depends on the day you ask me and what my mood is.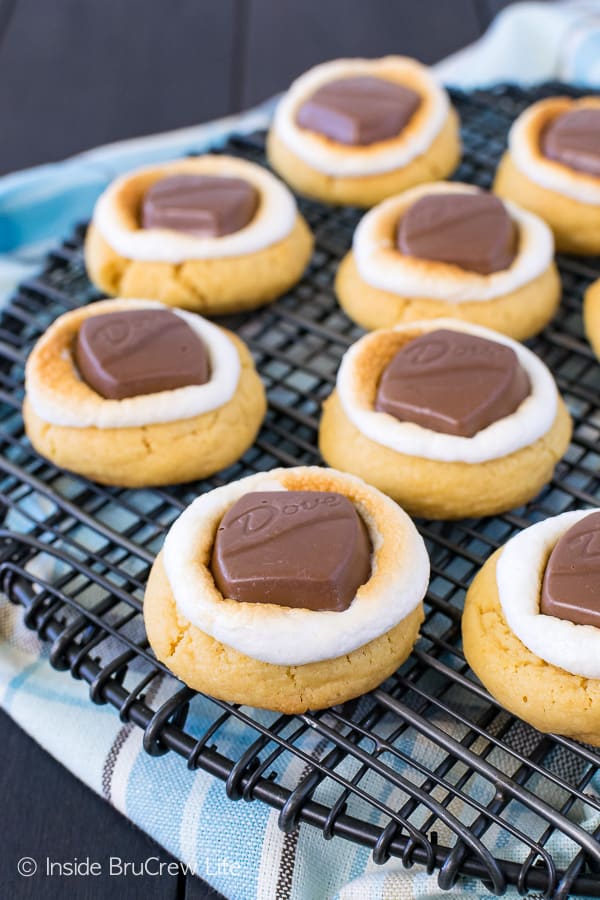 Tips for making Peanut Butter Fluffernutter Cookies:
Set your butter and cream cheese out ahead of time. It's easier to incorporate it into the cookie dough when it is room temperature.
Mix all the cookie ingredients together until a soft dough forms.
Refrigerate the dough for at least an hour because it makes it easier to roll it into a ball.
Use a small cookie scoop to measure the dough out. Once you have all the dough scooped you can start to roll them into even balls.
Bake the cookies for 8-9 minutes. Do not over bake these cookies, even if you think they are under done.
While the cookies are baking, cut your marshmallows in half. Remove the pan and adjust the oven temperature to broil. Press a marshmallow, sticky side down, on top of the cookies.
Place the pan back in the oven for 1-2 minutes, or until the marshmallows are golden brown. Do not leave the oven alone! Marshmallows burn fast!
Remove them again and let them cool a few minutes before pressing the candy bars on top. Let the cookies and chocolate cool completely before moving them to a storage container. The great thing about these easy fluffernutter cookies is that they stay soft and delicious for days.
Items I used to make these cookies: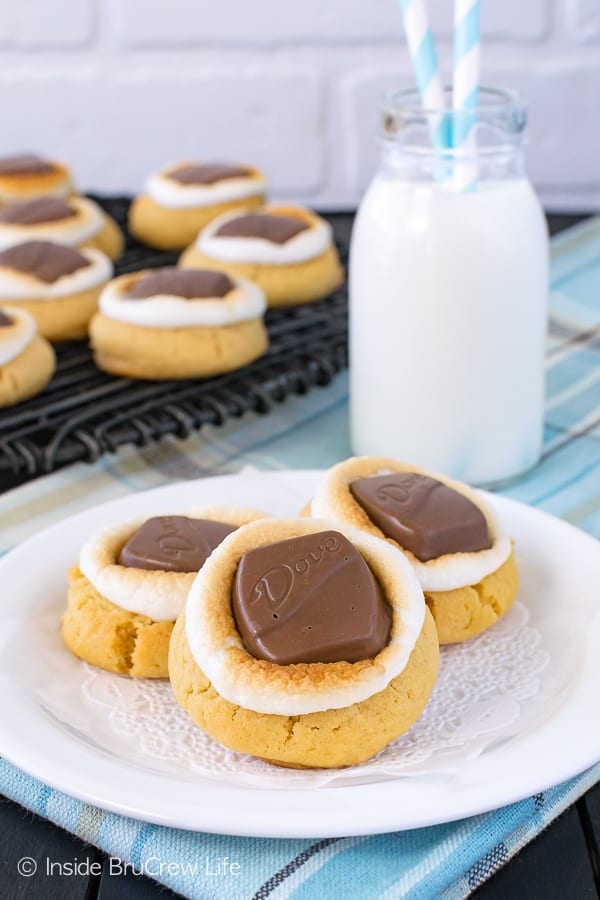 More easy cookie recipes you may like:

*This post contains affiliate links. Inside BruCrew Life may receive a very small percentage from sales made through these free links. As always, these do not cost you any extra. Thank you for letting us share products we use this way.