These Easy Chocolate Marshmallow Cookies have a gooey marshmallow and chocolate bar on top. Great cookie for picnics or parties!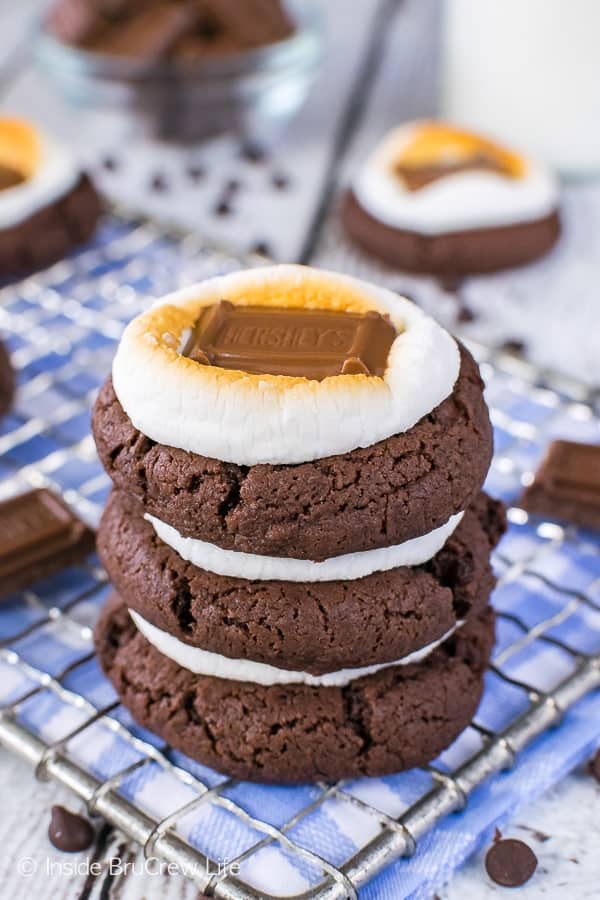 Now that school is winding down for the year, the kid's classes are starting to do less work. Earlier this week our oldest sent me a text asking if I could make something for one his classes. The teacher said if someone brought food, they could have a free day playing video games. Now granted, it is a video design class, so technically this is still class work because they were playing games they had developed, plus other ones.
Anyway, he thought he could help our fridge out by taking this apple Snickers cheesecake trifle to class. I love that he was trying to help me get rid of the temping desserts in the fridge, but that one would be so hard to transport to a high school class. Not to mention you would need bowls and spoons. When I brought all this up to him, he agreed that one would not be a good one to take.
Lucky for him, I have a giant list of fun treats I want to make and a pantry full of baking supplies, so coming up with another treat was no problem.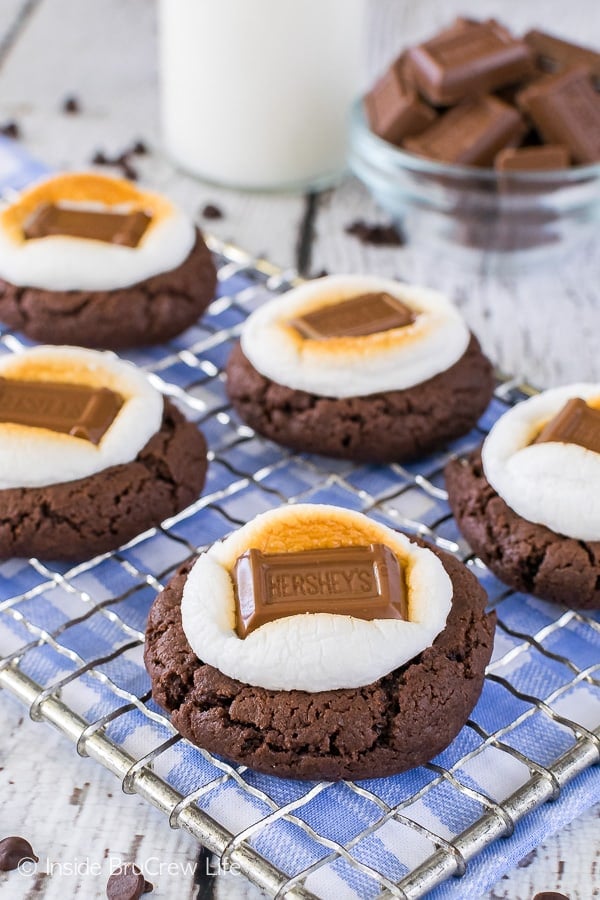 It's no surprise around here that I love to make cake mix cookies. There is something about those soft puffy cookies that just make me so happy. Plus, there are so many ways you can change them up.
A few of my favorites are these chocolate chip cookies and cream cookies and these caramel peanut butter Snickers cookies.
You can add just about any candy or cookie to these fun cookies to make them different.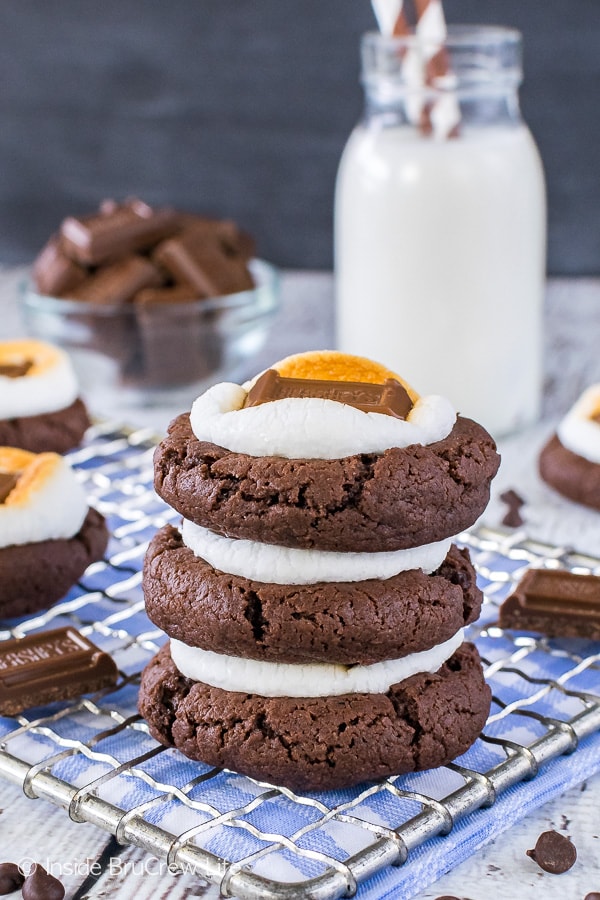 For this cookie, I decided to do mostly chocolate. Three times the chocolate is never a bad idea, right? Then to give it a slightly different and fun look, I toasted a marshmallow before adding the chocolate bar.
One bite of this cookie, and you will be hooked on the gooey goodness too.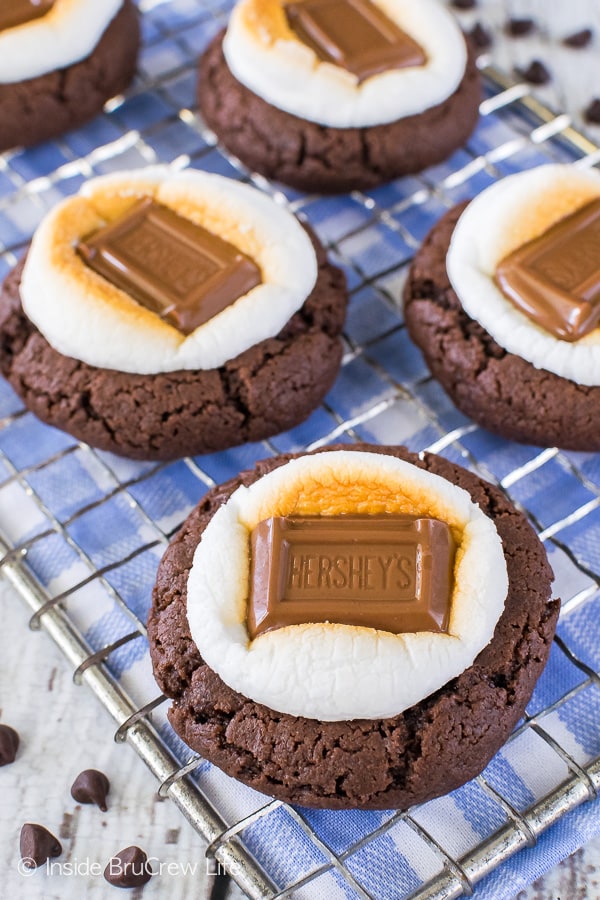 Here are a few tips for when you make your own easy chocolate marshmallow cookies:
Chill the dough for at least 30-60 minutes. You can roll it earlier, but it will stick to your hands more. They also stay puffier when they bake if you chill the dough.
Cut your marshmallows in half and break apart the candy bars while the dough is chilling.
Roll the dough into 36 even dough balls. I find it easiest to roll the dough into one giant log and then cut it into 3 even pieces. That way I know each piece needs to become 12.
Bake the cookies for 8 minutes, then remove and top with a marshmallow half. Increase your oven temperature to broil and place the cookies back in for 1-2 minutes. Stay right there and keep an eye on your cookies. They will toast fast.
Remove from the oven and let them sit for 2 minutes on the pan, then gently use a spatula to place them on parchment paper or a wire rack. Press a candy bar piece into the tops of each one. Let them set up for a few hours before placing them in a tightly sealed container.
A sheet of parchment or wax paper between the layers of cookies is a good idea because it will keep them from sticking together.
Here are a few more chocolate and marshmallow recipes that you have to check out. The layers in these Brownie Marshmallow Crunch Bars look amazing! And I am totally drooling over this Reese's Peanut Butter Marshmallow Pie! Holy yum!!! The gooey center in these Marshmallow Creme Stuffed Chocolate Chip Cookies is also calling my name!!! I'll take four please!