These Peanut Butter Oatmeal Banana Cookies are chewy, delicious, and loaded with peanut butter candies. Peanut butter lovers will go crazy for this easy banana chocolate chip cookie recipe.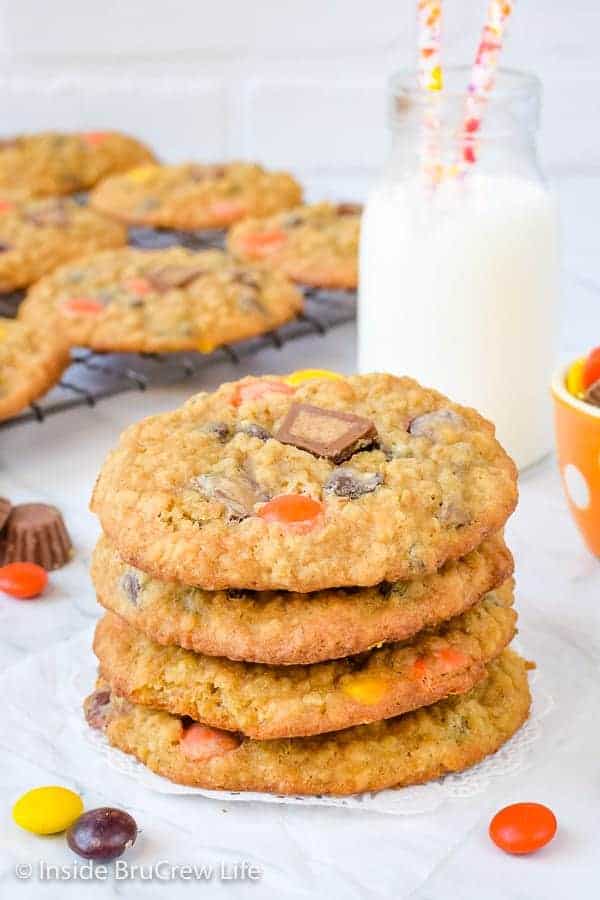 The down fall to buying too many bananas at a time, is that we end with quite a few over ripe bananas sitting on the counter for days!
I have already frozen quite a few in the past few weeks, so we are set up to enjoy lots of smoothies and Peanut Butter Banana Ice Cream for the next month.
Since I really didn't want to freeze anymore, I had to find a way to use the rest up this week. First, I made some of these Butterscotch Banana Muffins and some of these Banana S'mores Muffins.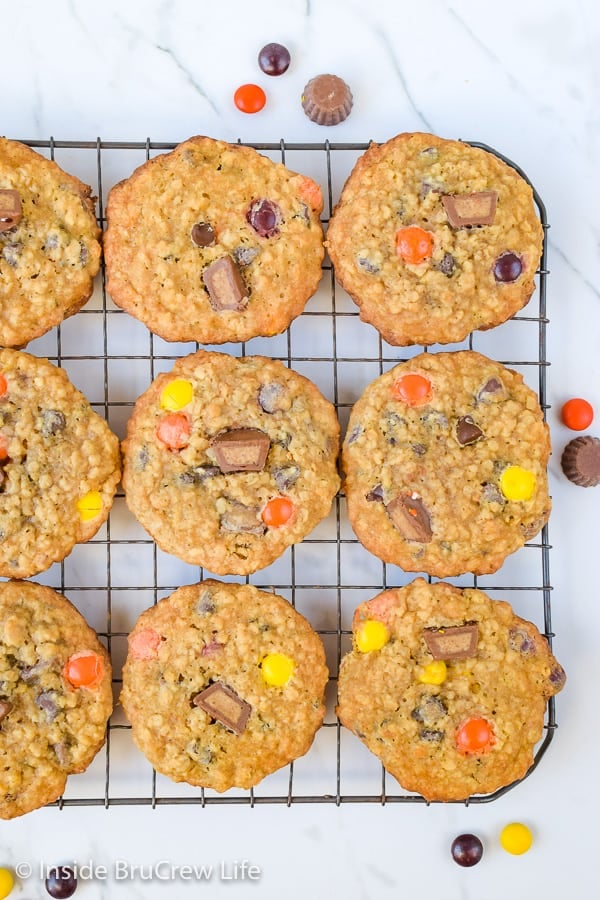 But I still had a few spotty bananas staring back at me from the counter. So, I started flipping through some of the old church cookbooks that I bought at Goodwill for some inspiration.
There I found a recipe for peanut butter oatmeal cookies. Since we all loved these Cinnamon Banana Oatmeal Cookies, I had a feeling everyone would love these too.
You guys! These cookies were amazing. They reminded me of this Peanut Butter Banana Cup Bread. Banana bread in cookie form is never a bad idea!!!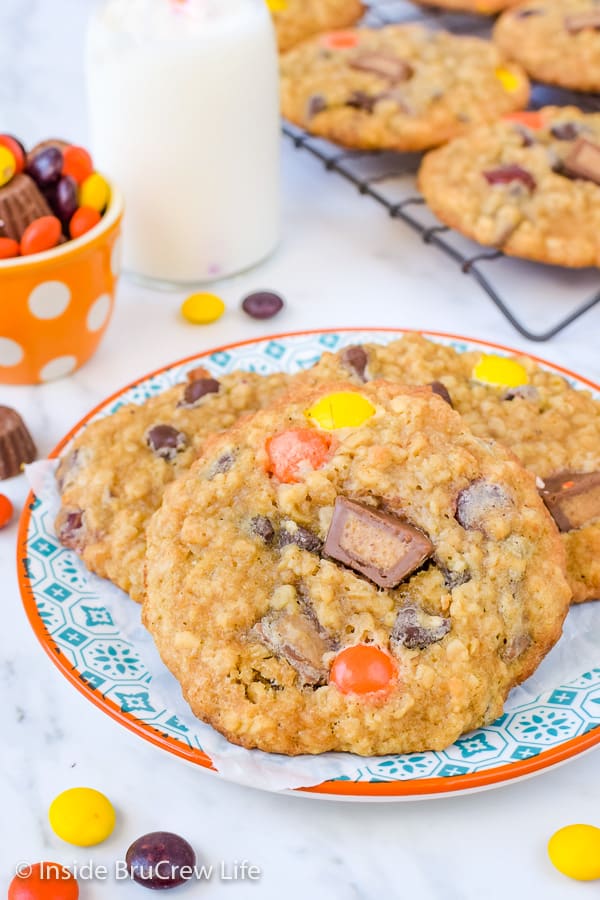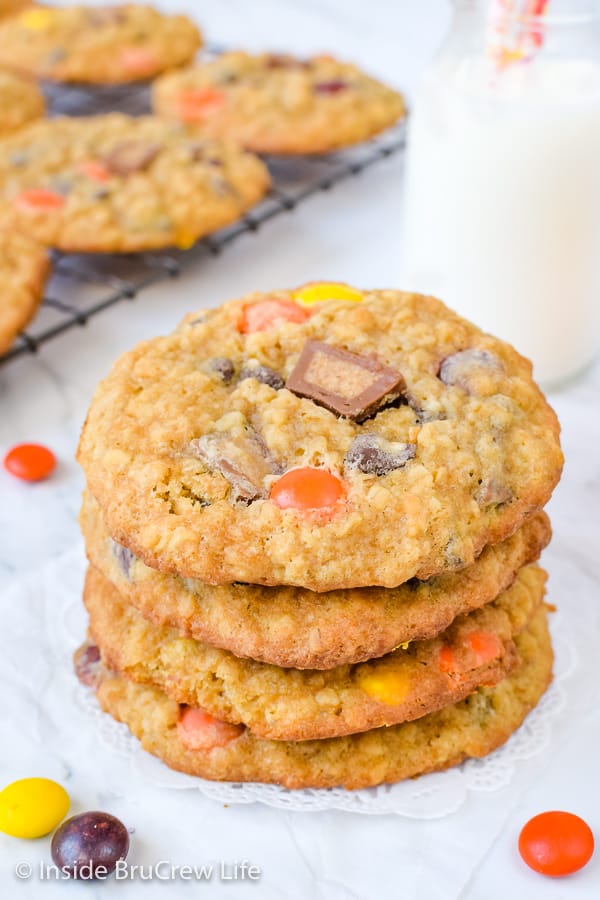 Of course, you know how much I like to embellish recipes, right?
First, I added some bananas, chocolate chips, and peanut butter cups, and then messed with the flour and oatmeal ratios, and that's how we ended up with banana chocolate chip cookies in our house for the week.
Ingredients:
Butter
Peanut Butter
Granulated and Brown Sugar
Eggs
Vanilla
Bananas
Baking Powder, Baking Soda, and Salt
Flour
Quick Oats
Chocolate Chips
Reese's Baking Cups and Pieces
Keep scrolling for the full printable recipe. These oatmeal cookies turned out so soft and delicious! They are now one of our favorite cookies.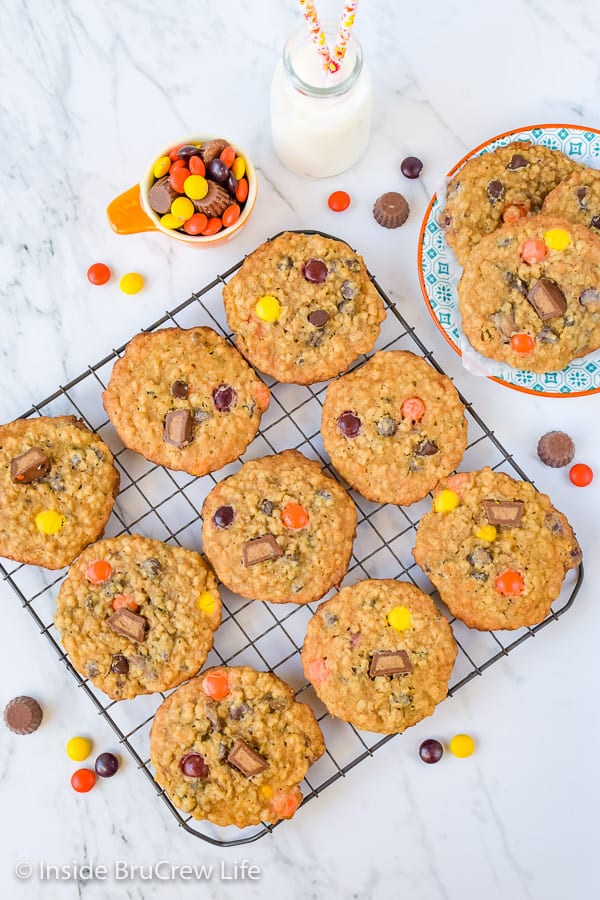 How to make Peanut Butter Oatmeal Banana Cookies:
Preheat your oven and set out your cookie sheets.
Beat the butter, peanut butter, and sugars until creamy.
Mash your ripe bananas with a fork. The riper the bananas are the better. Add the bananas, eggs, and vanilla to the butter mixture.
Stir together the dry ingredients and slowly mix them into the wet ingredients.
Add the chocolate chips and the bag of peanut butter cup mix. If you want a few ingredients to be on the top of the cookies, reserve ½ cup of the baking mix.
Drop the cookie dough onto the cookie sheets in 36 piles. Press the reserved peanut butter cups and pieces onto the top of the dough. Bake for 10 minutes.
Let the cookies cool on the pan for a few minutes before gently removing them and placing them on parchment or wax paper.
Store the cookies in a tightly sealed container. They will stay soft and delicious this way.
Substitutions:
Peanut Butter - we usually just buy creamy peanut butter, but feel free to use crunchy if you like peanuts in your cookies. Or make them with almond butter, Biscoff or Nutella.
Oats - I like to use quick oats in cookies, but you can use rolled or old fashioned oatmeal too.
Chocolate Chips - Typically, I just buy dark chocolate chips for all our baking because that's what we like, but you can use milk chocolate, white chips, peanut butter chips, or a mixture of all of them.
Reese's Candies - You can use any candy you like in place of the Reese's. M&M's or chopped up Snickers bars would be delicious too. Basically any candy that you think will taste good with peanut butter and banana will work.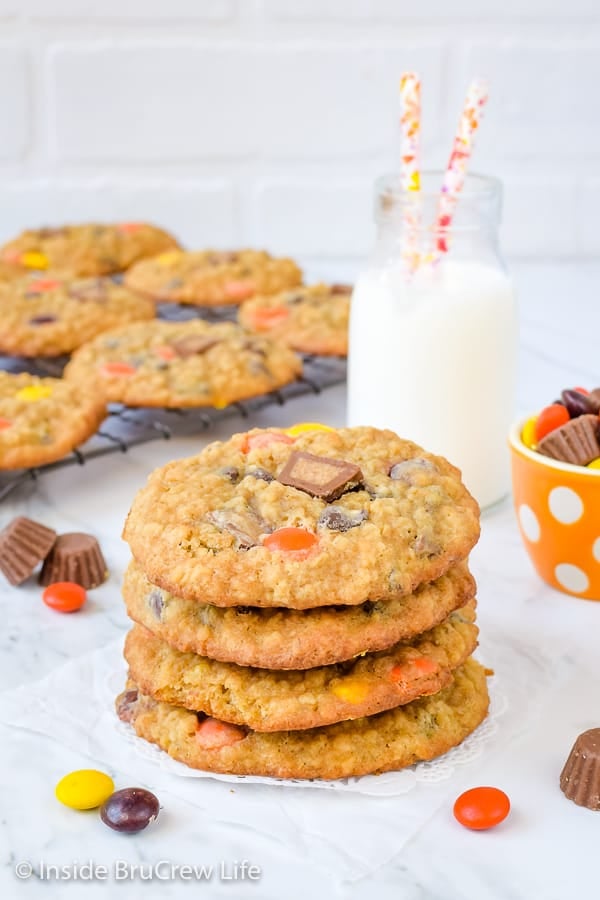 Do I need to refrigerate the cookie dough before baking?
No, you can bake these cookies as soon as the dough is ready. Of course, if you want to make it ahead of time, you can refrigerate the dough. Just remove the container from the fridge at least 30 minutes before baking.
Can I use natural peanut butter in cookies?
There is a higher oil content in natural peanut butter. This could result in your natural peanut butter cookies spreading out and being thinner than cookies made with regular peanut butter.
Why are my peanut butter cookies dry and crumbly?
Butter substitutes or margarine contain water and can cause a crumbly texture in cookies because they lack enough fat in them. Make sure you use real butter in your cookie recipes.
Over baking can also cause a crumbly cookie. Make sure your oven is baking at the right temperature and take the pan out when the timer goes off.
Can you freeze banana chocolate chip cookies?
This peanut butter banana cookie recipe freezes great. Place the cookies in a single layer on a tray and freeze for an hour. Transfer to a freezer safe container where they can be stacked and frozen for up to 3 months.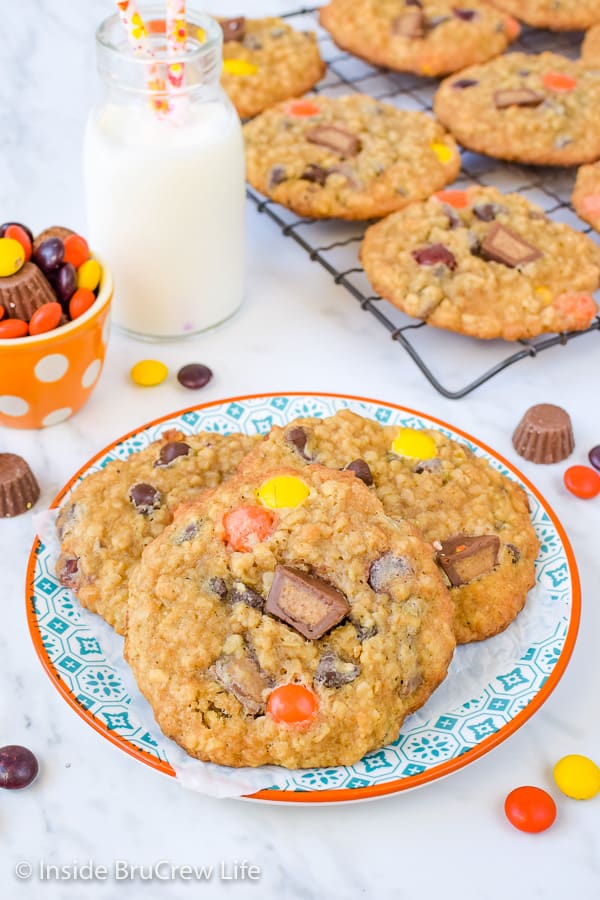 Other peanut butter cookie recipes:
Do you love a recipe you tried from Inside BruCrew Life?
Please leave a 5-star ⭐️ rating and a review in the comments section below.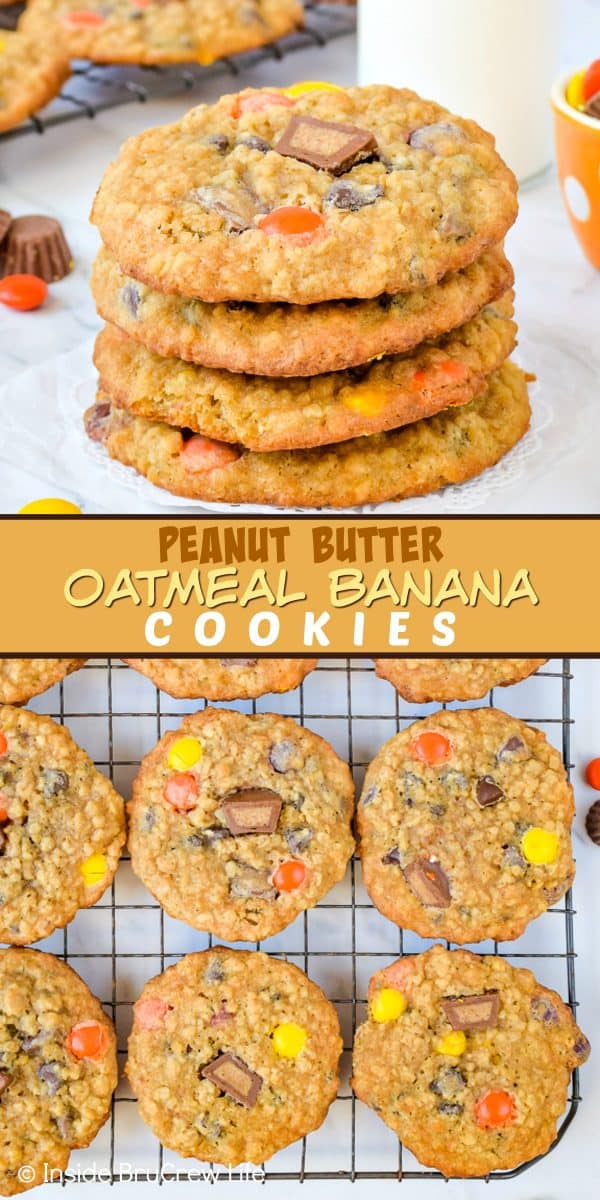 *The post for Peanut Butter Oatmeal Banana Cookies was first published on April 7, 2010. The photos and post have been updated and republished on May 28, 2019.