Enjoy your favorite childhood sandwich flavor baked into these Peanut Butter and Jelly Crumb Bars. These easy cookie bars get smiles from kids of all ages.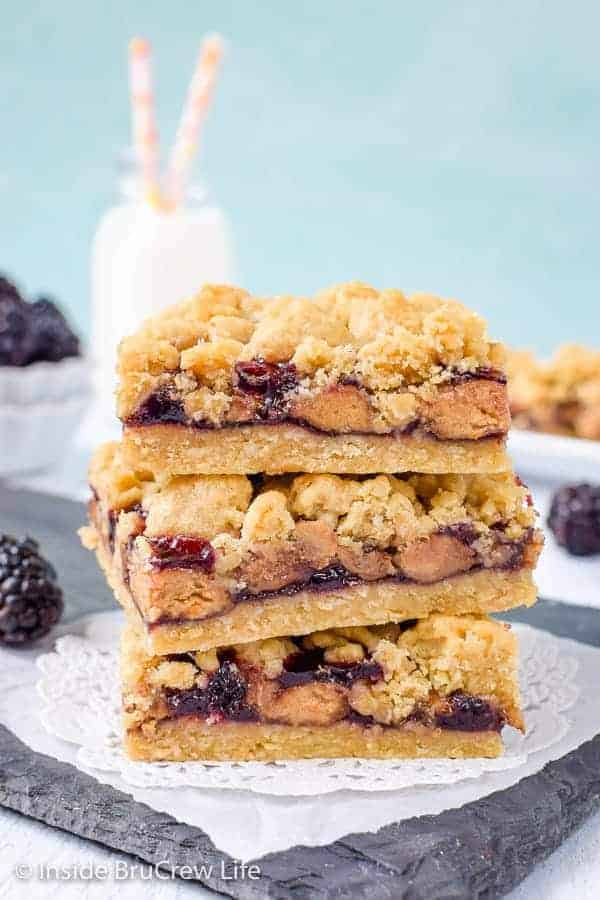 Two weeks! That's the amount of time left in our summer break. It feels like school just ended and here we are ramping up for another year. Ok, so I'm ramping up because I'm ready for routine and consistency in everything.
The kids are not ready. Well, I actually think they are ready for routine too, but they could do without all the school stuff.
I had to laugh at our daughter the other day because she was telling me how excited she was for buying school supplies. That's as far as her excitement for school goes though. Once we buy the pens and paper and she organizes her backpack, the excitement will be over. LOL!
My excitement comes from the routine. Going to bed and getting up at a consistent time, working out regularly, getting back to normal dinner hours, and figuring out a better work schedule are what I'm going to focus on in the next few weeks.
And of course, adding in more baking and fun treats is always a must.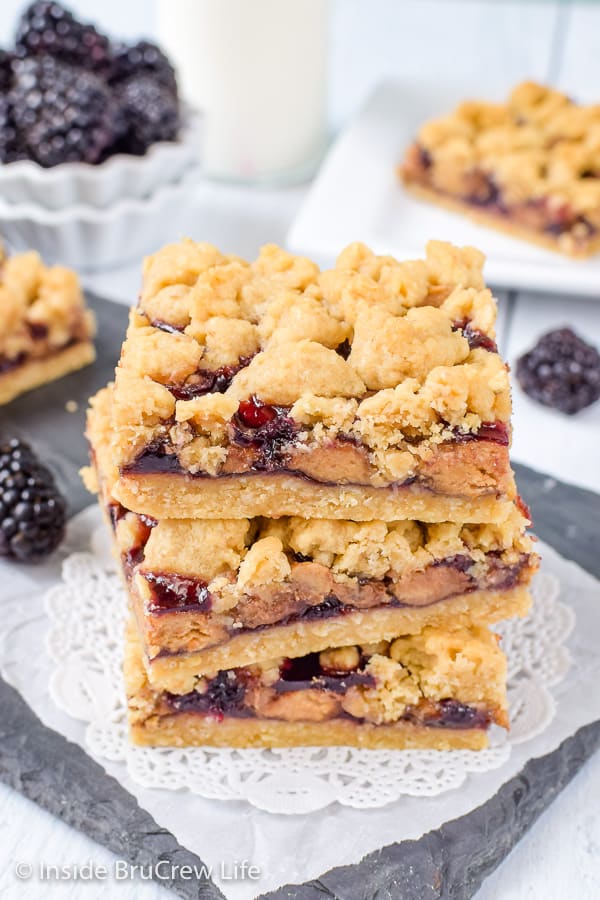 These easy peanut butter and jelly bars are actually another really old recipe from years ago. When I came across the old pictures, I knew they needed a make over right away.
Since my son was having friends over for a pool party, I knew the kids would help me eat these cookie bars and these Oatmeal Fudge Bars. It was a win win for everyone.
Peanut butter and jelly is such a classic combo. Although, I ate it so much in my lunch boxes in grade school that now I look for new and fun ways to include it in recipes.
One of my favorite creations with peanut butter and jelly were these Peanut Butter and Jelly Cookies. Peanut butter cups are always a fun way to get that peanut butter flavor in a cake mix cookie.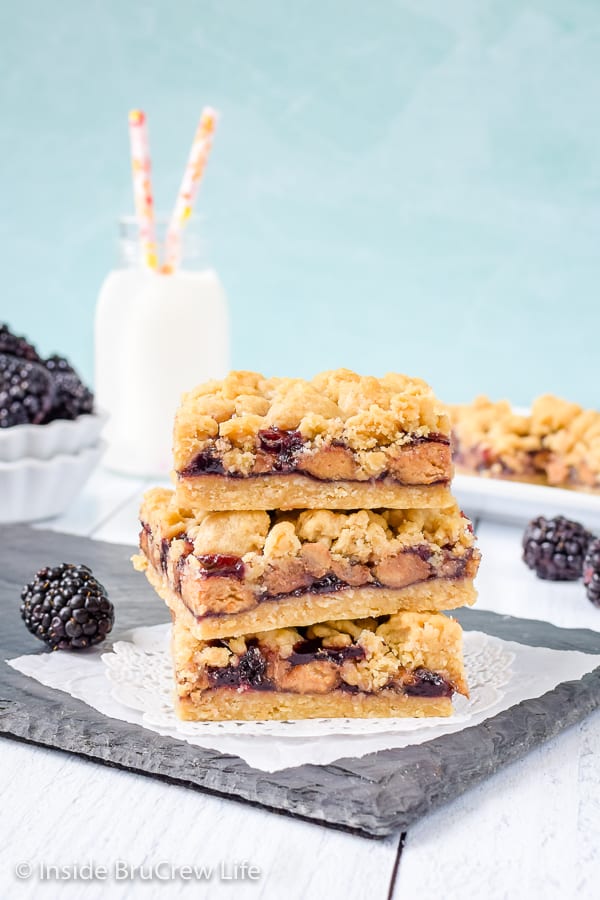 These bars are a quick and easy dessert that were inspired by the traditional peanut butter and jelly sandwich.
In order to get the peanut butter and jelly flavor in these crumble bars, I used peanut butter cups and Homemade Seedless Blackberry Preserves in the center.
How to make Peanut Butter and Jelly Crumb Bars:
Crust: Mix together the butter and sugar until creamy. Add the egg yolk and mix again. Stir in the flour and oats until it is crumbly. Press half of the mixture in the bottom of a 8x8 pan.
Filling: Spread the blackberry preserves on top of the crust. If you do not want to use a homemade preserve, feel free to buy a jar of preserves or jam from the grocery store. Strawberry would be another delicious flavor with the peanut butter candies. Add the chopped peanut butter cups to the top of the preserves or jam.
Crumb Topping: Use your hands to crumble the remaining crust on top of the candy bars and bake. Let the peanut butter and jelly bars cool completely before cutting into bars.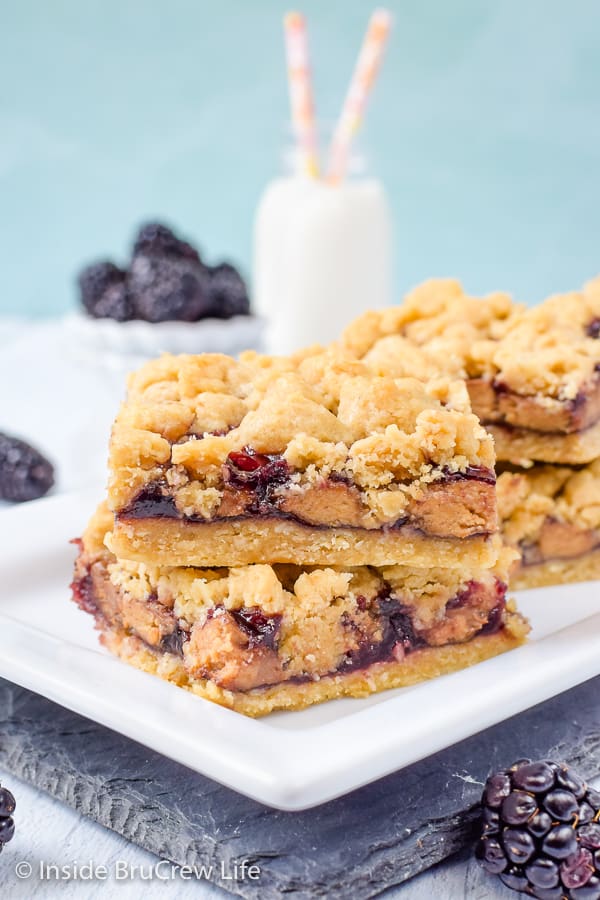 More easy cookie bar recipes:
M&M Blonde Brownies - these soft and chewy cookie bars are loaded with M&M's candies. Perfect lunch box snack!
S'mores Sugar Cookie Bars - gooey marshmallow frosting and chocolate bars make these sweet bars a great treat for picnics or after school snacks.
Congo Bars - sweet and chewy bars filled to the max with chocolate chips. Use your favorite chips to change it up!
Gooey Oreo Brownie Bars - satisfy your chocolate sweet tooth with all the Oreos and chocolate chips in these brownies.
Banana Nutella Blonde Brownies - swirls of chocolate add a fun flavor to these easy banana bread bars.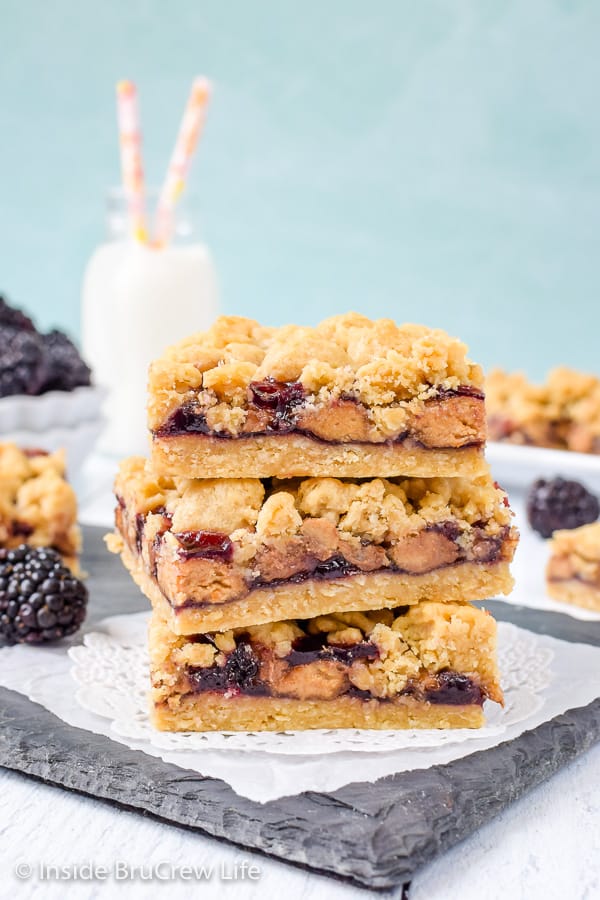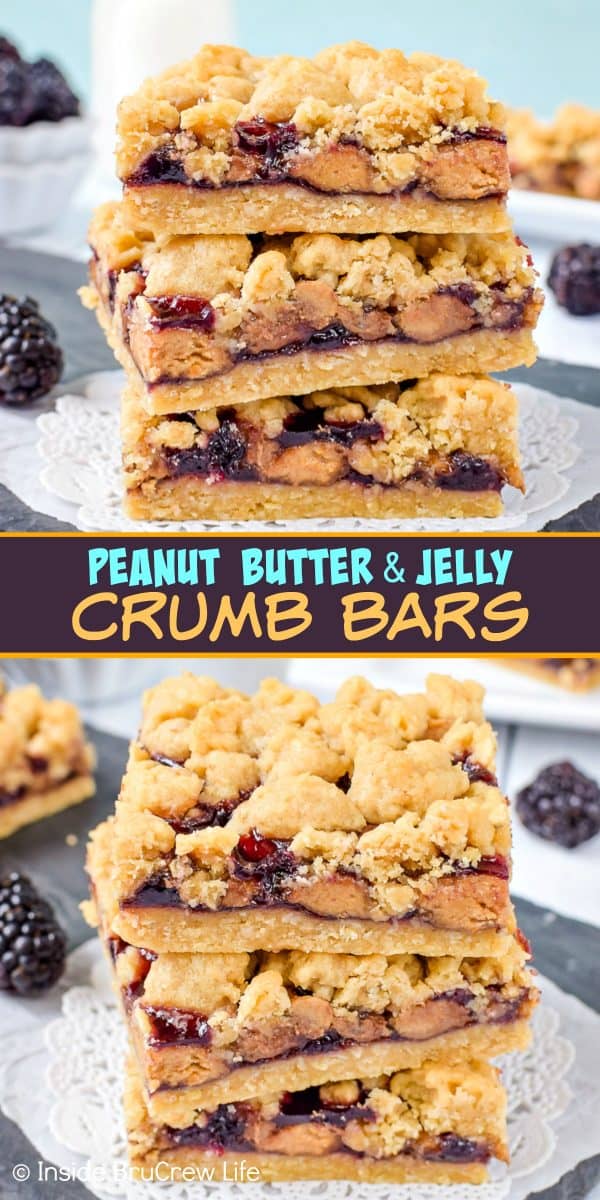 *The post for these Peanut Butter and Jelly Crumb Bars was first published on May 28, 2013. The pictures have been redone, and it was republished on July 29, 2019.