Putting layers of cake, fruit, and a no bake cheesecake in a big bowl makes a dessert that will wow everyone this summer.  This Pina Colada Cake Trifle is perfect to make and serve for all those picnics and barbecues you will be attending this summer.
*I am excited to be partnering with the American Dairy Association, Mideast this year to bring you some dairy recipes.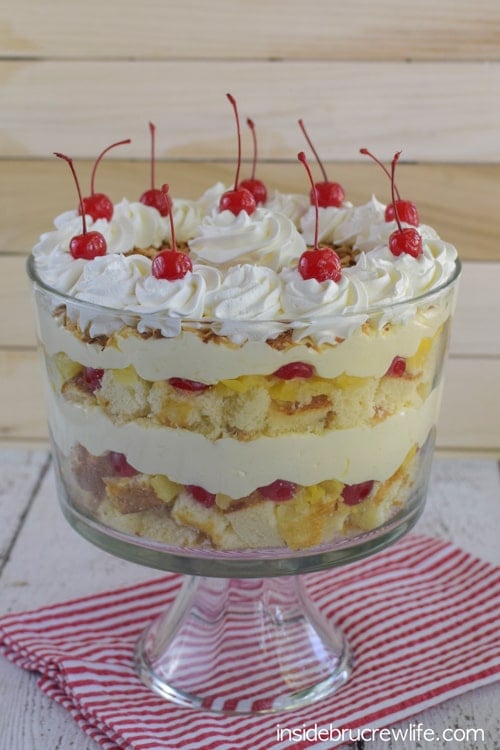 I have officially gone a trifle crazy.
My brain is in overload right now because this past week I tried to learn a new photo editing program. I feel like my head wants to explode.  Part of me thinks I should stick with the old one because I was comfortable with it. If it's not broke, don't fix it, right?  But the other part of me knows that once I get it, my pictures should look better.  Fingers crossed that's true.
With the kids home for summer vacation, I know that I will not have as much time to put into work stuff.  That's ok though.  After just one day of doing these photos on my own, I'm good with going to the pool to chill.  Some days I wonder how I can blog so much because computers and I just don't get along.  Just last night I thought I had it figured out only to find out that I had saved the photos in the wrong color setting.  Thank goodness my hubby was home to help me google the issue.  It's a good thing he is so sane when I start to have a melt down.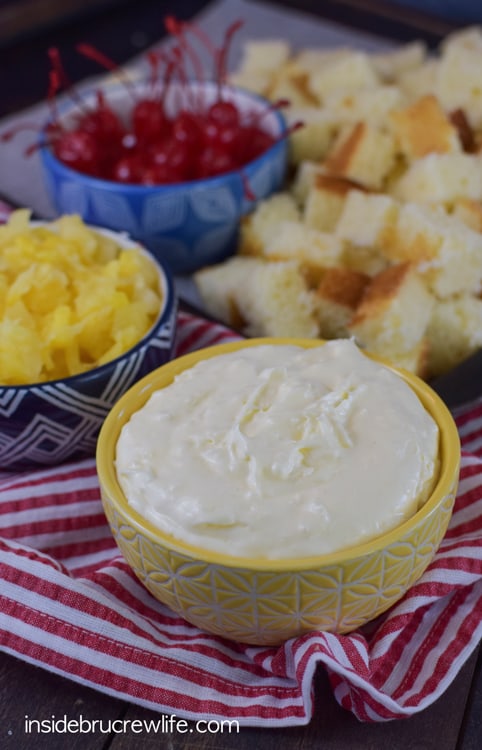 Want to know what else I have been going crazy about?
I have officially gone crazy for trifles.  I bought a trifle bowl a few weeks ago and made this Oatmeal Creme Pie Berry Trifle, and now you wouldn't believe the ideas floating around in my head.  Ok, you probably would believe it because you know me and how I get crazy ideas all the time.
June is National Dairy Month, so I got my big bowl out and made a fun layered trifle.  This dessert is full of cake, fruit, and no bake cheesecake that is full of dairy goodness.  Did you know that Ohio dairy farmers produce over 630 million gallons of milk each year?  That's a lot of milk coming from the midwest.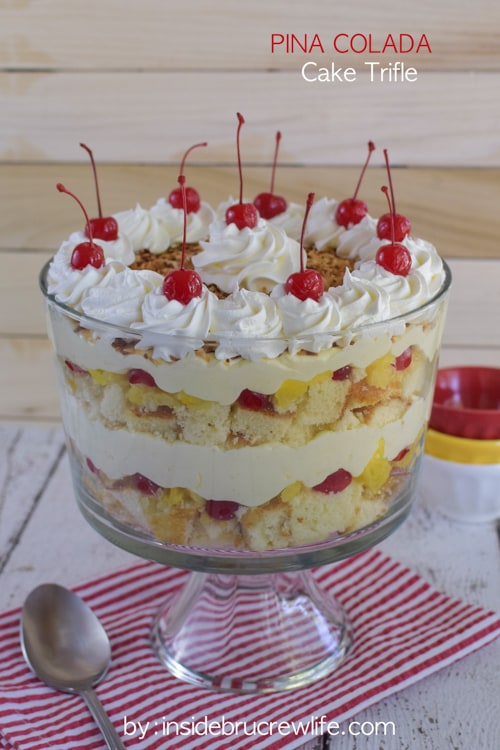 A few years ago I had the opportunity to visit two farms in Ohio and to see just how well these cows are taken care of.  I was very impressed with the care and quality of the farms and cows.  These dairy farmers truly care about the care and comfort of the cows on their farms.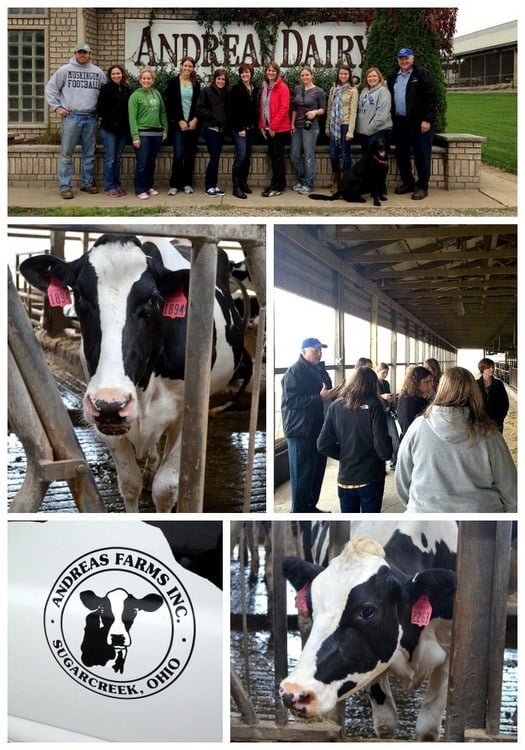 One serving of milk, cheese, or yogurt provides 8 grams of protein and 9 essential vitamins.  Most people only consume 1-2 serving of dairy each day, but to meet dairy recommendations they should be eating 3 full servings.  Milk is one of the most requested but least donated item to food banks across the nation. If you feel the need to help out with food banks, keep that in mind.
The cheesecake layer in this trifle is packed with cream cheese and milk.  I wanted to be sure my family was getting a full serving of dairy with their dessert.  The more dairy you consume helps you later in life.  Strong bones and healthy teeth are just a benefit from getting those dairy servings in when you are younger.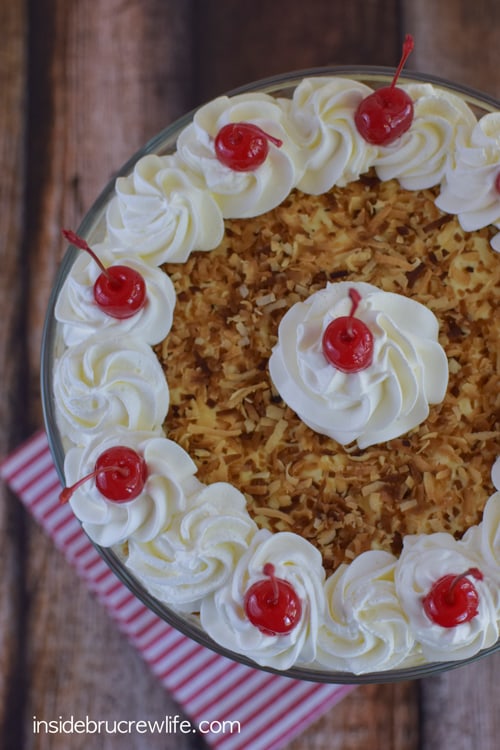 When you bake the cake, make sure you drain your pineapple and use that as part of the liquid in the cake batter.  This will help give your cake a little bit of pineapple flavor.  Let it cool and then cut it into 1 inch cubes.  When you put the trifle together, you will have a little bit of cake leftover.  You do what feels best to you…I chose to snack on the extra cubes every time I walked through the kitchen.
With any pina colada, you need to have some coconut.  The no-bake cheesecake layer is made from cream cheese, milk, pudding, coconut, and Cool Whip.  Beat it all together and layer it with the cake and fruit.  Now go ahead and take a big bite.  It is like being transported to a tropical island.  Well, as long as you keep your eyes closed, so you do not see the pile of dirty dishes in front of you from baking up a storm.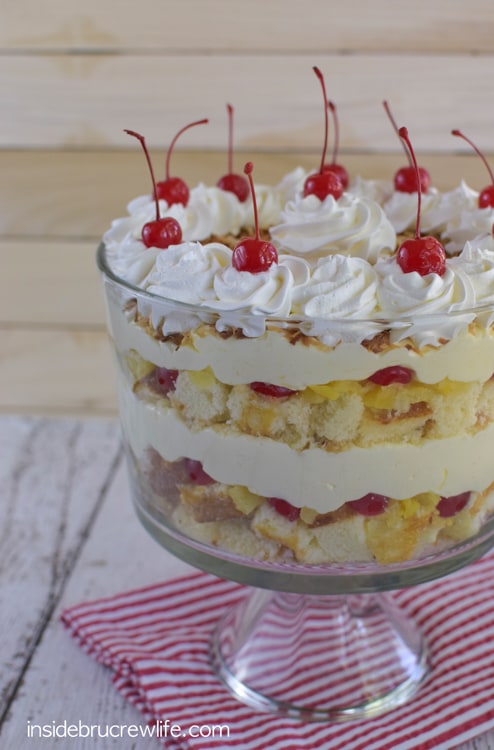 Connect more with the American Dairy Association: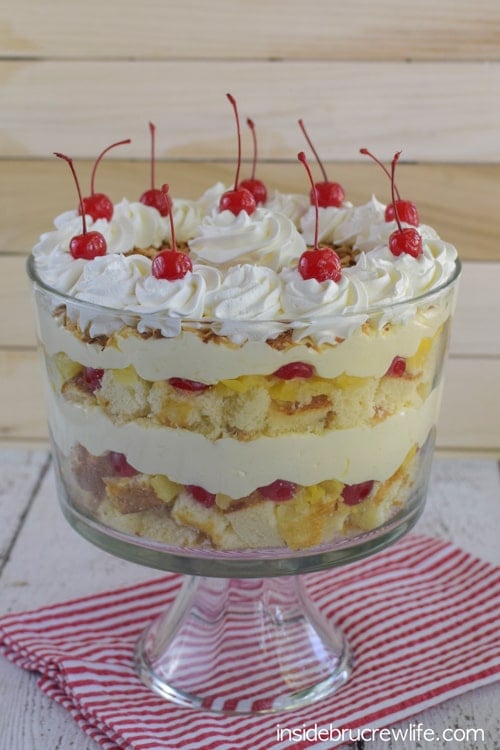 Layers of pineapple cake, no-bake coconut cheesecake, and fruit make this Pina Colada Trifle a fun dessert to bring to summer picnics and barbecues.
Ingredients
1 vanilla cake mix
1 - 20 ounce can crushed pineapple
1 - 10 ounce jar maraschino cherries, with stems
1 - 8 ounce package cream cheese, softened
1 - 3.4 ounce box instant vanilla pudding
1 cup milk
11/4 cup shredded coconut, divided
1/2 teaspoon rum extract
1/2 teaspoon coconut extract
2 1/2 cups Cool Whip, divided
Instructions
Take 1/4 cup of the shredded coconut and place on a baking sheet. Bake at 350 degrees for 5-8 minutes, stirring often. Watch the coconut in the oven and remove when it starts to brown. Let cool.
Drain the pineapple and save the juice. Use the juice in place of the liquid when you make the cake batter. Bake in a 9x13 pan, according to the package directions. Remove and let cool completely. Cut into 1 inch cubes.
Beat the cream cheese until creamy. Set aside. Whisk the pudding into the milk until it thickens. Slowly add the pudding and extracts to the cream cheese, beating until creamy. Fold in 1 cup of coconut and 1 cup of Cool Whip.
Drain the cherries and set aside 10 cherries. Cut the rest of the cherries in half and pat dry.
Place 4 cups of cake cubes in a large bowl. Top with half of the drained pineapple and half the cherries. Spread half of the cheesecake layer over the fruit gently. Repeat the layers. Sprinkle the top with the toasted coconut. Swirl on the remaining Cool Whip and garnish with the reserved cherries. Keep refrigerated until you serve it.
https://insidebrucrewlife.com/pina-colada-cake-trifle/
Copyright Inside BruCrew Life
I am joining with a great group of blog friends to bring you dairy recipes for Dairy Month.  Make sure you visit each one for a delicious recipe to enjoy this summer.
Lemons for Lulu: Coconut Banana Cream Pie
Country Cleaver: Chocolate Chip Mini Greek Yogurt Pops
Climbing Grier Mountain: Chicken Shawarma Gratin with Jalapeno Mint Yogurt
Food Faith Fitness: Cauliflower Pizza with Greek Yogurt Pesto
Well-Plated: Berry Breakfast Yogurt Popsicles
Love Grows Wild: Smoothie Popsicles
Eat2Gather: Grilled Cheese Bar
In Katrina's Kitchen: Milk and Cereal Breakfast Popsicles
Shugary Sweets: S'mores Coffee Milkshake
Join us for a Twitter Barn Party on June 10th, where we will be sharing all things dairy.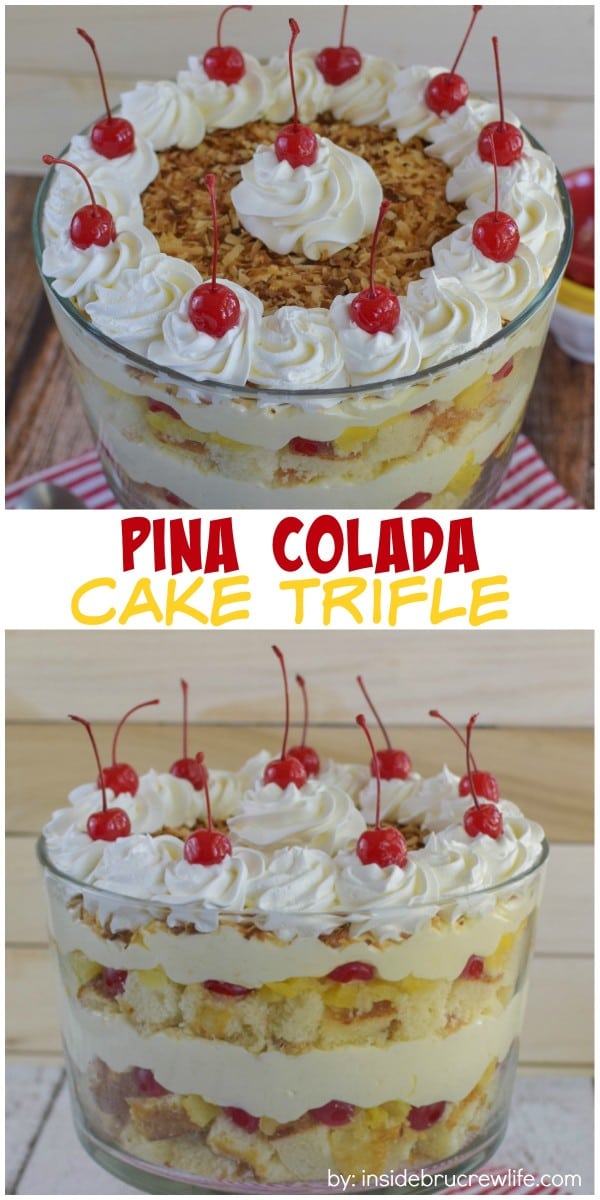 More ways to get your dairy servings this summer: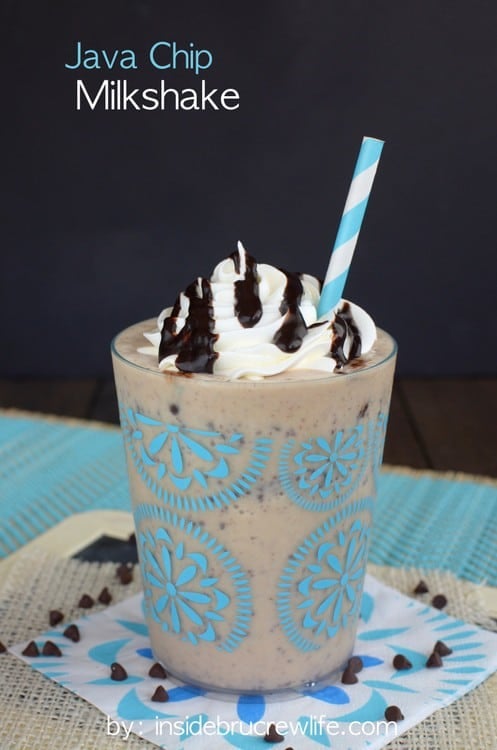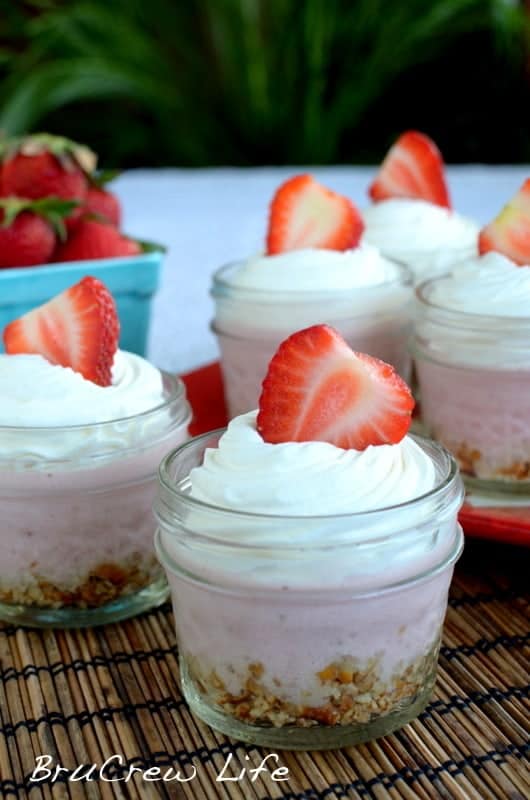 No Bake Strawberry Cheesecakes
*Inside BruCrew Life was compensated by ADA Mideast for my time in creating this recipe and post. All opinions are 100% my own.