An Oatmeal Cream Pie Berry Trifle is great for serving at picnics, barbecues, or parties this summer. The layers of cream pies, no bake marshmallow cheesecake, and fresh berries make this an impressive no bake dessert.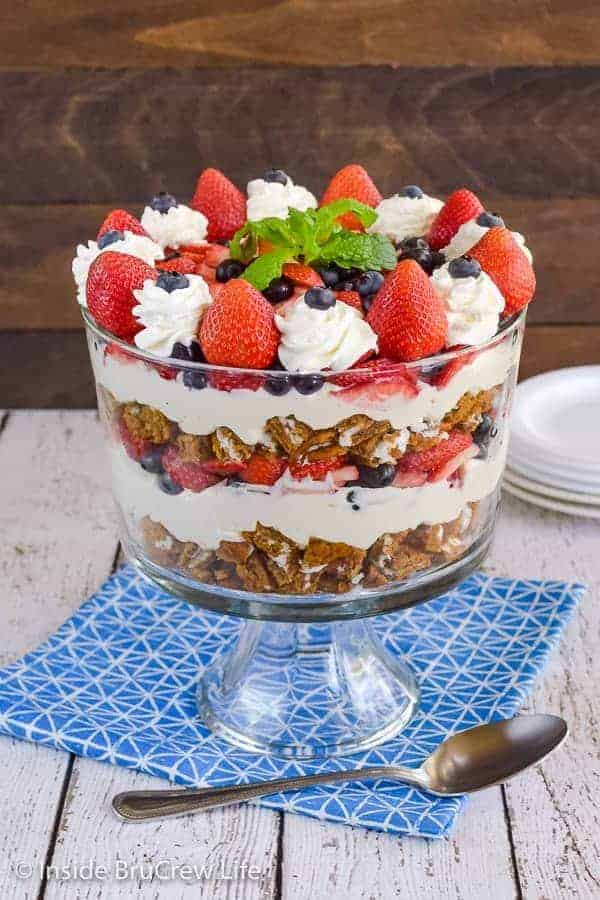 Berry Trifle
One of my all time favorite treats are Little Debbie Oatmeal Creme Pies. I puffy heart love them so much! In high school I used to buy a box and hide it in my room just for me. That metabolism from high school has long since disappeared, so hiding boxes of snack cakes is not something I can do now.
Although, I bought a box of Oatmeal Creme Pies a few weeks ago because I had this crazy idea for a berry trifle. I pulled out the box of cream pies, only to find out that someone else had started munching on the snack cakes.
It turns out my oldest has the same love for these cookies. I really should make another batch of these Homemade Oatmeal Cream Pies, and see which cream pie cookie he likes more.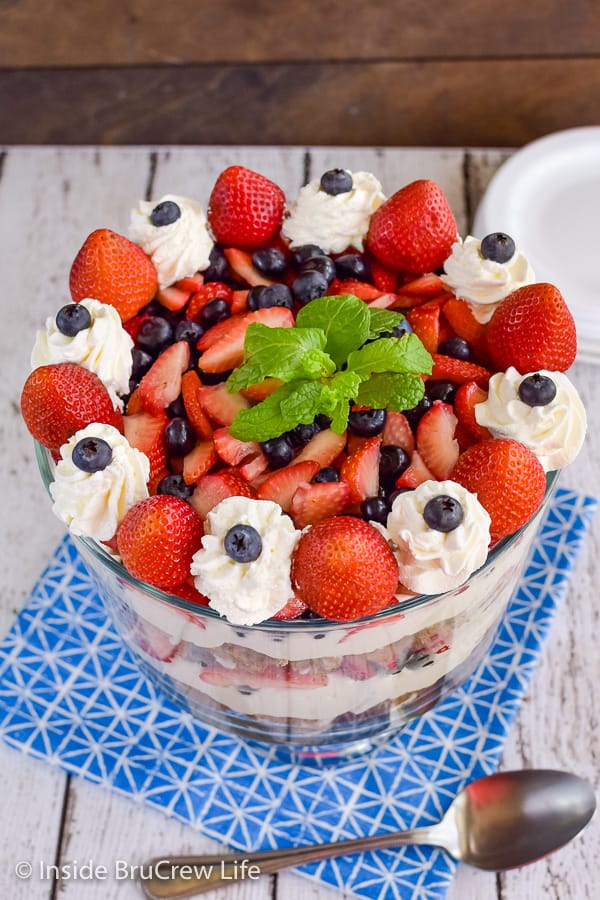 Since I had to go to the store for fresh berries, I picked up 2 more boxes of snack cakes for the cake trifle, and told my son he could have the open box as long as he shared with his brother.
Our daughter saw the finished berry trifle when she got home and asked if she could take it to her girl's life group that night. She was excited to take it to over that night, and I was excited when she brought the little bit of leftovers home.
I couldn't stop taking bites because it was even better than I imagined!!!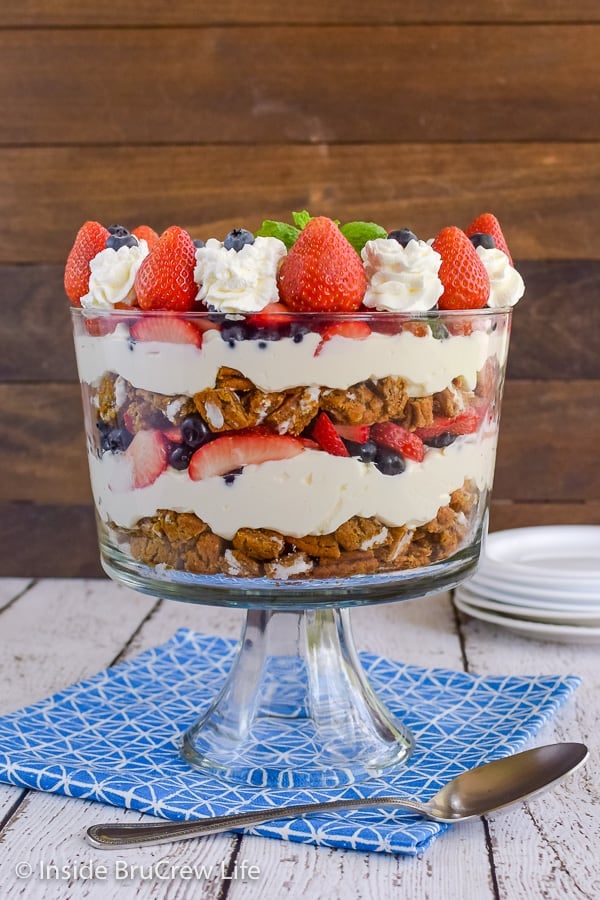 Ingredients Needed
This cheesecake trifle only uses a few extra ingredients because the base are the store bought snack cakes. A no bake cheesecake filling is easy to whip up in minutes.
Oatmeal Creme Pies - you need 24 cookies to make this large trifle dessert
Cheesecake Filling - cream cheese, sugar, marshmallow cream, vanilla, and Cool Whip (or make Whipped Cream from scratch)
Fruit - strawberries and blueberries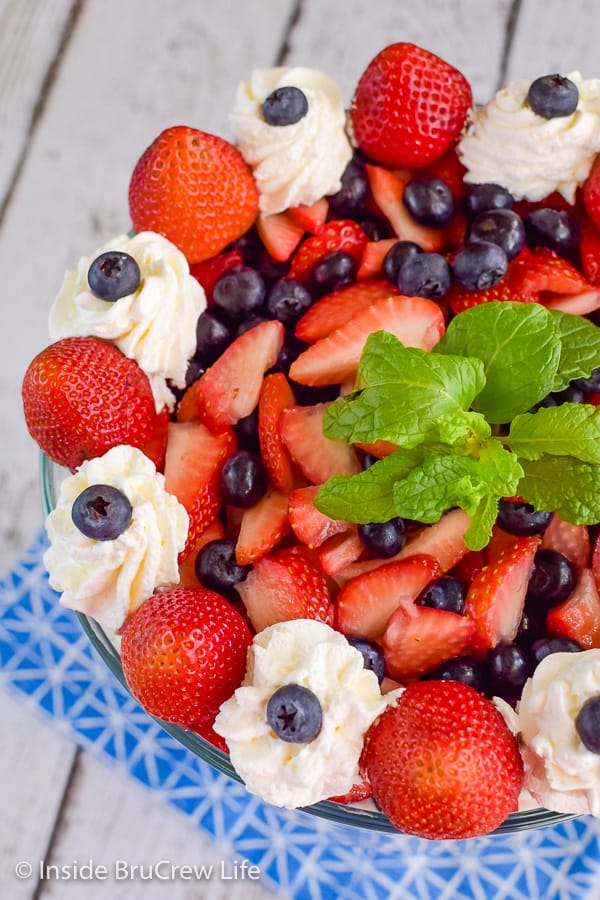 How to make an Oatmeal Cream Pie Berry Trifle
The layers of fresh berries, no bake cheesecake, and oatmeal creme pies make this berry trifle absolutely absolutely stunning. The red and blue fruit with the white no bake cheesecake makes this the perfect Fourth of July dessert.
Unwrap the snack cakes and cut them into bite-sized pieces.
Beat the cream cheese and sugar until creamy. Add marshmallow creme and extract and beat until fluffy. Fold in Cool Whip.
Place half the cookie pieces in the bottom of the trifle bowl. Spread half the cheesecake on top and top with half the fruit. Repeat the layers again.
Add Cool Whip swirls and whole strawberries to the top of the berry cake trifle. Top the swirls with blueberries.
Berry Trifle Variations
You can use whatever combination of your favorite snack cakes and fruits that you like in a cheesecake trifle. Check out how we used the cloud cakes in these Fruit Parfaits and the cake rolls in this Swiss Rolls Cake.
Here are some ideas of ones that would be good.
Snack Cakes - Fudge Rounds, Swiss Cake Rolls, Chocolate Chip Creme Pies, Cosmic Brownies, Cloud Cakes, Zebra Cakes
Fruit - Blueberries, Raspberries, Cherries, Bananas, Peaches
Filling - Pudding, No Bake Cheesecake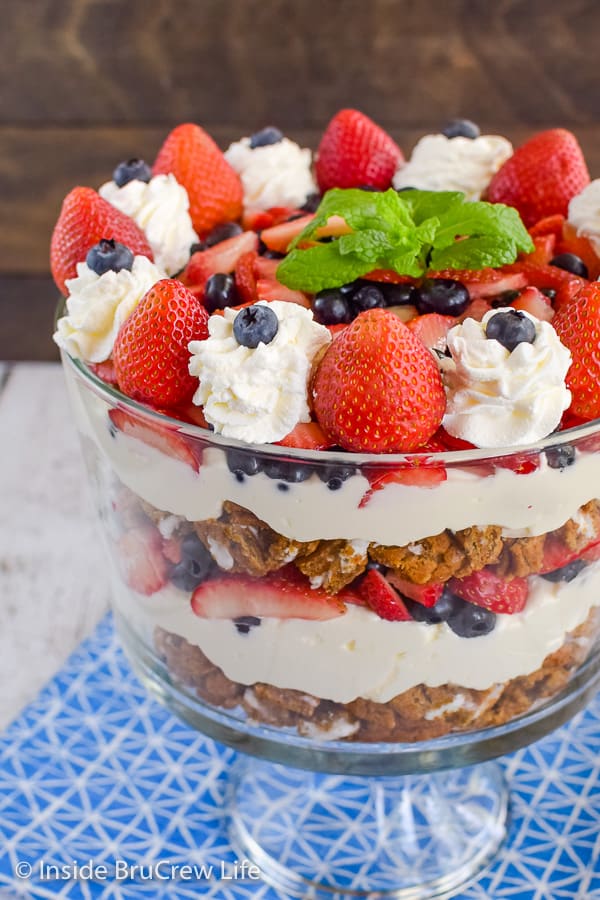 Frequently Asked Questions
Can you use whipped cream instead of Cool Whip?
Yes, you can. Beat 2 cups of heavy whipping cream with ½ cup powdered sugar until light and fluffy. Use this in place of the Cool Whip in the cheesecake and on top.
Can you make a berry trifle ahead of time?
A berry trifle is best if made and served within 24 hours. The cut strawberries will start to get juicy and will make the cookies soggy if they sit too long.
Would other fruits be good in this cake trifle?
Feel free to use whatever fresh fruit you like. I think a mixture of raspberries, blueberries, and blackberries would be great. Peaches and blueberries would be delicious. Cherries and shredded coconut would also work well together.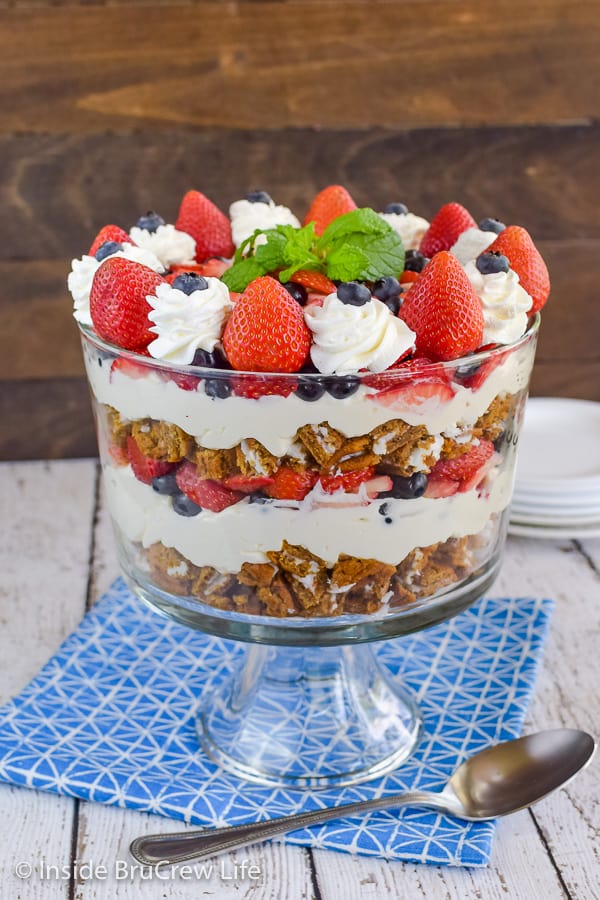 Other Fourth of July Desserts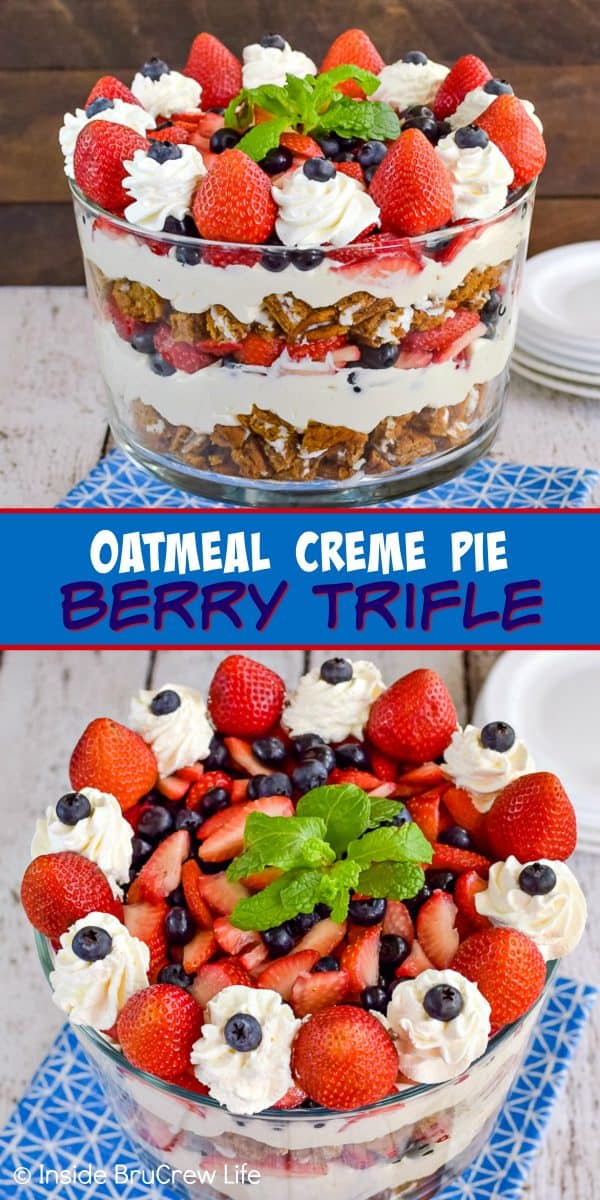 *The recipe for this Oatmeal Creme Pie Berry Trifle was first published on May 8, 2015. The photos have been updated, and it was republished on July 1, 2019.