Layers of cookies, marshmallow cheesecake, and fresh berries makes an impressive dessert.  This no-bake Oatmeal Creme Pie Berry Trifle is great for serving at picnics, barbecues, or parties this summer.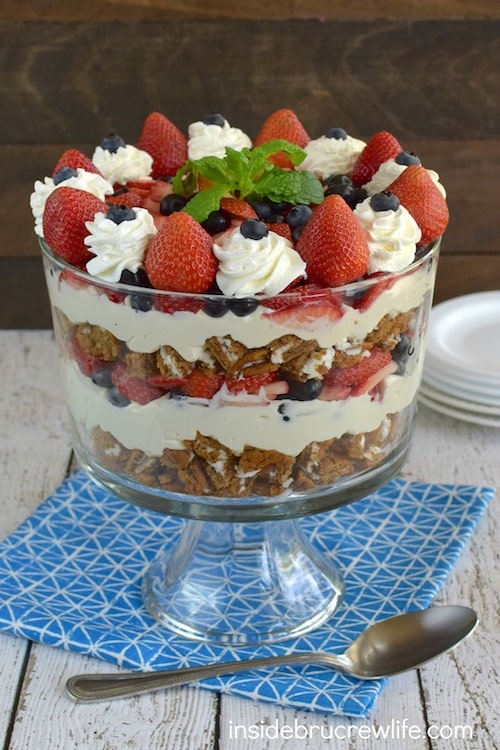 Want to know one of my favorite treats ever?
I adore Little Debbie Oatmeal Creme Pies.  I puffy heart love them so much!  They can never come home with me at the store because I would eat an entire box all by myself.
In fact, in high school I would do just that.  Buy a box and hide it in my room just for me.  That metabolism from high school has long since disappeared, so hiding boxes of creme pies is not something I can do now.  My pants already hate me enough as it is because I taste test everything I make.  And by taste test, I really mean eat more than I should.
The funny thing is that I bought a box of Oatmeal Creme Pies a few weeks ago because I just had a funny idea that I would want to make something from them.  I wasn't sure what…so I hid them in the cupboard.  Lucky for me (and my pants), I kind of forgot about them for a while.
Until this crazy idea for a berry trifle started to form in my head.  I pulled out the box of creme pies…only to find out that someone else had found my secret stash.
Ok, so they really weren't hidden that hard.  It turns out my oldest has the same love for these cookies.  I really should make another batch of these homemade oatmeal cream pies, and see which ones he likes more.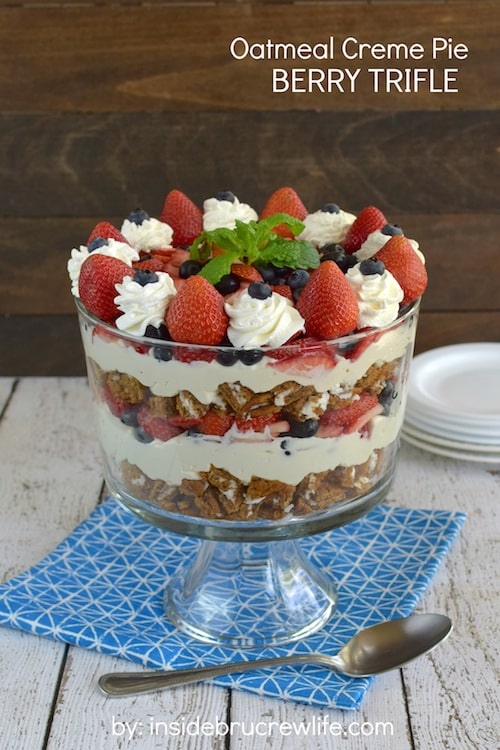 Since I had to go to the store for fresh berries, I picked up 2 more boxes of cookies for the trifle and told my son he could have the open box for snacking on…as long as he shared with his brother.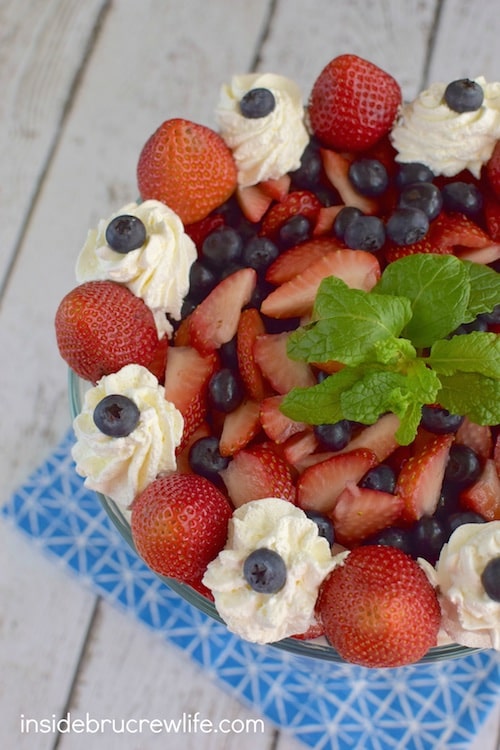 Layers of fresh berries, marshmallow no-bake cheesecake, and the oatmeal creme pies made an absolutely stunning trifle.  I may have kept opening my fridge all afternoon just to stare at this trifle bowl
.
My daughter saw it after school and asked if she could take it to her girls life group that night.  "Yes, yes you may", said my fat pants!!!
She was so excited to take it to over that night, and I was so excited that there was a little bit leftover when she came home.  I couldn't stop taking bites because it was even better than I imagined!!!  No wonder my pants have issues with my taste testing abilities!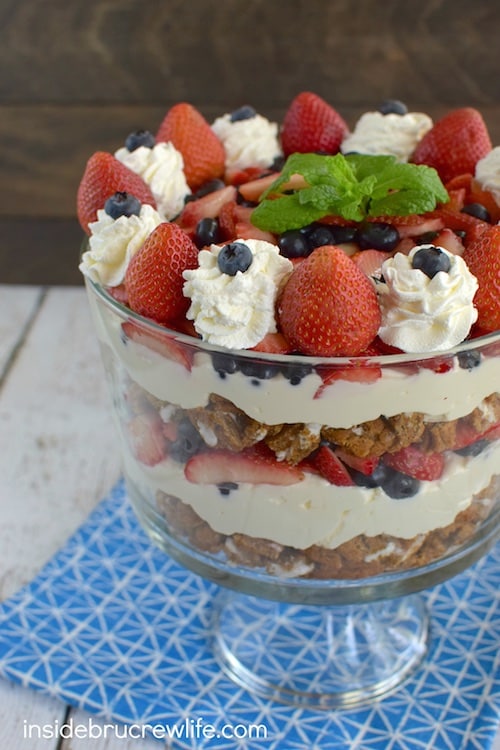 Stay up to date on all the BruCrew baking here:
FACEBOOK | PINTEREST | GOOGLE+ | TWITTER | INSTAGRAM | BLOGLOVIN
 Sign up to receive an email in your inbox for each new recipe:
EMAIL SUBSCRIPTION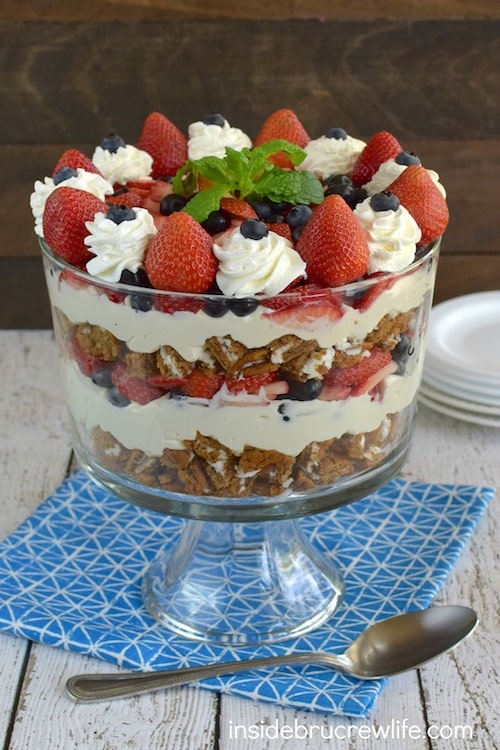 Oatmeal cookies layered with a no bake cheesecake and fresh berries makes a fun and impressive dessert. Perfect treat to serve for picnics, barbecues, or parties.
Ingredients
24 Oatmeal Creme Pie cookies
2 - 8 ounce packages cream cheese, softened
1/4 cup sugar
1 - 7 ounce jar marshmallow cream (1 1/2 cups)
1 teaspoon vanilla extract
1 - 8 ounce container Cool Whip
4 cups sliced strawberries + extra whole berries
2 cups fresh blueberries + extra
mint leaves
Instructions
Unwrap the cookies and chop into bite sized pieces. Layer half the cookies in the bottom of a trifle bowl. Set the other cookies aside.
Beat the cream cheese and sugar until creamy. Add the marshmallow cream and extract and beat again. Slowly add 2 cups of Cool Whip and gently stir in until completely mixed. Spread half the cheesecake over the cookies in the bowl.
Stir together 2 cups strawberries and 1 cup blueberries and spread over the cheesecake.
Repeat the layers with the remaining ingredients.
Pipe the remaining Cool Whip around the top of the bowl, alternating with the whole strawberries. Place a blueberry on each dollop of Cool Whip. Place a sprig of mint in the center for garnish. Refrigerate until ready to serve. Best served the day it is made.
https://insidebrucrewlife.com/oatmeal-creme-pie-berry-trifle/
Copyright Inside BruCrew Life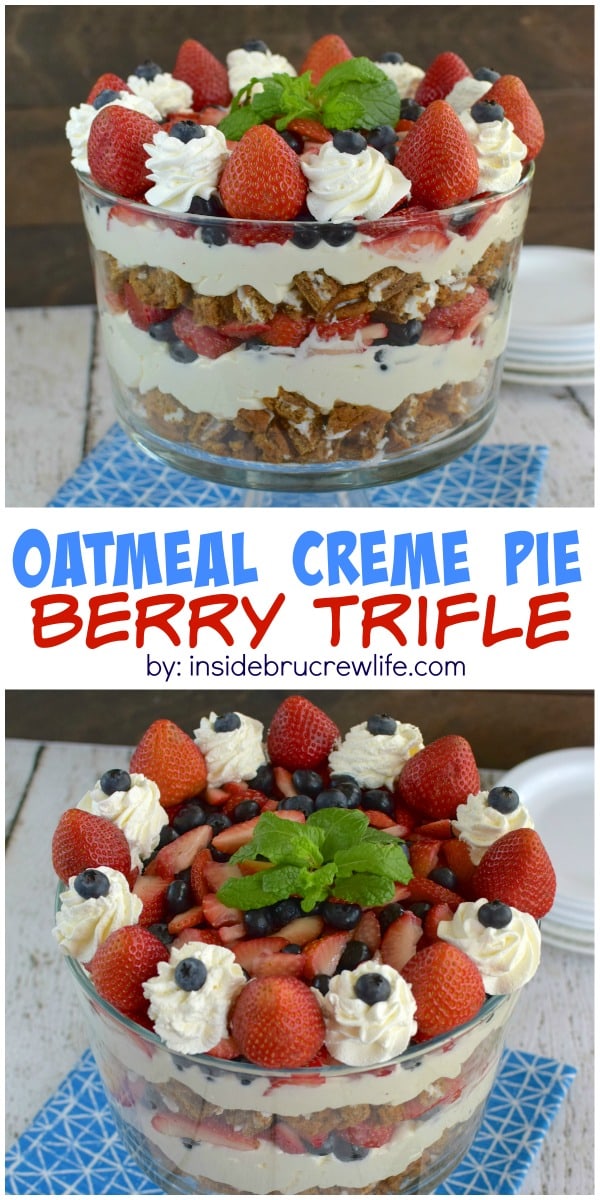 More berry treats that are great to share at picnics and barbecues: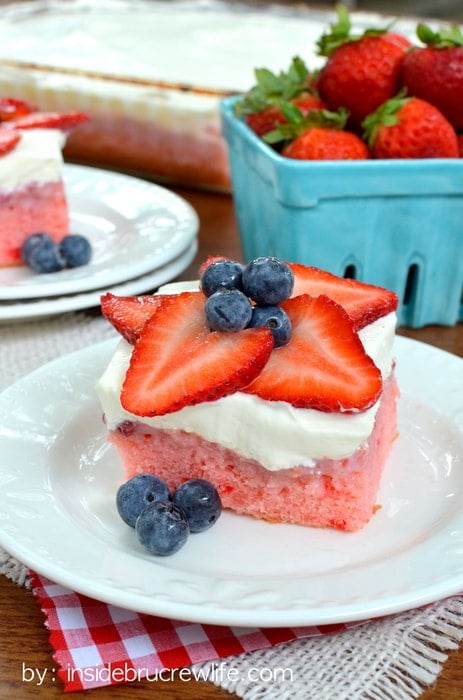 Strawberry Cheesecake Poke Cake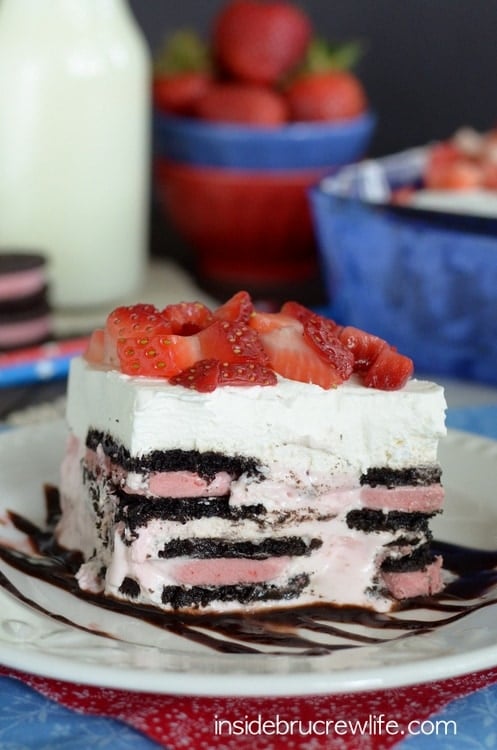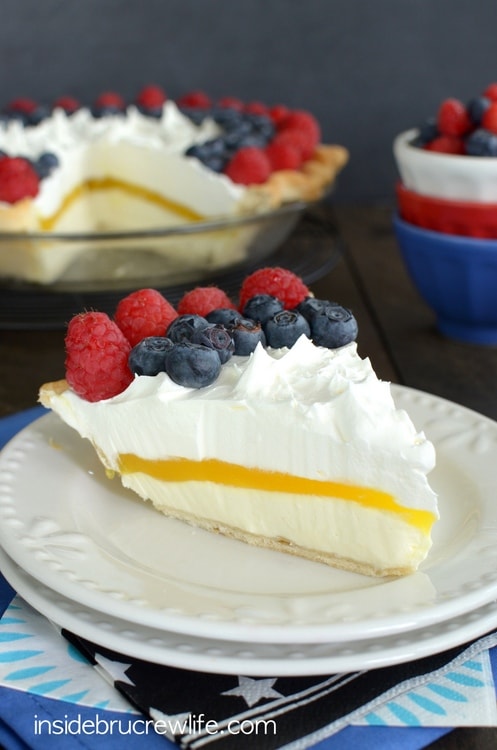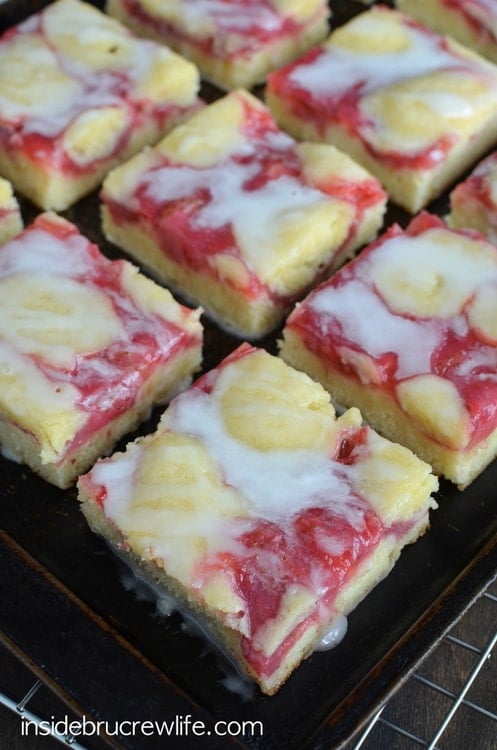 *This post contains an affiliate link.  Thank you for letting me share products we know and love.  We appreciate your support in keeping this blog going.