A bowl of this Pumpkin Potato Corn Chowder is a delicious and comforting dinner to serve this fall. You can have this hearty soup on the table in under 30 minutes.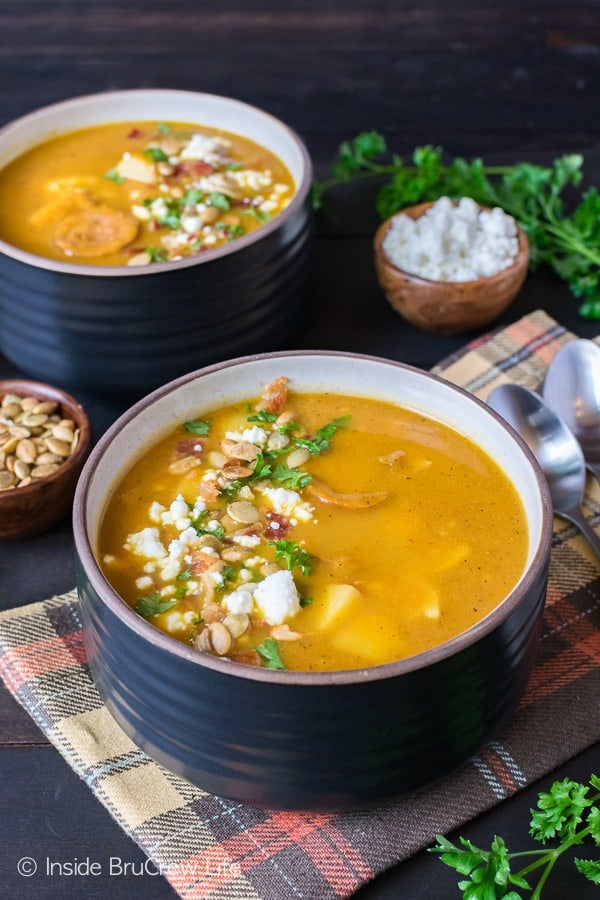 (pictures updated October 2017)
CLICK HERE TO PIN THIS RECIPE FOR LATER!
I have been wanting to recreate this pumpkin soup since last November.  Last year my husband and I went on a mission trip to Haiti with a group from our church.
You can read about the posts on Mission: Haiti and Lessons from Haiti if you want to know more about what we did and saw.  It was such an awesome and eye opening experience for me.  It is one thing to see the poverty from pictures and TV, but to experience it first hand breaks your heart.
I need to be so much more thankful for the things and people that God has put in my life.  I also realized how much I really can do without, and how much we waste on a daily basis.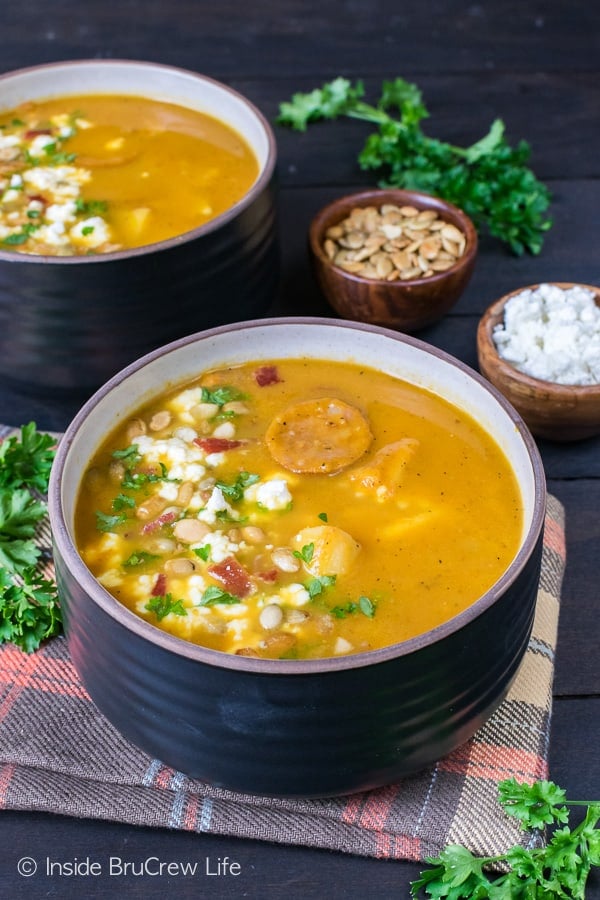 One of our meals while we were in Haiti was a pumpkin soup that I fell in love with.  It was so absolutely delicious!  Like lick-your-bowl-clean-delicious!!!
For an entire year I have regretted not asking the missionary to have the Haitian ladies write it down for me.  So, a few weeks ago, I saw this Pumpkin Pepper soup recipe from Organized Island.
I decided right then and there that I was using that as my base for creating that yummy Haitian soup.  It was so good that even a year later I remembered what was in it.  I did add the extra sausage and bacon because I had it in the fridge, and because it just seemed like it went well with it.
And then I went a step further and topped it with goat cheese, pepitas, parsley, and bacon the next time I made it.  These little extras totally made the bowl of soup so much prettier. And tastier.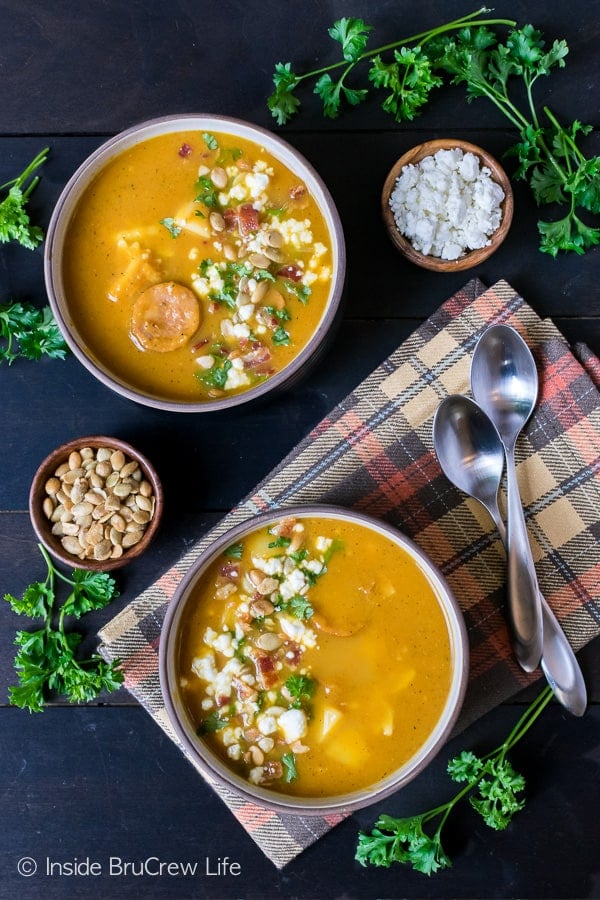 This pumpkin potato corn chowder was so good.  Our kids even ate it and said it was really good. You know a recipe is a keeper if the kids don't complain about orange soup.
This soup also showed me what an awesome blog friend I have.  Aimee from Shugary Sweets was passing through my neighborhood this week, and we decided to meet up for lunch.  I asked if she would be totally offended if I served her leftovers while she was here.  Now I wouldn't just serve anyone leftovers. But she and I have really developed an awesome friendship both online and in real life.  Plus, I knew how much she liked pumpkin, so I had a feeling she would like this soup.
You know you have a true friend when they still come visit you when you are serving last night's dinner.  Just for the record, I did make her some awesome Butterfinger cookie dough truffles too.  I must have felt really guilty for the leftovers!!!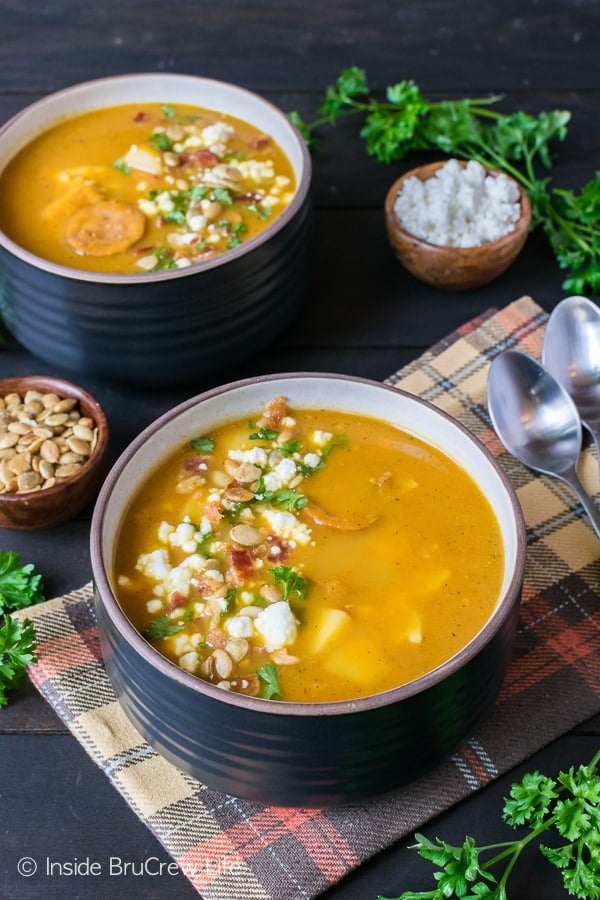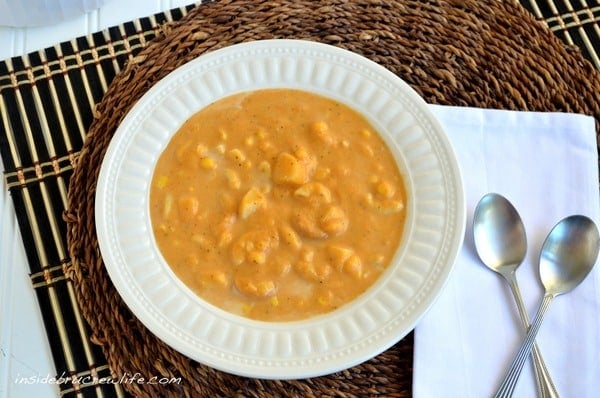 (original photo from November 2012)
Yield: 4 servings
Pumpkin Potato Corn Chowder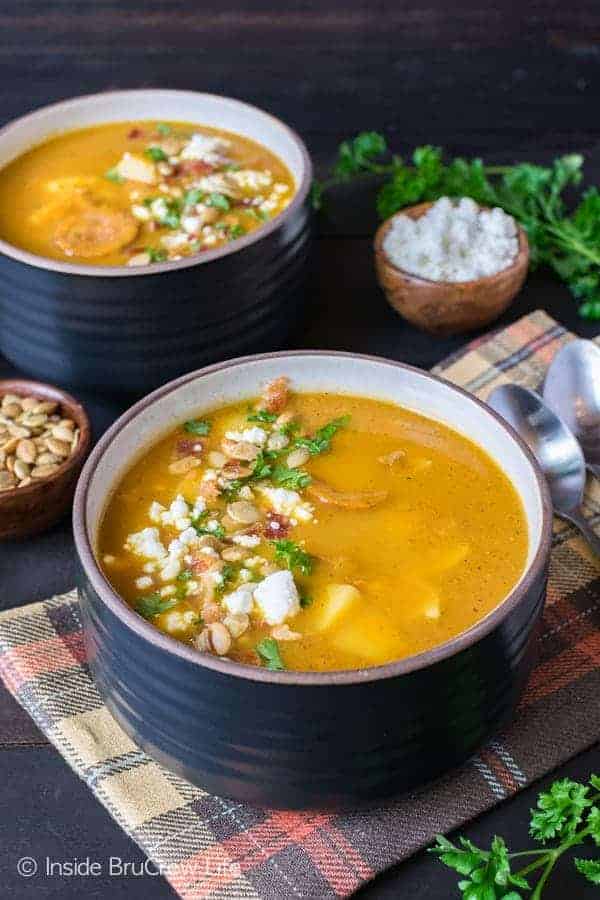 This Pumpkin Potato Corn Chowder is loaded with sausage, bacon, and veggies. It's an easy dinner to have on the table in under 30 minutes this fall.

Prep Time 15 minutes

Total Time 15 minutes
Ingredients
1/2 cup pasta noodles
1 Tablespoon butter
1/4 cup diced yellow onion
1 1/2 Tablespoons minced garlic
1 - 15 ounce can pumpin puree
4 cups chicken broth
1/2 cup milk
1 Tablespoon pepper
3/4 cup corn (frozen or canned)
1 cup diced cooked potatoes (1- 15 oz. can)
4 1/2 ounces smoked sausage, sliced
3/4 cup cooked crumbled bacon, divided
1/4 cup crumbled goat cheese
2 Tablespoons pepitas
2 Tablespoons chopped fresh parsley
Instructions
Cook the pasta noodles according to the package directions. Drain and set aside.
In a large sauce pan, saute the butter and onion until soft. Add the garlic and cook for another minute.
Stir in the pumpkin, chicken broth, milk, and pepper. Slowly heat on medium high heat until it comes to a low boil. Turn down the heat immediately.
Add the corn, potatoes, noodles, sausage, and 1/2 cup bacon and heat until everything is hot.
Top with goat cheese, pepitas, parsley, and remaining bacon right before serving. Serves 4
More ways to include pumpkin in your dinners and desserts: