This Raspberry Chocolate Chip Pull Apart Coffee Cake is a delicious treat to serve for Mother's Day breakfast or brunch.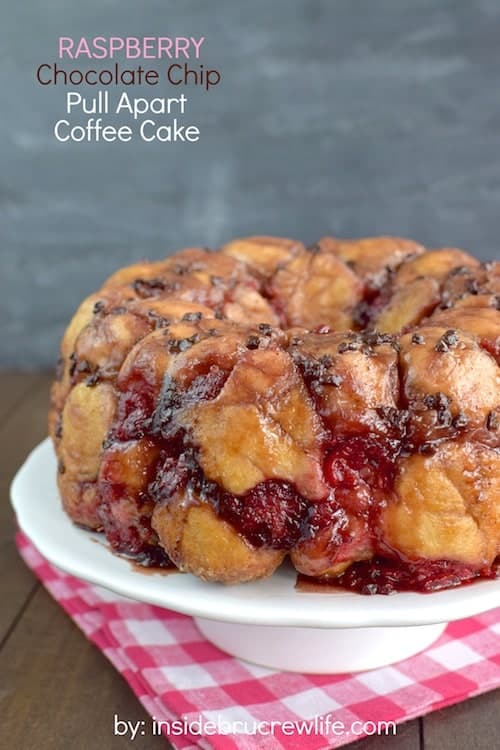 Want to know something funny about me? I have become my mother. Oh, that's not the funny part. I realize all of us eventually resemble our parents in looks or actions. Let me tell you what my husband thinks is so funny about this.
I grew up with my mom checking our appliances and lights at least 10-15 times before leaving the house. More specifically, the iron was the one appliance that she would worry about the most. Sometimes she would pull back in the driveway, just so one of us could go in and check again. I always thought this was kind of funny.
Until my husband pointed out recently that I go through the house and pull plugs on appliances before we go away for a trip. A few months ago we went on vacation for a week. When we got home, my husband wanted a cup of coffee for breakfast. He turned the coffee maker on and walked away while it warmed up.
When he came back, he realized that it wasn't even plugged in. Believe me, I heard about that one for days!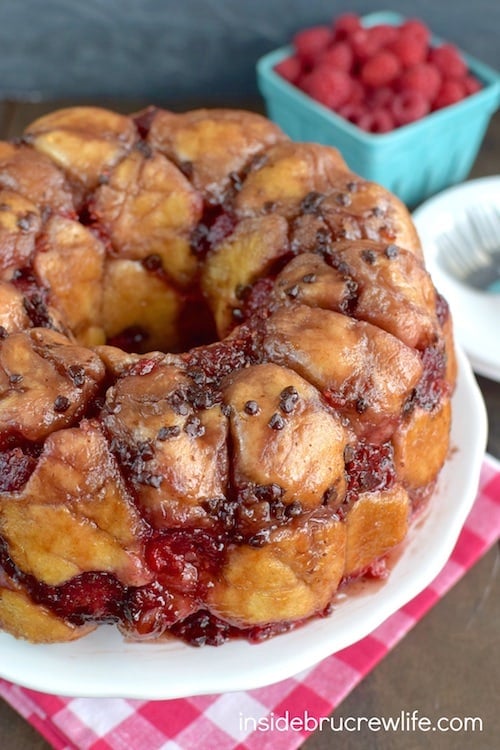 At least I don't go through the house and check every appliance before going to the grocery store. Mom, I know you are reading this...I love you and your funny quirks!
Want to know another funny thing about me? I have finally conquered my fear of baking with yeast. I know, right? I don't know why I have waited so long to use this easy ingredient.
Actually, I always make this Homemade Pizza Dough, so I guess didn't avoid it entirely. I just haven't done anything sweet with it, until now.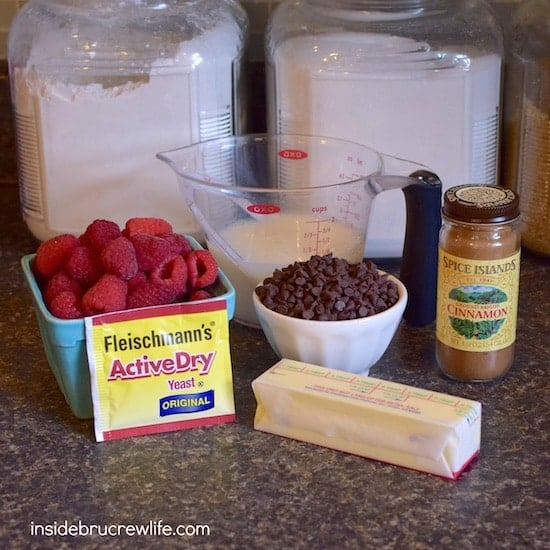 This week I used this Whole Wheat Pull Apart Coffee Cake recipe to create a fun new breakfast treat.
I was pleasantly surprised at how easy it is to make dough with yeast. Since yeast takes time to rise, I knew my coffee cake wouldn't be ready until later in the day. Not a problem for my kiddos, though. They enjoyed heating up pieces in the microwave the next day for breakfast.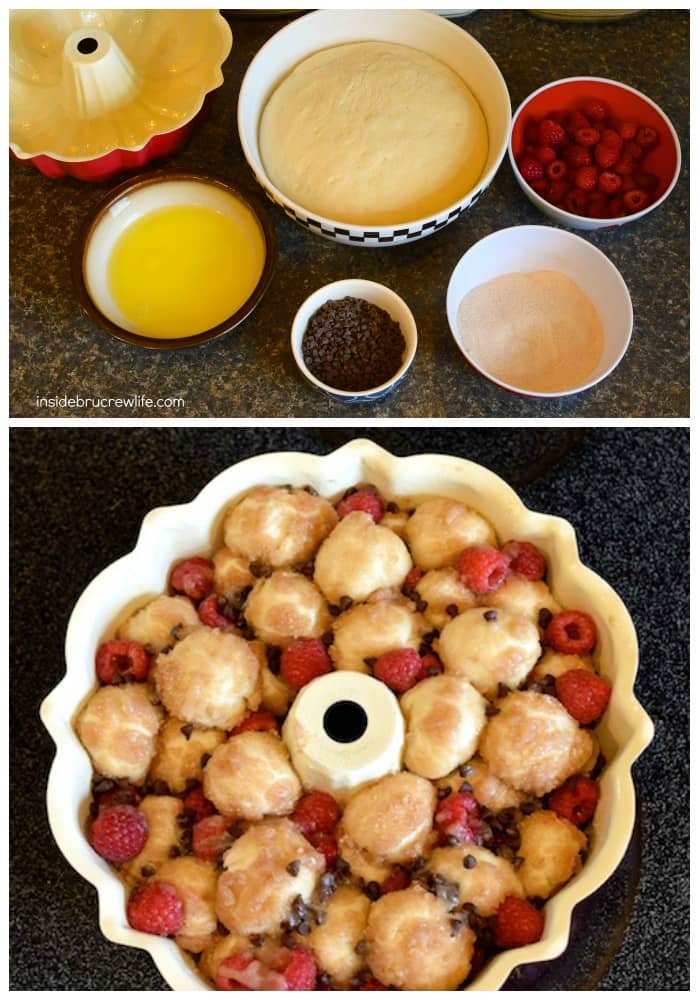 How to make Raspberry Chocolate Chip Pull Apart Coffee Cake:
Make a yeast dough and let it rise until double in size.
Punch the dough down and cut it into 48 even dough balls.
Dip the balls in melted butter and roll in Cinnamon Sugar.
Layer the cinnamon sugar coated dough in a bundt pan with fresh raspberries and mini chocolate chips.
Cover and let rise again before baking.
Use rapid rise yeast to make these Monkey Bread Muffins for a fun and breakfast treat that everyone will go bananas for.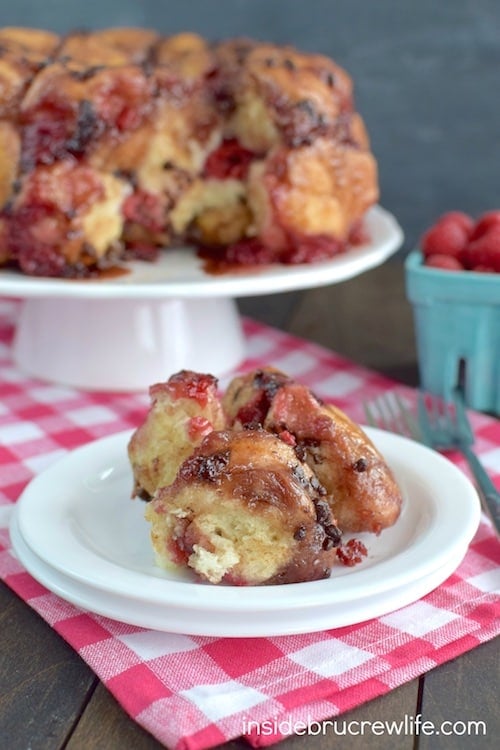 Once the coffee cake has finished baking, flip it out onto a plate leaving the pan over the top of the monkey bread.
PRO TIP: Make sure when you flip your coffee cake out on a plate, that your plate has an edge to catch the glaze. My plate was flat, so I ended up with glaze on my counter.
This beautiful Raspberry Chocolate Chip Pull Apart Coffee Cake would be the perfect treat to serve for any breakfast or brunch that you may be attending. You could also make it for your mom for Mother's Day as a thank you for everything she has done for you over the years.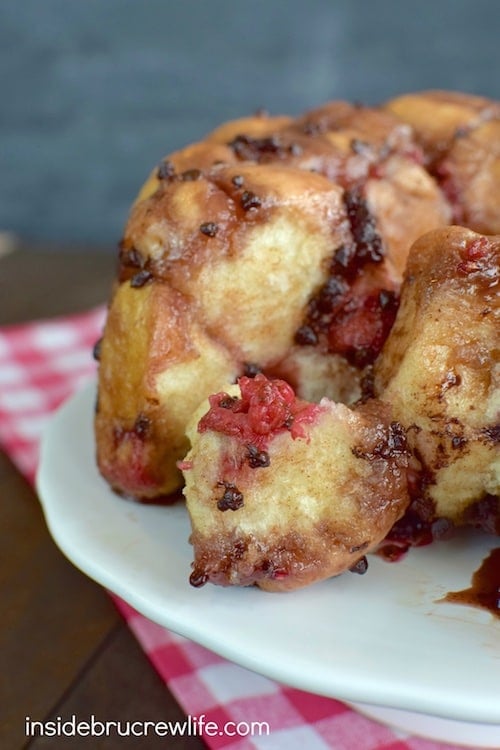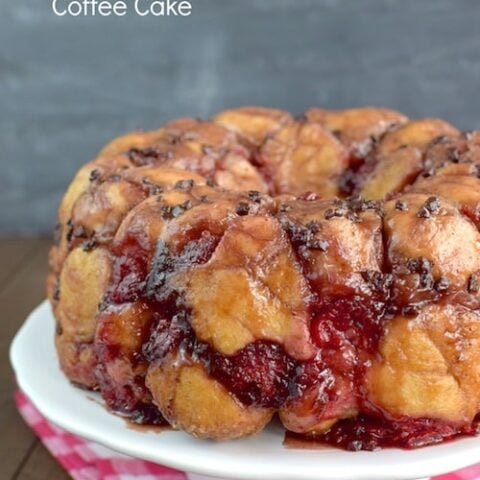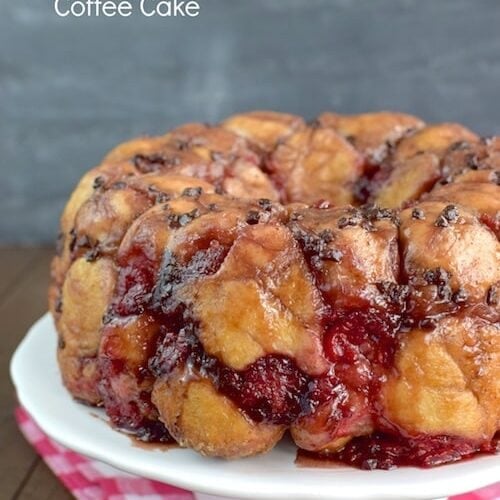 Raspberry Chocolate Chip Pull Apart Coffee Cake
Prep Time:
2 hours
45 minutes
Total Time:
3 hours
20 minutes
Fresh raspberries and chocolate chips make this easy coffee cake an amazing breakfast or brunch choice.
Ingredients
For the Dough
1 envelope active dry yeast
¼ cup warm water
1 cup milk
¼ cup butter
4 cups flour, divided
¼ cup sugar
½ teaspoon salt
For the Sugar Coating
1 ½ cups sugar
3 Tablespoons cinnamon
½ cup butter, melted
⅓ cup miniature chocolate chips
1 ½ cups fresh raspberries
Instructions
Dissolve the yeast in the warm water. Let set for 5 minutes.
Heat the milk and butter in a small saucepan over medium heat until melted and warm. Cool until 110 degrees.
Combine the yeast water, milk & butter, 2 cups flour, sugar, and salt. Beat with a mixer for 2 minutes. Slowly add more flour until the soft dough forms and pulls away from the sides of the bowl.
Place the dough on a lightly floured surface and knead until smooth. Place the dough in a greased bowl, turning the dough once to coat each side.
Cover the bowl and place in a warm place for 1 ½ hours, or until double in size. Punch the dough down and roll into 48 even balls.
Mix together the sugar and cinnamon. Dip the dough balls in the melted butter and roll in the sugar mixture. Place half the sugar coated balls in a greased 12 cup Bundt pan.
Sprinkle with half the chocolate chips and raspberries. Repeat with the remaining balls, chocolate chips, and raspberries. Mix together the remaining cinnamon sugar and butter and pour over the top.
Preheat oven to 375 degrees.
Cover the pan and let rise for an additional 45 minutes. Bake for 35 minutes.
Remove from the oven and immediately flip the coffee cake onto a plate. Allow the cake and pan to set for 1 minute before removing the pan.
Let the coffee cake cool at least 10 minutes before serving. Store in a covered container. Reheat pieces in the microwave or oven until warm.