A hidden chocolate center and fresh berry frosting adds a delicious finish to these Sparkling Cranberry White Chocolate Cupcakes.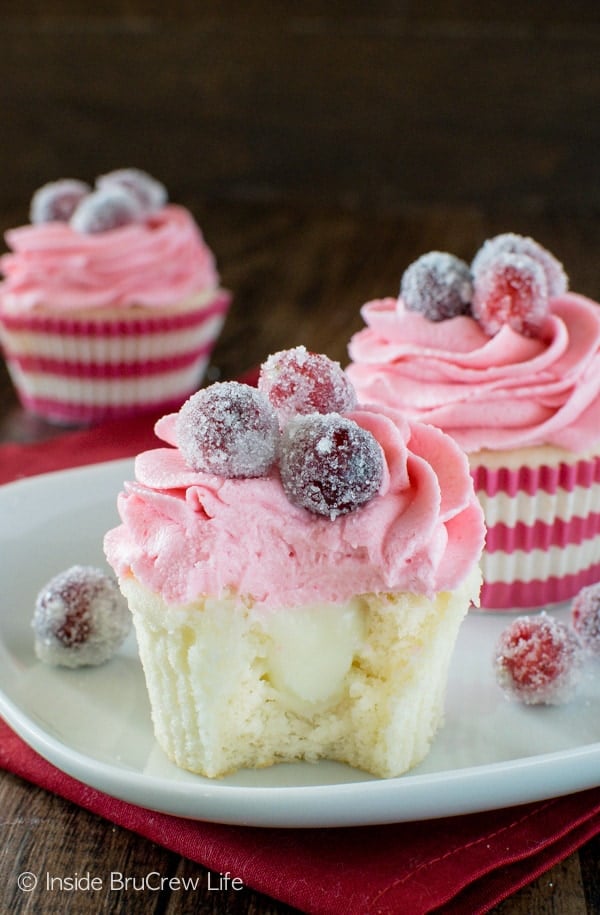 CLICK HERE TO PIN THIS RECIPE FOR LATER!
Years and years ago I took a cake decorating class with a friend. I was 7 months pregnant at the time, so I'm really not sure what possessed me to waddle into this class. Somewhere along the way I decided that having kids meant I was going to need to make fun birthday cakes every year. So I had to learn sometime.
I learned some easy decorating tips in that first 4 week class, but most of what I have learned about cakes and frosting has been by trial and error. Frosting is really pretty forgiving. If you mess up, you can just scrape it off and start over.
That's probably part of the reason I gave up my home-based cake business. The perfectionist in me was taking hours upon hours to finish cakes or cupcakes for my clients. I have found that baking for my internet friends is much more relaxing. Plus, these baked goods stay in my kitchen. There is no added stress of hoping the finished product did not get dropped on the car ride to their house.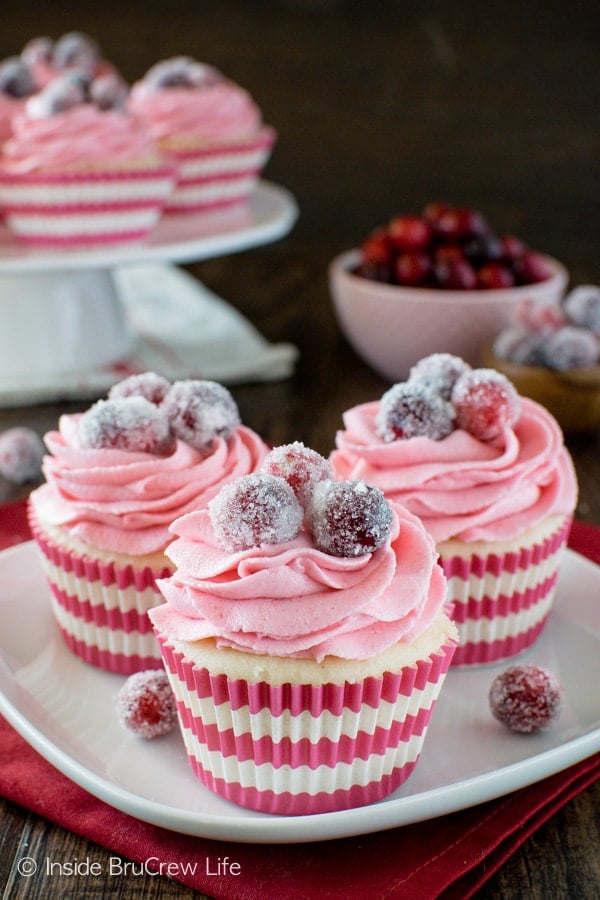 If you have never decorated a cake or cupcakes before, I have a great resource for you today. These gorgeous cupcakes came from my good friend Lindsay's book Simply Beautiful Homemade Cakes.
Lindsay is an absolute doll. She is seriously one of the sweetest and kindest people you will meet. I have had the opportunity to meet her a few times, and I just love chatting with her. And her photography on her blog, Life, Love, & Sugar, blows me away every.single.time!!!!! I seriously just sit there and drool over the gorgeous photos that she takes!
When I heard she was writing a cookbook, I just knew it would be fantastic. And her book didn't disappoint me. The entire book is filled with pretty pictures of the finished products and pictures of how to make it get there. I love all the detailed photos showing you how to apply decorations.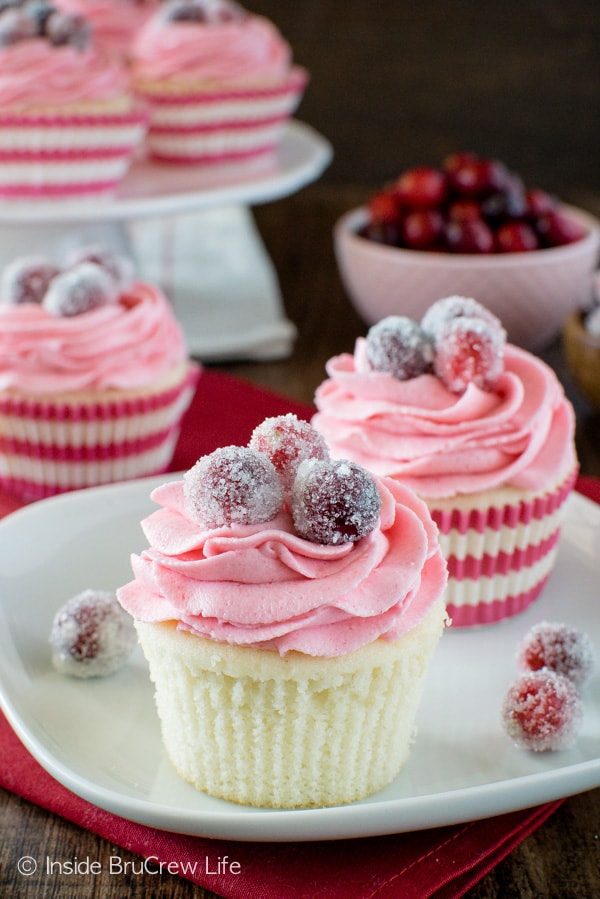 As I flipped through the book, I was having a hard time deciding what to make. I mean, I wanted everything! But as soon as I saw these sparkling cranberry white chocolate cupcakes, I knew these were the ones.
Filled cupcakes are one my favorite things to make. These chocolate pumpkin cream filled cupcakes and these lemon coconut cupcakes are two of my favorites from this year. There is just something so fun about biting into a soft cupcake and finding that hidden center!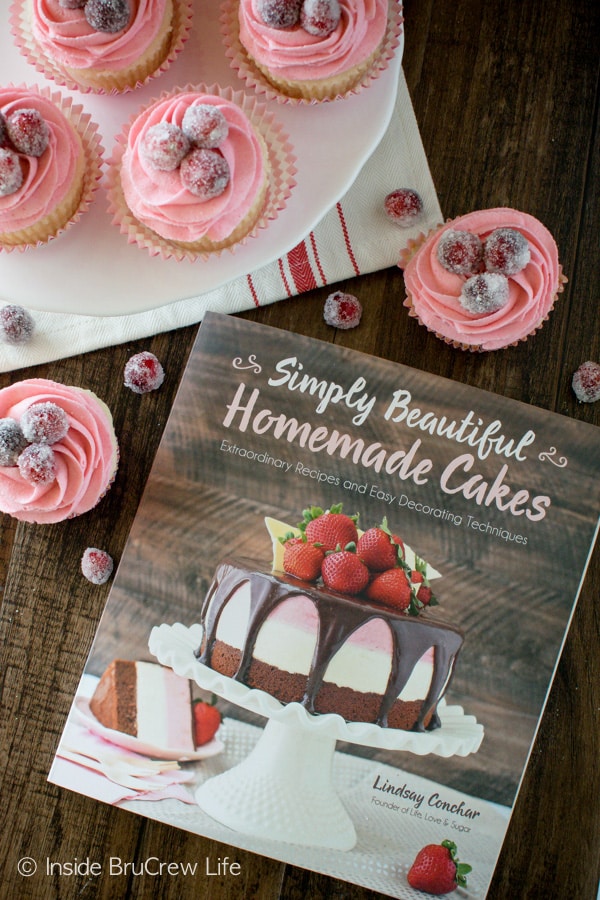 Almost everything in Lindsay's book is homemade, so make sure you set aside enough time to make your treats. But don't worry about it because her book will walk you through every step and show you how to achieve that pretty dessert.
Here are some tips for making these cupcakes:
Make your sugar covered cranberries the night before. They need time to soak in the sugar syrup. As you start rolling them in sugar, just use a little sugar at a time. The sugar will start to get clumps from the syrup on the berries.
Bake and cool your cupcakes. Make sure to test your cupcakes as you bake them. I did 12 cupcakes and it took them 20 minutes in my oven. Once cool, use a cupcake corer to remove the centers because we need room for the creamy center.
Let the white chocolate ganache set up before filling the cupcakes. If you add it too soon, it will soak into the cupcakes. It should still be soft, but not runny.
Cook the cranberries in a little bit of water until they pop. Puree the mixture and press it through a fine mesh sieve to remove the peels.
Assemble the cupcakes and share with friends and family!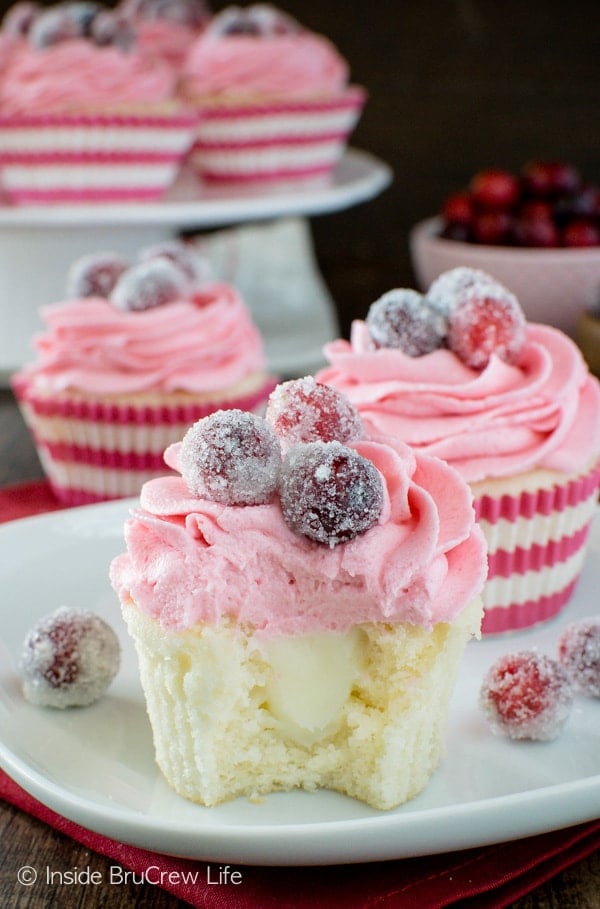 Stay up to date on all the BruCrew baking here:
FACEBOOK | PINTEREST | TWITTER | INSTAGRAM | BLOGLOVIN
Sign up to receive an email in your inbox for each new recipe:
EMAIL SUBSCRIPTION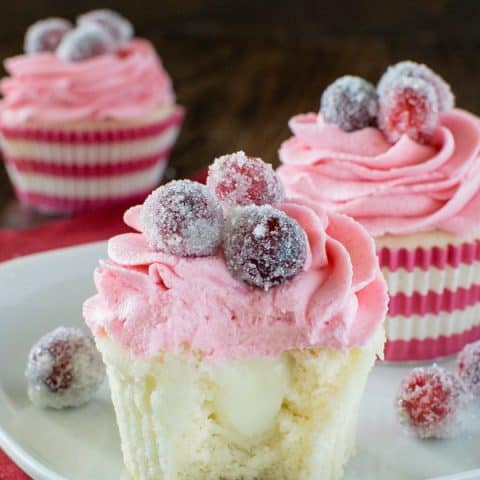 Sparkling Cranberry White Chocolate Cupcakes
Total Time:
1 hour
20 minutes
A hidden chocolate center and fresh berry frosting adds a delicious finish to these Sparkling Cranberry White Chocolate Cupcakes.
Ingredients
For the Sparkling Cranberries
¾ cup sugar, divided
½ cup water
1 cup fresh cranberries
For the Cupcakes
6 Tablespoons unsalted butter, softened
¾ cup sugar
½ teaspoon vanilla extract
1 teaspoon orange extract
⅓ cup sour cream
3 egg whites
1 ¼ cups flour
2 teaspoons baking powder
½ cup milk
For the White Chocolate Ganache
1 cup white chocolate chips
¼ cup heavy whipping cream
For the Cranberry Frosting
1 cup fresh cranberries
2 Tablespoons water
½ cup sugar
½ cup unsalted butter, softened
½ cup vegetable shortening
½ teaspoon salt
3 cups powdered sugar
Instructions
Stir together the water and ½ cup sugar in a small saucepan. Simmer until the sugar is completely dissolved. Pour the syrup into a bowl and cool for about 10 minutes.
Add the cranberries and stir to coat. Refrigerate the cranberries and syrup overnight, stirring a couple times to coat with syrup.
Preheat the oven to 350 degrees. Place 12 cupcake liners in a cupcake pan.
Cream the butter and sugar until light in color and fluffy, about 3-4 minutes. Add the extracts and sour cream and mix until well combined.
Add 1 of the egg whites and mix until combined. Add the remaining 2 egg whites and mix again. Scrape down the sides of the bowl often, if needed.
Combine the flour and baking powder. Add half the flour mixture and half the milk and mix until integrated. Add the rest of the flour and milk and mix until combined.
Fill the cupcake liners with the batter. Bake for 18-20 minutes, or until a toothpick inserted in the center comes out mostly clean.
Remove the cupcakes and allow them to cool 2-3 minutes in the pan, then remove them from the pan and place on a cooling rack to finish cooling.
To finish the cranberries, remove them from the syrup and roll them in the remaining sugar. Add a little bit of sugar at a time, as it will get clumps. Set the cranberries aside to dry for an hour or so.
Combine the cranberries, water, and sugar in a small saucepan and cook over medium-high heat for about 5-7 minutes, or until the cranberries begin to pop. Remove from the heat and set aside to cool for about 5 minutes.
Place the cranberries in a food processor and puree. Strain the mixture through a fine mesh sieve.
Beat the butter, shortening, and salt in a mixing bowl until smooth. Slowly add 1 ½ cups sugar and mix until smooth.
Add ¼ cup cranberry puree and mix until well combined. Add the remaining sugar and beat until smooth and creamy.
Place the white chocolate chips and heavy cream in a microwave safe bowl. Heat for 30 seconds. Stir and heat for another 20-30 seconds. Stir and let sit for a few minutes. Stir until melted and creamy. Set aside to cool and thicken.
Use a cupcake corer to remove the centers of the cupcakes. Spoon the thickened white chocolate into the centers.
Frost the cupcakes with the cranberry frosting using a piping bag and large piping tip. Top each cupcake with a few sugared cranberries. Store on the counter in a sealed container for 2-3 days.
Recommended Products
As an Amazon Associate and member of other affiliate programs, I earn from qualifying purchases.
Nutrition Information:
Yield:

12
Serving Size:

1
Amount Per Serving:
Calories:

602
Total Fat:

30g
Saturated Fat:

16g
Trans Fat:

0g
Unsaturated Fat:

12g
Cholesterol:

53mg
Sodium:

208mg
Carbohydrates:

82g
Fiber:

1g
Sugar:

70g
Protein:

4g

*This post contains affiliate links. Inside BruCrew Life receives a very small percentage from sales made through these links. Thank you for supporting us and letting us share products we love.