Strawberry 3 Musketeers Fudge: This easy 2 ingredient fudge gets a fun twist from the candy bars and sprinkles on top. It is the perfect treat to make for Valentine's Day.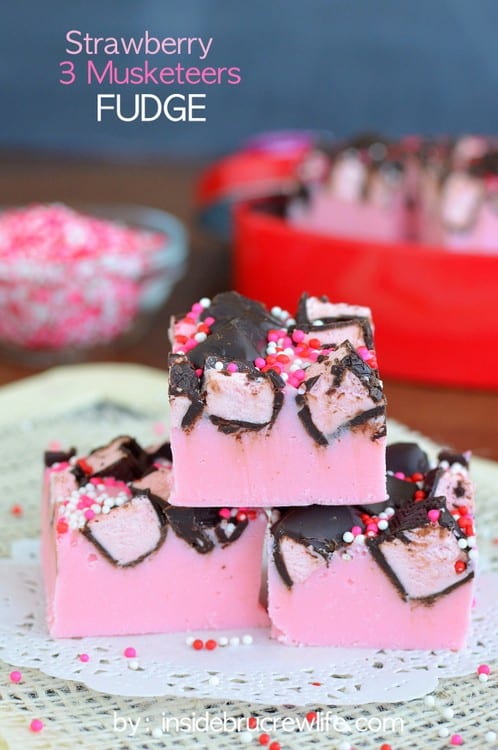 Why is it that the entire world seems to slow down when you are falling through the air? And let's clarify that I don't mean the love kind of falling...
I only wonder that because yesterday was that day for me. Let's just say that pink converse shoes with no tread are not a good idea on ice and snow, no matter how cute you think you look in them.
Just words of wisdom from my bruised self to you. Take it or leave it, but seriously don't wear them. Thank goodness for yummy strawberry fudge waiting at home for me to soothe my bruised body and ego with.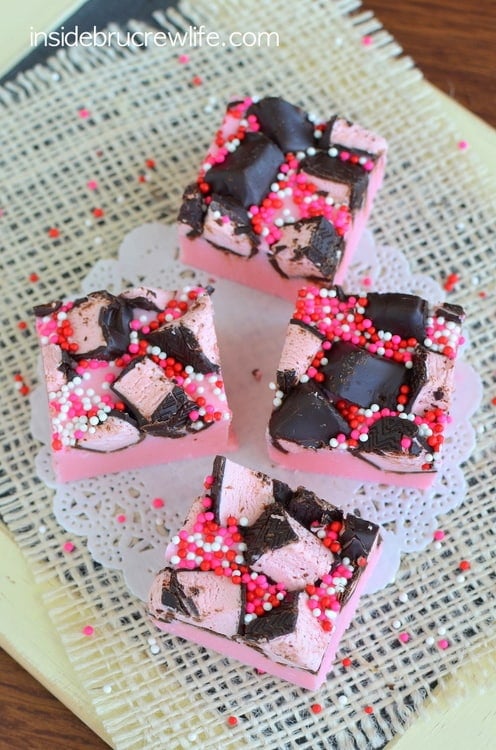 Yesterday I had a hair appointment to get some highlights added back in. I noticed as I walked up the driveway to my friend's home salon that my shoes were not gripping very well. I just was extra careful and made it in with no incidents.
2 hours later, I am in a hurry to get home and finish some work before I have to head out again to pick school kids up. I'm not being so careful this time, and sure enough the entire world stood still for the brief second it took me to hit my palm, elbow, and bottom on the icy driveway.
Let's just say I jumped up so fast and slid the rest of the way down to my van hoping and praying no one was looking out their windows at that very minute. I'm pretty sure it was a comical thing to see happen.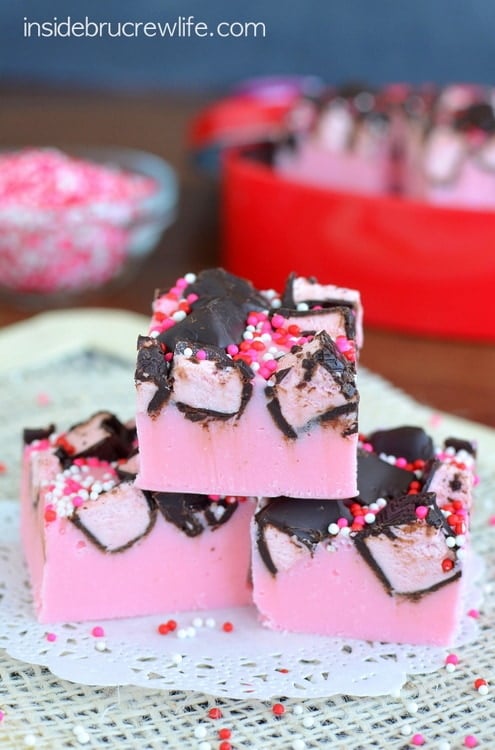 At least I had a pan of this amazing strawberry fudge to come home too. A few bites of this made it all right again.
Have you tried this easy 2 ingredient fudge before? Chocolate chips and a container of canned frosting melts down together and then sets back up into this delicious fudge that you just can't get enough of. Well, at least I can't.
The other day I was wandering the candy aisles at Walmart and found myself staring at a bag of the strawberry 3 Musketeers bars. I used them last year in this cute berry basket, but never actually made something with the candy bars.
That bag of candy bars went into the cart quicker than you could say stop. I knew immediately what I was going to do with them. Most times I buy things like this on a whim and eventually find something to do with them.
Not these babies...I headed right to the baking aisle and grabbed chocolate chips and strawberry frosting. Hooray for pink fudge! And yes, it really is that pink! Quick tip: if you can't find the strawberry candy bars, go ahead and use the regular ones. It is still going to taste amazing.
Anyone else's mind running with all sorts of easy fudge and candy bar combos now? Yeah, mine too.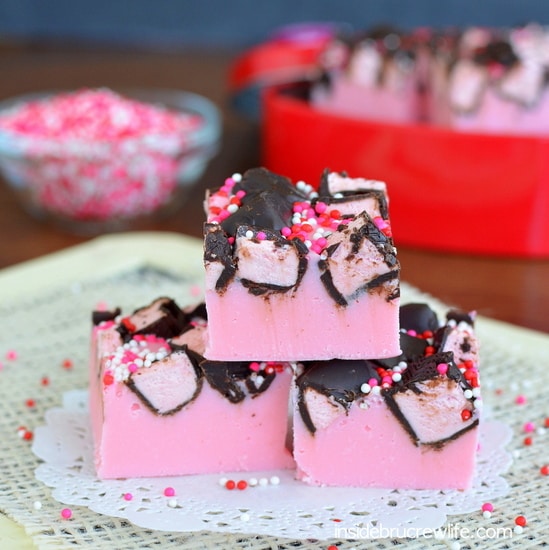 Stay up to date on all the BruCrew recipes here:
FACEBOOK | PINTEREST | TWITTER | INSTAGRAM | BLOGLOVIN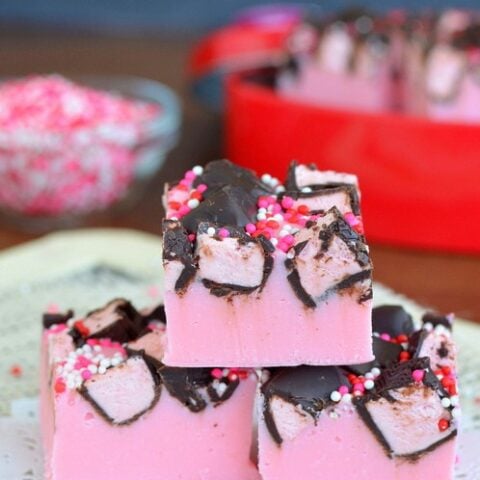 Strawberry 3 Musketeers Fudge
Yield:
36 pieces of fudge
3 Musketeers candy bars add a fun twist to this easy strawberry fudge.
Ingredients
2 cups white chocolate chips
1 Tablespoon unsalted butter
1 (16 ounce) container canned strawberry frosting
35 mini strawberry 3 Musketeers bars, quartered
sprinkles
Instructions
Line an 8x8 pan with foil.
Place the white chips and butter in a microwave safe bowl. Heat for one minute. Remove and stir.
Remove the foil lid from the frosting and place in the microwave for 1 minute. Remove and pour over the melted chips. Stir quickly to incorporate everything.
Place the entire mixture back in the microwave for 20-30 seconds. Stir.
Pour the melted fudge into the prepared pan. Sprinkle the top of the fudge with the chopped candy bars and sprinkles. Let set. Cut into 36 squares. Store in a sealed container.
Notes
The strawberry 3 Musketeers are a seasonal candy. Use regular ones if you cannot find the strawberry ones.
Nutrition Information:
Yield:

36
Serving Size:

1
Amount Per Serving:
Calories:

72
Total Fat:

4g
Saturated Fat:

2g
Trans Fat:

0g
Unsaturated Fat:

1g
Cholesterol:

3mg
Sodium:

14mg
Carbohydrates:

9g
Fiber:

0g
Sugar:

8g
Protein:

1g
Nutrition facts are an estimate and are not guaranteed to be accurate. If you need special diet advice, please see a registered dietician.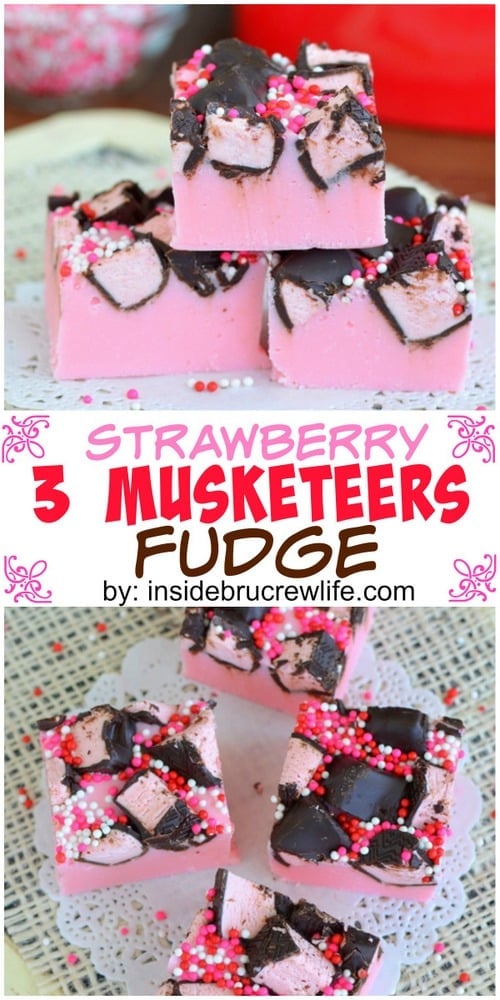 More fun strawberry and chocolate recipes to try: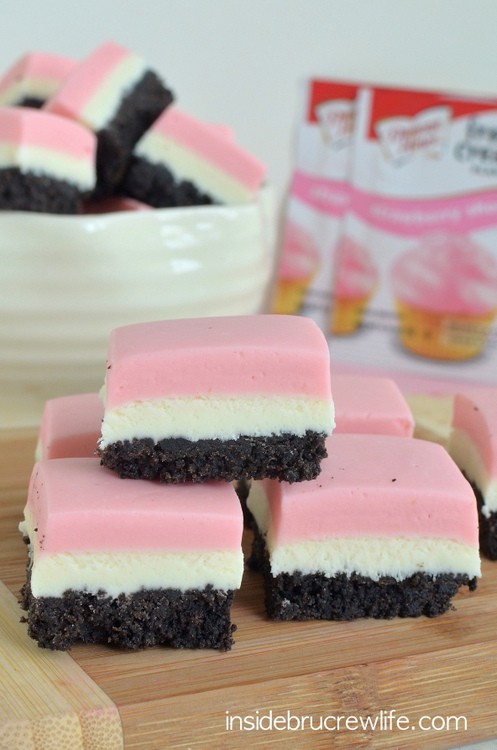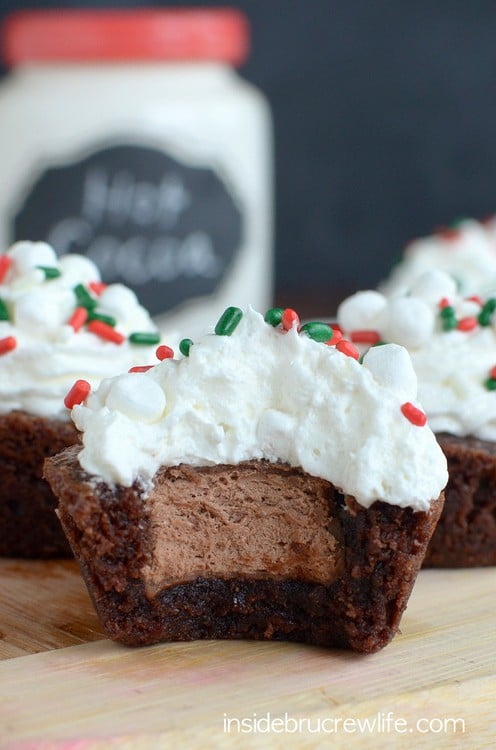 Hot Cocoa 3 Musketeers Brownie Bites