Three layers of cookie and fudge make this Neapolitan Fudge a knockout treat when it comes to dessert!  Love this flavor combo?  Make a batch of this easy Neapolitan Popcorn to go along with the fudge. They would be so pretty for baby showers and little girls parties.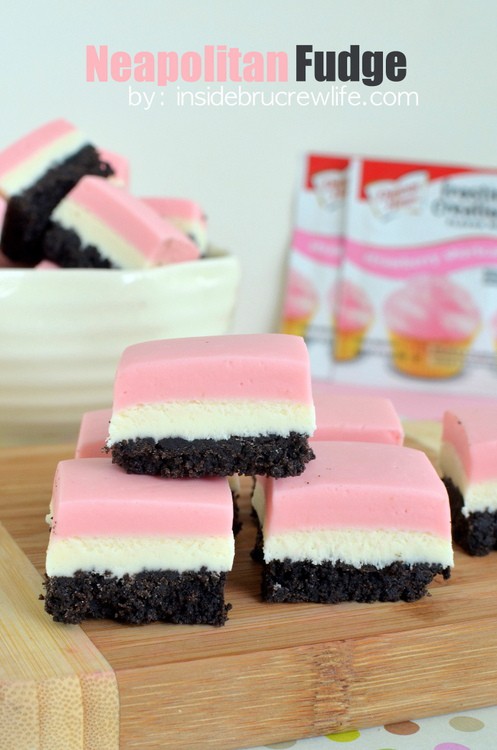 I realize that it is October, and that there is pink fudge staring back at you.  You will understand in a minute!  Plus, Neapolitan is kind of an all year round kind of flavor. right?
Earlier this summer I entered this Neapolitan Fudge into the Duncan Hines Spring Bake Off contest!   Imagine my surprise and pure delight when I got the email notifying me that my recipe had been chosen as one of the 10 winners!  We were at the movies when I opened my email, and I think I about knocked my husband over when I went running over to tell him that exciting news!
Fast forward to just a few weeks ago.  Duncan Hines hosted an absolutely fun event for the bake off winners, their blog program, and some trip giveaway winners.  We all met in New Jersey at the Duncan Hines Test Kitchen for a weekend of fun and treats.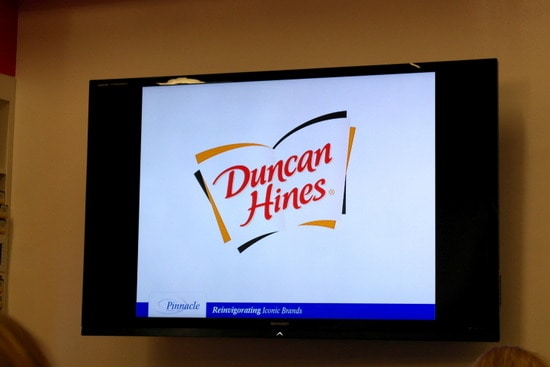 The first night we all came together for a meet and greet with dinner and dessert.  Guess what dessert was???
Chef Joe and his team made the bake off winners recipes for us to all try for dessert.  How cool is that!?!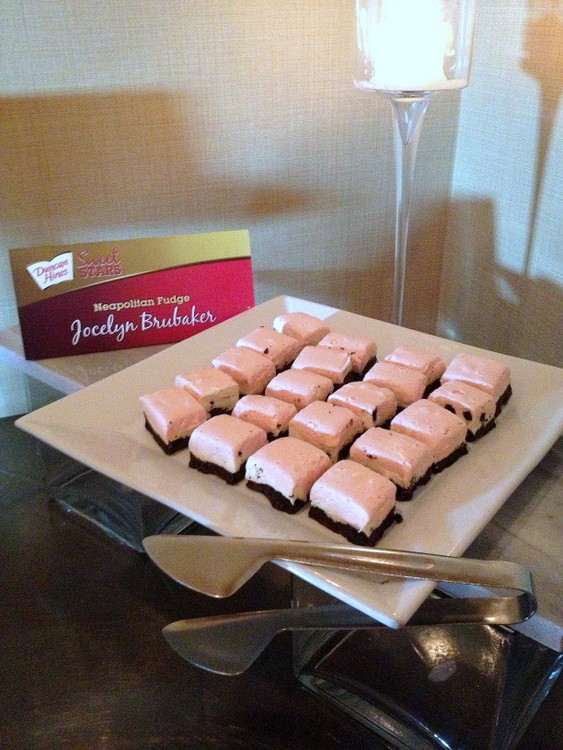 It was so exciting to see my fudge with a fun name tag on the winners table.  Seriously goes in my books as one of the best days!
The scariest part though was getting up in front of everyone and saying what your dessert was and how you used the Duncan Hines Frosting Creation in it.  The one thing that scares me to death is public speaking, so believe me, my knees were knocking together as I walked up and talked my way through that.  Mine was probably the shortest description.  LOL!
I ate way too much good food that night.  I felt it was my blogger's duty to test every single dessert on that table.  Ok, I actually only ate half of every one!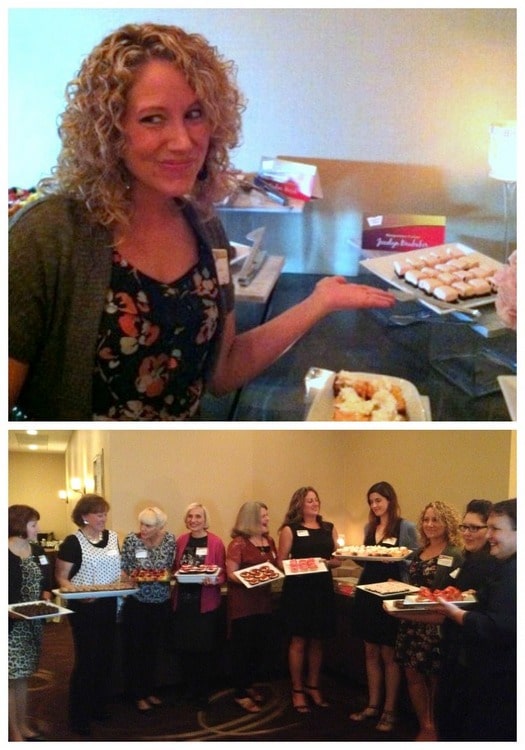 On Saturday morning we arrived at the Pinnacle building for a red carpet entrance.  Duncan Hines is just one of the brands that they test there.  (Some other ones include Mrs. Butterworth, Bird's Eye, Lenders, Vlasic, and Aunt Jemimah.)
Everyone had their own "Sweet Star" with balloons on the red carpet and an adorable red apron.  What a fun way to be greeted at the building!!!   My star is now on my desk to remind me of the amazing weekend we had!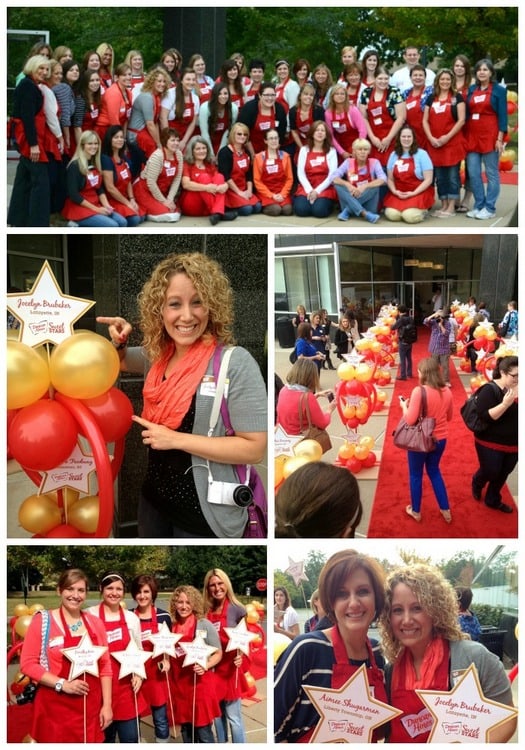 Some of the fun things that awaited us that day was a cake decorating demo from Wilton.  Did you know that Wilton only uses Duncan Hines cake mixes in their recipes?  Just a fun fact I learned.
We also spent some time in their Ideation Room learning about dessert trends and food science.  All the walls in the room are white boards.  They use it just for that…ideas and inventions.  How fun would it be to work there, although with all the recipe taste testing, I might need some new pants soon.
Chef Joe is the head pastry chef at the DH test kitchen.  He spent all afternoon showing us how to make caramel, mousse, meringue, chocolate curls, sugar bubbles, and pie crust from a cake mix.  It was so exciting to watch him work.  He loves what he does and his passion was definitely evident as he created sugar magic right in front of us.  We learned so much and I can't wait to try some new things in my kitchen.


Something else that made this trip so exciting and fun was that I got to spend the weekend with some of my best blog friends.  It was so neat that we all ended up there as bloggers or winners together.  Dorothy, Ashton, and Aimee have become some of my best friends through blogging.  Love that we got to experience this sugar trip together!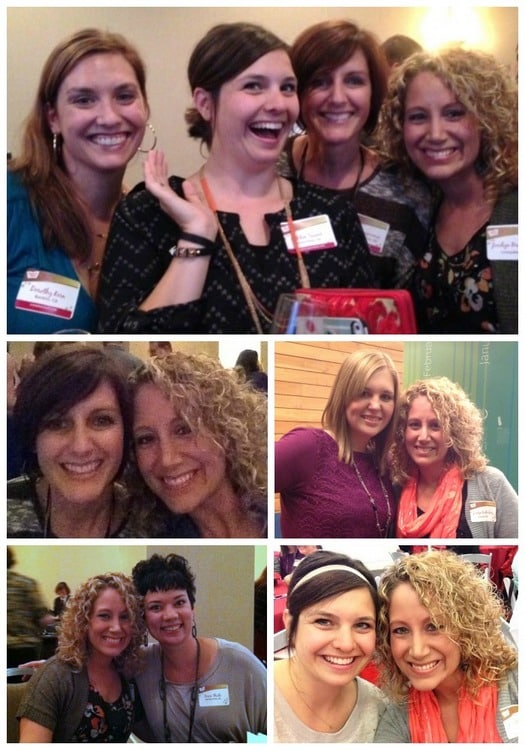 I also had the chance to meet and chat with Toni, Becca, and Averie.  It is always so much fun to connect with your computer friends in real life because it makes that relationship so much stronger.    It was also great to reconnect with Kristy and Nikki again.  We had a blast staying up late at night just chatting about blogging and how to manage it all.  These girls are all amazing, and I am thrilled to be on this blog journey with them.
Duncan Hines totally pampered us all weekend long.  It was incredible to see their generosity and hospitality in action.  This is definitely a weekend I will remember for a very long time.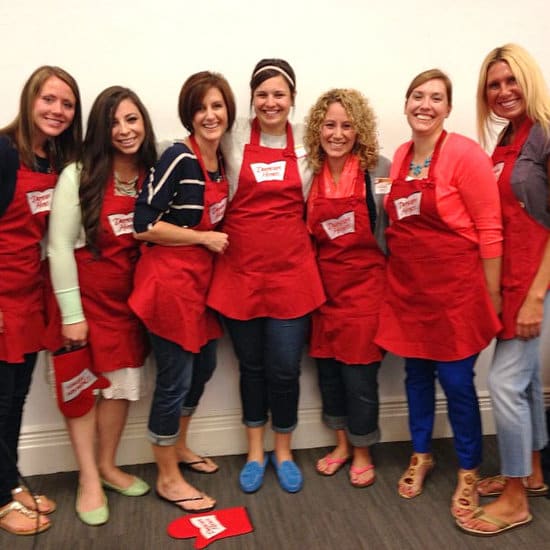 Now how about some fudge?  If you are still reading you need a few pieces of this to get you going again!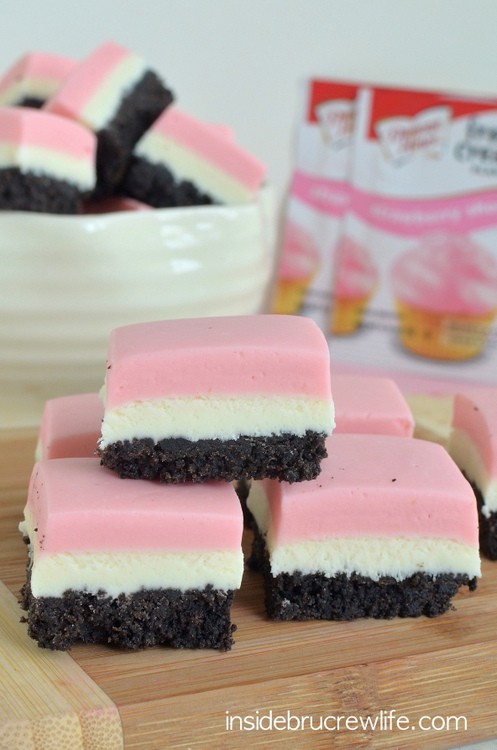 This fudge idea actually started with my husband.  He is great at throwing out fun baking ideas that I get to create.   I must say this was one of my favorites that he came up with.  My twist to it was the chocolate cookie crust.  Aren't we a great team?
I love the Duncan Hines Frosting Creations.  They are meant to flavor frosting for cakes, but I like to use it in things like this key lime pie popcorn and this strawberry shortcake fudge.
This easy Neapolitan Fudge has two kinds of fudge and a cookie crust.
Yup, I think I need to make another batch.  Who wants to make fudge with me?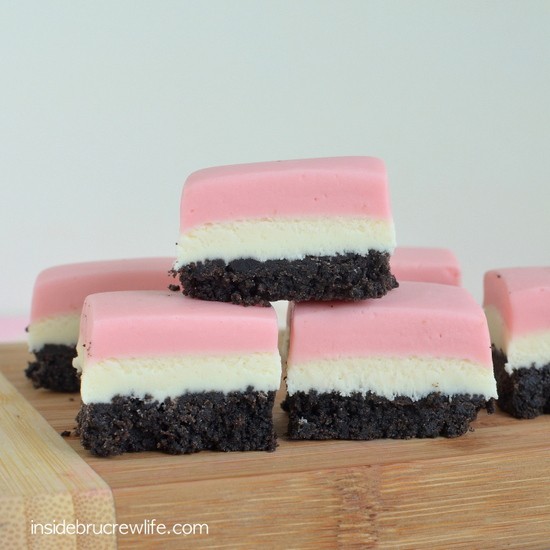 Stay up to date on all the BruCrew baking here:
FACEBOOK | PINTEREST | GOOGLE+ | TWITTER | INSTAGRAM | BLOGLOVIN
Yield: 72 pieces of fudge
Neapolitan Fudge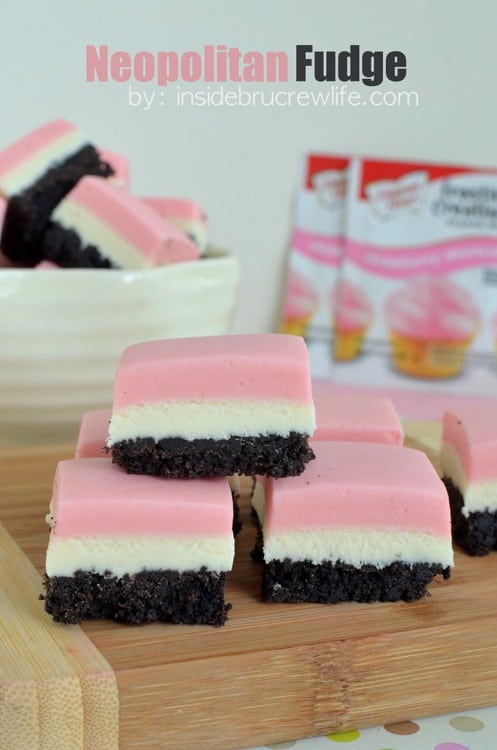 Chocolate, vanilla and strawberry layers make this Neapolitan Fudge stand out on all the dessert tables.

Prep Time 30 minutes

Total Time 30 minutes
Ingredients
Chocolate Crust
4 cups crushed chocolate cookie crumbs
12 Tablespoons butter, melted
Vanilla Fudge
1 1/2 cups white chocolate chips
1 Tablespoon butter
1/2 cup + 2 Tablespoons sweetened condensed milk
3/4 cup marshmallow cream
Strawberry Fudge
1 1/2 cups white chocolate chips
1 Tablespoon butter
1/2 cup + 2 Tablespoons sweetened condensed milk
3/4 cup marshmallow cream
1 packet Duncan Hines Strawberry Shortcake Frosting Creation (see note at bottom)
Instructions
Combine the cookie crumbs and melted butter. Press into the bottom of a 9x13 pan that has been lined with parchment paper. Set aside.
In a saucepan combine the white chocolate chips, butter, and sweetened condensed milk for the vanilla layer. Stir over medium low heat until melted and creamy.
Stir in the marshmallow cream. Pour over the crust in the prepared pan. Refrigerate 30 minutes.
In another saucepan combine the white chocolate chips, butter, and sweetened condensed milk for the strawberry layer. Stir over medium low heat until melted and creamy.
Stir in the Strawberry Shortcake packet and the marshmallow cream. Gently pour over the vanilla layer.
Refrigerate 4 hours or until completely set. Cut into 72 small squares. Store at room temperature in a loosely covered container.
Notes
*You can also use 3-4 Tablespoons strawberry Jello powder or you can use 1 1/2 teaspoons strawberry extract with some pink gel color in place of the packets.
Nutrition Information:
Yield:
72
Serving Size:
1
Amount Per Serving:Calories: 98 Total Fat: 6g Saturated Fat: 3g Trans Fat: 0g Unsaturated Fat: 2g Cholesterol: 9mg Sodium: 51mg Carbohydrates: 11g Fiber: 0g Sugar: 8g Protein: 1g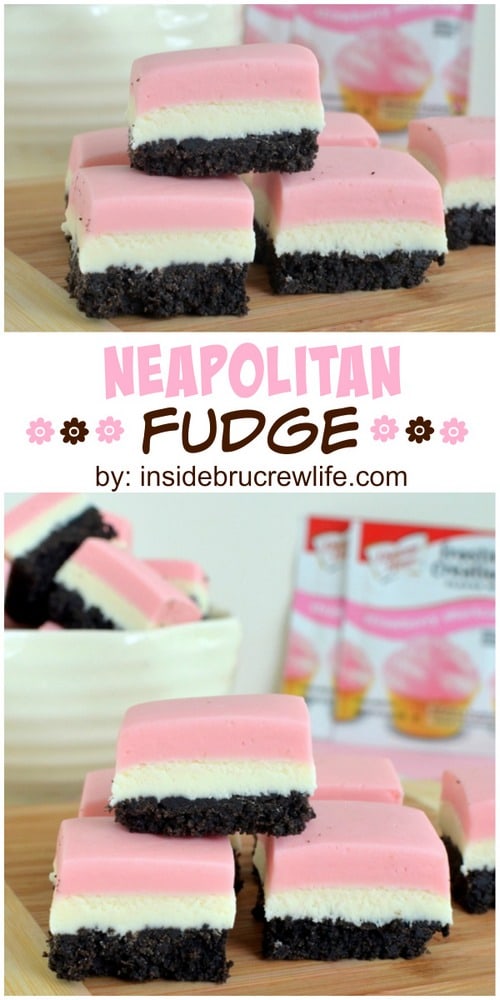 Other fun ways to use Frosting Creations in fudge: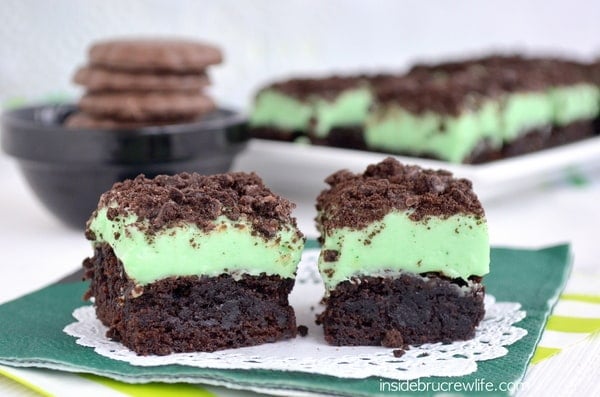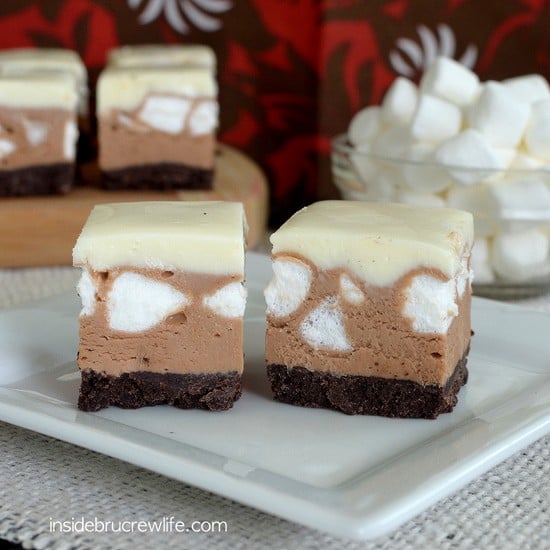 *BruCrew Life was provided a trip to the Duncan Hines kitchen for winning the Frosting Creation contest, but no other compensation was given.  All opinions are 100% my own.
SaveSave