These No Bake Cookie Dough S'mores are a fun way enjoy a s'mores dessert without the mess of a campfire. Layers of marshmallow, edible cookie dough, chocolate, and sprinkles will make kids and adults smile.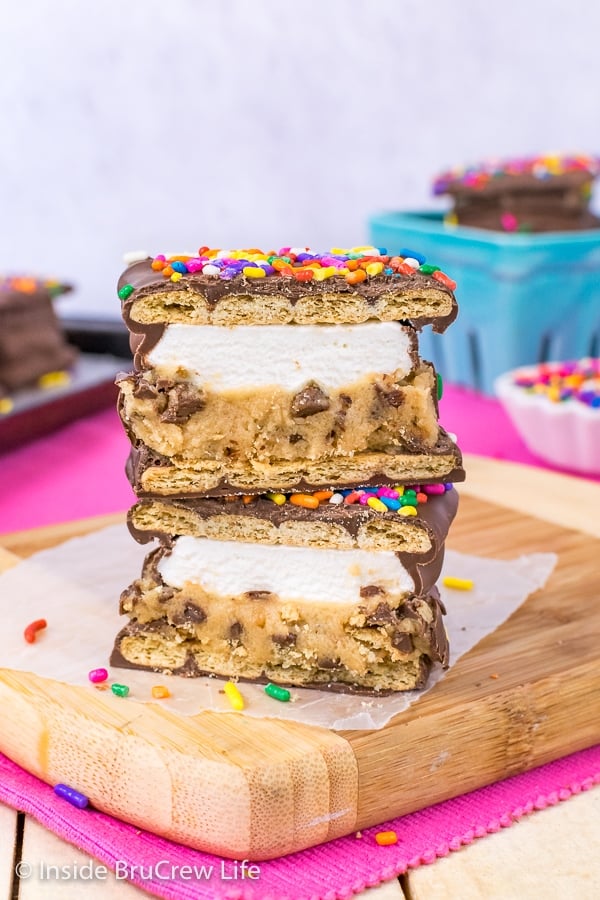 Last week my husband and I started doing a new workout program. Four mornings a week we head out to our gym together. My muscles were so sore after the first week. I'm pretty sure I worked muscles that have never worked before.
But all the cookie eating has started to show, and I am determined to get back in all those cute clothes sitting in our closet before fall gets here! So, give me all the painful workouts...as long as I see some results.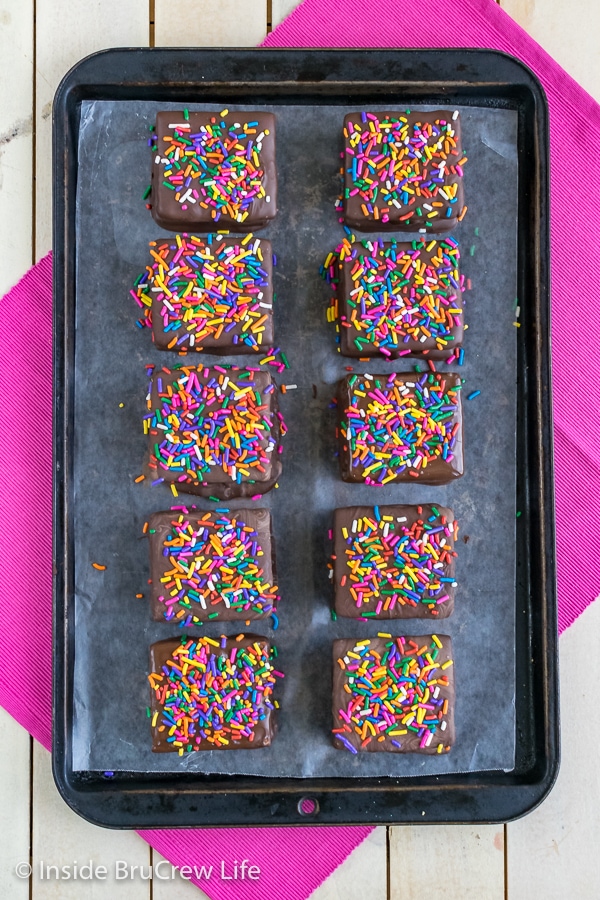 Maybe if I gave up my crazy baking habit, this would all be much easier. I take that back. Nothing makes working out in the humidity any easier.
I'm sure the week of trying to work out and eat healthy is what inspired this crazy s'mores treat. Removing excess sugar from my diet seems to make me think even more about fun dessert ideas.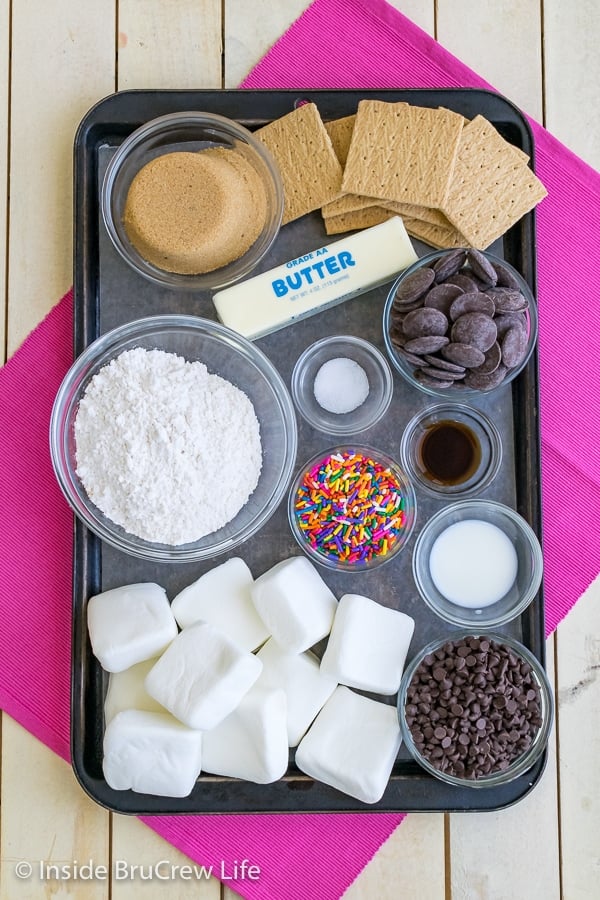 Last month I bought a bag of s'more mallows because I was anticipating campfires, but it has just been way to hot to burn anything.
The next time I looked in the pantry, I saw graham crackers and chocolate, and the urge for s'mores started to grow. One of my favorite ways to use big marshmallows are on these Oreo Brownie S'mores Cups. The toasted marshmallow works just like frosting for these little brownie treats.
For the past few weeks, I have been thinking of how I could make a different no bake s'mores dessert. These Peanut Butter S'mores Bars or these No Bake S'mores Tarts are usually what I make when I want easy s'mores for dessert.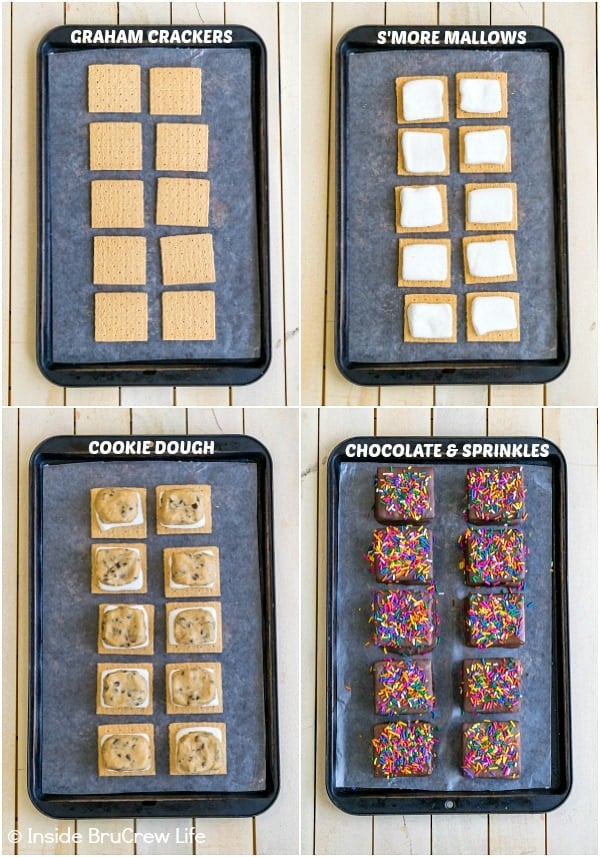 One of my new favorite no bake dessert is this Edible Cookie Dough. It's such an easy and fun treat to serve friends and family after dinner.
I had this crazy idea to add a layer of cookie dough and marshmallows inside chocolate covered graham crackers. And it was seriously the best idea ever!!!
Ingredients Needed
Graham Crackers: I find it easier to buy graham crackers that are sold as squares instead of trying to break bigger ones in half. You will need a total of 20 squares for this recipe.
Marshmallows: Buy the flat s'more mallows. Use a knife to cut 5 of them in half horizontally, so it fits the cracker. Trust me, a whole one is way too big.
Cookie Dough: Mix together all the ingredients until a soft dough forms, then add mini chocolate chips and stir gently. Scoop into 10 even balls and flatten each one to fit the size of the marshmallow.
Chocolate Melts: Feel free to use either a milk chocolate or dark chocolate candy melt. I prefer to use the Ghirardelli melts because they melt easily and taste great. These are rather large s'mores, so you will need 2 bags of melts.
Sprinkles: They are totally optional. But sprinkles make everything more fun, so why not?!?!?!
CLICK HERE TO PIN THIS RECIPE FOR LATER!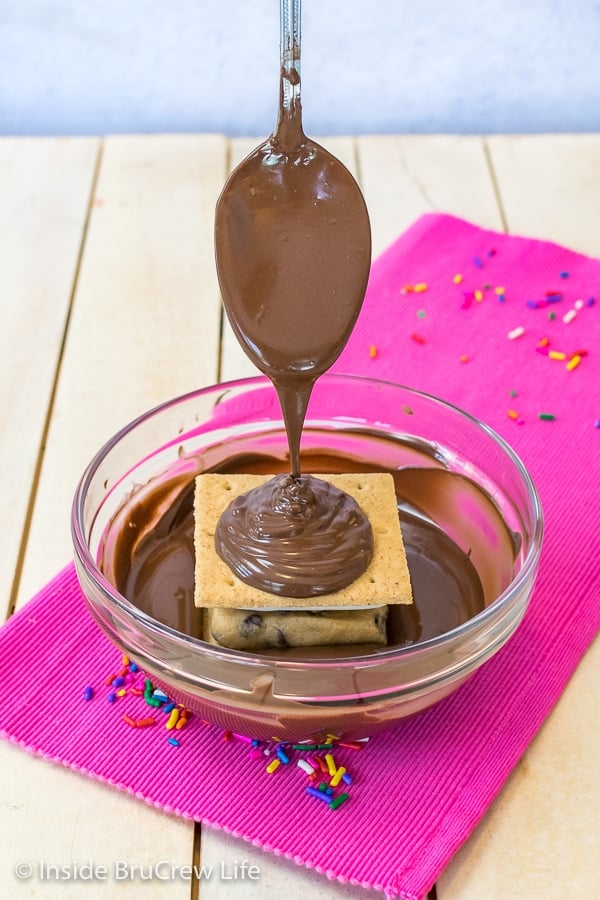 How to make No Bake Cookie Dough S'mores
Place 10 graham crackers on a wax paper lined tray.
Press the cut side of the marshmallow onto the cracker, so it sticks.
Add a flattened cookie dough ball on top of the marshmallow and press another graham cracker on top gently.
Drop the whole s'mores treat into a bowl of melted chocolate. Use a spoon to cover the top and sides.
Lift s'mores out with a large fork and tap very gently on the side of the bowl to remove the excess chocolate.
Place it back on the tray and add sprinkles. Let the chocolate set before picking up or eating.
FAQ'S
Is raw cookie dough safe to eat?
As long as cookie dough is made without eggs and with heat treated flour, it is safe to eat. Learn how to heat treat flour in minutes.
How long do these cookie dough s'mores last?
These s'mores will last 1-2 days if you leave them on the counter. If you want to keep them longer, refrigerate them in a sealed container.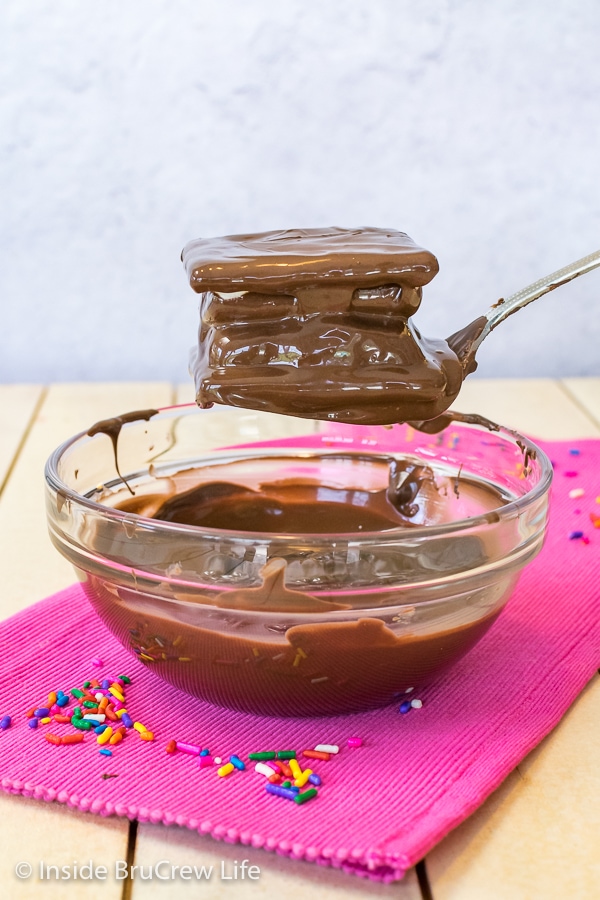 More S'mores Desserts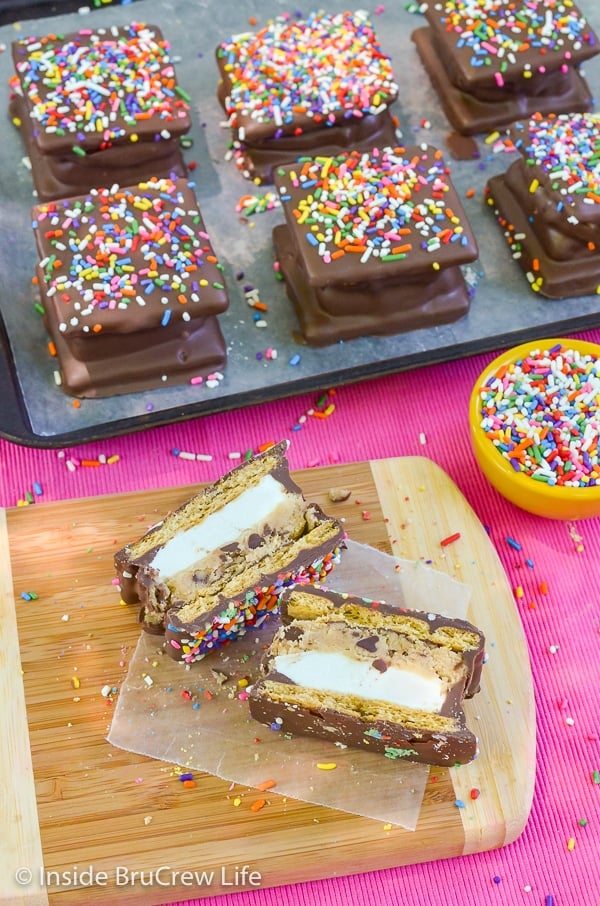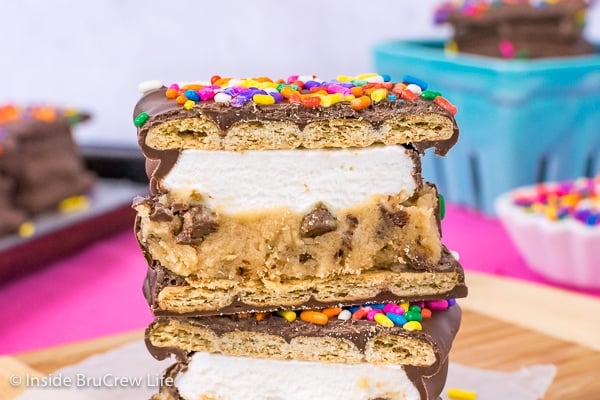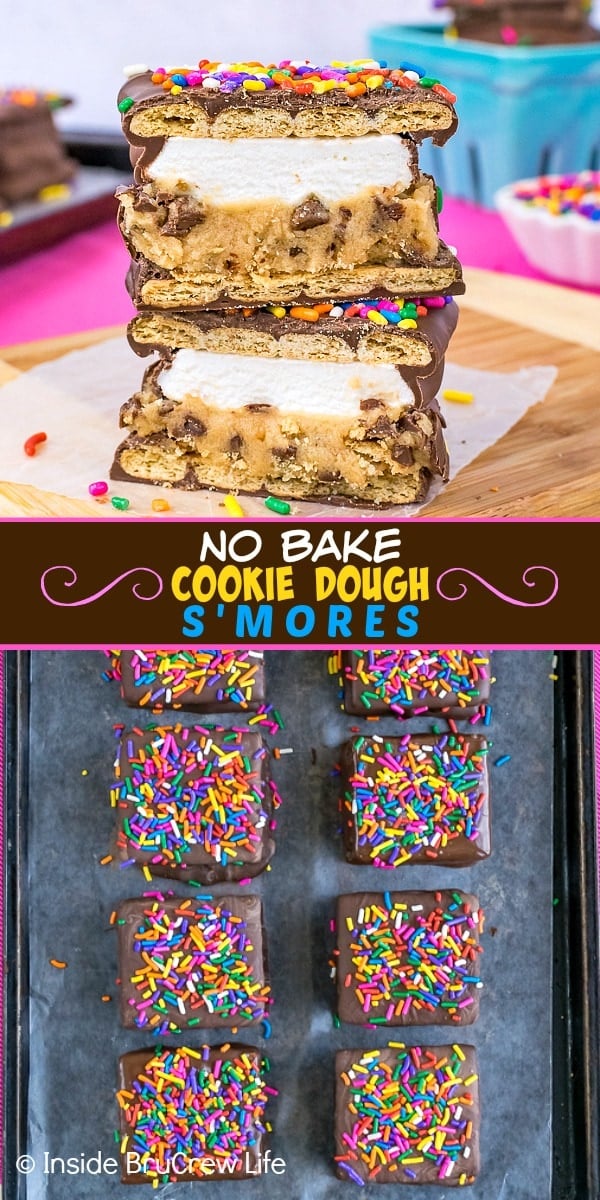 *The post for No Bake Cookie Dough S'mores was first published July 14, 2013. The photos and post were updated and republished August 17, 2020.