Summer time means camping and camp fires, but sometimes you just want to enjoy a gourmet s'mores without all the smoke and fire.  These No Bake Cookie Dough S'mores are a fun twist on a traditional classic.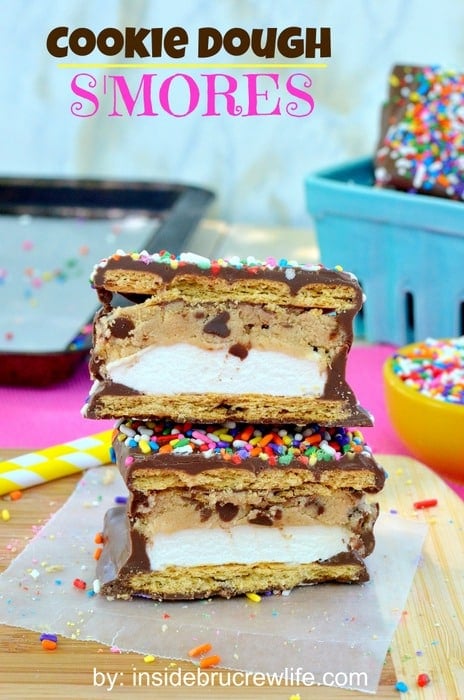 This past week my husband and I started working out together.  Each morning we head to the gym together to do this crazy thing.  It involves running, walking, weights, crunches, lunges…all words that just shouldn't be in my vocabulary.  It all ends in sweating and muscles that hurt.  But all the cookie eating has started to show, and I am determined to get back in all those cute clothes sitting in my closet.
That and the fact that we signed up to do a Warrior Dash in August.  Why do I keep torturing myself in mud races?  Does anyone remember when I shared these Take 5 Bars and how I was going to do a Tough Mudder?  And yes, we finished the race and had a blast!  I must be crazy or something to do this again.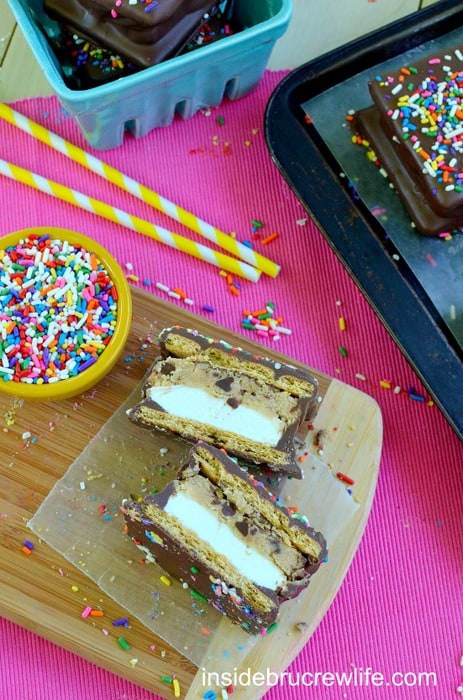 This year's mud run should be a whole lot of fun too.  Our oldest son is old enough to participate, and he is so excited to run this with us.  But if I am going to even think about running and doing obstacles next month, I have to start getting ready now.
I'm sure that if I gave up this crazy habit called baking it would make this so much easier.  I take that back.  Nothing makes running and weight lifting any easier.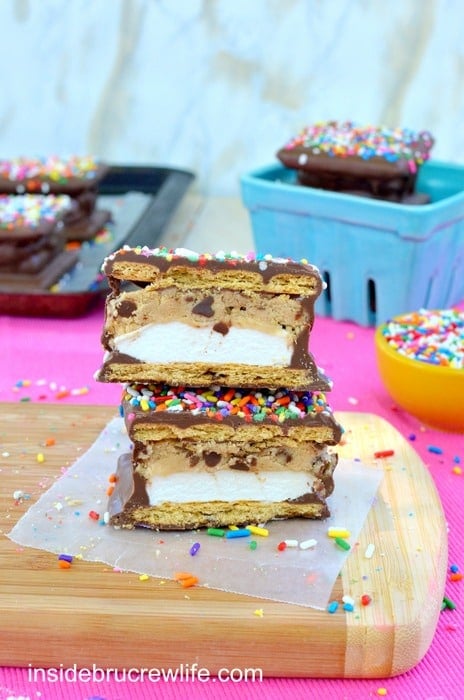 I'm sure the week of trying to work out and eat healthy is what inspired this crazy treat.  Trying to remove sugar from my diet seems to just make the dessert ideas happen even more.  I bought the new S'more Mallows last month and have been wanting to make something.   Then I bought the square graham crackers and s'mores just seemed obvious.  For the past few weeks, I have been thinking of how I could add a fun twist to indoor s'mores.
I had this brilliant thought that cookie dough would be great…after I made and photographed them I realized that so many other people before me had the same exact thought.  Great minds all think alike I guess!
One thing that I did do differently was to dip the entire thing in chocolate and top them with sprinkles.  Sprinkles just make everything so much better!    I recommend having a sprinkle assistant when making these.  My daughter came in the kitchen the other night when I was trying to dip and sprinkle.  She was so excited to help out with the sprinkles.  I did have to stop her from pouring the sprinkles on top.  I buy a very large bottle of sprinkles from Gordon's Food Service, and I could just envision her pouring the entire thing on top of one.  Even with her using her hands to toss sprinkles on, we ended up with the tops being very sprinkle-ized!  Along with our floor 🙂
These No Bake Cookie Dough S'mores are a perfect way to enjoy s'mores on rainy days or hot days that you don't want to mess with a fire.    They also would make great birthday party treats if you had a camping theme.  I personally like to eat them after doing my crazy insane work out…but that's just me.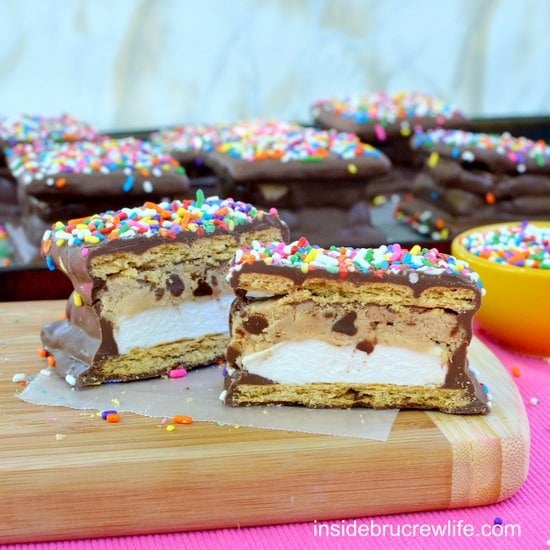 Stay up to date on the BruCrew baking:
FACEBOOK | PINTEREST | GOOGLE+ | TWITTER | INSTAGRAM | BLOGLOVIN
Yield: 10 s'mores
No Bake Cookie Dough S'mores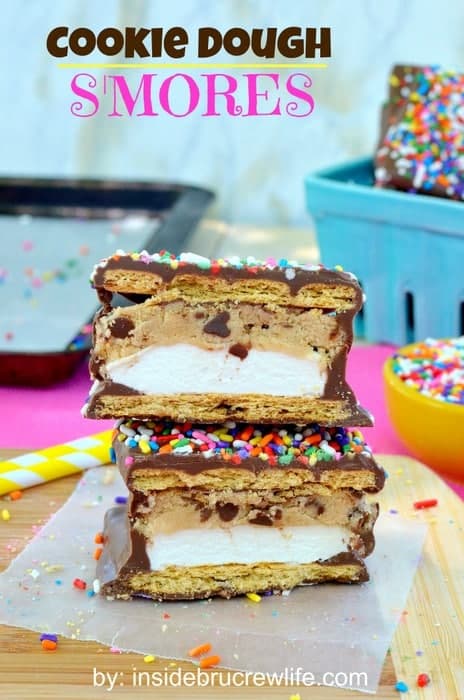 Chocolate chip cookie dough, marshmallows, and graham crackers wrapped in a chocolate coating. These Cookie Dough S'mores are a fun indoor treat to enjoy without the mess of a campfire.
Prep Time
1 hour
45 minutes
Total Time
1 hour
45 minutes
Ingredients
1/2 cup butter, softened
2/3 cup brown sugar
1 teaspoon vanilla
1 cup flour
pinch salt
2 teaspoons milk
1/2 cup miniature chocolate chips
5 S'more Mallows (large flat marshmallows from Jet Puffed)
20 graham cracker squares
1 bag chocolate melts
sprinkles
Instructions
Beat together the butter, sugar, and vanilla. Add the flour, salt, and milk and mix well.
Stir in the chips by hand. Roll into 10 balls.
Cut the marshmallows in half horizontally. Place the cut side down on a graham cracker square. Take a ball of cookie dough and mold it into the shape and size of the marshmallow.
Place on top of the marshmallow and top with another graham cracker square. Press down lightly.
Place the chocolate melts in the microwave and heat according to the package directions. Stir until melted and creamy.
Drop one s'mores cracker into the melted chocolate. Use a spoon to spread the chocolate all over the sides and top of the s'mores.
Gently remove the s'mores using a fork. Hold over the bowl and tap the wrist that is holding the chocolate. Do this very carefully so the cracker does not fall off into the chocolate again.
When all the excess chocolate has dripped off, place on a piece of wax paper and top with sprinkles. Let set. Store in a loosely sealed container.
Notes
You can also place the graham cracker with the marshmallow in the microwave for 4-5 seconds before putting the cookie dough on top. Then dip in chocolate following the directions above.
Nutrition Information:
Yield:
10
Serving Size:
1
Amount Per Serving:
Calories:

402
Total Fat:

19g
Saturated Fat:

10g
Trans Fat:

0g
Unsaturated Fat:

7g
Cholesterol:

28mg
Sodium:

203mg
Carbohydrates:

56g
Fiber:

2g
Sugar:

32g
Protein:

4g
Here are a few other cookie dough treats that we love: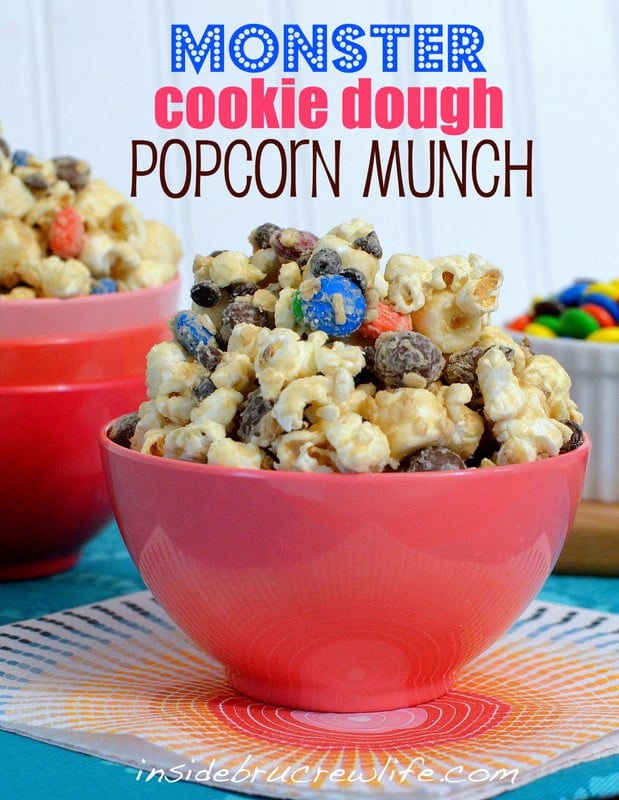 Monster Cookie Dough Popcorn – Biscoff and chocolate covered popcorn filled with M&M's, cookie dough bites, chocolate chips and oatmeal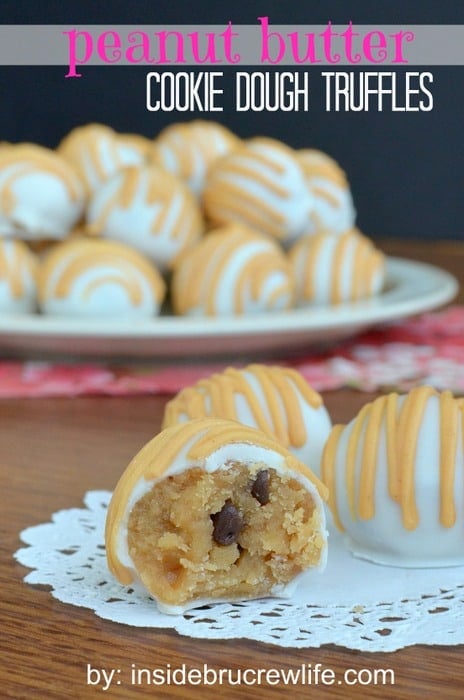 Peanut Butter Cookie Dough Truffles – peanut butter chocolate chip dough dipped in white chocolate and drizzled with peanut butter chips
Congo Bars – slightly under baked blonde brownies full of chocolate chips is a great treat for the cookie dough lover