Last week my hubby and I ate at the Cheesecake Factory…
it is definitely one of my FAV places to eat!!!
We always end up ordering an appetizer and 2 meals,
just to bring home most of the meal for another meal later:-)
The servings there are HUGE!
We could easily share just one meal and be content…
especially when there is cheesecake for dessert.
But I have such a hard time shelling out that much money just
for ONE piece of cheesecake
when I know we can make one just as good.
Now don't get me wrong…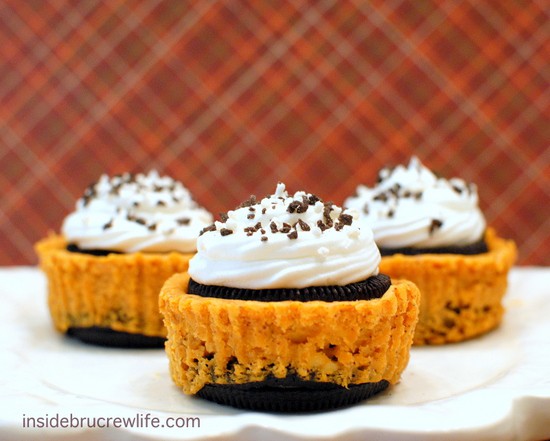 we DID pull out the 'ole wallet and
just about had to give up our first born
for those two yummy pieces.
And oh boy, were they ever delicious!!!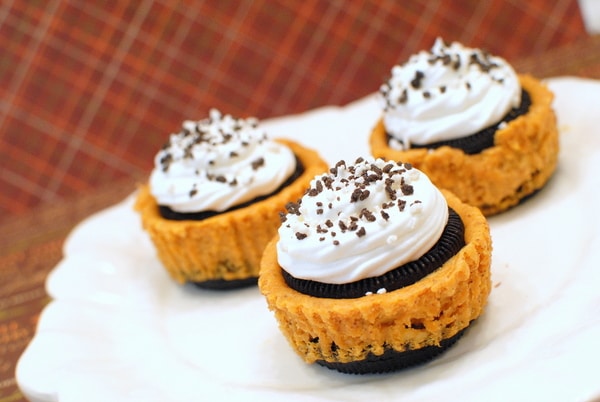 But our lunch date had me wanting to make some cheesecake at home.
So here is my fall version of a mini cheesecake
with lots of oreo inside:-)
Pumpkin Oreo Cheesecake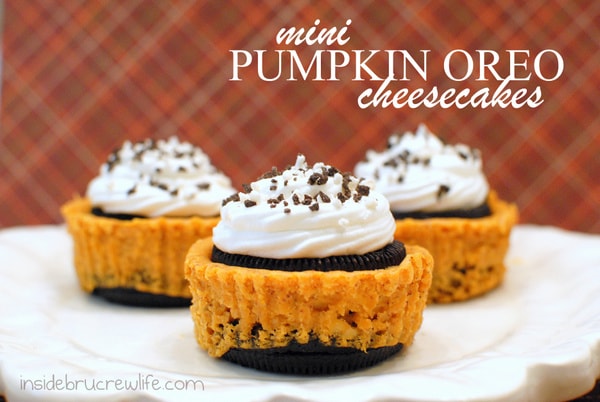 Pumpkin cheesecakes with 2 layers of Oreo cookies.
Ingredients
2 packages cream cheese, softened (8 oz. each)
1/2 cup sugar
2 eggs
2 Tablespoons sour cream
1 teaspoon vanilla
1 cup canned pumpkin
1 teaspoon cinnamon
24 Oreos, split in half
1 cup Cool Whip
sprinkles
Instructions
Preheat oven to 350* Place cupcake liners in a muffin pan.
Beat the cream cheese and sugar until light and fluffy. Add the eggs one at a time, beating after each one. Add the sour cream, vanilla, pumpkin, and cinnamon and beat until creamy.
Place half of an Oreo in the bottom of the cupcake liners and fill the liner 3/4 full with the cheesecake batter. Place another half of an Oreo into the top of the batter. Bake for 22 minutes. Cool in pan for 15-20 minutes before removing and placing on a wire rack to finish cooling. Keep refrigerated.
Top with Cool Whip and sprinkles before serving. Makes 24.
http://insidebrucrewlife.com/2010/10/pumpkin-oreo-cheesecake/
Copyright Inside BruCrew Life