Trust me and add this Pecan Pumpkin Cheesecake Pie to your fall dessert plans. The layers of gooey pecan pie and pumpkin cheesecake will have you reaching for another slice in a hurry.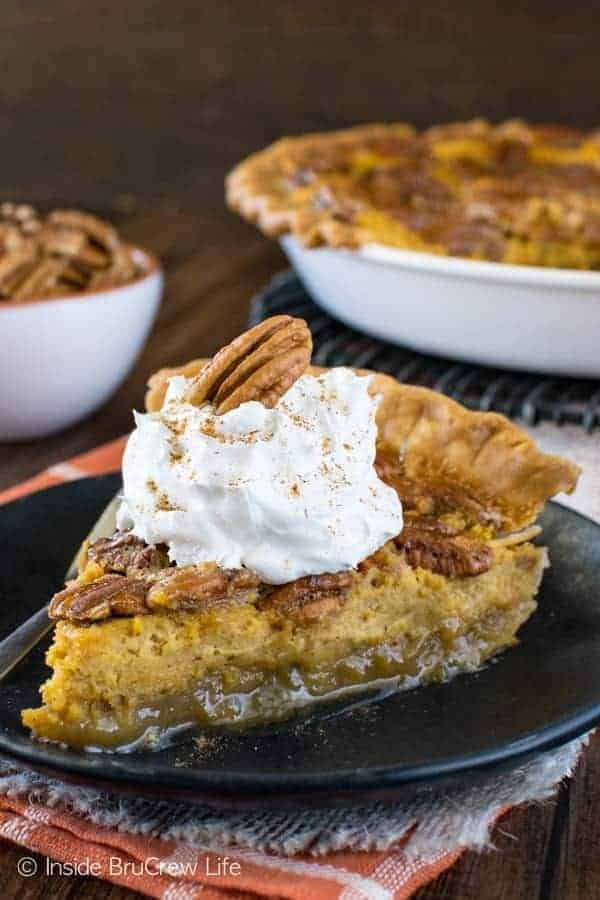 CLICK HERE TO SAVE THIS RECIPE FOR LATER!
I don't think that our state got the memo that fall is here. We had a few cooler days, and I thought the end of warmer weather was in sight.
But the warm weather is headed back in a few days. But that never stops me from baking.
I figure if I keep baking with pumpkin the cooler weather will eventually come, right? Ok, so maybe it won't, but I'm not going to stop with the pumpkin goodness any time soon.
Usually the minute I start baking pumpkin goodies, I just.can't.stop! And this year is no different.
A few years ago we made a Pecan Cheesecake Pie that has become our go-to dessert for just about anything. Well, in the fall that is. The other day I decided that pie needed a video for Facebook to show how easy it is to get those gooey layers.
After I mangled it to get a good shot, my husband took it to work and shared it with the guys there. Everyone loved it, and someone suggested we make it with pumpkin. What an awesome idea!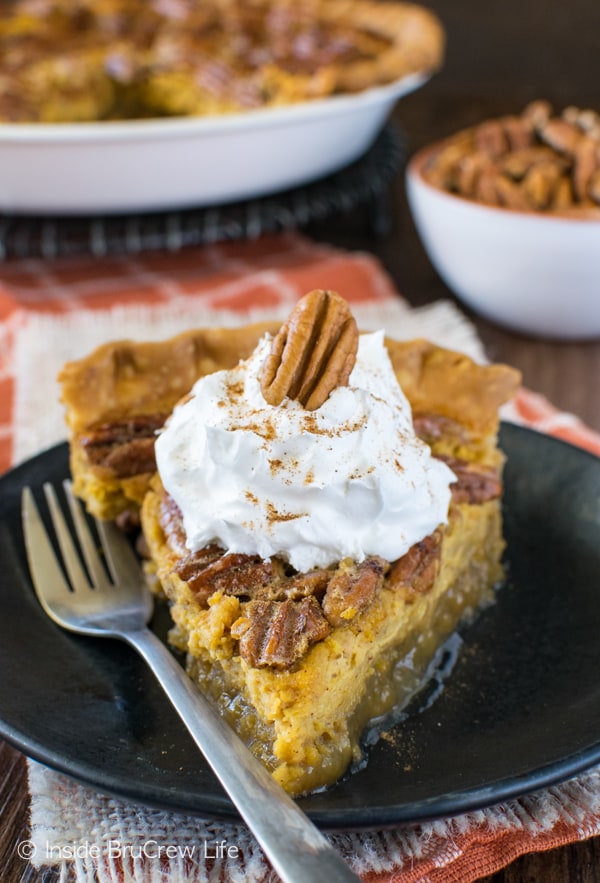 I couldn't get the idea out of my mind of using pumpkin to jazz up this awesome dessert, so I made it the very next day. And wowza was it ever good!
Luckily we promised it to the guy who gave me the idea because I think we would have eaten the whole thing in one day. Actually, my son said I should just tell everyone that "the dog got it". I think that was his ploy to keep it in the house for himself. LOL!
We all had to be at the church for soccer games on Saturday, so we brought the rest of the pie with us. The couple later told us that they got forks out of the kitchen and ate the pie in their truck before even leaving the parking lot.
It's that good! Trust me and add this amazing Pecan Pumpkin Cheesecake Pie to your fall baking list ASAP!!!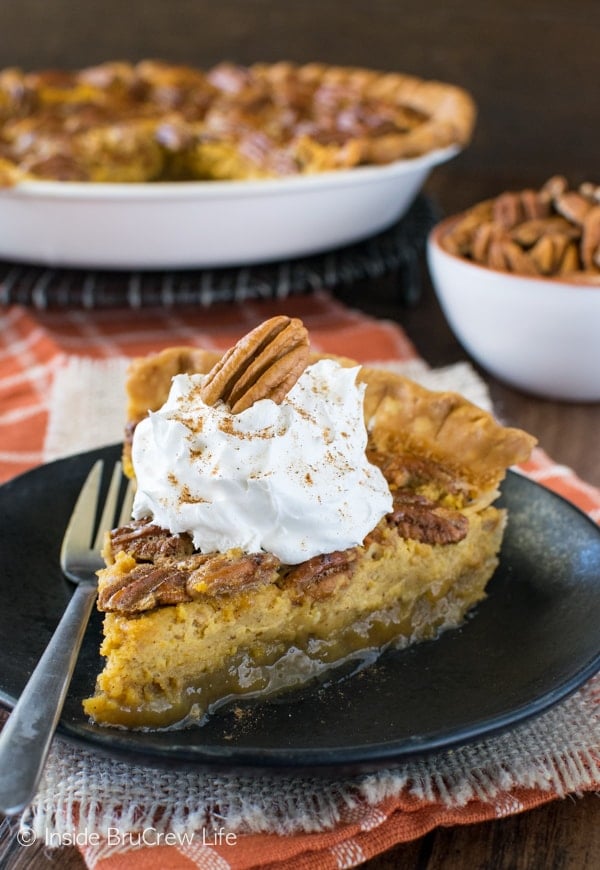 How do you keep pie crust from sticking to the pan?
Spray your pie plate with a flour and oil based non stick spray like Baker's Joy or Pam. You can also butter the bottom and sides of your pie plate before placing a pie crust in it.
Sprinkle both sides of your crust with flour before placing it in the pie plate.
You could also line the bottom of the pie plate with parchment paper before adding the pie crust. Just be sure to pull the paper off each slice before you serve it.
Make sure you do not stretch the pie crust thin when you are placing it in the bottom of the pie plate. Press it firmly against the bottom and sides of the pie plate to keep it from pulling away from the pan while baking.
Do not over fill the pan. If the filling bubbles up and spills over the edge of the crust it will seep between the crust and pie plate and bake the crust right to the pan.
Blind baking the crust before adding fillings may also help prevent the pie from sticking. Line the crust with parchment paper and fill with pie weights or dried beans and bake at 400 degrees for 10 minutes. Remove and cool while you prepare the fillings.
Use a silicon pie plate.
Dip the bottom of the pie plate in very hot water for 10-20 minutes to loosen the crust and sticky filling right before serving. Be careful not to get water onto the edge of the pie!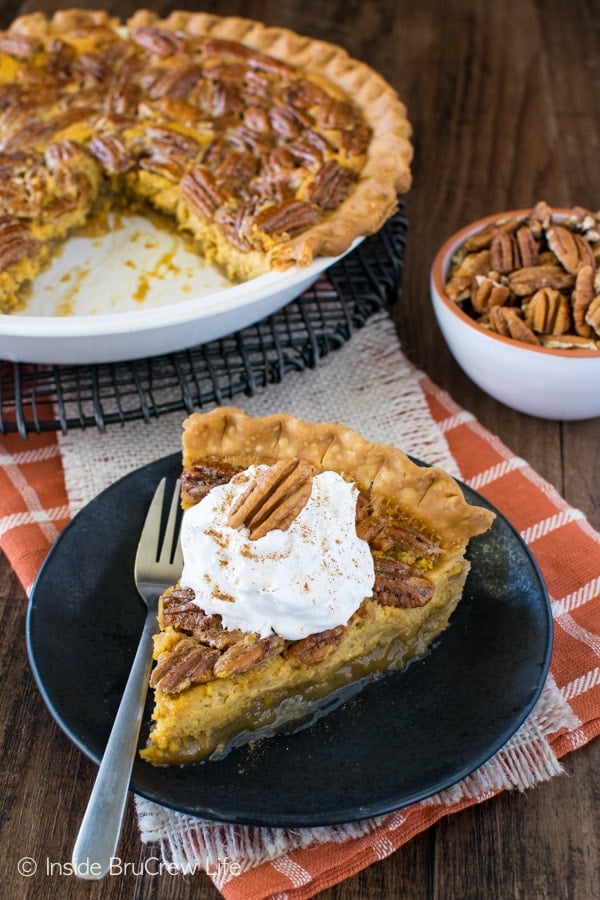 How to make a Pecan Pumpkin Cheesecake Pie:
Beat together cream cheese and sugar until creamy. Add some pumpkin puree, spices, and egg and beat again until creamy.
Spread the pumpkin cheesecake batter in the bottom of a pie crust that has been place in a buttered pie plate.
Whisk together sugar, corn syrup, eggs, vanilla, and melted butter, then stir in the pecans. Pour the mixture slowly over the cheesecake layer.
Cover the edges of the crust with a pie shield or tin foil because you do not want the crust to burn while it bakes.
As it bakes, magic happens in your oven and the gooey layer sinks below the pumpkin cheesecake leaving the candied pecans on top. It is pure torture, but you have to wait for this pie to chill before you can cut into it.
Believe me, your pie will not look pretty if you start slicing into it warm…been there, done that!! Take my advice and make this pie the day before you actually want to serve it.
A scoop of Cool Whip and some spices makes this pie ready to be served. That is if you are willing to share once you taste a bite…
Can I use light corn syrup instead of dark corn syrup?
Yes, you can use whatever you have on hand. You can also use maple syrup if you like.
Do I have to use whole pecans?
No. You can use chopped or diced pecans as well.
Can I substitute other nuts?
Yes, you can use any other nut that you prefer.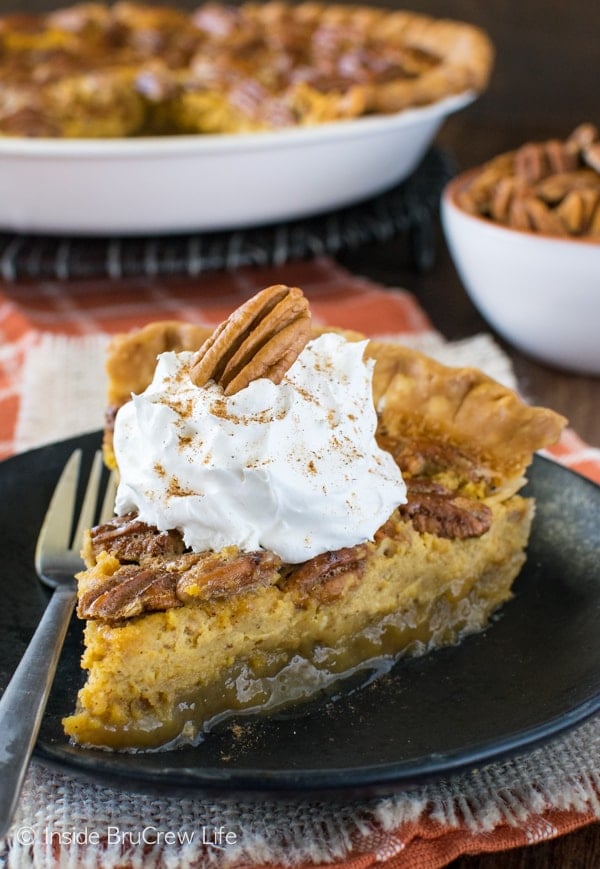 Looking for more pumpkin recipes? Here are a few of our favorites:
Connect with Inside BruCrew Life! Follow us on social media, so you never miss a post.
Email Subscription | Facebook | Pinterest | Twitter | Bloglovin
I also created a fun new Facebook group, and I would love for you to join. It's a group where you can share your favorite recipes, ask questions, share photos, and see what's new with the BruCrew. If you would like to check it out, you can request to join HERE.
Be sure to follow me on Instagram and tag #brucrewlifebaking, so I can see all the Inside BruCrew Life recipes you are making.
Pecan Pumpkin Cheesecake Pie recipe and video: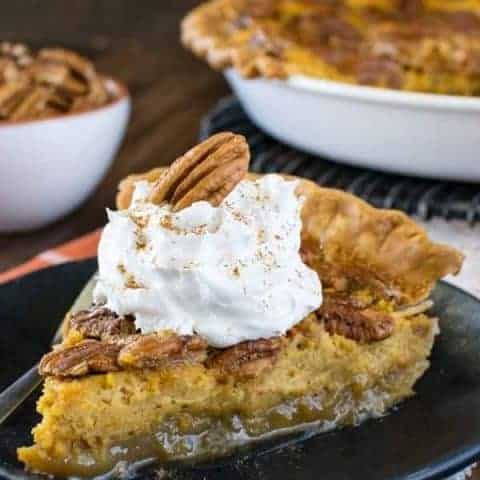 Pecan Pumpkin Cheesecake Pie
Total Time:
1 hour
15 minutes
The layers in this Pecan Pumpkin Cheesecake Pie will have you reaching for another slice of pie. This is a delicious addition to your fall dessert tables.
Ingredients
For the Cheesecake Layer
1 - 8 ounce package cream cheese, softened
1/4 cup sugar
1/2 cup pumpkin puree
1/2 teaspoon cinnamon
1/4 teaspoon nutmeg
1/4 teaspoon ground cloves
1/4 teaspoon ginger
1 egg
For the Pecan Layer
2/3 cup dark corn syrup
2/3 cup sugar
2 eggs
1 Tablespoon melted butter
1 teaspoon vanilla extract
1 cup pecans
Instructions
Preheat the oven to 350 degrees. Coat a 9.5 inch pie plate with butter. Unroll the pie crust and place in the pie plate. Fold the edges under and crimp. Refrigerate until needed.
Beat the cream cheese and sugar until creamy. Add the pumpkin, spices, and egg and beat until creamy again. Spread the mixture in the bottom of the pie crust.
Whisk together the corn syrup, sugar, eggs, butter, and vanilla. Add the pecans and stir to coat. Gently pour on top of the cheesecake layer.
Place the pie dish on a cookie sheet and cover the edges of the pie crust with foil or a pie guard. Bake for 50-55 minutes.
Remove and let cool on a wire rack for 1 hour, and then refrigerate until chilled.
Serve with Cool Whip, pumpkin pie spice, and extra pecans, if desired.
Recommended Products
As an Amazon Associate and member of other affiliate programs, I earn from qualifying purchases.

*This post contains affiliate links. Inside BruCrew Life may receive a very small percentage from sales made through these links. Thank you for letting us share products this way.
**The post and recipe for this Pecan Pumpkin Cheesecake Pie was originally published on September 19, 2016. The post has been updated and republished on November 17, 2018.