Pumpkin Cheesecake Brownies are one of our favorite fall desserts because they are so rich and delicious. The gooey brownie crust and swirls give them a great chocolate taste. They are perfect for any occasion - from Thanksgiving dinner to an afternoon snack with your friends.
Looking for more fall desserts? Try these pumpkin chocolate chip cookies or this pumpkin cobbler.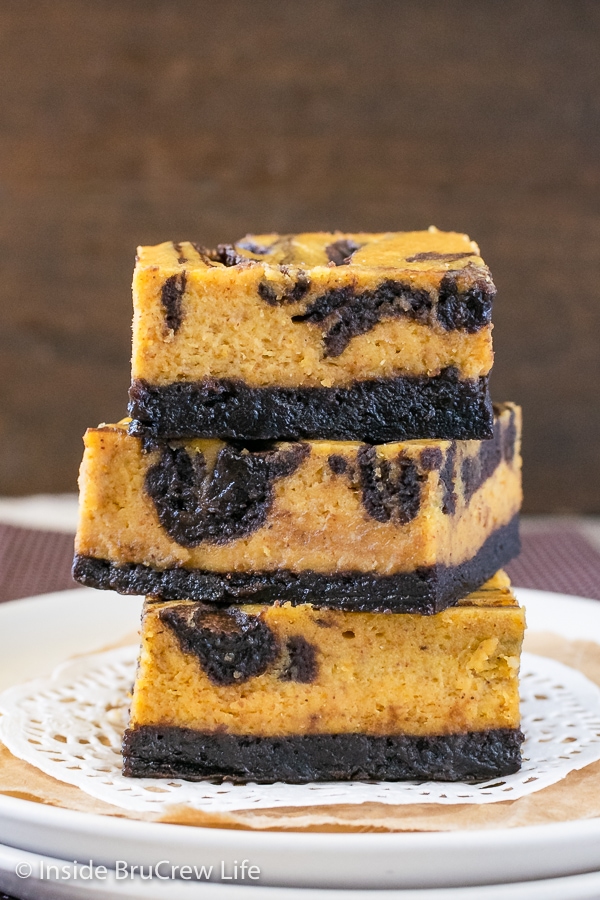 Are you looking for a new dessert recipe to try this fall? These pumpkin cheesecake brownies are the perfect combination of two classic desserts. They are creamy, gooey, and so delicious!
We have been making this pumpkin brownie recipe for years. Every fall I look forward to making a few pans to share with friends and family. I mean look at the color and the fudgy swirls! If you love pumpkin and chocolate, these are the brownies for you!
Why You Will Love These Cheesecake Brownies
Gooey brownies and creamy pumpkin cheesecake baked on top of each other creates one amazing dessert. The result is an amazing combination of flavors that will satisfy any sweet tooth.
The best part about these brownies is that they are so easy to make. They start with a brownie mix and then get jazzed up with a delicious homemade pumpkin cheesecake!
This is the perfect treat for autumn parties, potlucks, family gatherings, Thanksgiving, and more. Everyone will love these decadent pumpkin cream cheese brownies, so be sure to bring them along when you visit family this holiday season. Trust me, your pan will come home empty every time.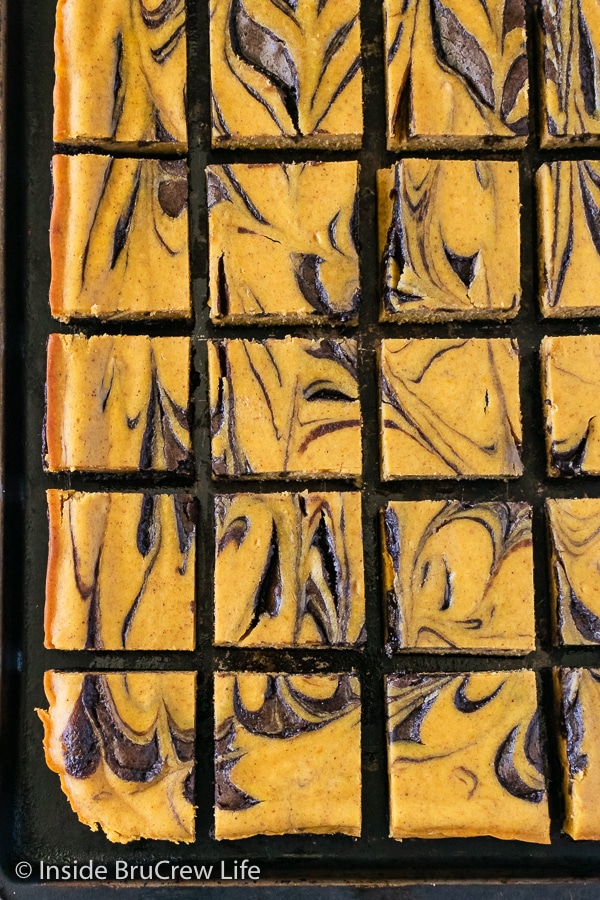 Key Ingredient Notes
You can make a pan of these brownie pumpkin cheesecake bars in no time flat with simple ingredients from your local grocery store. I like to buy an extra brownie mix and can of pumpkin to keep on hand. Just in case I need to bring a dessert somewhere.
Brownie Mix - I like using a 9x13 box mix to keep this recipe easy. You can also make a double batch of these chocolate chip brownies, if you prefer.
Cream Cheese - I prefer to use full fat cream cheese in most of our cheesecake recipes.
Granulated Sugar - Sweetens the cheesecake batter and lets the pumpkin flavor shine through.
Pumpkin Puree - Make sure you use a can of pure puree. Do NOT buy the pumpkin pie mix because that has added sugar and spices.
Vanilla Extract & Spices - A blend of vanilla, cinnamon, nutmeg, ginger, and cloves gives this dessert such a delicious fall flavor!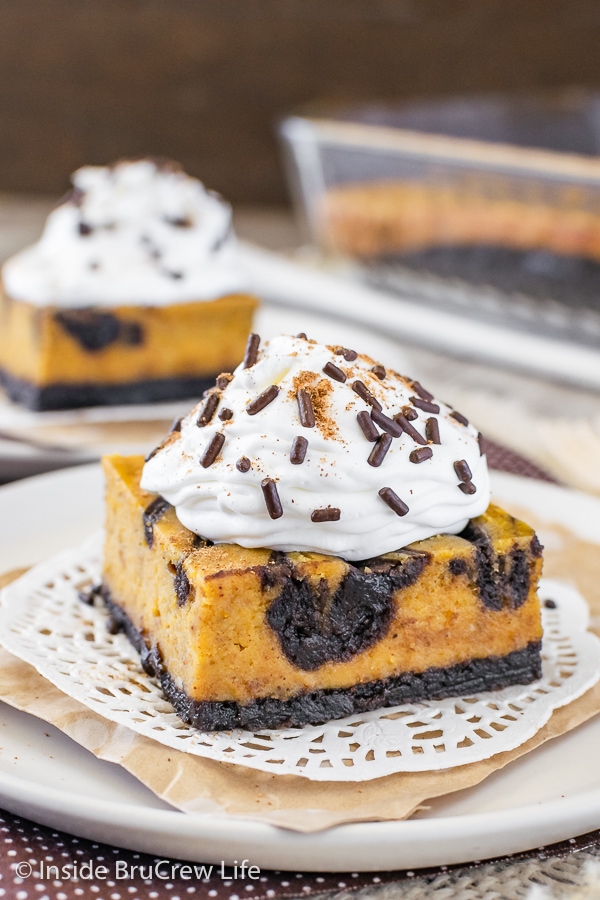 How to make Pumpkin Cheesecake Brownies
This pumpkin cheesecake brownie recipe is just what you need to satisfy your sweet tooth! They are easy enough that even beginner bakers can make them without any problems.
Brownie Layer
Mix together the box brownie mix according to the package directions. Reserve ⅔ cup of the batter for later.
Spread the batter in a greased 9x13 pan.
Cheesecake Layer
Beat the softened cream cheese and sugar in a large bowl until creamy.
Add the vanilla, pumpkin puree, flour, and spices and beat until mixed in.
Add the eggs and mix just until mixed in. Do not over beat the cheesecake mixture.
Spread on top of the brownie batter.
Drop the reserved brownie batter by spoonfuls onto the pumpkin cheesecake layer. Use a butter knife to gently swirl it in.
Bake & Chill
Bake the pumpkin cheesecake brownies for 45-50 minutes.
Remove from the oven and let cool 1 hour on a wire rack.
Cover loosely and refrigerate until completely chilled.
Serve with swirls of this easy whipped cream recipe.
How do you get such perfect swirls?
Use a butter knife or toothpick to swirl just the top two layers together. To keep it clean, do not let the knife tip go into the brownie base on the bottom.
Why are my brownies so gooey?
These brownie pumpkin cheesecake bars are slightly gooey depending on what brand of brownie mix you use. I have tried a few different ones over the years, and some just bake gooier than others. To be honest, my favorite brand of box brownies are from Aldi.
If you want to avoid a gooey brownie base, bake the brownie layer for 15 minutes, then spread the pumpkin cheesecake batter on top. Swirl in the remaining brownie batter and bake for an additional 30-35 minutes.

Recipe Tips & Variations
Set the cream cheese out ahead of time. It's much easier to mix the sugar into a block of room temperature cheese.
Line the pan with foil or parchment, so you can remove the brownies easily after baking.
Use the edge of a butter knife to swirl the brownie batter into the pumpkin cheesecake easily. DO NOT let the tip of the knife touch the bottom brownie layer.
Be careful not to over swirl the top because then it won't look as pretty. It will still taste just as good though.
For a bigger chocolate flavor, add ½ cup of miniature chocolate chips to the brownie batter and sprinkle a few on top before baking.
Want to add a crunch to your dessert? Sprinkle the top with ½ cup chopped nuts before baking.
Storage Recommendations
Refrigerator - The swirled cheesecake brownies will keep for 5-6 days if kept in an air tight container in the refrigerator, so they do not dry out. This is a great dessert to make ahead of time.
Freezer - Wrap the completely chilled cheesecake brownies in a layer of plastic wrap and foil. Place in a freezer safe bag or container and freeze for 2-3 months. Thaw overnight in the refrigerator.

More Pumpkin Cheesecake Recipes
Do you love a recipe you tried from Inside BruCrew Life?
Please leave a 5-star ⭐️ rating and a review in the comments section below.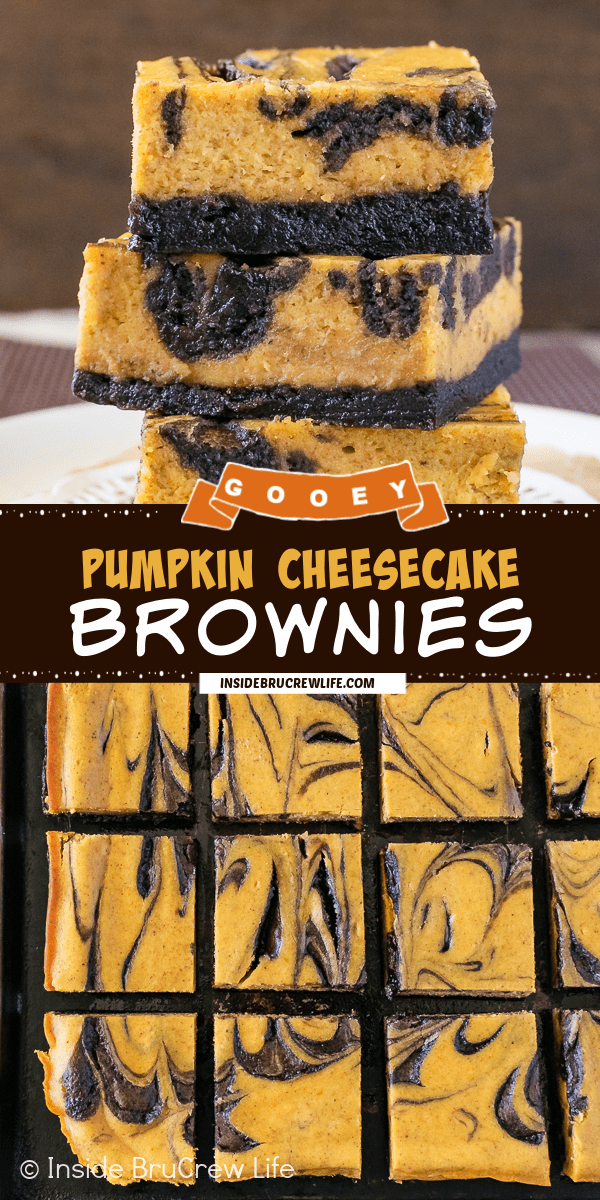 *The post for Brownie Swirled Pumpkin Cheesecake Bars was first published October 2016. The post and photos were updated and republished November 2021.