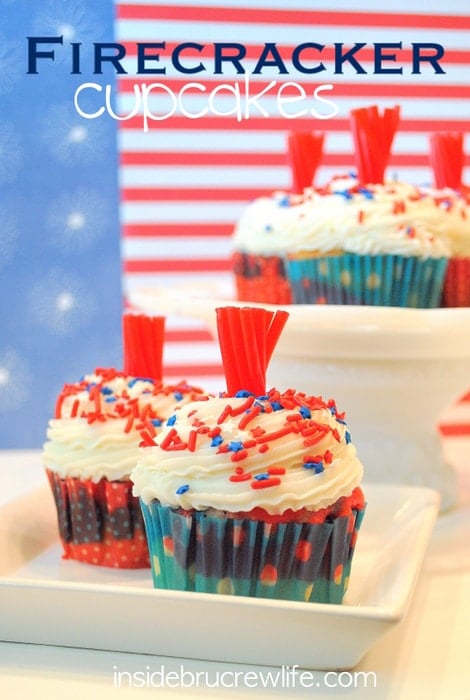 Do you need a super easy and fun dessert
for the Fourth of July???
My daughter and I had so much fun
making these Firecracker Cupcakes together.
They are the perfect easy cupcake to do with your kids.
We loved seeing how different each cupcake
baked up depending on what color you
started with.
I think it is kind of like a patriotic camo:-)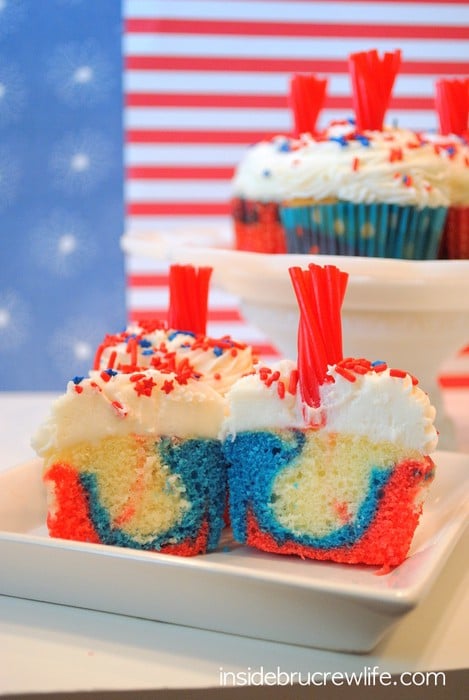 Take these to any and all picnics you are invited too,
but BEWARE…
once people know you can make such cute stuff,
it will be expected for every picnic you attend.
And that isn't a bad thing:-)
I mean baking such cute stuff
is super cool, right?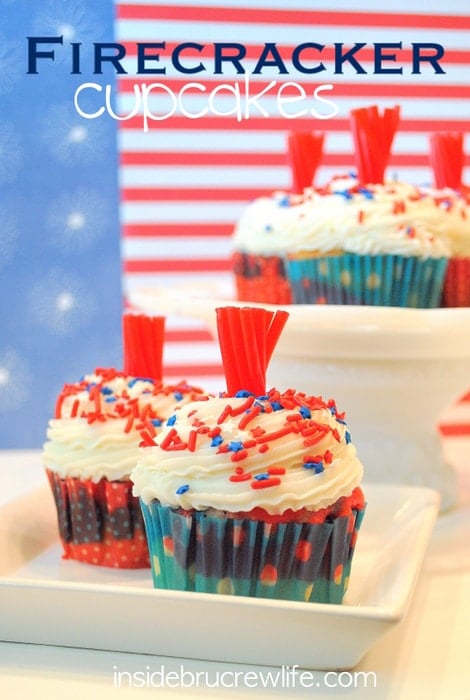 Red, white, and blue colored cupcakes topped with a fun licorice top.
Ingredients
1 vanilla cake mix (and ingredients from back of box)
blue and red food coloring ( I used Wilton gel colors)
1/2 cup butter
1/2 cup shortening
1/8 teaspoon salt
1 1/2 Tablespoons water
1 Tablespoon vanilla
4 c. powdered sugar
1 package pull and peel licorice
holiday sprinkles
Instructions
Preheat oven to 350*. Mix up your cake mix as directed on the back of the box. Divide the batter into 3 bowls. Add a little red and blue food coloring to two of the bowls. Fill your cupcake liners 2/3 full by alternating colors 1 Tablespoon at a time. Change it up by starting with a different color each time. Bake 20-22 minutes. Cool.
Beat butter and shortening until creamy. Add the salt, water, and vanilla and cream again. Slowly add the powdered sugar. Add another tablespoon of water if you feel it is still too thick. Beat until creamy. Frost cupcakes and top with a short piece of pull and peel licorice and sprinkles. Makes 24 cupcakes.
http://insidebrucrewlife.com/2011/06/firecracker-cupcakes/
Copyright Inside BruCrew Life