This Red White and Blue Bundt Cake is a fun and colorful Fourth of July cake that you can be proud to share at any picnic or barbecue this summer.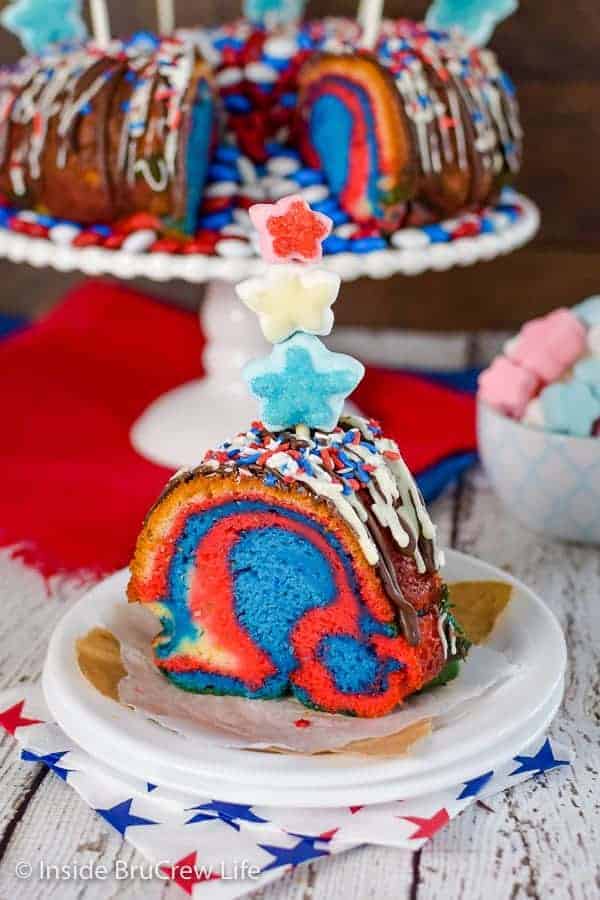 Every year around this time we look forward to going to Fourth of July picnics with friends and families and setting off fireworks and eating patriotic desserts.
Although, let me just say we are not super crazy about the part where we spend money on things we are just going to blow up. Don't get me wrong, fireworks and sparklers are totally fun, and we enjoy setting a few off each year.
But while we are holding our dollar sparklers, we will enjoy all the big fireworks that everyone else in the neighborhood are setting off.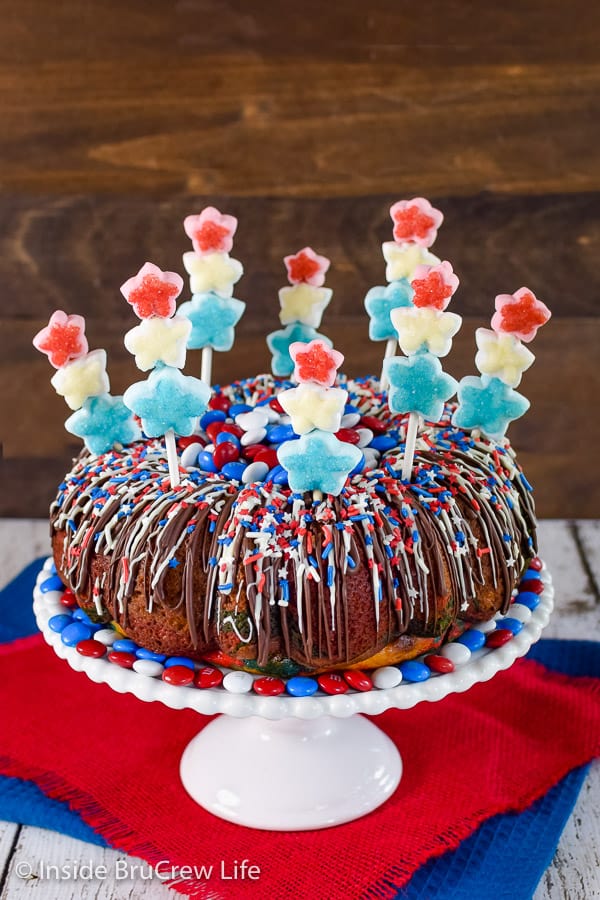 One of my all time favorite things to do around holidays is to bake fun themed desserts. Firecracker Cupcakes, anyone?
As soon as I saw star marshmallows at Walmart, I knew I wanted to do some sort of fireworks display on a cake. I bought star marshmallows, lollipop sticks, white chocolate melts, red, white, and blue sanding sugars, and a patriotic star sprinkle mix.
Oh, and while I was there a bag of red, white, and blue M&M's jumped into my cart too. I knew I could find a fun use for them, and if not, I could just make more Fireworks Cookies and Cream Cookies.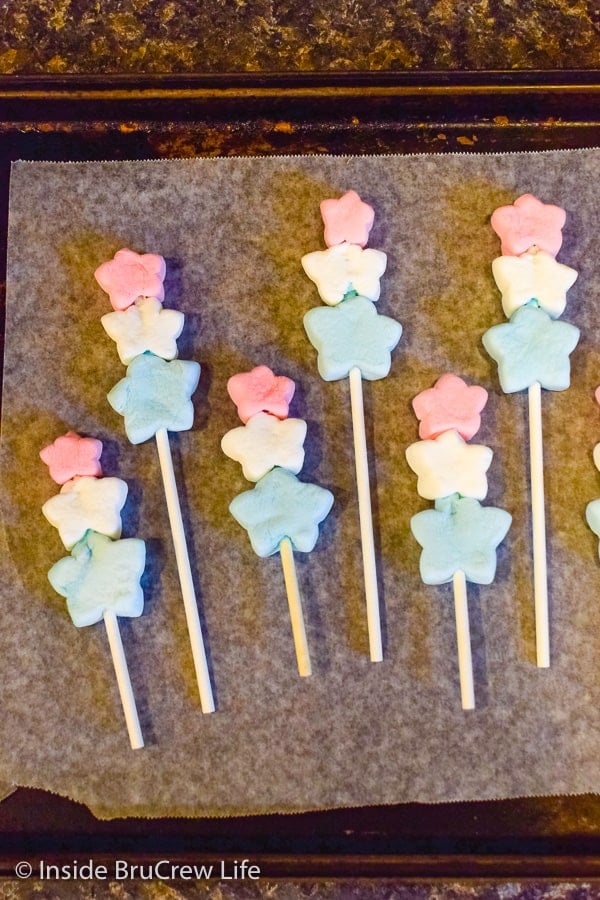 How to make Star Marshmallow Sparklers
Line the marshmallows up on different sized lollipop sticks from biggest to smallest. Make sure you don't push the stick through the top marshmallow.
Spoon melted white chocolate into a small plastic baggie and cut one tip off. Slowly outline the star marshmallows with the chocolate and fill it in.
Top each marshmallow with colored sugars to match the marshmallow color.
FYI: Buy extra marshmallows to make extra marshmallow sparklers. My kids were fighting over who got to eat the last few on the cake.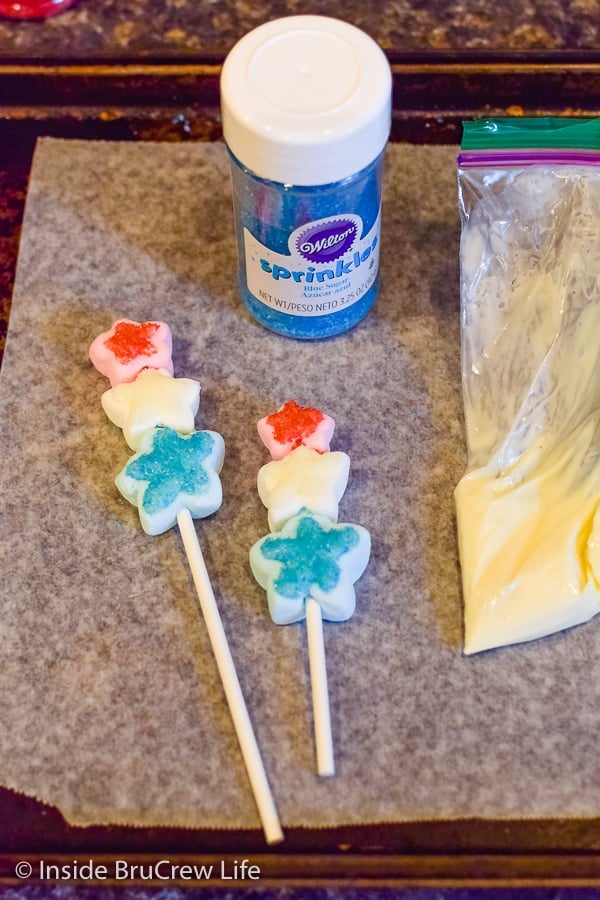 How to make a Red White and Blue Bundt Cake
The biggest surprise in this patriotic bundt cake are all the fun swirls of colors inside. The fun thing is that you can totally do any color of cake this way.
Mix up a vanilla cake mix using the package directions, then divide the cake batter evenly into three bowls. (full recipe at bottom of post)
Use red and blue gel food colors to tint two of the bowls of batter. Pro Tip: Using gel food colors is better because they do not add extra liquid to your batter.
Drop spoonfuls of different colors in a greased bundt pan. Make sure to alternate the colors as you fill the pan.
Bake and cool.
As the red white and blue cake bakes, the colors will swirl together into a fun tie-dyed look. Every piece will look totally different as you cut it.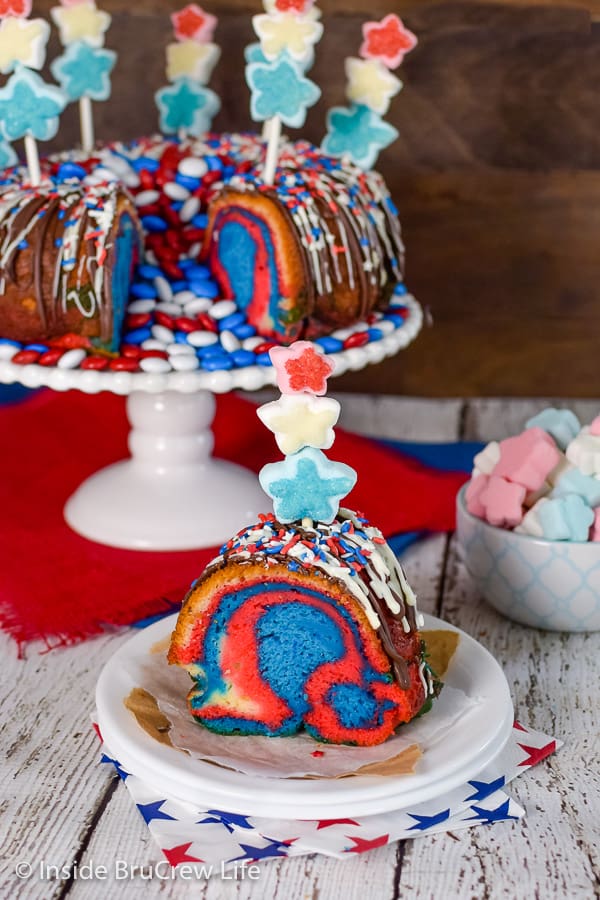 Decorating a bundt cake
Drizzle the top of the Fourth of July cake with melted white and chocolate candy melts, then add a generous amount of star sprinkles.
Or you could frost the cake with vanilla frosting before adding the sprinkles, if you prefer that instead.
Right before serving add a row of red, white, and blue M&M's around the edge of the cake, fill the center of the bundt cake with the rest of the candies, and arrange the marshmallow sparklers in the top of the cake.
You are all set to impress your friends and families this year. Just let them know you are bringing the fireworks this year. Believe me, these edible fireworks are not going to cost you as much as the real ones.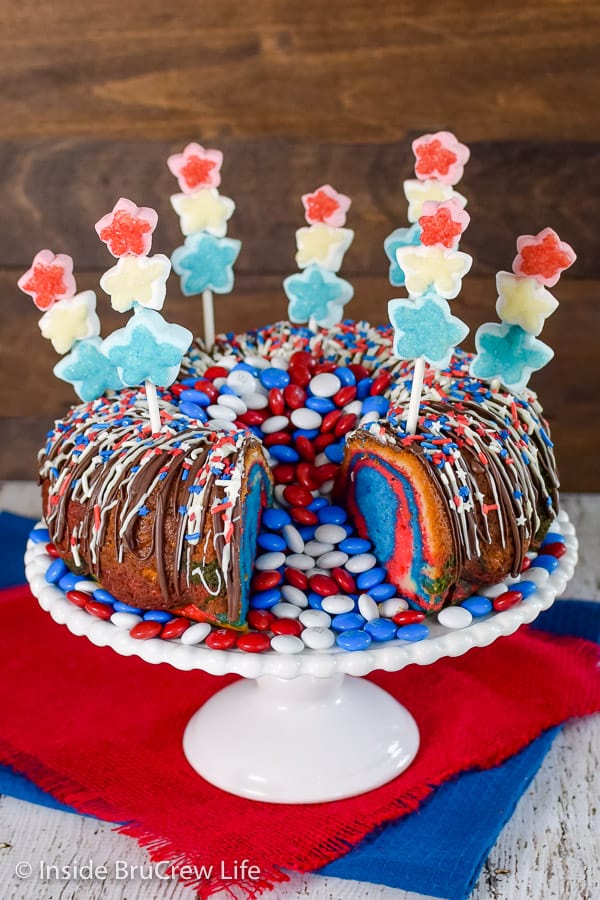 Other Fourth of July desserts
Swirls of colors make these Red White and Blue Cheesecake Bars a fun and delicious dessert for picnics and BBQ's.
Homemade Vanilla Cherry Pie Cupcakes are a fun way to celebrate any party. The hidden pie filling and the star topper add an extra fun flair.
Patriotic Glazed Funfetti Donuts will brighten any morning. Swirls of red, white, and blue and lots of sprinkles will make everyone smile.
This easy Lemon Cream Berry Pie has rows of blueberries and raspberries on top giving it a pretty red, white, and blue look.
These easy No Bake White Chocolate Cheesecake Parfaits have layers of cookies and fruit. They are the perfect no bake dessert to share this summer.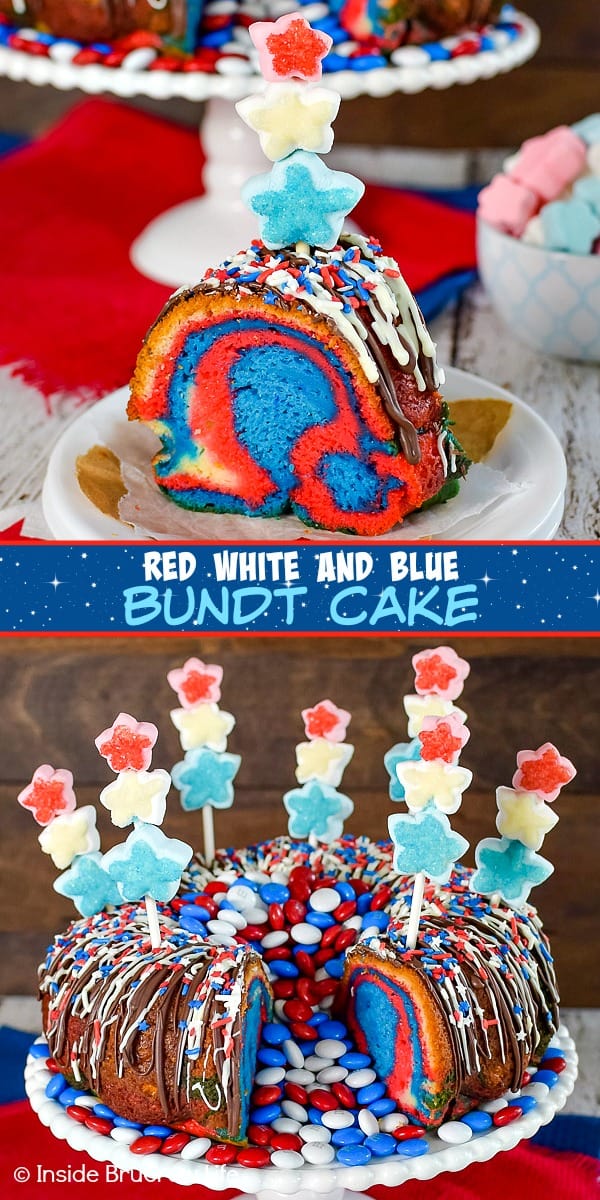 **The post for Red White and Blue Bundt Cake was first published on June 26, 2015. The photos have been updated, and it was republished on June 19, 2019.