Enjoy these Marshmallow Firecracker Pops at your Fourth of July picnics and parties this summer. Chocolate covered marshmallows with a fun red, white, and blue twist are a treat that kids of all ages will love.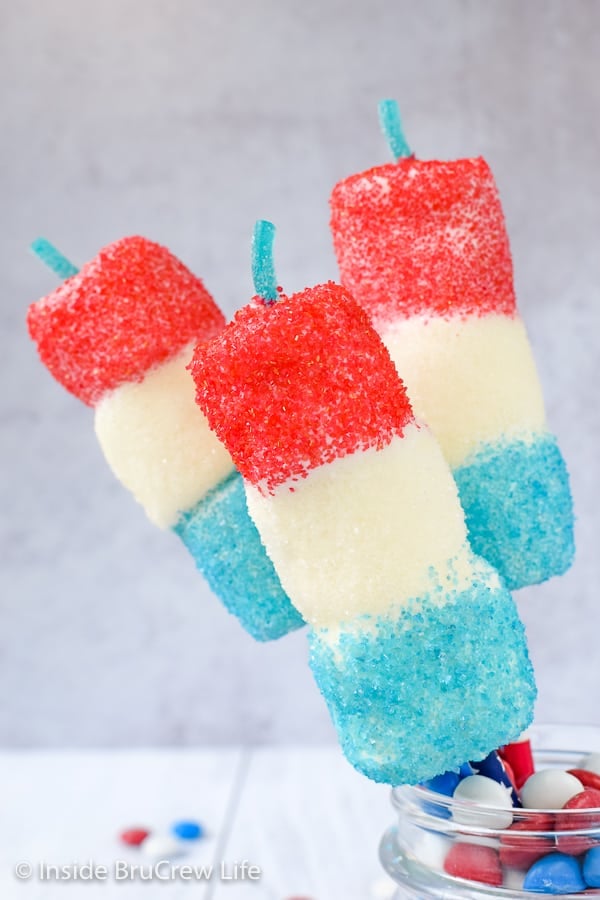 Recently my husband and I got a season pass to Disney. Since we live close enough to drive up any time we want, we am excited to check out all the parks over the next year. It's not our first time going, so it will be fun to just wander when we go.
The best part of having a season pass is that you do not feel rushed or stressed about seeing everything in a short window of time. The second best thing is going to the parks without kids.
We enjoyed a few lazy days just wandering around and eating whatever we wanted. Of course, I'm all about the Disney treats, so of course, we checked out every bakery and food place we saw.
Chocolate covered marshmallows are one of those bakery treats that I love, but don't want to spend the money on because they are so easy to make at home. When we head to the Parks, I'm all about a Disney Dole Whip and churro toffee instead.
I actually saw a version of these fun patriotic marshmallows at Disney Springs when we were checking out all the yummy desserts there. Now that I think about it, I'm pretty sure the idea for these Dirt Marshmallow Pops from last year came from a bakery or candy store too.
Since the 4th of July is coming up, I wanted to make a batch of these easy red, white, and blue marshmallows and some more of these Firecracker Cupcakes to celebrate.
Adding a piece of a sour straw to the top was the perfect way to make them look like firecrackers.
Pro Tip: Add a large candy star to the middle of the white marshmallow to make the perfect party favor for Marvel themed birthday parties.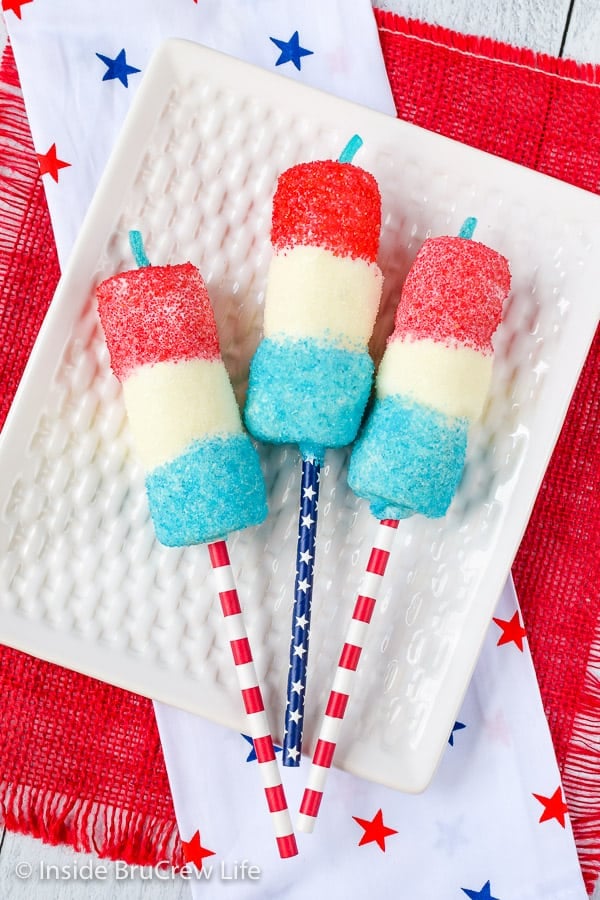 Ingredients for Marshmallow Firecracker Pops
Paper Straws: You can use any color of straw for these marshmallow pops. I had some stars and stripes straws in my pantry that I used. Feel free to use plain red and blue ones. You can even use lollipop sticks if you like.
Marshmallows: Buy a bag of the regular sized marshmallows and place 3 of them on the straws. If you are making them for younger kids, you could cut the straws in half and just dip 1 marshmallow for each one.
White Chocolate Melts: A good quality chocolate is best for fun treats like this. I prefer to use the Ghirardelli melting wafers because they melt so well. Plus, they taste amazing.
Sanding Sugars: Since these are for the Fourth of July, you will need a container of red, white, and blue sugars. If you are making them for other parties, go ahead and pick up the colors that match your theme.
Sour Straws: These little sour candy straws are the perfect size to use for the tops of the marshmallow firecrackers. You could also use black string licorice if you can find that.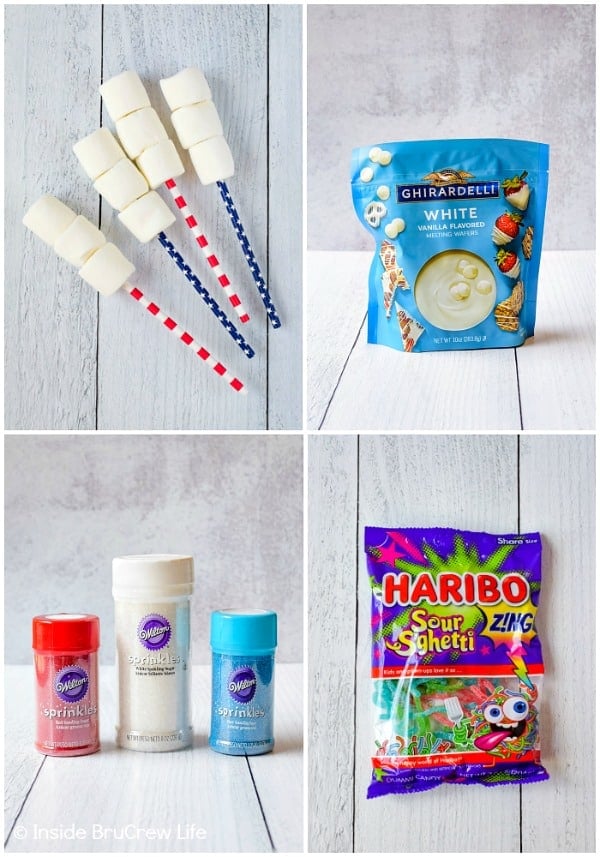 How to make Marshmallow Firecracker Pops
These cute little marshmallow pops are an easy treat for kids to help you with too. They will love dipping the marshmallows in the chocolate and adding the different colored sugars.
Push three marshmallows onto a paper straw, making sure to go all the way through each one. Yes, even the top one. It will leave a hole for the sour straw later. Then pull the marshmallows up until the paper straw is in the middle of the top marshmallow. Make sure the other marshmallows are pulled up and tight to each other.
Cut the sour straws into pieces that are ¾ of an inch long. They can be even longer, if you like.
Melt the white chocolate melting wafers according to the package directions. Let it cool for a few minutes.
Dip the marshmallows into the melted chocolate. Use a spoon to pour chocolate over the tops and sides of the marshmallows.
Tap the straw gently to remove as much of the excess chocolate as possible. Push a sour straw into the top where the hole is.
Hold the marshmallows over the bowl of red sugar. Use a spoon to gently add red sugar to the top marshmallow. Slowly rotate the straw in your hand, so you get sugar all over the marshmallow. Don't forget about that top, but be careful you don't knock out the sour straw. Rotate the straw one more time, so the excess sugar falls back into the bowl.
Repeat this again with the middle marshmallow over the white sugar and the bottom marshmallow over the blue sugar.
Place the marshmallow pops on a wax paper lined tray and let them set up before serving or storing.
Frequently Asked Questions
How do you store chocolate covered marshmallows?
Keep the chocolate covered marshmallows in a tightly sealed container on the counter for 4-5 days.
How do you serve marshmallow pops?
To serve these 4th of July marshmallows, fill jars with red, white, and blue M&M's and press the straws into the candy. They make a fun and delicious centerpiece for your patriotic parties!
You can also put them in cellophane bags and hand them out as party favors. Tie pieces of ribbon to the ends to make them even more festive.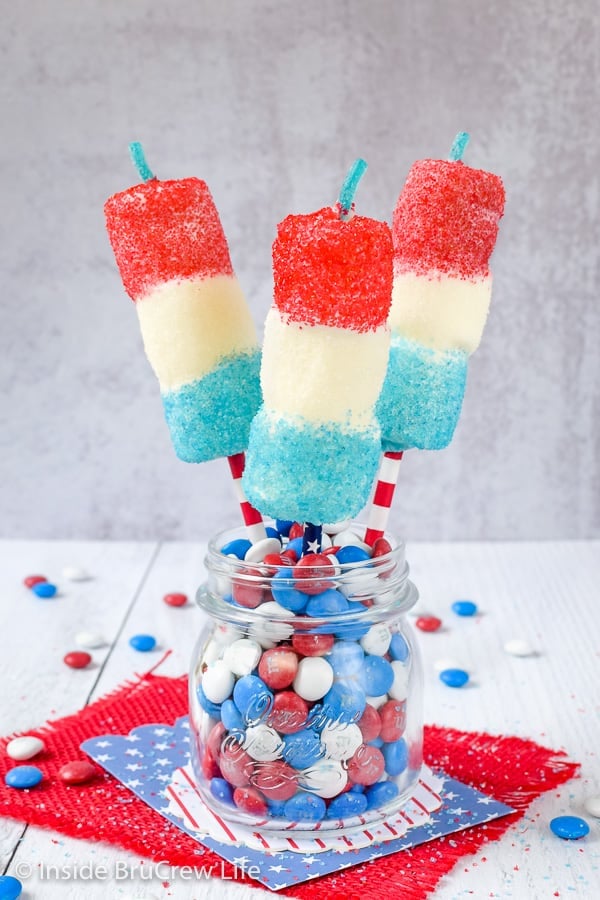 Other Fourth of July desserts
This Red White and Blue Bundt Cake is a fun and colorful Fourth of July cake that you can be proud to share at any picnic or barbecue this summer.
These fun Patriotic Glazed Funfetti Donuts will brighten any morning. Swirls of red, white, and blue and lots of sprinkles will make anyone smile.
Swirls of colors make these Red, White and Blue Cheesecake Bars a fun dessert to share at holiday parties this summer.
A batch of this sweet and salty S'mores Popcorn with red, white, and blue sprinkles is a fun treat to munch on while you wait for fireworks to start.
This 4th of July White Chocolate Fudge is the perfect patriotic dessert. The red, white and blue design is so pretty.
Add a plate of these fun colored Fireworks Cookies and Cream Cookies to your holiday plans. Sprinkles and candies will make them disappear in a hurry.