Celebrate America this year with the best spread of 4th of July desserts. Whether you're hosting a barbecue or just hanging out with friends, these red, white, and blue recipes will make the holiday even sweeter! From creamy cheesecake to tasty cookies, we have a variety of easy treats that are sure to please everyone.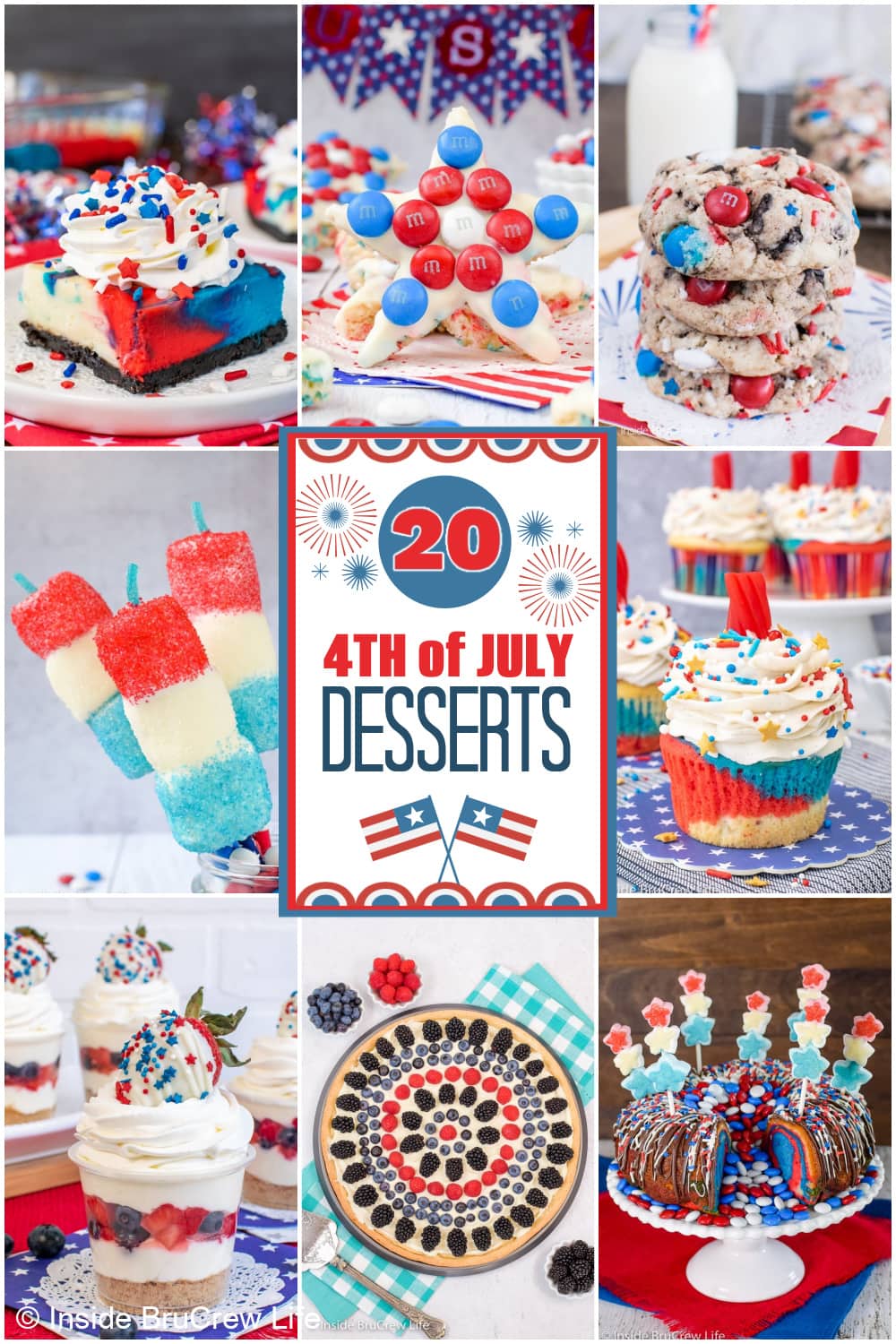 Jump to:
Why Make Dessert For July 4th
The 4th of July is a special day in the United States when we celebrate our country's independence. We love gathering with friends and family for picnics, barbecues, and outdoor parties. Food is one of the things that makes these get togethers so memorable.
As much as I love eating burgers and potato salad, I'm there for the desserts (and the fireworks). These 4th of July celebrations are when I can get creative and make fun patriotic desserts.
Firecracker cupcakes, red white and blue cheesecake, and 4th of July rice krispie treats have become favorites that everyone expects me to bring.
Tips for Fourth of July Desserts
To inspire you to make fun treats this year, we have gathered 20 of our favorite patriotic treats. You will be the star of the party when you show up with any of these sweet 4th of July dessert recipes.
Keep Them Colorful - Red, white, and blue desserts are the perfect colors for your patriotic table. Nothing says the 4th like star sprinkles, red white & blue M&M's, or mixed berries in the shape of a flag!
Make It Ahead of Time - We all know your plate is full on the 4th of July (pun intended), so you don't want to be spending time in the kitchen. These easy desserts can be made in advance, so you can enjoy all the fun.
Have Fun and Be Creative - Now is the time for over the top desserts. Cupcakes that look like fire crackers or dessert pizzas will wow the crowd almost as much as the firework displays!
Grab your sprinkles, candies, and fresh berries and have some fun making a few of these red, white, and blue desserts.
FAQs
Can I make these desserts ahead of time?
Most of these desserts are easy to make 1-2 days before your big celebration. Just make sure you store them properly to keep them looking and tasting fresh.
What is the best way to travel with desserts?
Choose the right sized container for the dessert you are transporting. Keep desserts from moving around or getting smashed by using cardboard circles or cupcake liners. Place the container on a flat surface in the car and secure it, so it doesn't move around. If your dessert is perishable, place it in a cooler with ice.
How do you keep desserts cold outside?
Keep desserts in coolers or inside until you are ready to serve them. When you are ready for dessert, make sure the dessert table is in the shade. This will keep the food from melting faster and the guests cooler as they fill their plates.
To keep desserts from melting or going bad, keep them chilled. Fill large containers or foil pans with ice cubes or dry ice and place your perishable desserts right on top.
If you are looking for more Fourth of July recipes or need some side dish ideas to bring, we have plenty of ideas. Have a wonderful time with your family and friends.