This easy Lemon Cream Berry Pie has layers of no bake cheesecake, lemon pudding, and fresh berries. A creamy lemon pie with fruit is so refreshing on hot summer days.
It's the perfect dessert for 4th of July picnics too.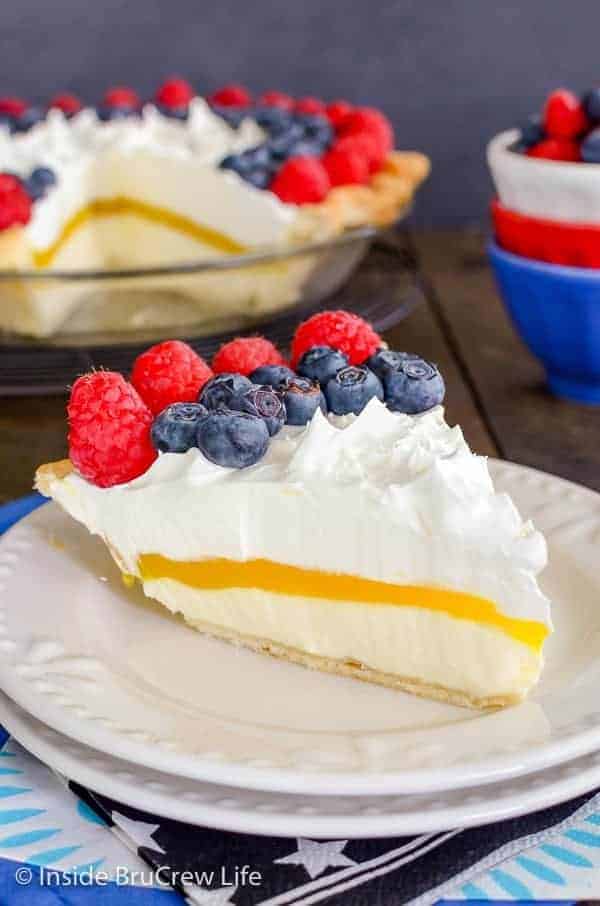 So this week I decided I wanted pie. I didn't really need this said pie, I just had a craving for it. What is with pie all of a sudden?
I never used to make it, and now pie cravings have become a real thing. No wonder I have to work out so many days a week.
My eating doesn't stay clean for very long at all. I really do try to eat mostly lean and green...but my sweet tooth always wants the bad stuff.
My husband just laughs and laughs at me when I mention that I am giving up sugar. He knows that resolve is only going to last a day or two. If that...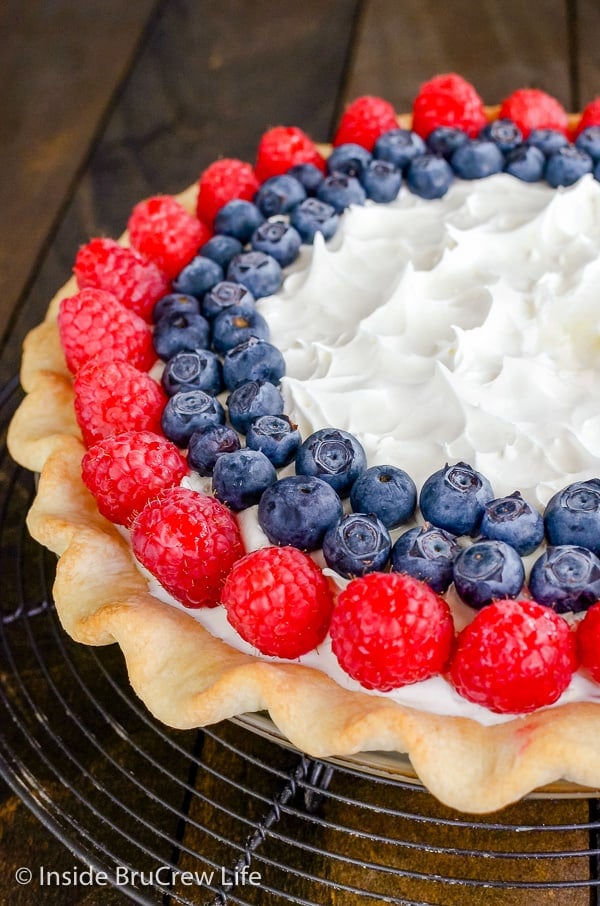 In fact, I think I may have just said that again yesterday. Since it is still bright and early in the day as I write this, I am doing good. As long as I stay out of the kitchen I might make it.
Of course, we have a picnic to attend tonight, and I know there will be goodies because I made these Peanut Butter Bars to share with everyone. Haha! Now you probably want PB bars!
If you were here, I would most definitely force a few upon you.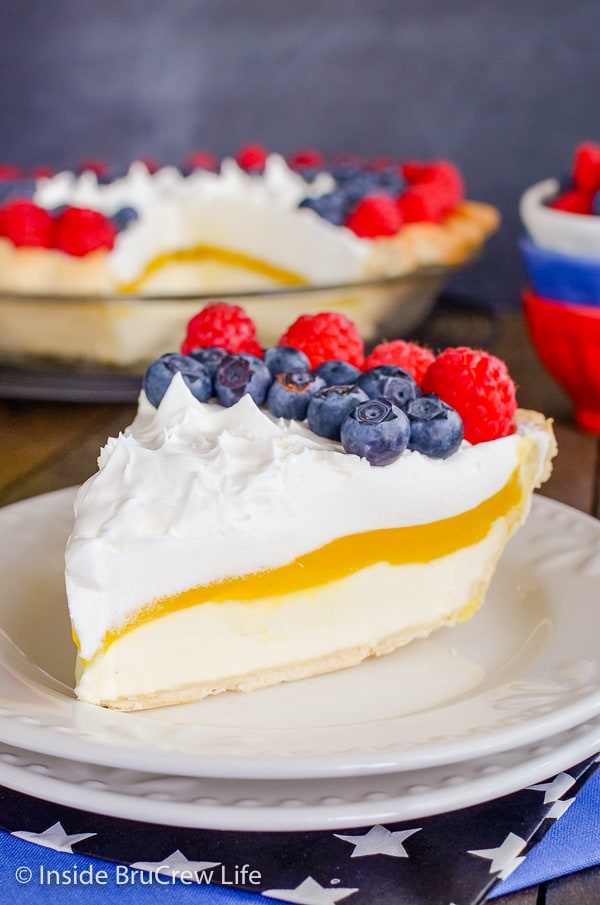 Well, there I go again getting distracted. You are here for pie, and all I'm doing is going on and on about peanut butter treats. Sorry. Not sorry.
You know the Disney movie UP? Yeah, my brain is a lot like Doug's. Squirrel! (totally said with wide eyes while looking around)
So, pie. I kept thinking about this Coconut Fudge Pie from a few months ago, and finally decided to recreate it with a summery twist. Lemon, berries, and almost no bake. It's most definitely a sumer pie you are going to love.
Ultimately, I made this easy pie because I wanted something patriotic for summer picnics. Not tonight's picnic though. They get the peanut butter bars I was babbling about earlier because this berry pie didn't last long.
No, I didn't eat it all. I sent it over with my husband to a church meeting, then afterwards we inhaled the leftovers.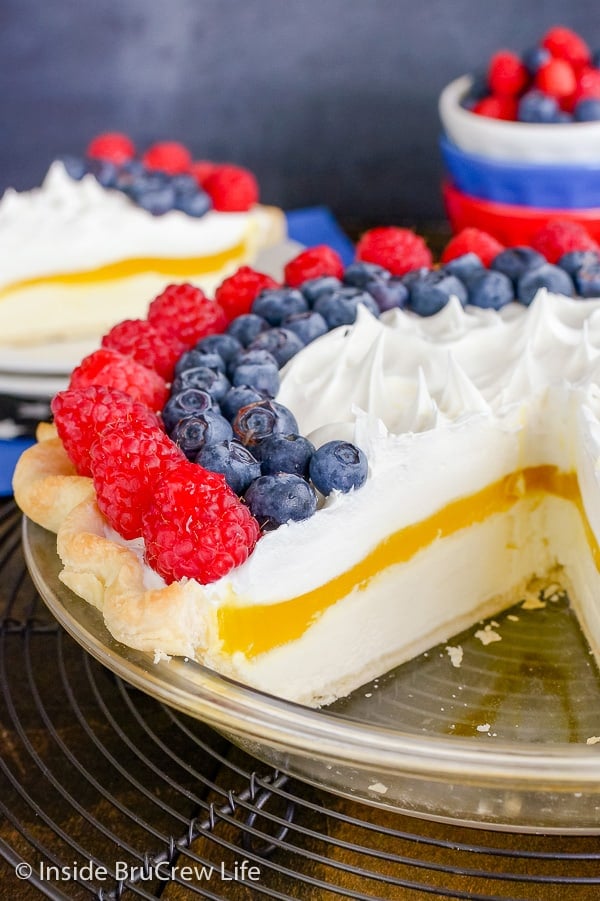 What kind of crust is good for a lemon pie?
You can use any kind of crust for this pie. A flakey pastry crust is delicious with the layers of creamy pudding and Cool Whip.
If you want to make this pie completely no bake, you can make a graham cracker crust or an Oreo cookie crust. The lemon Oreos would be totally delicious in this lemon pie.
You can also layer crumbled cookies or crumbs in parfait glasses with the filling.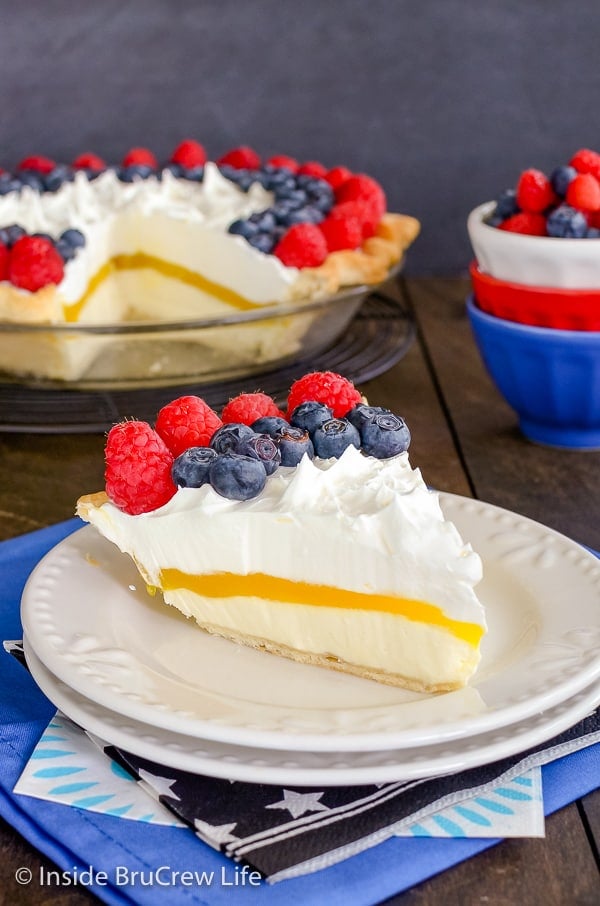 How to make a Lemon Cream Berry Pie:
Crust: Bake a refrigerated pie crust and let it cool. Or make a no bake pie crust with graham crackers or Oreo cookies and butter.
Cheesecake Mousse: Beat cream cheese and powdered sugar until creamy. Fold in Cool Whip until light and fluffy. Feel free to use a stabilized whipped cream instead if you prefer that instead. Spread in the cooled pie crust.
Lemon Pudding: Whisk together the lemon pudding and milk. Refrigerate for about 5 minutes or until set. Spoon on top of the cheesecake mousse layer. Pro Tip: You can also use lemon curd instead of pudding.
Cool Whip: Spread the rest of the Cool Whip on top of the pudding. Use the side of a knife or spatula to tap the whipped topping to give it peaks.
Berries: Add rows of raspberries and blueberries around the outside edge to give this lemon cream pie a fun red, white, and blue look.
So recap of this Lemon Cream Pie:
It's almost no bake making it perfect for the hot summer months. See my note above about making the crust no bake.
It's full of Cool Whip, but you can use stabilized whipped cream
Lemon pudding or lemon curd...either one works.
Rows of red and blue berries to contrast with the Cool Whip for a fun patriotic dessert.
This pie doesn't last long. You might want to make two.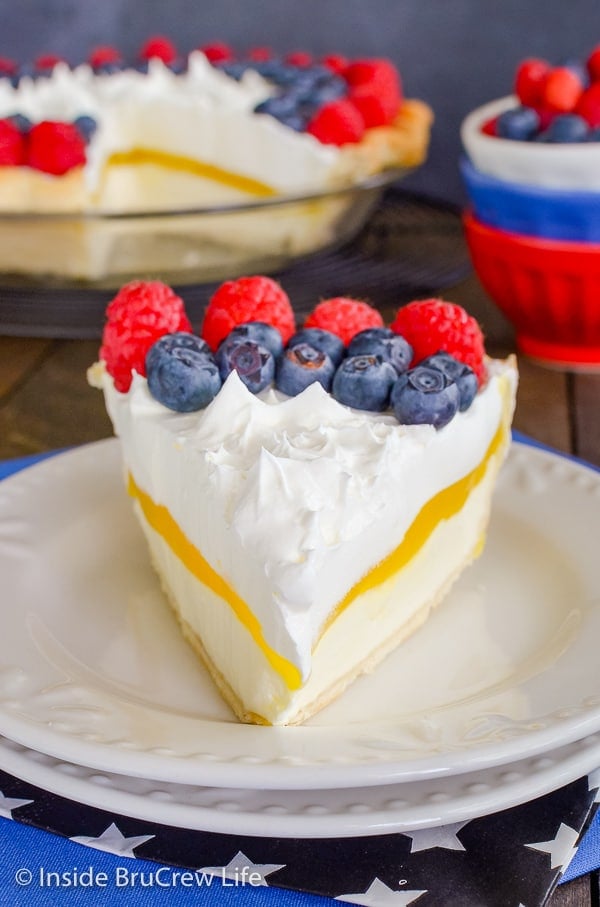 Other easy lemon desserts you may like: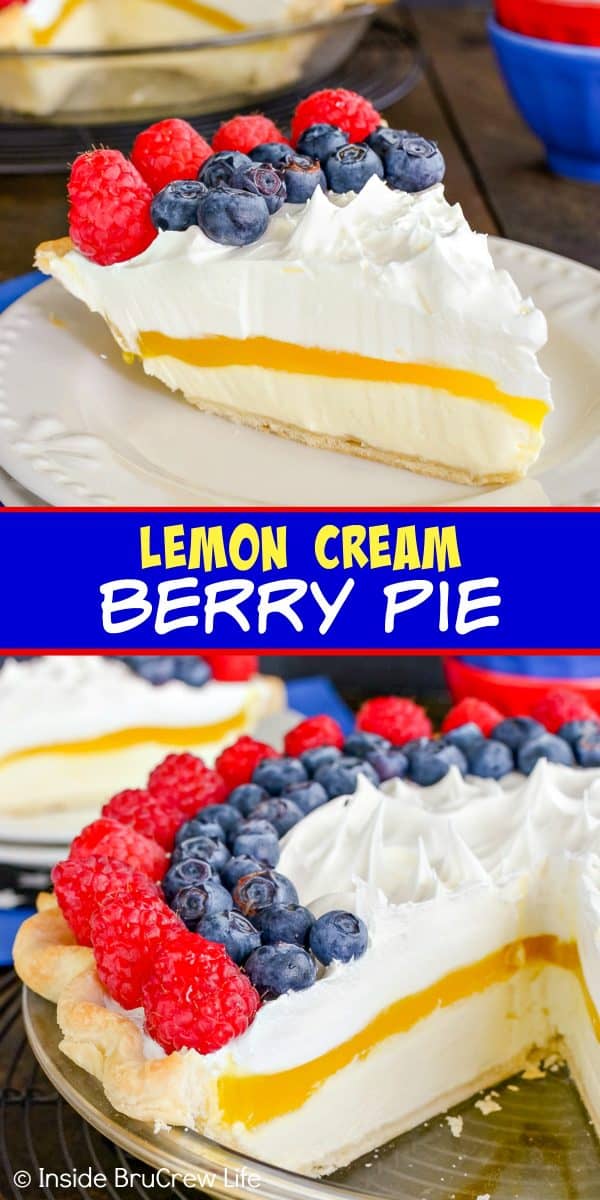 *The post and recipe for Lemon Cream Berry Pie was first published on May 24, 2014. The photos have been updated, and it was republished on July 3, 2019.