Three kinds of Reese's makes this Reese's Popcorn an unforgettable snack mix.  It's great for munching on for movie nights, or for packaging in gift bags for holiday presents.
*Be sure to sign up for the
BruCrew email
to get these delicious recipes in your inbox each day.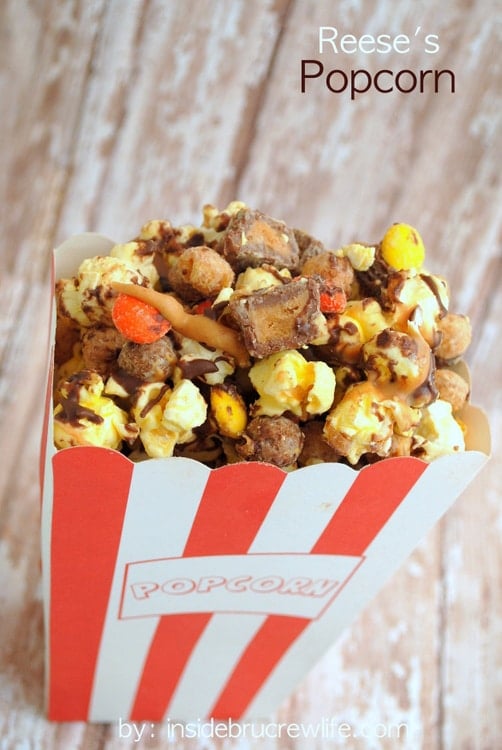 There is a debate that goes on in our household
every year about this time.
It is the question of,
what color lights go on our tree?
Unfortunately, I am the only one who wants white lights,
so that makes me the bad guy.
This year my husband wanted to put the white lights on…
and then put the colored lights on too.
Now in my head this sounded like a bad idea,
but no way was I going to admit that.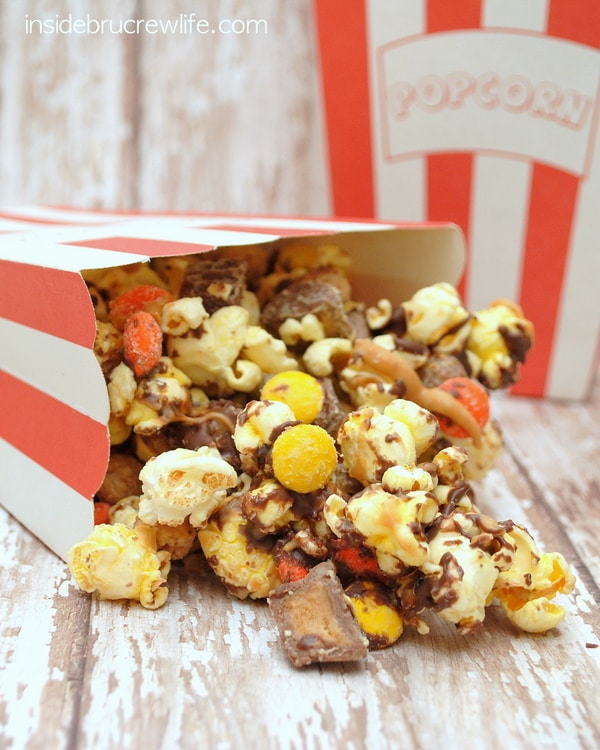 We put the white lights on and I went
to get the colored strand when he stopped me.
He was only half kidding.
The other half just wanted to see if I would concede!
Major bonus points for actually being willing
to go through with something that I wasn't
entirely happy with it.
My snowman tree is very happy with this decision too…
they were getting scared of a huge colored mess 🙂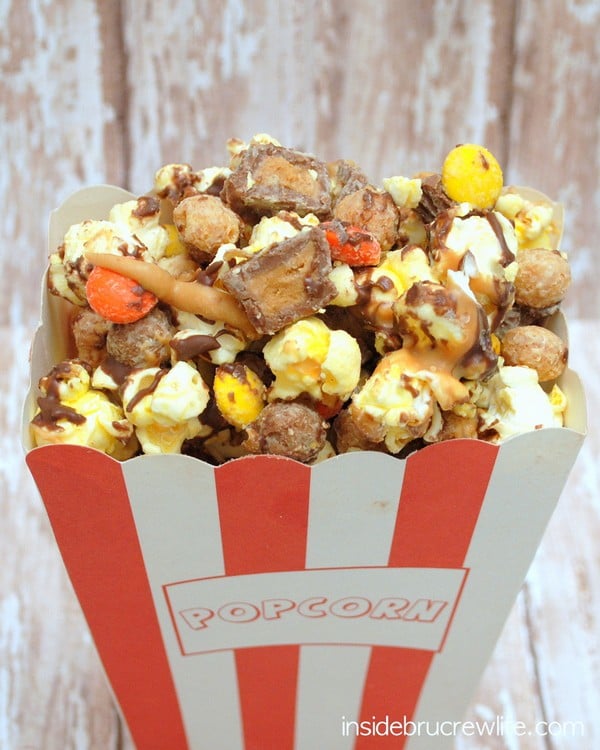 Speaking of a huge colored mess…
how about some REESE'S popcorn munch?
Any treat that consists of THREE kinds of chocolate
and THREE kinds of Reese's is an A+ in my book.
This is definitely going on my Christmas treat list.
I sure hope all my friends and family like Reese's,
because they are getting cute packages of this amazing popcorn!!!
(The striped popcorn boxes are from Michael's craft store.)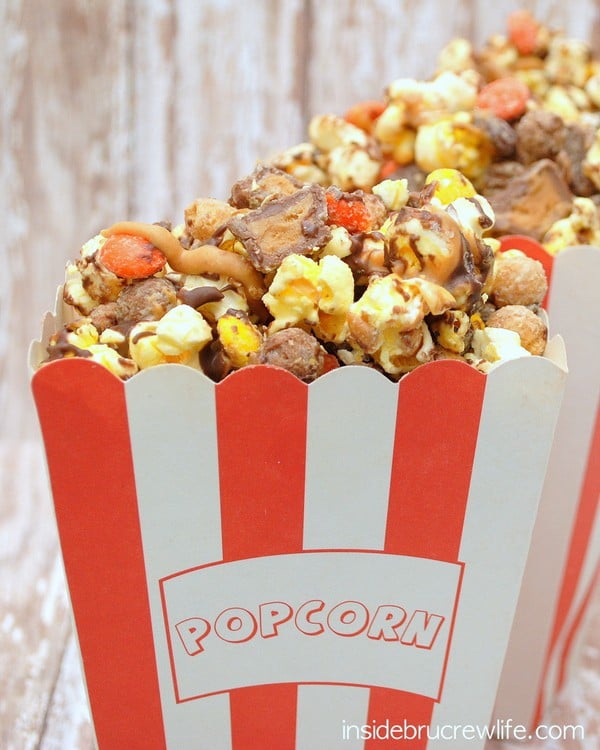 Stay up to date on all the BruCrew baking here: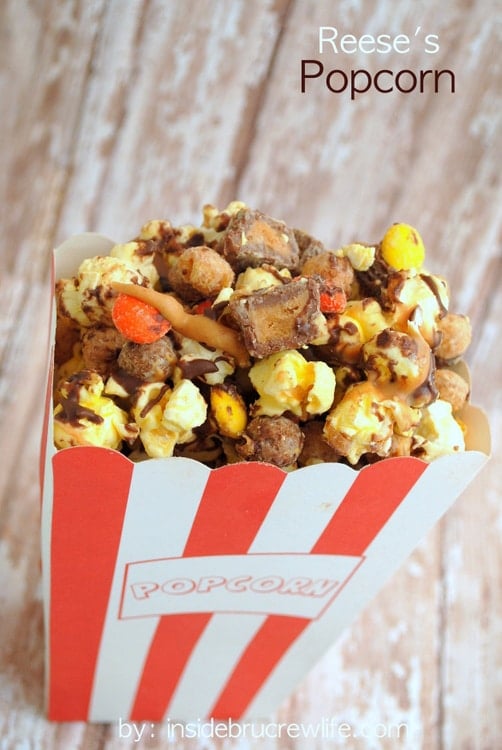 Three kinds of Reese's makes this chocolate covered popcorn a fun one to make and to eat. It's also the perfect holiday gift packaged in gift bags.
Ingredients
6 cups popped popcorn
1 bag unwrapped mini Reese's cups, cut in half
1 cup Reese's Puff cereal
1 cup Reese's Pieces
1/2 cup white chocolate chips
2 teaspoons shortening, divided
1/4 cup peanut butter chips
1/4 cup chocolate chips
Instructions
Mix popcorn, Reese's cups, and cereal in a large pan lined with waxed paper.
In a microwave safe bowl, combine white chocolate chips and 1 teaspoon shortening. Heat for 30 seconds and stir. Repeat until melted. Drizzle the popcorn mixture with melted white chocolate and toss until everything is coated. Sprinkle with the Reese's Pieces.
Place the pan in the refrigerator and let set for about 5 minutes. Remove from the refrigerator and break into chunks.
In another microwave safe bowl, combine the peanut butter chips and 1/2 teaspoon shortening. Heat until melted. Do the same for the chocolate chips. Drizzle the popcorn chunks with the melted peanut butter and chocolate chips. Let set again. Store in an air tight container.
http://insidebrucrewlife.com/2011/12/reeses-popcorn-munch/
Copyright Inside BruCrew Life

Still need more Reeses in your life? Check out: