Now that the sugar rush of Halloween is behind us, it is time to look forward to the holidays.  Do you realize that Thanksgiving is in 21 days?  Three weeks people…that's all we have to finalize our dinner menus.  Today I have a fun change of pace for you.  I am taking a break from all the sugar that I post and participating in a fun blog progressive dinner.  Join me and 8 other fabulous bloggers as we share our favorite Thanksgiving dinner ideas today…there is even a fun giveaway involved too:-)
Do you have a favorite part of Thanksgiving dinner?  For me, it has always been the stuffing.  I just love my dad's stuffing fresh baked from the turkey.  It was always the first thing to disappear from the table.  Today I am sharing my stuffing with you, but with a fun twist.  I didn't have time to bake a whole turkey just yet, so I wanted to share a fun stuffing idea that I saw in a few magazines this year.  Stuffins!!!  That's right!  Stuffing baked in muffin pans for individual servings.
There is always something fun about having your food made as mini portions.  And of course they definitely take better pictures this way, then as a blob of delicious baked bread.  For an even easier way to make this,  you can also spread it in a baking dish and bake it that way too.  Either way, it is delicious with gravy poured all over it.  Man, now I am so ready for Thanksgiving dinner and all those yummy dishes.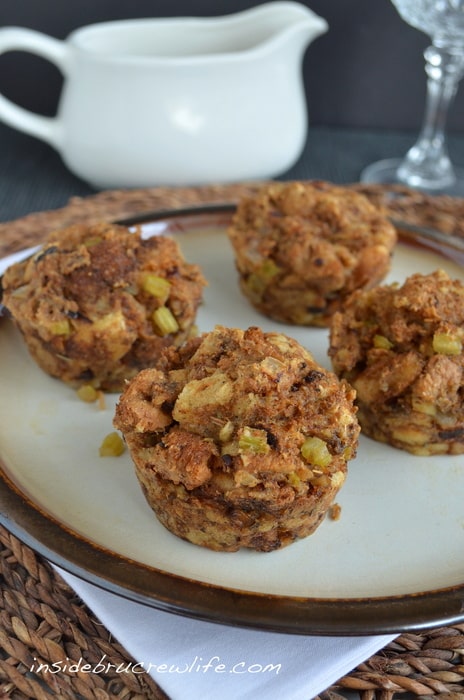 Here is your next progressive dinner hostess…click on the door to see what delicious dinner idea she has for you:-)
Make sure you check out all the Progressive Dinner hostesses today and see what they are putting on their tables this Thanksgiving.
Wait, don't go!!!   We have  a fun giveaway for everyone today too:-)
It wouldn't be a party without a door prize, now would it?  Using the rafflecopter below put your name in the "hat" for a $200 gift card to 1 store of your choice: Target, Kroger, or Walmart – to cover your Thanksgiving dinner.  That's right, we're going to pay for someone's Thanksgiving dinner! To enter just pin this page to Pinterest.  For a couple more entries you can follow the new Pinterest board Simple And Delicious Weeknight Meals, and follow the new Simple and Delicious Weeknight Meals Facebook Page.  Won't these be handy for the busy Holiday weeknights?
Open to US Residents only. See terms for alternate entry. Winner will be notified by email on November 10, 2012.
a Rafflecopter giveaway
Here are a few other ideas that might make an appearance at our Thanksgiving this year too:
Sweet Potato Crumb Breakfast Cake
Shared on: Chic & Crafty, Happy Hour, I'm Lovin It, Friday Flair, Weekend Potluck, What's Shakin, Swanky Stuff, Weekend Wrap Up, Show & Tell, Sundae Scoop, Craftomaniac, Recipe Round Up,