This Easy Pumpkin Crunch Cobbler is the ultimate fall dessert. A crunchy streusel topping and creamy pumpkin layer is the perfect fall comfort food. It's a delicious dessert to add to your Thanksgiving Day plans.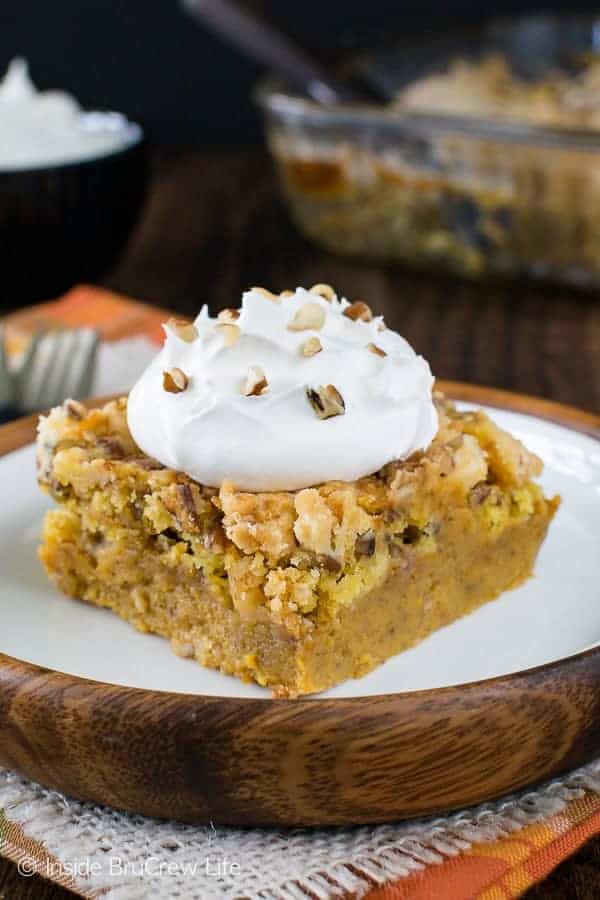 CLICK HERE TO PIN THIS RECIPE FOR LATER!
You guys!  This week I did it! I decided it was time to go sugar-free.  Oh trust me, it's not for an extended period of time!  That would just be crazy!  I mean, have you met me?  Sugar coated sugar is my life!
But the extra bites of Chocolate Nutella Bars and Peanut Butter Brownie Dessert and sips of coffee with creamer all summer long have started to catch up with me.
Even all the cross fit workouts and running I have been doing every day are not helping.  Something had to give because I have a work trip in a month, and I have cute skinny jeans to fit in to by then.
Right now I'm on day three without much sugar in my body!!!  Yes, I realize three days without sugar isn't really a major accomplishment to shout from the rooftops.
But hey, this is me we are talking about!  You guys see all the pictures of yummy food that I share.  Usually I'm over here usually eating plate after plate of that sugar-filled goodness every.single.day.  Not a pretty picture at all!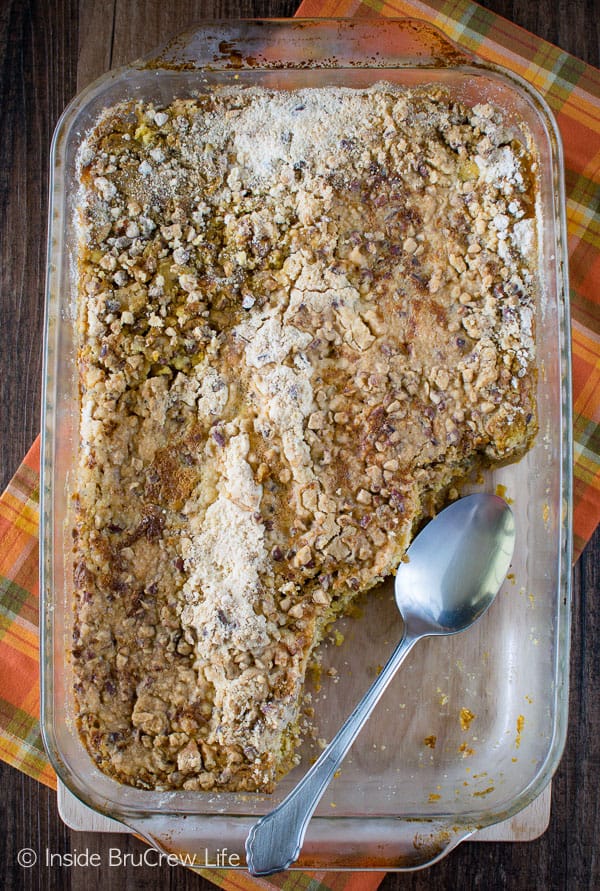 Thank goodness I made (and ate) this delicious pumpkin cobbler last week.  I would have been very sad to be on this sugar-free quest and to not be able to enjoy any bites of this amazing pumpkin dessert.
This cake/cobbler is one of my very favorite things to make in the fall.  I even won first place at a fall dessert contest one year with this pumpkin pecan cobbler.  Although, as I was making it, I realized it had been a few years since I have made it.
That's the down fall to being a dessert blogger, I guess.  Too many fun and exciting new recipes to make and share, so the old favorites tend to get overlooked!
But after one…ok, fine, more like ten bites of this dessert, I remembered why I loved it so much. Never again will this pumpkin recipe be forgotten!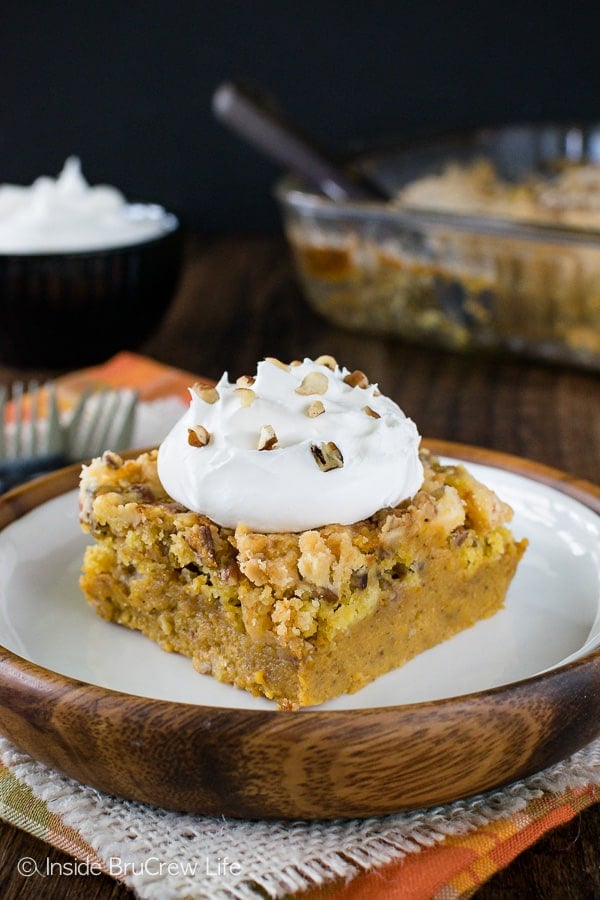 Easy Pumpkin Crunch Cobbler
The creamy pumpkin pie filling and a crunchy, buttery cake topping work so well together.  This is basically just a dump cake in disguise.  Isn't that the worst name for a dessert?  How can something so delicious have such an unattractive name?
Cakes like this got their name because you basically "dump" everything in the pan and bake it. I just love how easy it is to have a delicious dessert with very little work.  We do the pie filling, cake mix, and butter combo whenever we get the craving for pie and ice cream.
This pumpkin version takes a little more work.  But not much at all.  You just need to whisk or mix the pumpkin pie ingredients together first and pour it into a pan.
Mix together a dry cake mix, chopped pecans, and toffee bits and sprinkle the mixture evenly on top of the pumpkin batter.
Melt the butter and drizzle it evenly all over the top.  The butter and cake mix will come together as the cake bakes.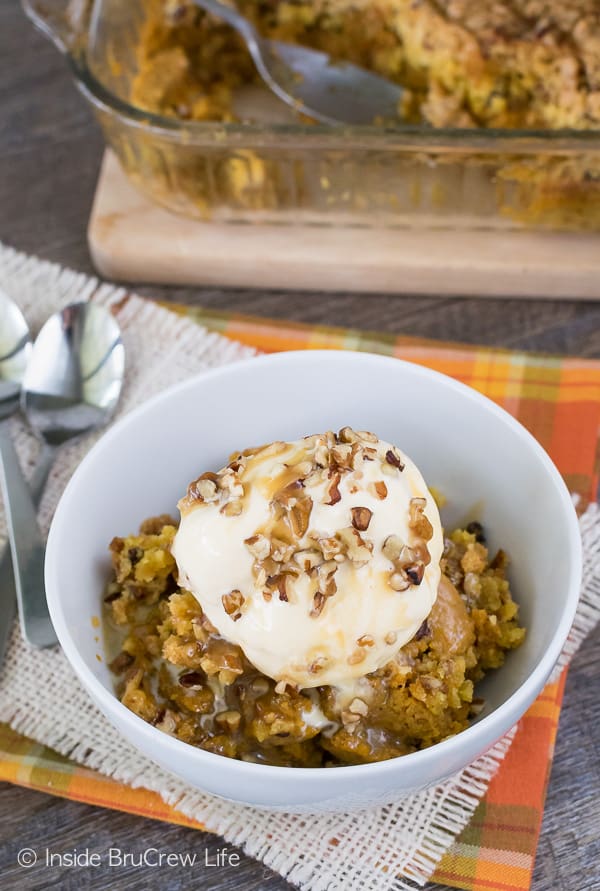 After this magic pumpkin cobbler comes out of the oven, you have two options for eating it.
 Scoop a big bowl of warm pumpkin cobbler and top it with vanilla ice cream, caramel drizzles, and a few pecan chips.  The ice cream starts to melt and get all gooey with the pumpkin filling.
Let the cobbler cool and then refrigerate it for a few hours.  The cobbler will set up, and then you will be able to slice out a piece that resembles cake.  Spoon a big helping of Cool Whip on top, add a few nuts, and then go to town on it.
Honestly, I am not sure which way is my favorite way to eat this. Maybe after I'm done being crazy and start eating sugar again, I will make another pan of easy pumpkin crunch cobbler.
You know…for more research purposes.  Wink, wink!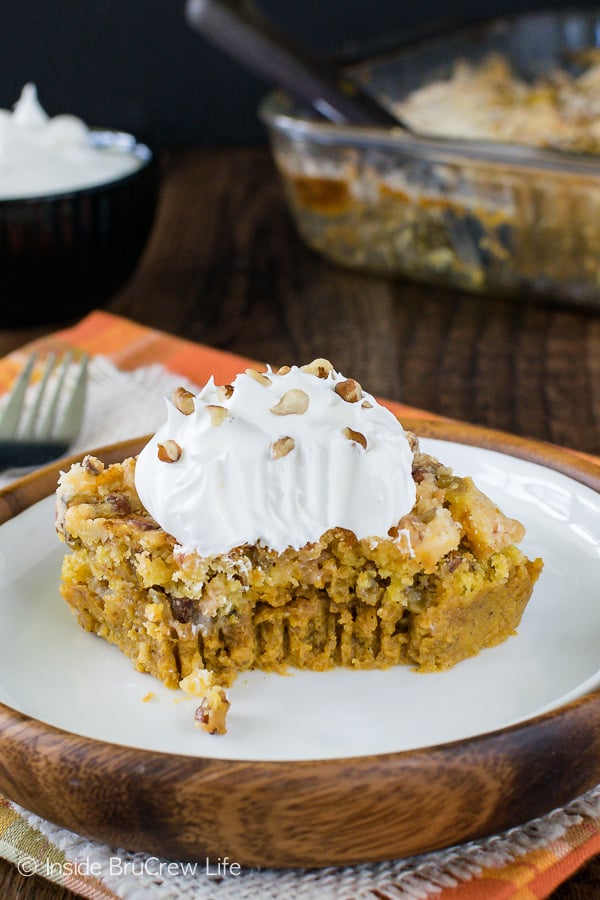 More pumpkin recipes you need to try this fall:
Connect with Inside BruCrew Life! Follow us on social media, so you never miss a post.
Email Subscription | Facebook | Pinterest | Twitter | Instagram | Bloglovin
I also created a fun new Facebook group, and I would love for you to join. It's a group where you can share your favorite recipes, ask questions, share photos, and see what's new with the BruCrew. If you would like to check it out, you can request to join HERE.
Easy Pumpkin Crunch Cobbler recipe and video:
Yield: 12 servings
Easy Pumpkin Crunch Cobbler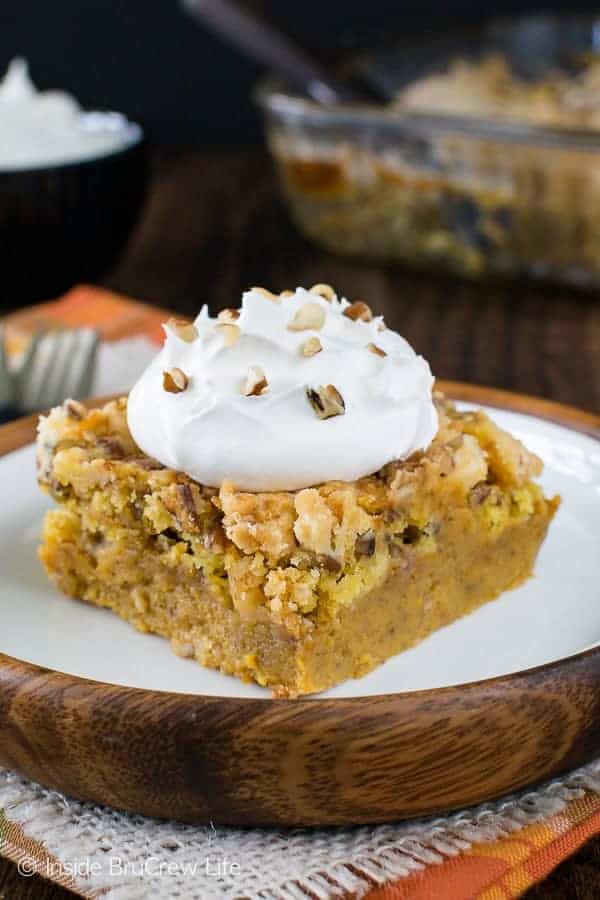 This Easy Pumpkin Crunch Cobbler is the ultimate fall dessert. A crunchy streusel topping and creamy pumpkin layer is the perfect fall comfort food.
Total Time
1 hour
15 minutes
Ingredients
1 - 15 ounce can pumpkin puree
1/2 cup sugar
1/2 cup brown sugar
1 teaspoon cinnamon
1/2 teaspoon nutmeg
1/2 teaspoon ginger
1/4 teaspoon cloves
1/2 teaspoon salt
1 Tablespoon cornstarch
4 eggs
1 1/2 cups milk
1 box yellow cake mix
1 cup pecan chips
1/2 cup toffee bits
1/2 cup butter, melted
Instructions
Preheat the oven to 350 degrees. Spray a 9x13 baking dish with non-stick spray.
Whisk together the pumpkin, sugars, spices, salt, cornstarch, eggs, and milk. Pour into the prepared pan.
Stir together the cake mix, pecan chips, and toffee bits. Sprinkle evenly over the top of the pumpkin mixture. Drizzle the butter on top. Bake for 60 minutes.
Remove and cool slightly. Serve warm with ice cream, or refrigerate and serve cold with Cool Whip. Serves 12.