These Pumpkin Spice Latte Cupcakes are a great copycat of the popular Starbucks fall drink.  The pumpkin, coffee, and spices go together so well, and who can resist a cute cupcake with a fun green straw.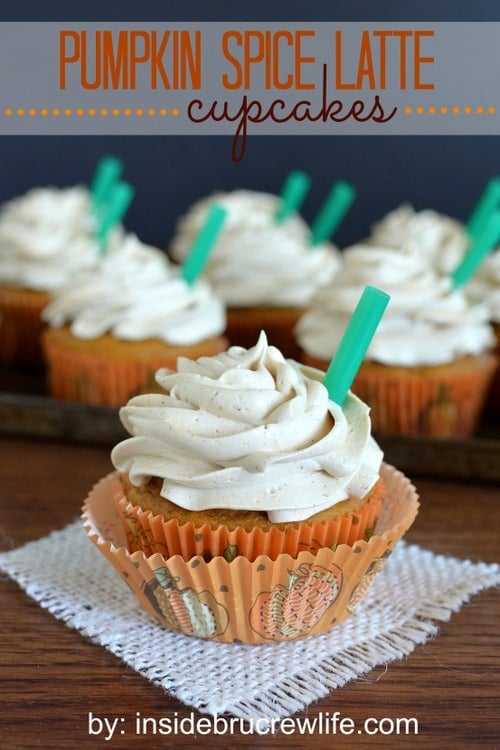 So a few weeks ago, my family and I had a chance to go see Hillsong Live in concert.  It was amazing being in a room with that many people just praising and worshiping our God.  I think my favorite part of the night was when the lead singer had them turn off all the lights in the room, and then he asked the audience to turn on their cell phone lights and hold them up.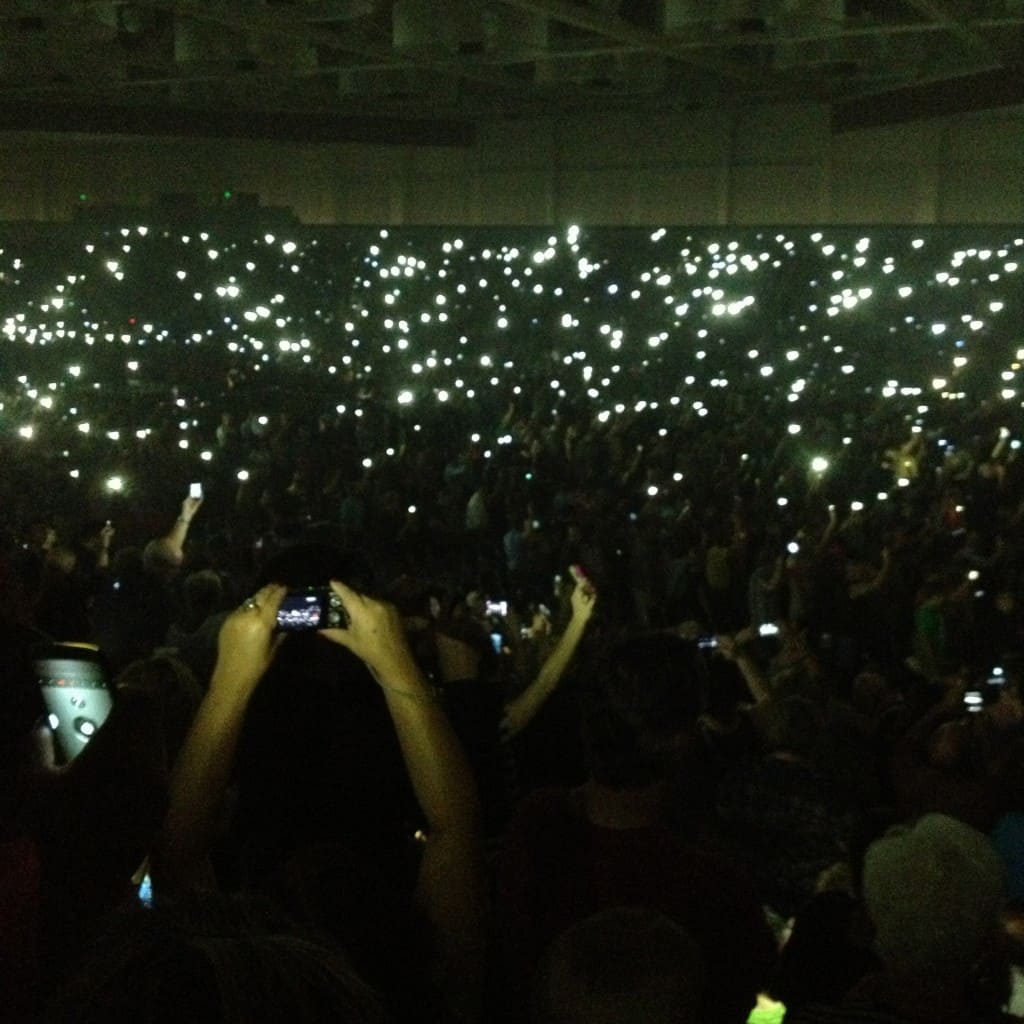 That many lights together were able to shine out and make the room bright enough to see again.   It was a great reminder to keep on being a light in the dark world that we live in.   It is easy to get discouraged by all the things that go on around us from day to day, but God is mighty to save and He has conquered the grave to give us a light to shine.
I know I am so thankful that God loves me know matter what failures and fears I have in this life.  I mess up on a daily basis, but Jesus is always there to encourage me and love me without fail.  What an honor it is to be able to shine like a light to those around me.  The song that Hillsong sang next was Mighty to Save.  It is one of my favorite songs that we sing in our church.  (You can click the name of the song to hear it, if you are interested.)  I am so thankful for a mighty God!!!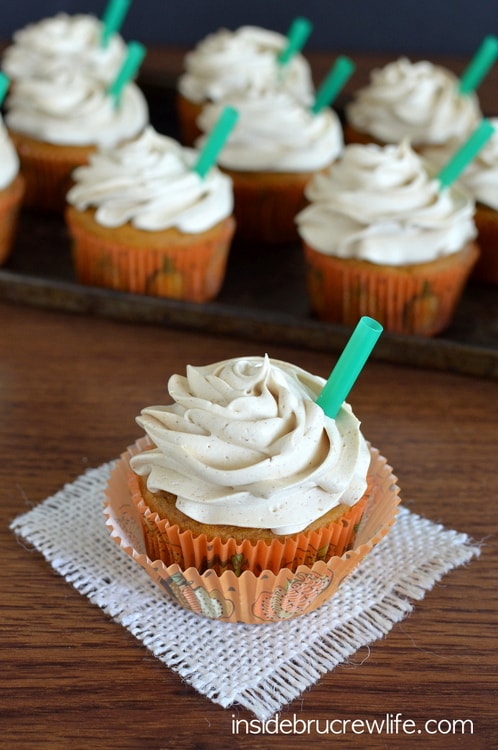 As we were driving home from the concert, we passed through a small town.  I could see their town sign in the distance, and I swear it looked just like a giant cupcake with writing.  I turned to my husband and asked him if he saw "the cupcake".
Of course he just thought I was a little crazy.  Then he just laughed and asked how long it had been since I had eaten a cupcake.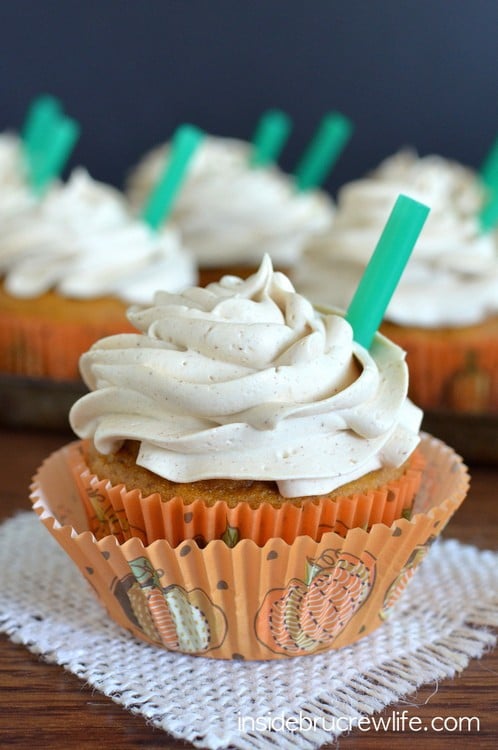 I guess if I am seeing giant cupcakes in the dark, it has been waaaaay too long since my last one.  I needed to make cupcakes right away!
Now that it is September and Pumpkin Spice Latte's from Starbucks are all the rage, I decided to make a copycat version of the drink, just in cupcake form.
Pumpkin and coffee just go together so well.  The cupcake was light with a certain dense quality from the pumpkin.  But I have to tell you, it was the whipped frosting that really made this cupcake.  It was so light and fluffy…I just wanted to sit in my kitchen and eat all of it with a spoon.  But we had a picnic to go to, so instead I topped the cupcakes before going into a frosting coma.  And of course, little mini green straws were the absolute perfect extra touch!
Quick tip about these cupcakes…if you are going to take them to a picnic that is outside where the food table is in direct sunlight and it is 90*, don't take these cupcakes.  Why you might ask?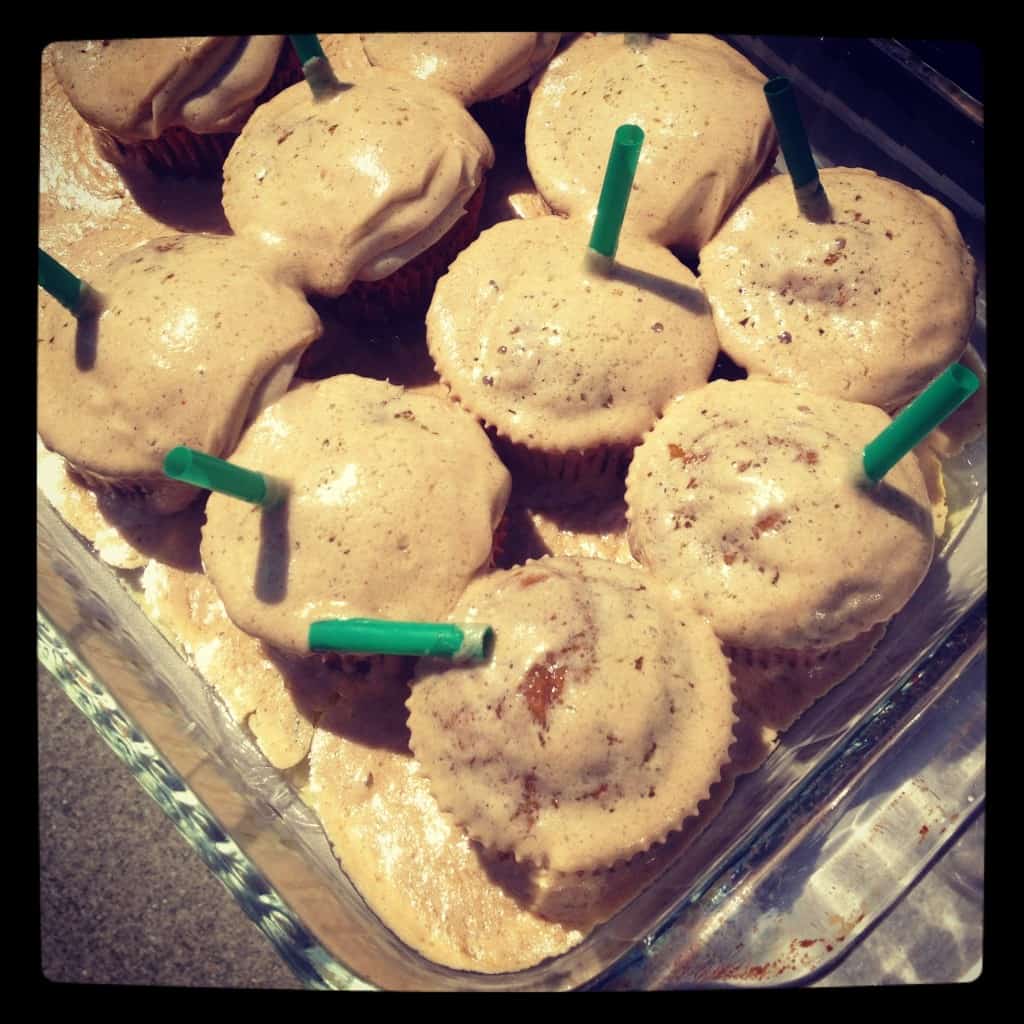 Light, fluffy frosting doesn't do so well in the extreme heat.  Now the people who started with dessert first and took their cupcake to the table underneath a pavilion, they enjoyed a delicious cupcake that still had frosting.  It wasn't really the heat that bothered the cupcakes…I think it was being directly in the sun.  The rest of the cupcakes ended up in a puddle.  So FYI, these aren't the best cupcakes to sit in the sunshine with.
But since it is fall now and 65* weather is just around the corner, these cupcakes will be just fine for you to enjoy.   And since coffee is a breakfast food, no one would judge you for chowing down on one first thing in the morning, right?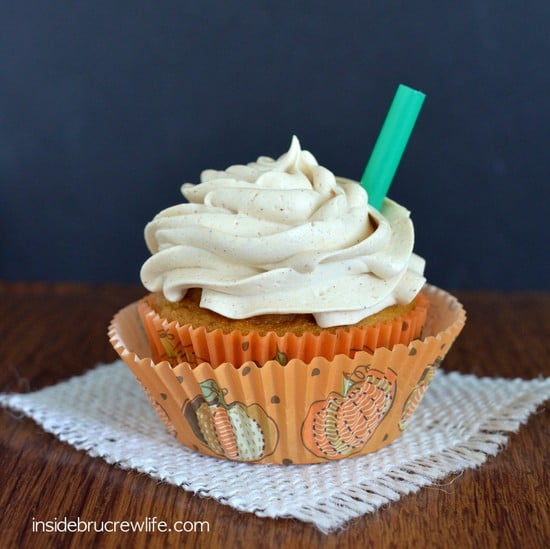 Stay up to date on all the BruCrew baking here:
FACEBOOK | PINTEREST | GOOGLE+ | TWITTER | INSTAGRAM | BLOGLOVIN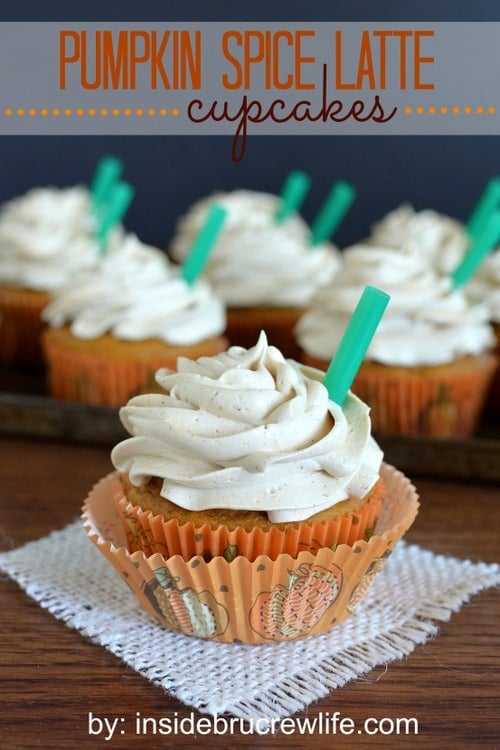 Pumpkin cupcakes with a white chocolate cinnamon coffee frosting are a copycat of the popular Starbucks fall drink.
Ingredients
For the Cupcakes
1 spice cake mix (15.25 oz.)
1 can pumpkin puree (15 oz.)
3 eggs
1/3 cup oil
1/3 cup brewed coffee, cooled
For the Frosting
2 teaspoons hot water
2 teaspoons instant coffee granules
6 ounces baking white chocolate squares, chopped
1/4 cup heavy cream
1 cup butter, softened
1 1/2 cups powdered sugar
1 teaspoon cinnamon
Instructions
Combine the cake mix, pumpkin, eggs, oil, and coffee in a mixing bowl. Beat on low for 1 minute, and beat on medium for 2 minutes. Spoon into 24 cupcake liners. Bake at 350* for 18 minutes. Cool completely
Stir the hot water and instant coffee until dissolved. Set aside. Heat the white chocolate and heavy cream over low-medium heat until melted and smooth. Let cool for 5-10 minutes.
Place the butter and coffee mixture in a bowl and beat for 1-2 minutes. Slowly pour in the melted chocolate mixture and beat until creamy. Slowly add the powdered sugar and cinnamon and beat until thick and fluffy. This will take about 5 minutes. Frost cupcakes. Keep refrigerated. Makes 24 cupcakes.
Notes
I used a Wilton tip 2D to pipe on the frosting. There is just enough frosting to do all 24 cupcakes if you don't put it on super thick.
http://insidebrucrewlife.com/2013/09/pumpkin-spice-latte-cupcakes/
Copyright Inside BruCrew Life
Other fun cupcakes that are a take on Starbuck's drinks: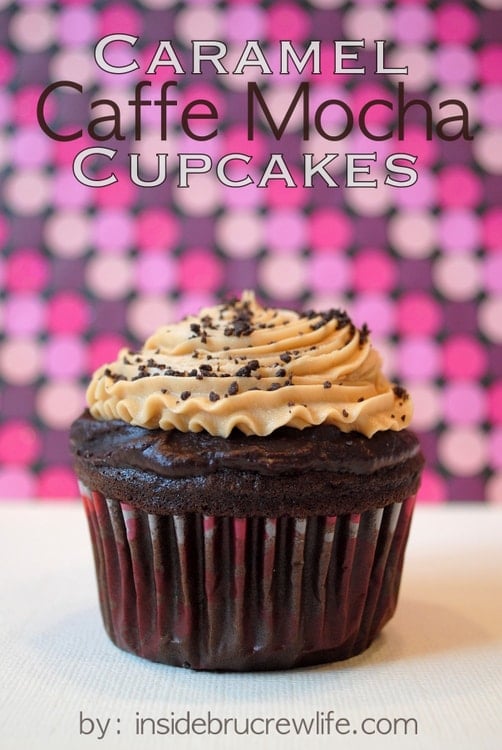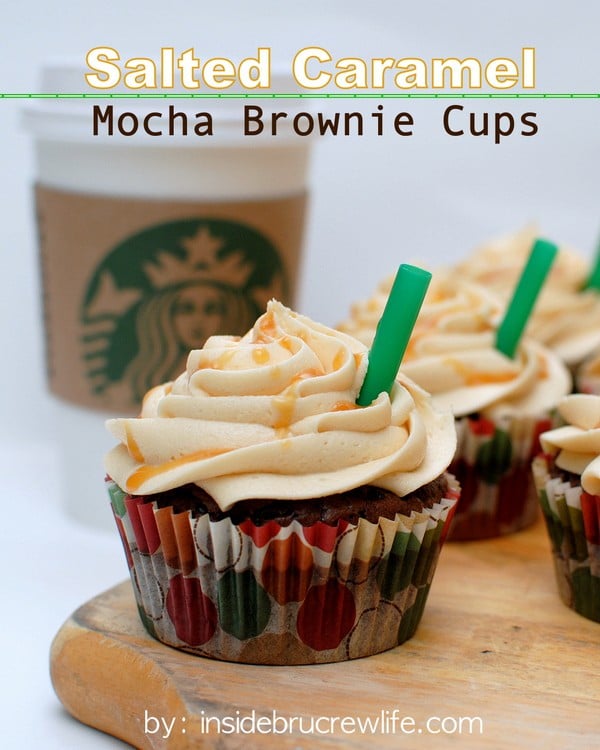 Salted Caramel Mocha Brownie Cups