Eggnog Latte Cupcakes : Soft eggnog cupcakes topped with a creamy coffee frosting makes the perfect treat for the holidays.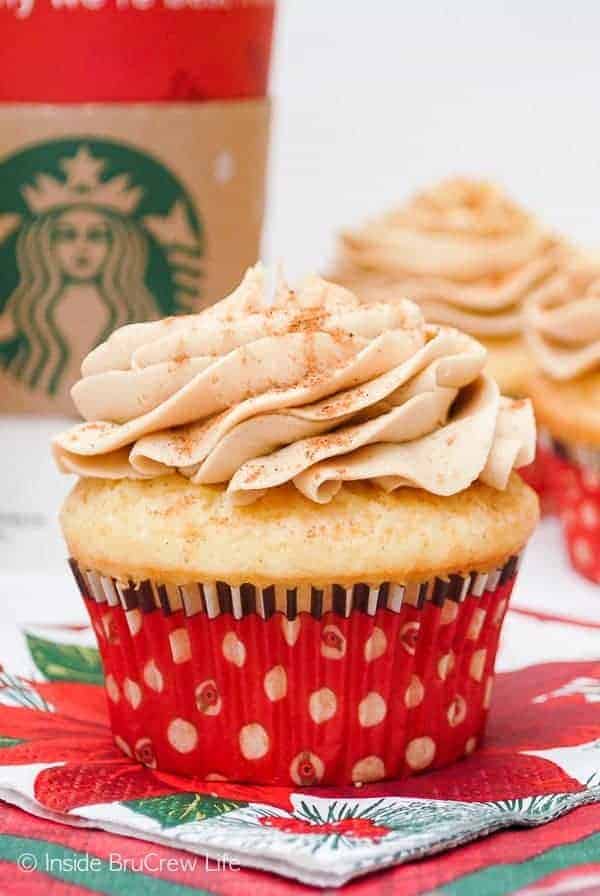 It's the most wonderful time of the year! About this time of year each year, I get so excited for the holidays because we tend to do the same things over and over.
I love driving around and seeing the beautiful Christmas lights that everyone decorates their homes with. We used to do that as a family every Christmas Eve after our family party at my grandparent's house.
It's also the time of year that I love going out and buying gifts for my family and friends. Of course, I never wrap them until the night before we open them.
It's also fun to watch old classics on tv each evening with the kids. My favorite over the years has always been The Grinch.
Another one of my favorite things to do each year is make a list of cookies and fudge. Then we bake them with the kids and wrap them up to give to others.
Christmas Eve I always try to slip one present under the tree unnoticed. It's nothing crazy and exciting. We always get a new pair of pajamas for everyone to wear to bed that night and have on Christmas morning. Our kids still love doing it even now that they are older.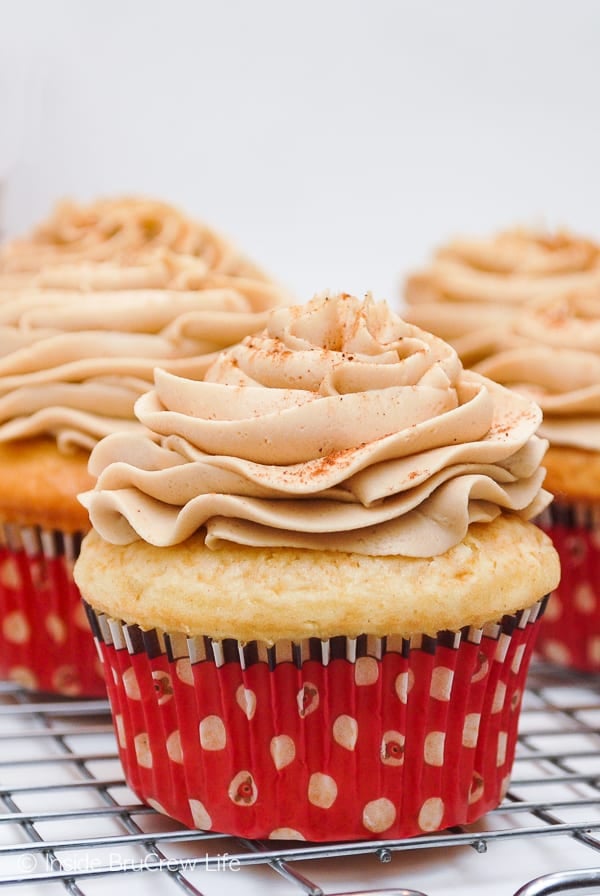 Eggnog Latte Cupcakes
One of my favorite drinks of the season is the eggnog latte at Starbucks. I look forward to that one and this Peppermint Mocha Hot Chocolate each winter. One day after having another drink at the coffeeshop, I decided that I wanted to recreate it into a cupcake.
These Eggnog Latte Cupcakes are going on my must-make list for every Christmas season now.
Adding a light coffee frosting to the top of these soft cupcakes was the perfect way to add the flavors of the drink into a holiday dessert. It was also the perfect treat for this coffee addict!!!
I am thinking about freezing some eggnog just so that I can enjoy these cupcakes for a little bit longer this year. Plus, I want to make more of these Eggnog Donuts for breakfast.

If you like these Eggnog Latte Cupcakes, you are going to like these eggnog recipe:
I want to dip all the things in this Eggnog Dip from Wine & Glue.
Bundt cakes are one of my favorites, and this Easy Eggnog Cake from Love from the Oven sounds perfect.
Two times the eggnog in these Eggnog Cookies from In Katrina's Kitchen makes me so happy!
Eggnog Latte Cupcakes recipe: