Creamy vanilla frosting, chocolate drizzles, and a candy crunch make these easy Toffee Mocha Cupcakes a delicious treat. These easy chocolate cupcakes are a fun way to celebrate any event.
If you like these cupcakes, you are going to love these S'mores Frappuccino Cupcakes too. Coffee inspired desserts are so good.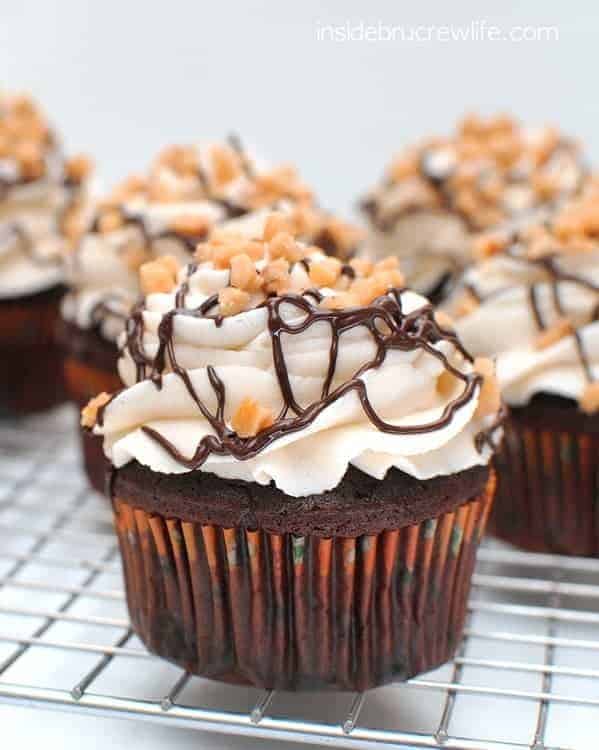 It's chocolate cake day! Hey, did you know there was such a thing as chocolate cake day? Well, apparently this January day is known for it.
Not that I really need a "unique" holiday to celebrate with chocolate cake, but since there is a cake holiday, let's celebrate!
I actually made these Toffee Mocha Cupcakes a few months ago for a friend's birthday. And then promptly forgot to share them with you. Bad food blogger!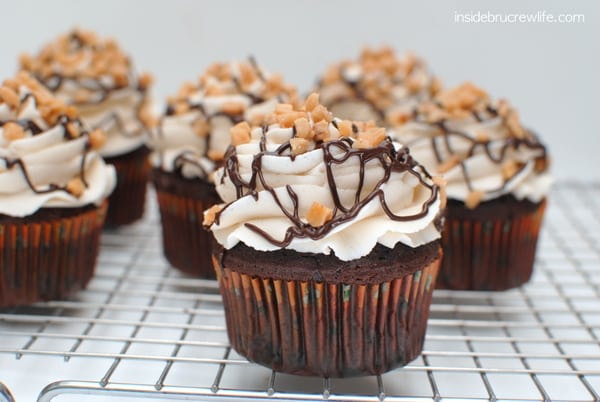 Can you believe that I have been holding out on you??? I have had these amazing cupcakes just sitting on my computer waiting to be shared with you, my fabulous readers.
I was just...uuummm...waiting for the right day...like chocolate cake day. Wink, wink. Yeah, let's go with that and not the fact that I just forgot about them.
You believe me right? Because I would never intentionally hold something so absolutely delicious back from you. Here have a few of these Mocha Cookie Crumble Cupcakes and some Milky Way Cupcakes to make up for my mistake.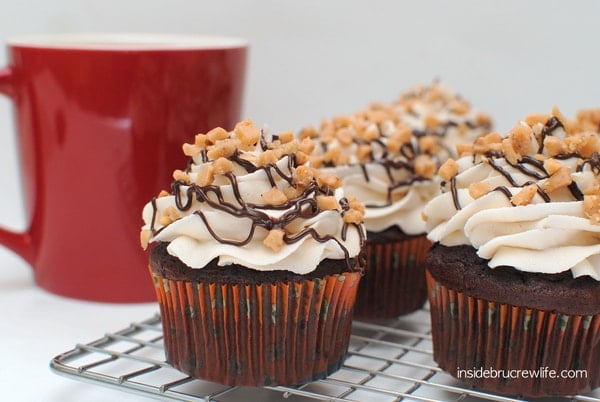 I should be fired as a food blogger. Baking chocolate cupcakes with homemade frosting and then forgetting about them so quickly! But if I share the recipe for these yummy Toffee Mocha Cupcakes today that would make things better, right?
Then there would be no need to fire me. Win, win for both of us today!!!
That is until you make and eat all these easy chocolate cupcakes, then your thighs won't be very happy with me either. And you will be back to wanting to fire me.
It might be best if you do some cupcake sharing too! I want to keep the job of food blogger for a little bit longer.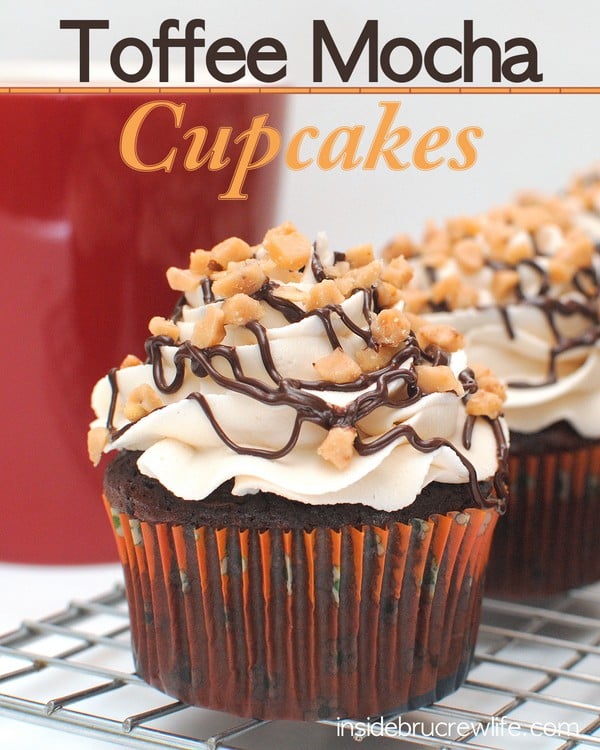 Easy tips for making these Toffee Mocha Cupcakes:
Place liners in your cupcake pans and preheat the oven before you start to make the cake batter.
Jazz up the batter from a boxed cake mix with cooled coffee and some toffee bits. You will not taste the coffee in these cupcakes. Coffee just enhances the chocolate flavor.
Use coffee creamer in place of milk or heavy cream in the homemade frosting. Using creamer is a great way to add flavor and creaminess to any frosting recipe.
Let the cupcakes cool completely before adding frosting to the tops. To get the pretty bakery style swirl, use a piping bag and frosting tip 1M.
Place the chocolate chips and shortening in a microwave safe bowl and heat for 30 seconds. Stir until creamy. Spoon the melted chocolate into a plastic baggie and cut one corner off.
Drizzle the chocolate quickly over the top of the frosting. Add more toffee bits before the chocolate sets.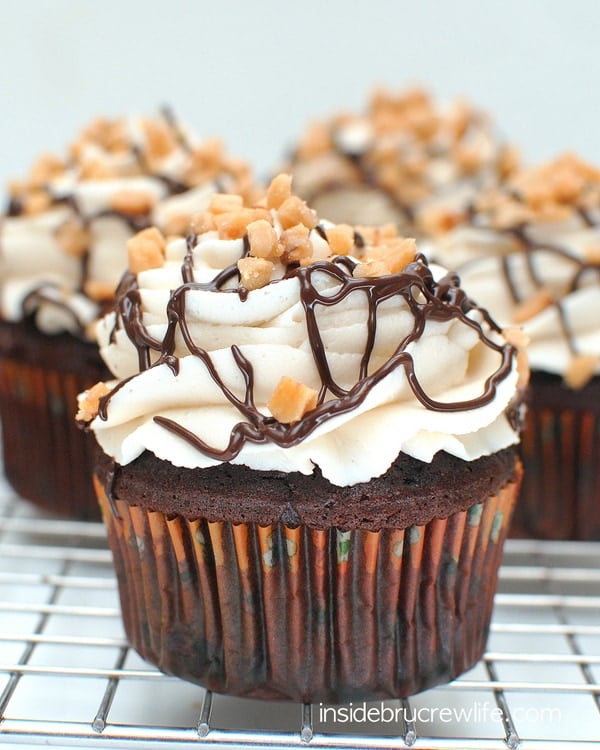 More easy cupcake recipes that you may enjoy:
Other fun cupcakes inspired by coffee drinks: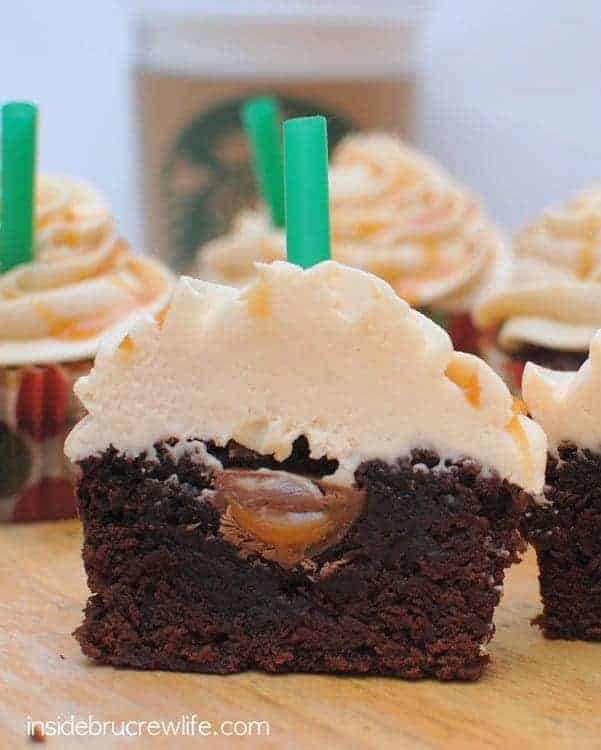 Salted Caramel Mocha Brownie Cups - creamy salted caramel frosting and a hidden caramel candy make these one of my favorite treats to make.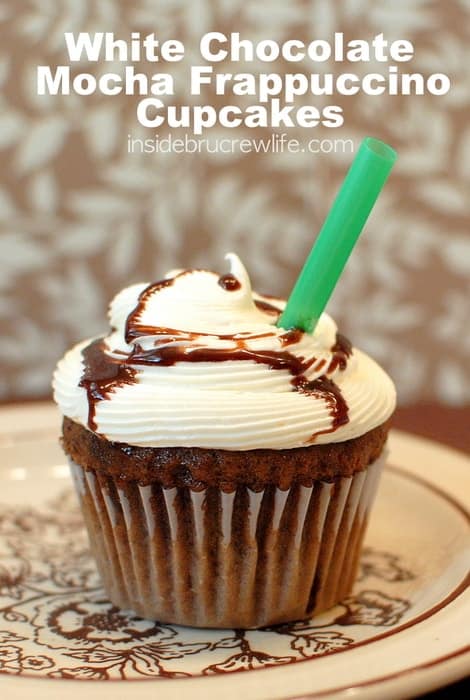 White Chocolate Mocha Frappuccino Cupcakes - the creamy white chocolate frosting makes these cupcakes incredible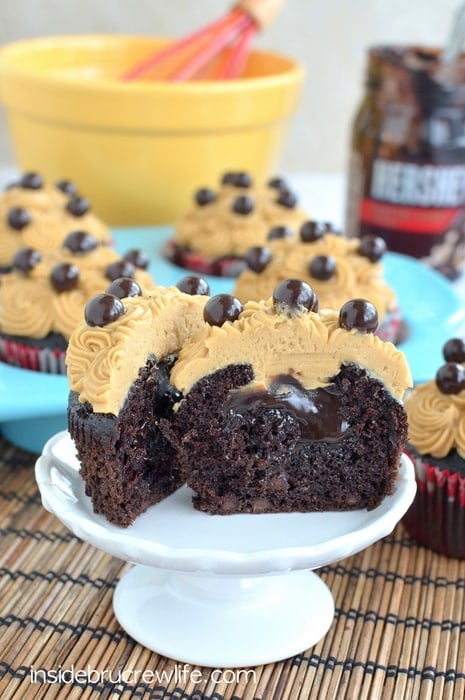 Mocha Fudge Cupcakes - a hidden pocket of hot fudge and the creamy coffee frosting will have everyone begging for more cupcakes

*This post contains affiliate links. Inside BruCrew Life may receive a small percentage from sales made through these free links. As always, these links do not cost you any extra. Thank you for letting us share products we use and love this way.
SaveSave
SaveSave
SaveSave
SaveSave