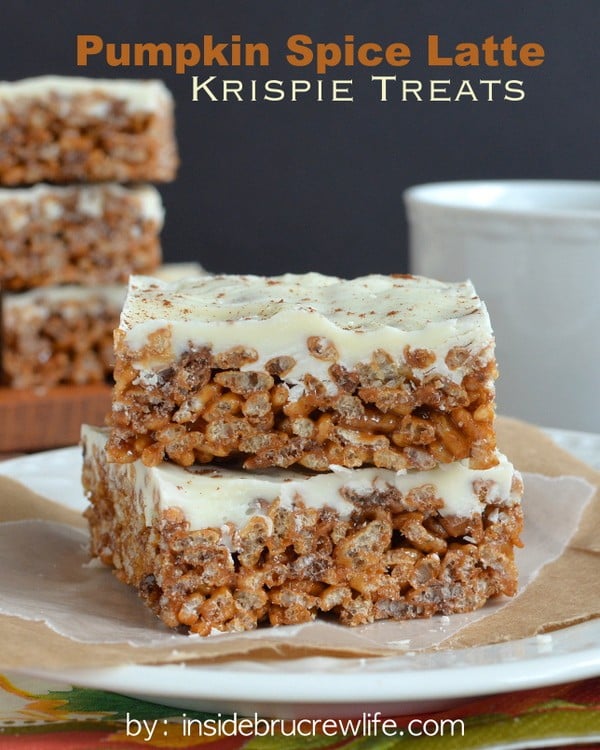 Have you had a chance to try the pumpkin spice marshmallows?  Run to the store and buy yourself a bag.  Try one.  Now put one in your hot chocolate.  Good huh?  Okay, scratch that…you are going to need two bags of the pumpkin marshmallows.  One to enjoy in your hot chocolate and one to make these
Pumpkin Spice Latte Krispie Treats
.
I was going through some old pictures and realized that I never shared these bad boys with you last year.  That's not cool!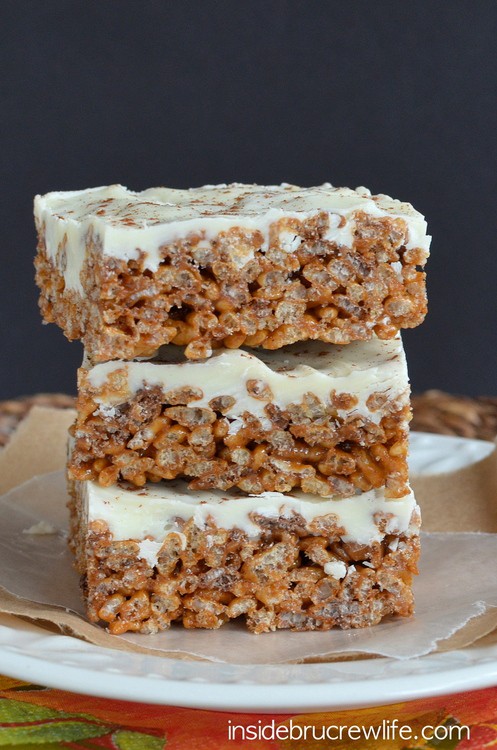 Last year I participated in
Carrie's
Pumpkin week.  I just adore that orange stuff so much, so I was all in for creating a fun recipe to share there.
Pumpkin is seriously my favorite thing to bake with the entire fall season.  Something about the smell coming out of my kitchen gets me every time.  Especially when it is in things like this
Pumpkin Chocolate Chip Bread
and these
Butterscotch Pumpkin Whoopie Pies
.  Pumpkin goodies just disappear around me when I start baking with it.
This is actually kind of a cheater pumpkin dessert because instead of real pumpkin, I used those pumpkin marshmallows.  Then I added some coffee and white chocolate to jazz it up some!   Boom!!  These are now full of pumpkin latte flavor.  Talk about a rice krispie treat that you can't stay out of.  I have another bag of the pumpkin marshmallows in my cupboard just begging to be used in these again.  I don't know what I'm waiting for!!!
You will need to head over to Bakeaholic Mama's to get the recipe for these.   
Get the recipe here —>
Pumpkin Spice Latte Krispie Treats
.  <—    It's worth the extra effort…promise

*
*
*