This Pumpkin Cookies and Cream Fudge needs a place on your dessert table this fall. Soft, pumpkin fudge with chocolate cookie chunks...yes, please.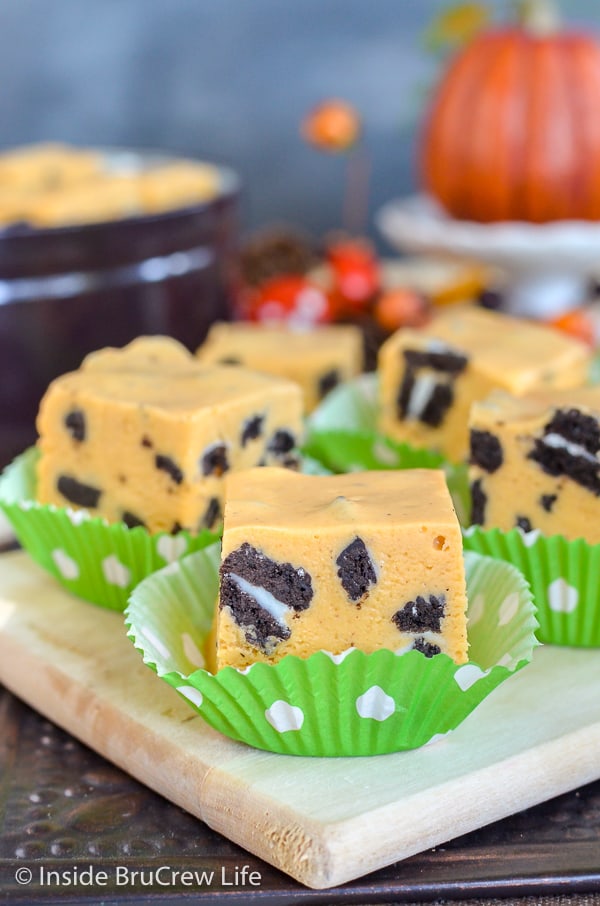 I have jumped back on the fudge making train. For a little while I was trying to make a new flavor every month, but I slacked off lately.
Recently I got the fudge making urge again, and now I can't stop thinking of fun flavors to create.
I think fudge all year round sounds so much better than fudge at the holidays. Any time we visit craft fairs, markets, or theme parks I have to check out their fudge booths.
You never know what fun flavors you might find there. This Turtle Cheesecake Fudge was inspired from one of the fairs we visited one year.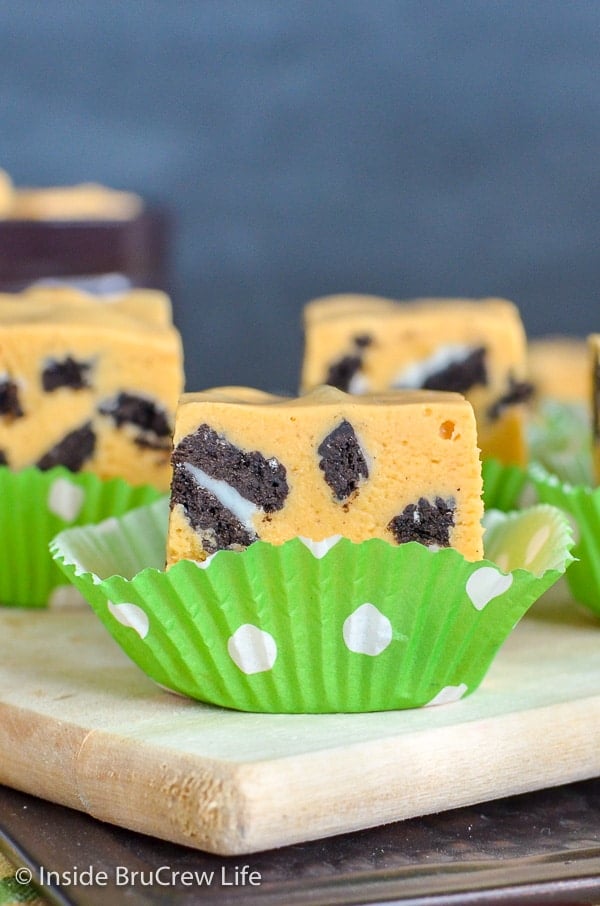 I was so excited to see instant pumpkin spice pudding in stores the other day. Our local grocery store has it again this year, and I couldn't wait to make something fun with it.
Of course, fudge is on my brain, so I knew this would be the perfect flavor to add to a cookies and cream fudge. These Pumpkin Oreo Cheesecakes are one of our favorite recipes, so I knew a pumpkin Oreo fudge would be delicious too.
The pumpkin pudding just adds a small pumpkin spice flavor that is so enjoyable, and the cookies get soft from being swirled into the fudge. I had a hard time only eating one piece.
My advice, stop at the store and find the pumpkin pudding ASAP. It is a seasonal item, and I don't know how long it will stick around.
I recommend buying a few boxes, so you can make these M&M Pumpkin Pudding Cookies and this Pumpkin Fudge Eclair Cake too.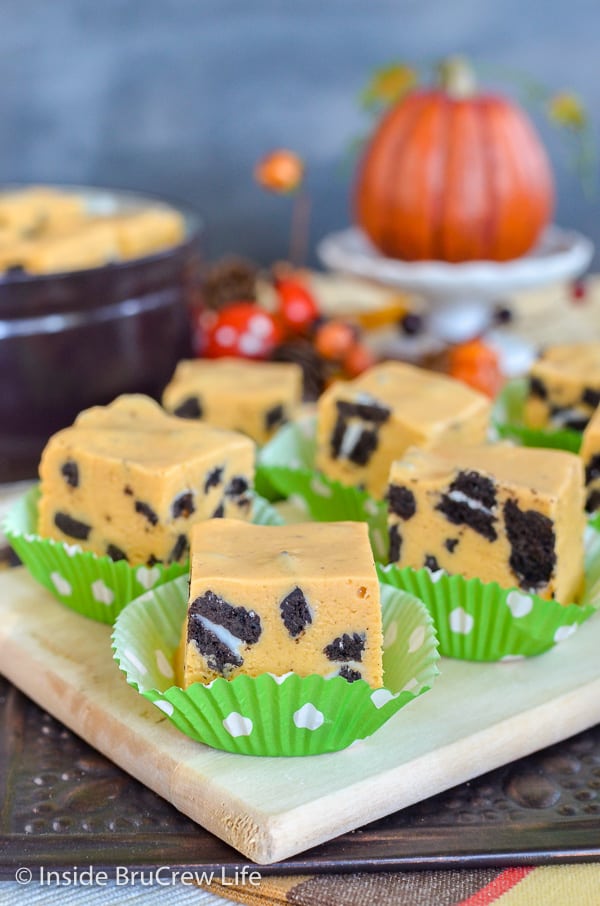 This pumpkin fudge does take some time to set up, so give yourself some time when you make it. Do the laundry, vacuum, or catch up on your favorite tv show.
Whatever you do, make sure you wait to cut into it. I actually like to make it the night before, so it is ready to cut in the morning.
How to make Pumpkin Cookies and Cream Fudge:
Add the white chips, butter, and sweetened condensed milk to a large pot. Stir over medium heat until melted and creamy.
Pour in the dry instant pudding mix and continue to stir for a few minutes, so the pudding mix has time to dissolve some.
Stir in the marshmallow cream, then add the cookies chunks and stir gently.
Spoon the fudge into a pan and refrigerate until set.
Cut into squares and let them sit until they come to room temperature. (full recipe below)
Tips for making this Pumpkin Fudge:
Line your pan with foil or parchment paper. Do not use waxed paper because the hot fudge will melt the paper and it will stick to the finished fudge.
Keep the fudge in the refrigerator all night. The next day take it out of the pan and cut into small bite-sized pieces. Let the fudge come to room temperature, as it will finish setting up and drying out a bit.
Do not cut into this fudge too soon. Be patient because if you cut into it too early, it will be too soft. If you are serving this for parties or giving it as a gift, let the cookies and cream fudge set completely.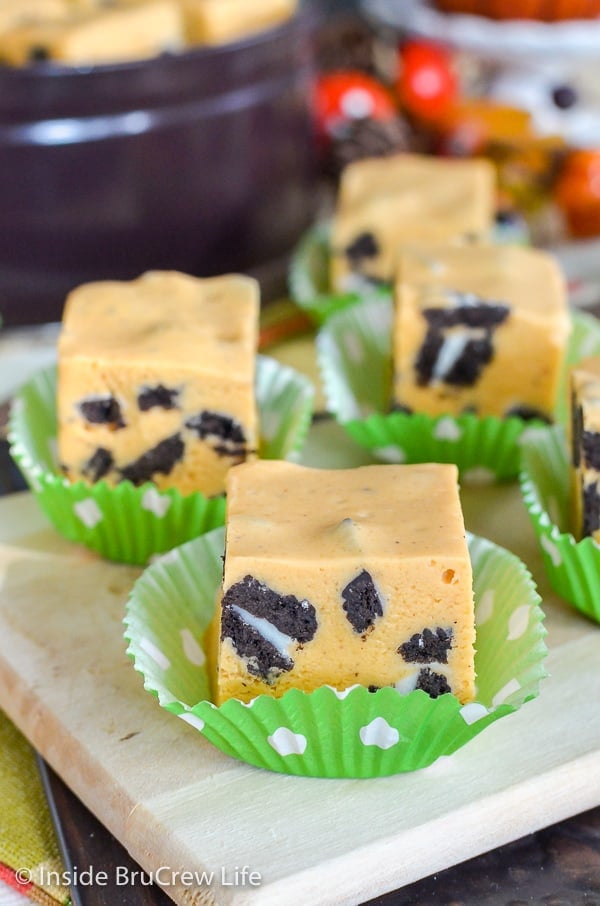 Other easy fudge recipes you may like: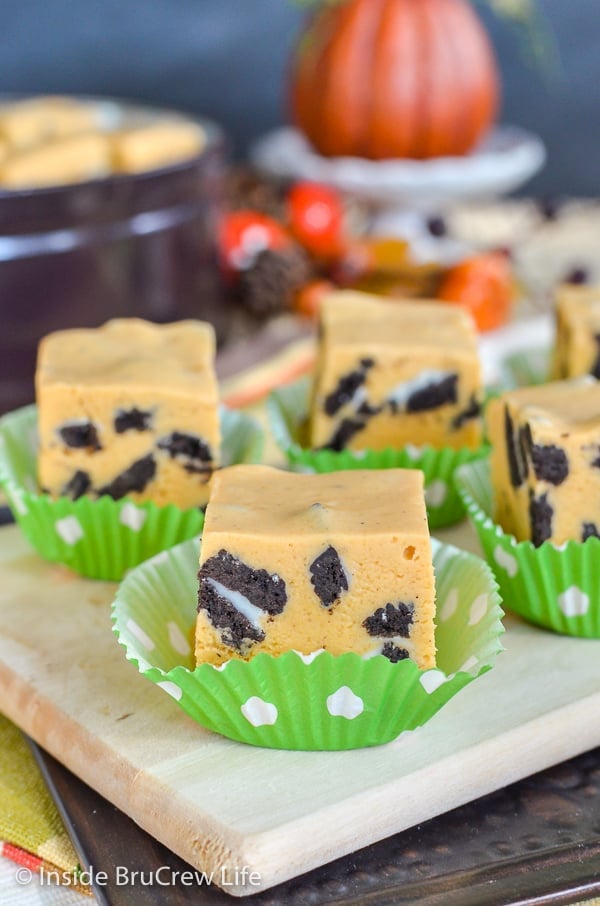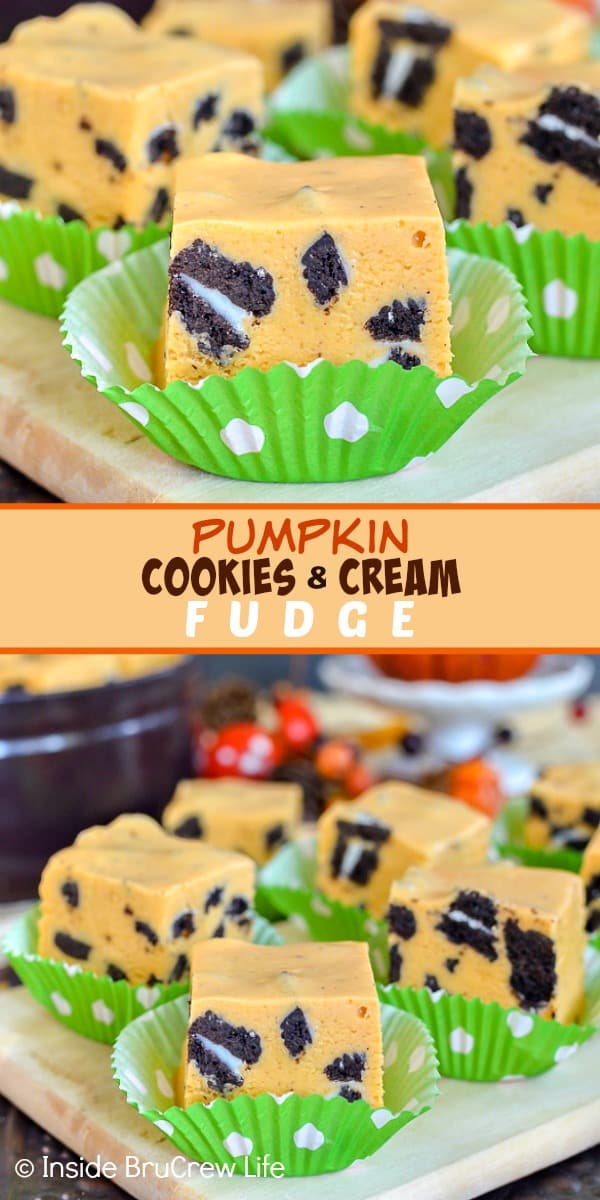 *The post for Pumpkin Cookies and Cream Fudge was first published on October 17, 2013. The post and photos have been updated and republished on November 12, 2019.