Pumpkin S'mores Rice Krispie Treats: Chocolate, pumpkin marshmallows, Golden Grahams, and more marshmallow goodness makes these fun rice krispie treats the first to go at any party.
Today I am partnering with Kraft JET-PUFFED Marshmallows to bring you this fun holiday treat.
*Make sure you sign up for the BruCrew email, so you see these recipes in your inbox each morning.**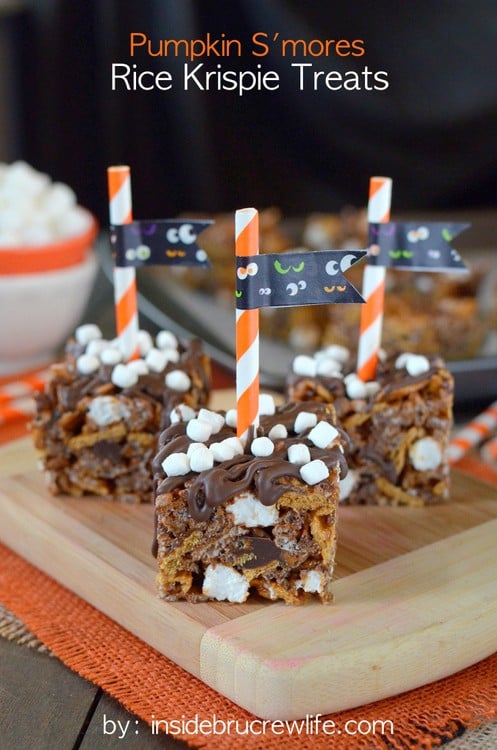 I was looking through my recipes, and can you believe that I have only shared two other rice krispie treats here since last fall!
Only two, people!  I am seriously questioning my rice krispie treat love right now.  I thought I was a die hard fan, but the records show I have been slacking in this department.
Thank goodness Kraft JET-PUFFED Marshmallows asked me to create a fun recipe using some of their holiday marshmallows and regular marshmallows.  I had so many fun ideas going through my head, but ultimately decided to go slightly simple, with flair for this recipe.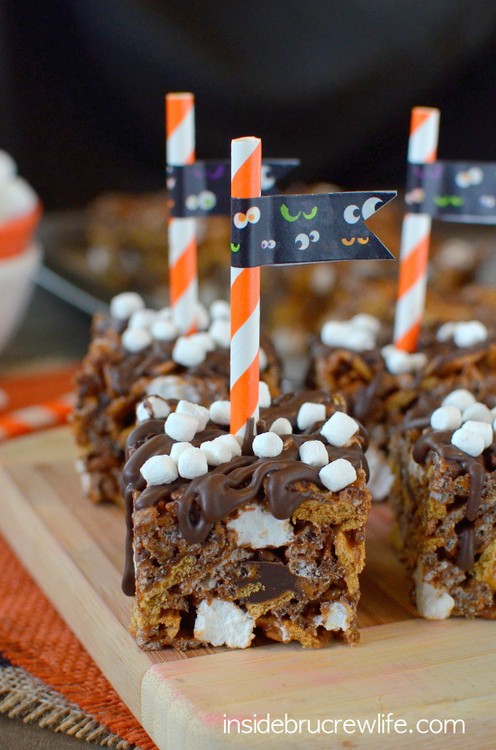 Lately I have been obsessing over pumpkin mixed with S'mores.  It is such a fun combo of flavors.  Perfect fall meets summer/bonfire treat!
For these rice krispie treats I used a bag of the JET-PUFFED Pumpkin Spice Mallows and melted them down with some butter.  I suggest buying 2 bags of these marshmallows because one taste, and you will be in love with these soft marshmallows with that pumpkin spice flavor.
I love getting the chance to work with brands that I already use all the time.  Kraft JET-PUFFED marshmallows are the only brand we buy and use.  They stay soft and make my rice krispie treats stay chewy and delicious every single time.  Today's recipe uses several of these delicious marshmallows in it.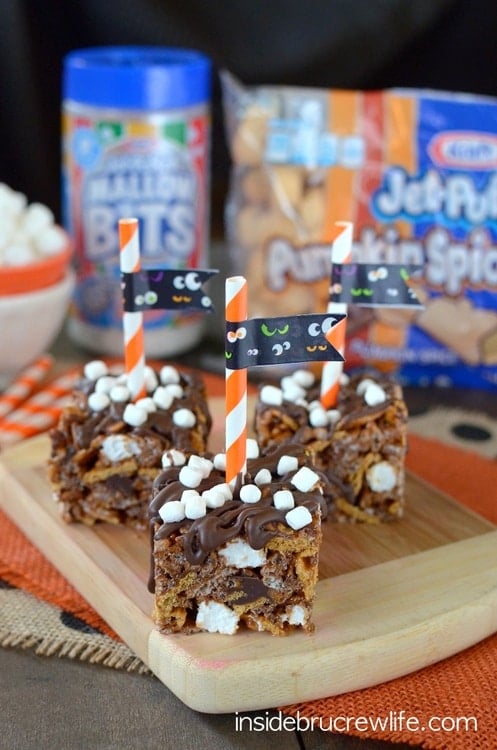 After the pumpkin marshmallows melt down into the butter, stir in the cereals until coated.  Now give it a few minutes to cool off before stirring in the mini marshmallows and chocolate chunks, or else they will melt down too.
After 3-4 minutes, go ahead and stir in the marshmallows and chocolate chunks quickly.  Then press immediately into a buttered baking dish and let them cool.  I like to use a piece of parchment paper to press down my treats gently.  Do not press the treats too hard, or they will set up hard and crunchy.  Soft, chewy treats are what we are going for here!
A fun straw, some washi tape, and more chocolate with some Kraft JET-PUFFED Mallow Bits was the perfect way to make these treats party perfect!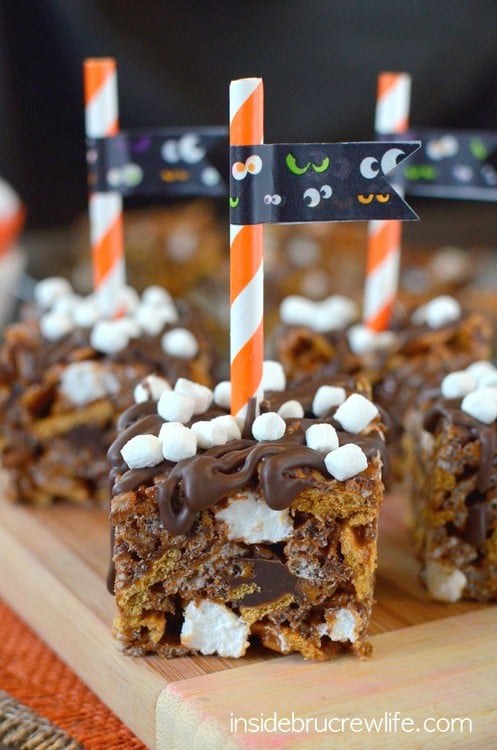 Connect more with Kraft JET-PUFFED Marshmallows:
Facebook | Instagram | Twitter | Pinterest | Website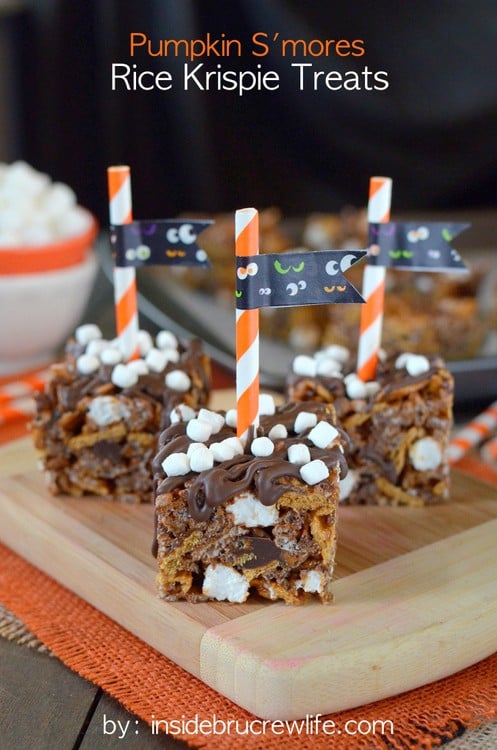 Pumpkin marshmallows and S'mores flavors make these Rice Krispie Treats the perfect fall party treat!
Ingredients
3 Tablespoons butter
1 - 8 ounce bag JET-PUFFED Pumpkin Spice Mallows
3 cups chocolate Rice Krispies cereal
2 cups Golden Grahams cereal
1 cup JET-PUFFED Mini Marshmallows
8 snack sized Hershey bars, chopped
4 ounces chocolate CandiQuik
1/4 cup JET-PUFFED Mallow Bits
Instructions
Melt the butter in a large saucepan over medium heat. Stir in the Pumpkin Spice marshmallows and continue to stir until completely melted.
Stir in the Rice Krispie cereal and Golden Grahams until completely coated. Let cool for 3-4 minutes.
Stir in the mini marshmallows and chocolate candy bar chunks. Press the mixture into a buttered 8x8 baking dish firmly, but not too hard. Let cool completely. Cut into 16 squares. Press a straw with a washi flag on top into the top of each square.
Melt the CandiQuik according to the package directions. Spoon into a small ziplock baggie and cut one corner off. Drizzle over the tops of the rice krispie treats and top with the marshmallow bits. Store in a covered container on the counter.
https://insidebrucrewlife.com/pumpkin-smores-rice-krispie-treats/
Copyright Inside BruCrew Life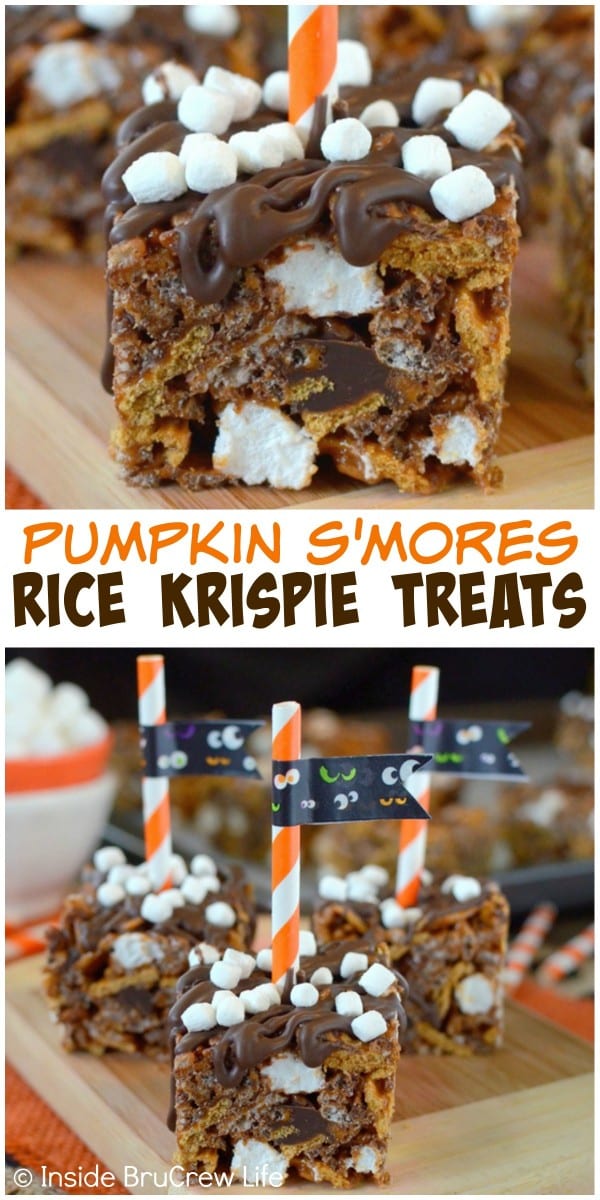 *Kraft Foods provided product and compensation for me to create a fun and delicious recipe.  All opinions shared in this post are 100% my own.