You are in for a real treat with these Air Fried Oreos. They are easy to make with just a few ingredients, and they taste just like the deep fried Oreos from the fair. I dare you to only eat one!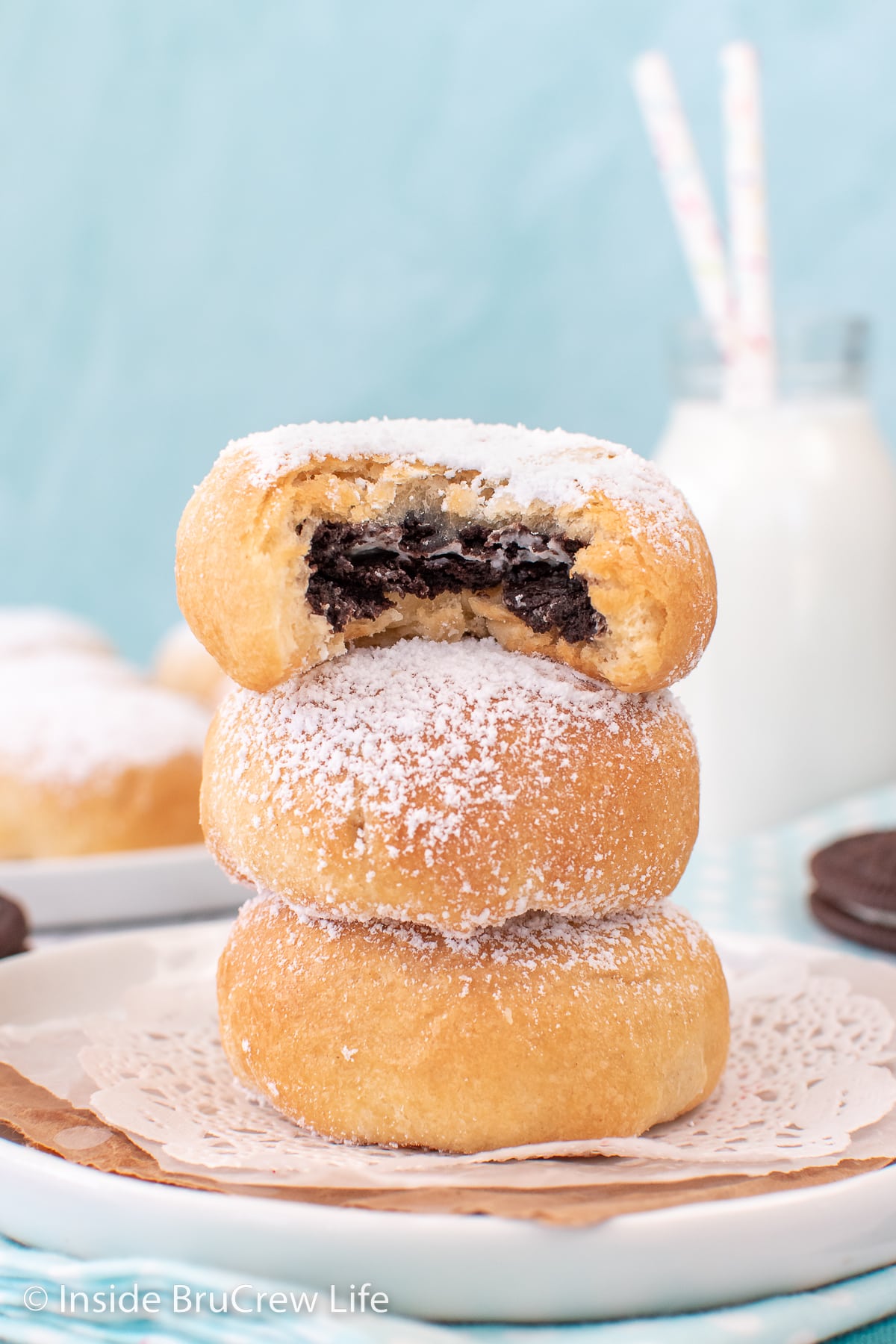 Jump to:
What is your favorite fried food from the fair? Our family always enjoys funnel cakes, elephant ears, cheese curds, and fried pickles.
The first time we saw deep fried cookies at the fair we had to try them. The crispy outside and soft center is so good.
The problem with this amazing treat is that is only available during fair season. Did you know that you can use an air fryer to make those same deep fried Oreos at home?
Why This Air Fryer Recipe Works
Air fried Oreos are delicious and easy to make. An air fryer cooks Oreos with hot air instead of hot oil making it a healthier alternative.
The dough gets crispy and brown on the outside and the cookie softens into a gooey center. They will literally melt in your mouth!
Get ready to enjoy one of the best and easiest Oreo desserts. These powdered sugar cookies are perfect when you want something sweet.
Ingredients Needed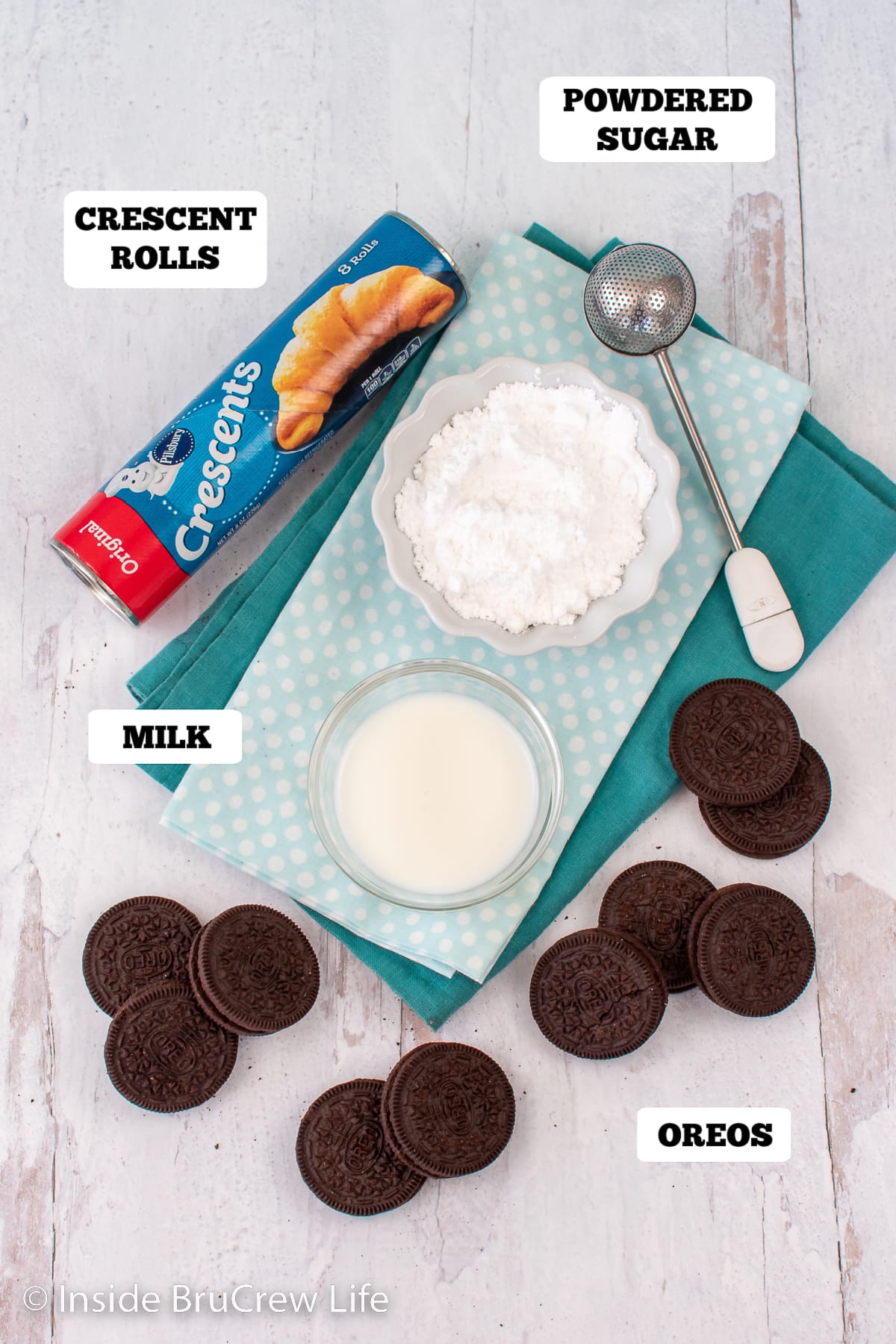 The ingredient list for air fryer Oreos is very simple. You will only need 4 ingredients to make this fun fair food in your own kitchen.
Crescent Rolls - One refrigerated tube will make 10 fried Oreos. You can use the rolls or the sheet dough.
Milk - All you need is a little bit to dip the cookies in. This helps to soften the cookie before frying it. Whatever milk you have on hand is totally fine. You can even skip this step if you want the inside to have a slight crunch.
Oreo Cookies - Any cream filled cookie will work, but we love Oreos. I suggest buying a family sized package because these are so good and you will want more.
Powdered Sugar - Adds a delicious coating of sugar goodness to the warm pockets of dough.
BruCrew Tip: Use the extra Oreos to make these cookies and cream cookies or these Oreo cheesecake bars.
How to Make Fried Oreos in an Air Fryer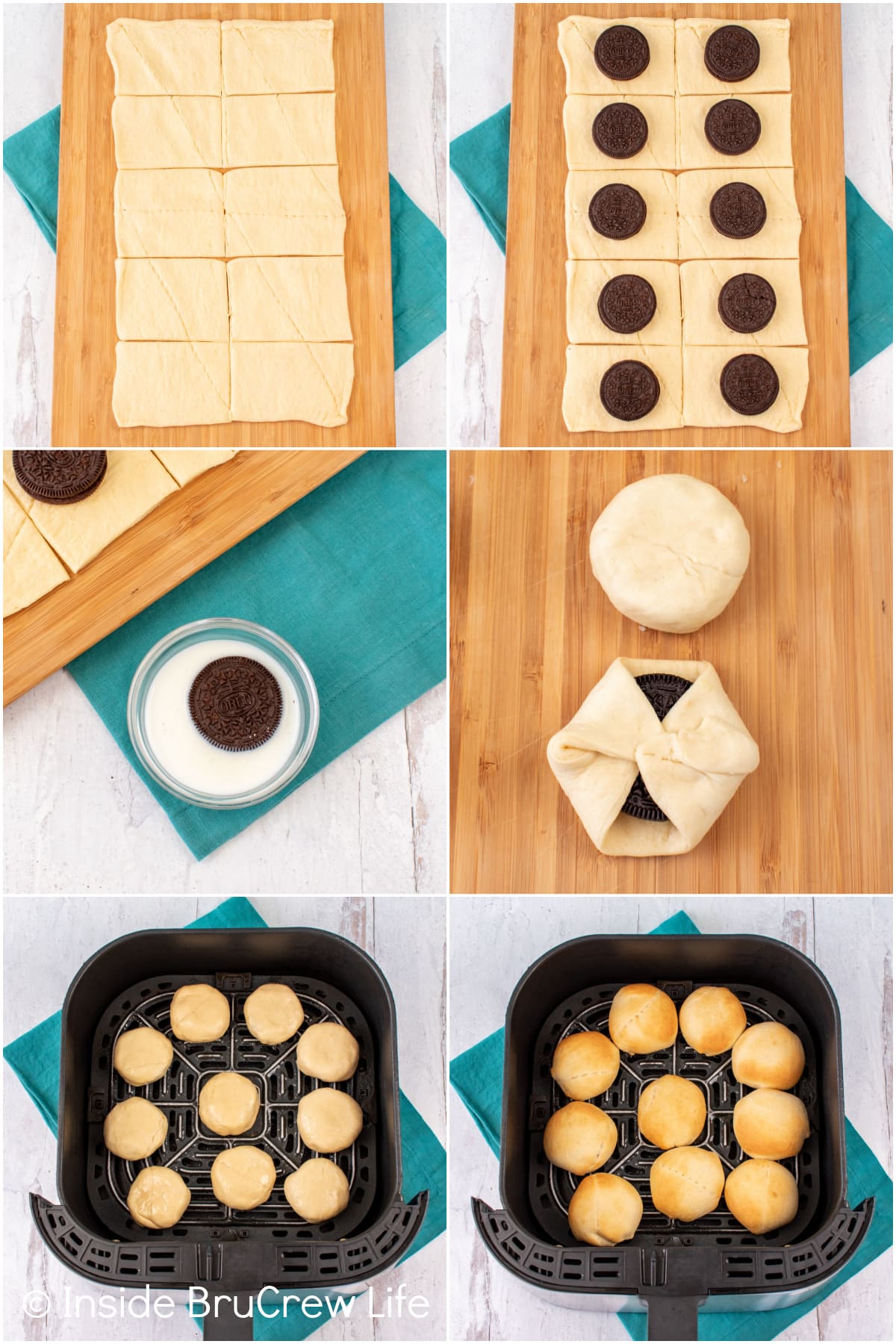 Making air fryer fried Oreos at home is so simple. Simply dip, wrap, and air fry. You are going to love how easy and delicious they are! These cookies really do melt in your mouth.
Unwrap the crescent roll dough and press together the seams. Cut the dough into 10 even pieces.
Place the Oreo cookies on each square. One at a time, dip the cookies in milk quickly. This is totally optional, but the ones we tried this way were our favorite.
Wrap the square of dough tightly around the cookie.
Spray each pocket of dough with nonstick cooking spray on both sides.
Place them in the air fryer basket and fry for 4-5 minutes or until puffy and golden brown.
Dust the warm Oreos with powdered sugar and devour!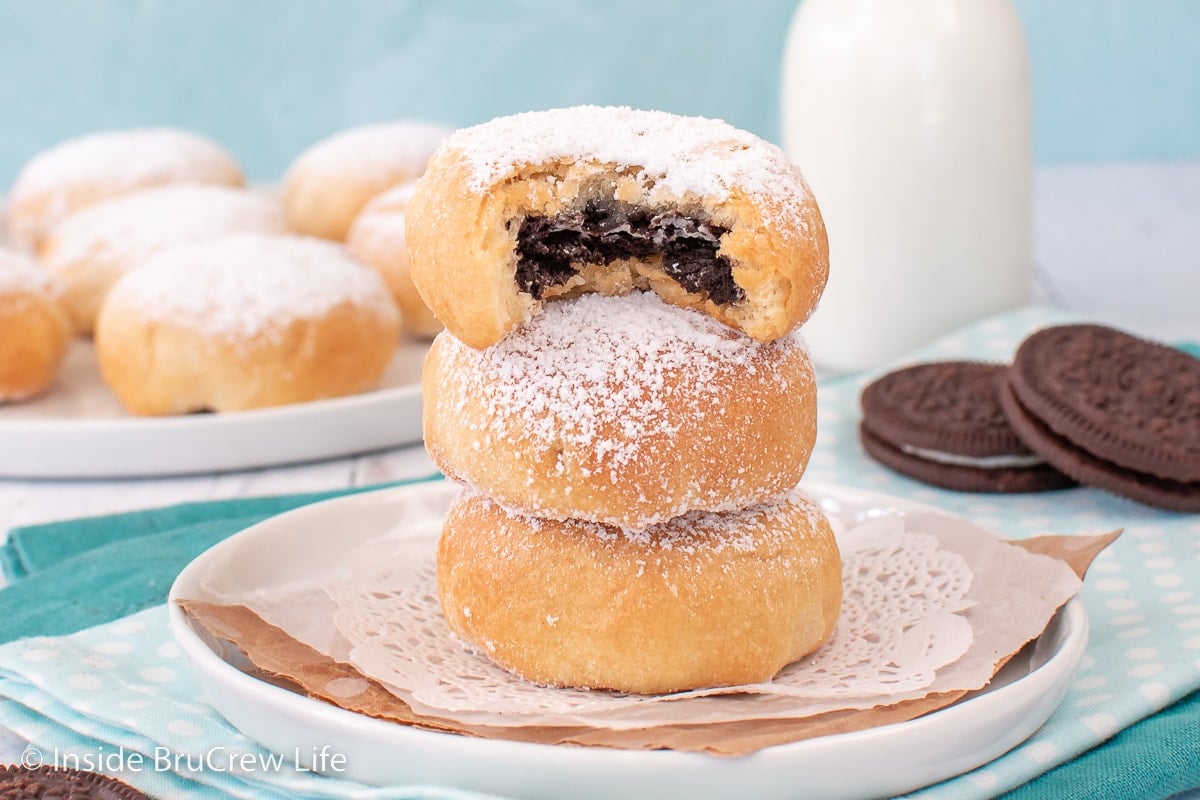 Storage Recommendations
For the absolute best results, you are going to want to eat the air fryer Oreos right away.
Store leftovers in a sealed container in the refrigerator for 2-3 days. I do recommend reheating them in the air fryer for 1-2 minutes to crisp them back up.
Tips and Tricks
Do not over crowd the air fryer basket. If you have a smaller model, air fry 2 separate batches. You want to make sure there is room around each dough wrapped cookie, so they can cook and crisp.
Place the Oreos in a single layer in the bottom of the fryer. Again don't stack or crowd.
Try using double stuffed Oreos for a thicker gooey center. You can thank me for that later!
For a fun taste, try flavored Oreo cookies. The peanut butter ones are amazing!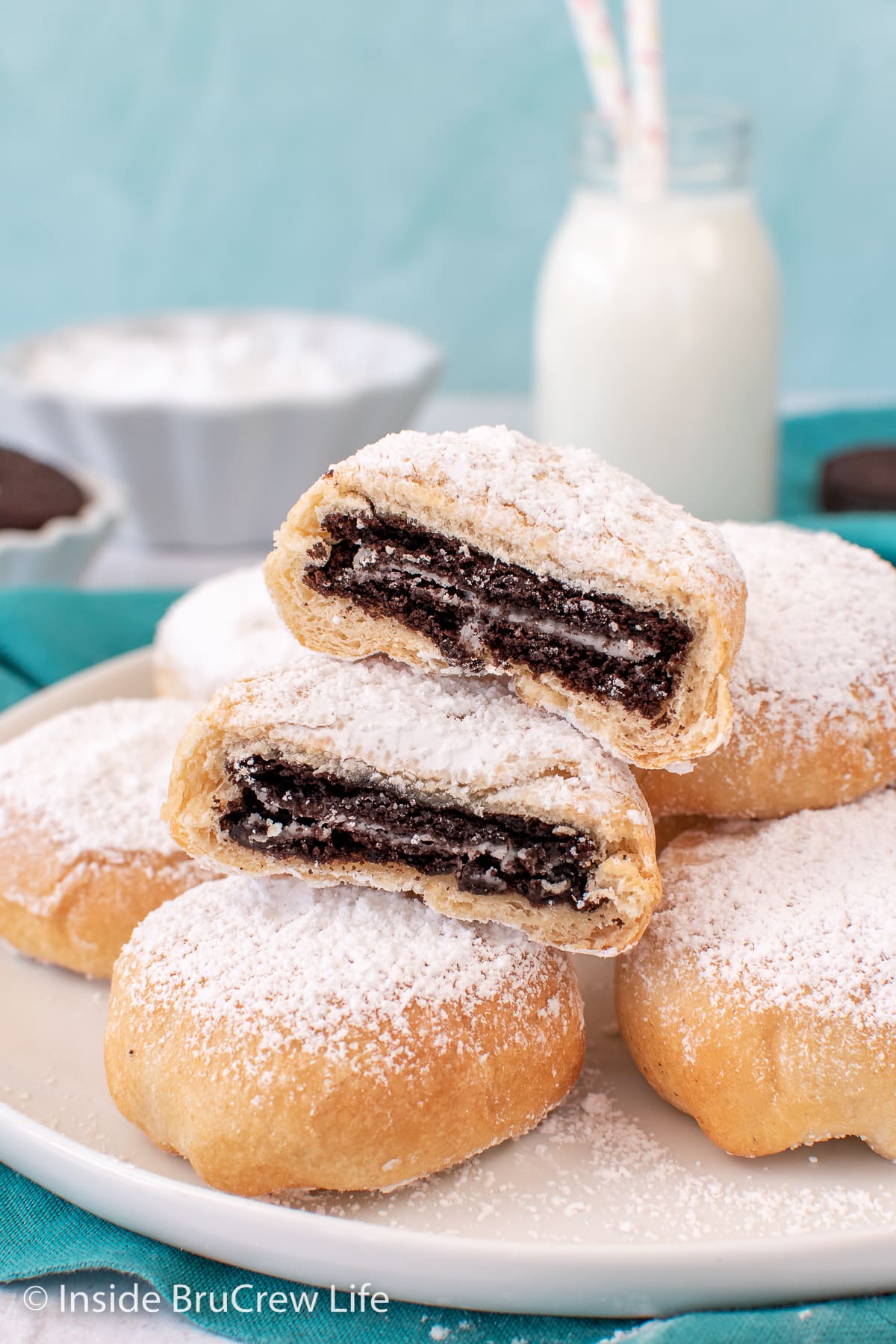 FAQ
Do you have to chill the Oreos before air frying?
No, you can use room temperature cookies to make deep fried Oreos in an air fryer.
Can you reheat fried Oreos?
Yes you can. Preheat the air fryer to 375°. Spray the air fryer basket with nonstick spray and place the cookies in a single layer. Heat for 1-2 minutes or until warm and crispy. Dust with more powdered sugar before serving.
How long do fried Oreo cookies last?
Air fried Oreos really are best if served the day they are made. You can keep leftovers in a sealed container in the fridge for a few days and reheat in the air fryer as needed.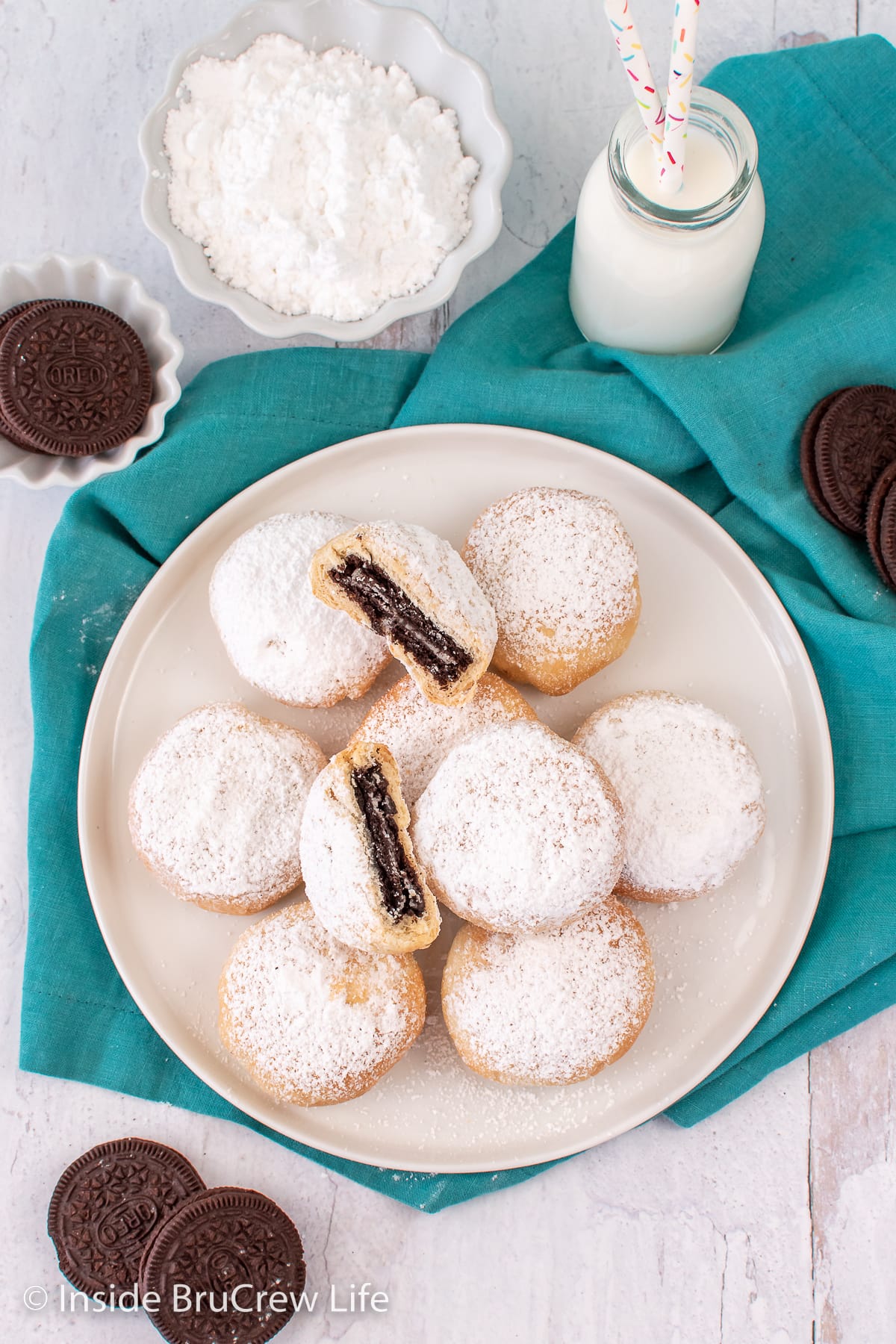 Other Oreo Desserts
Do you love a recipe you tried from Inside BruCrew Life?
Please leave a 5-star ⭐️ rating and a review in the comments section below.