Make this easy no bake Cookies and Cream Chocolate Pie when you need a chocolate fix. The layers of cookies and chocolate pudding will make this pie your new favorite dessert.
*Love these recipes?  Sign up for the BruCrew email to have these recipes delivered to your inbox each day.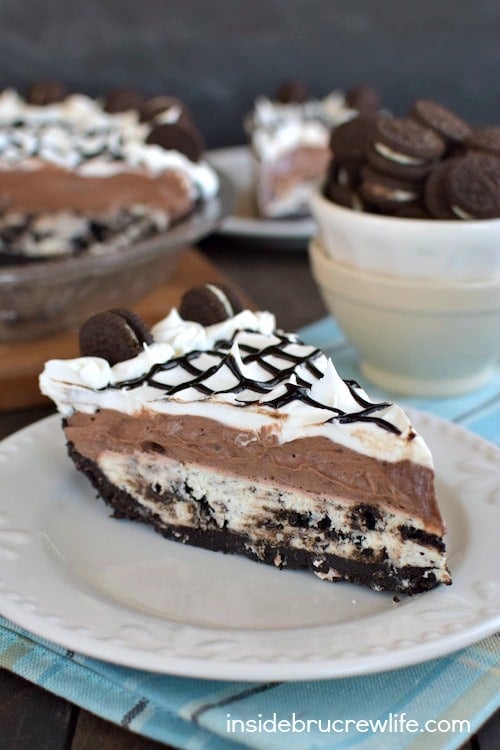 CLICK HERE TO PIN THIS RECIPE FOR LATER!
Ok, I have to be honest. I am not very good at math.  My kids know that if they have math homework questions that they cannot ask me.  Well, they can ask me, but I'm not going to be much help.
It was ok when they were in elementary school.  Ha!  Not even then.  My oldest loves to remind me of the paper he got wrong in 2nd grade.
In my defense I did follow the model problem at the top of the page, so technically it wasn't my fault.  His teacher should have caught that mistake before sending home the paper with a mistake on it.
So, I may not be a math person, but I do remember learning about Pi in school.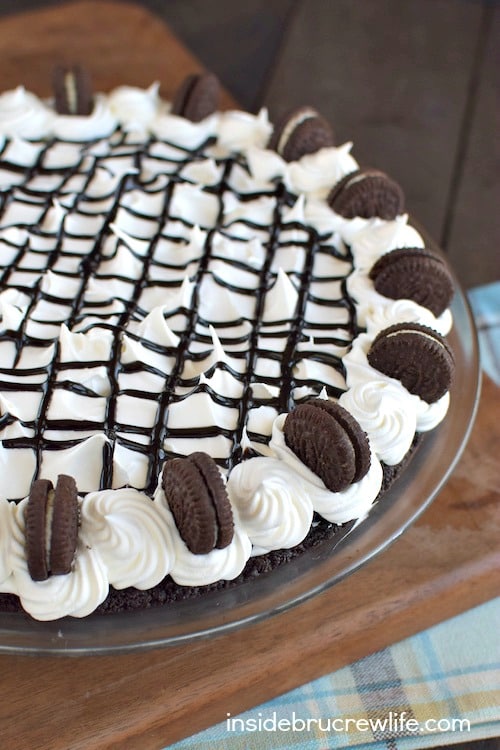 Of course, if you are like me when I hear pi in the kids math homework all I can think of is PIE.
My mind automatically goes to things like crust, cookies, pudding, fudge, and Cool Whip.  Yup, forget all thoughts of math because I'm automatically dreaming of this Coconut Fudge Pie and these little Chocolate Cheesecake Pie Bites.
That got me started thinking about making another easy no bake pie for dessert. I had a craving for chocolate Oreo pie, so I had to run to our pantry and see what we had.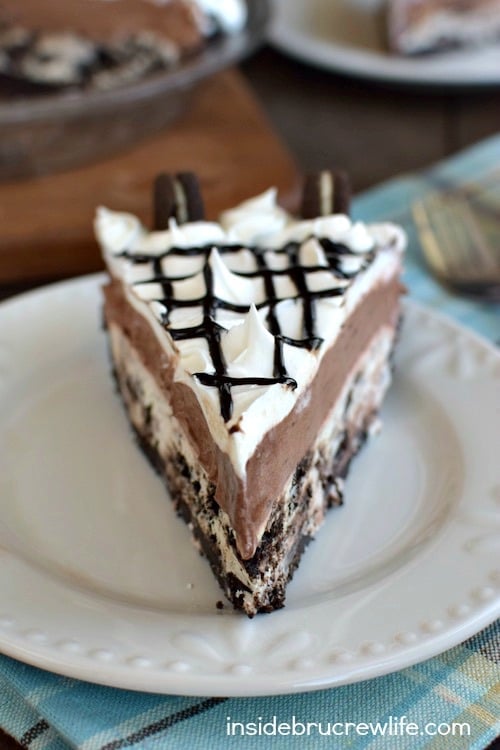 How to make a Cookies and Cream Chocolate Pie
This pie is so easy to put together.  It is completely no-bake, which makes it even faster to make and have in your mouth.  Most of the ingredients might even be in your fridge and cupboards already.
Start by making a cookie crust.  20 Oreo cookies crushed up with the cream included and 5 Tablespoons of butter makes the perfect crust for a 9 inch pie plate.
Beat together some cream cheese and sugar.  Then add some Cool Whip and cookie chunks. Yes, I did say Cool Whip!  Don't shoot me, but I love me some Cool Whip.
The top layer is chocolate pudding whisked together with milk.  Use chocolate milk if you want a richer chocolate pudding. Stir in more Cool Whip to give it some creaminess.
Finish the Cookies and Cream Chocolate Pie with some more of the white stuff, fudge drizzles, and mini cookies before serving it to your friends and family.
Or just hide out at home with a giant slice of the best cookies and cream pie and post it on Instagram, so everyone can see what an awesome lunch you are having.  Not that I know about that or anything.  Wink, wink!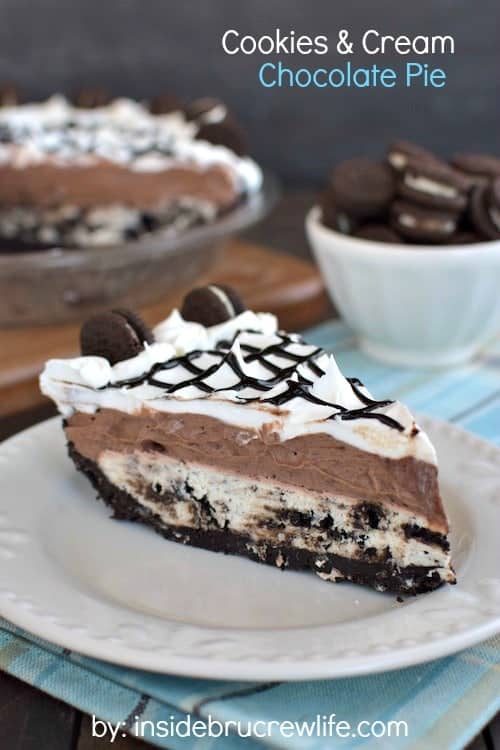 More Easy Pie Recipes you may enjoy:
Stay up to date on all the BruCrew baking here:
FACEBOOK | PINTEREST | GOOGLE+ | TWITTER | INSTAGRAM | BLOGLOVIN
 Sign up to receive an email in your inbox for each new recipe:
EMAIL SUBSCRIPTION
Cookies and Cream Chocolate Pie recipe:
Yield: 10 slices of pie
Cookies and Cream Chocolate Pie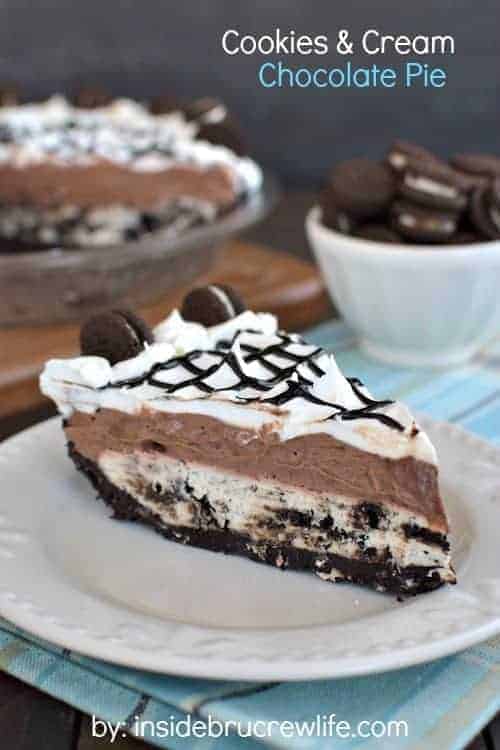 Make this easy no bake Cookies and Cream Chocolate Pie when you need a chocolate fix. The layers of cookies and chocolate pudding will make this pie your new favorite dessert.  
Ingredients
2 cups Oreo cookie crumbs (18-20 cookies)
5 Tablespoons butter, melted
4 ounces cream cheese, softened
1/3 cup powdered sugar
1 - 15 ounce container Cool Whip, thawed & divided
2/3 cup Oreo cookie chunks (6 cookies)
1 - 3.9 ounce box instant chocolate fudge pudding mix
1 cup milk
10-15 mini Oreo cookies
2 Tablespoons hot fudge
Instructions
Combine the cookie crumbs and melted butter. Press the mixture into a 9 inch pie plate. Refrigerate while you mix everything else.
Beat the cream cheese and powdered sugar until creamy.
Fold in 1/2 cup Cool Whip. Stir in the cookie chunks gently. Spread in the bottom of the cookie crust.
Whisk together the pudding mix and milk. Fold in 1 cup Cool Whip. Spread over the cheesecake layer.
Top the pie with 1 1/2 cups Cool Whip.
Heat the hot fudge until warm. Drizzle over the top of the pie.
Use the remaining Cool Whip to pipe swirls around the edge of the pie with a decorating bag and icing tip 1M.
Top with mini cookies. Refrigerate before serving. Serves 10.
Recommended Products
As an Amazon Associate and member of other affiliate programs, I earn from qualifying purchases.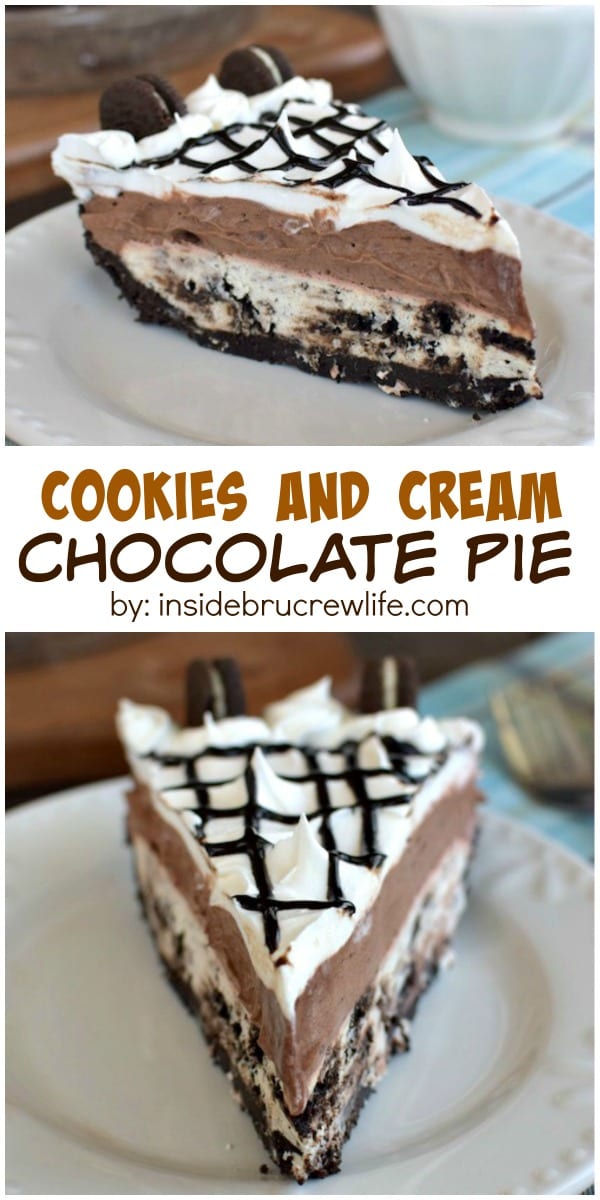 *This post for Cookies and Cream Chocolate Pie was originally posted on March 13, 2015. The post has been updated and republished in August 2018.