Take your dessert to a whole new level with this Oreo Mousse Cake. A light fluffy cookies and cream mousse on a fudgy brownie bottom pie creates an Oreo dessert that will make everyone stop and stare.
If you love brownie cakes, you should try our thin mint cheesecake or our strawberry mousse cake.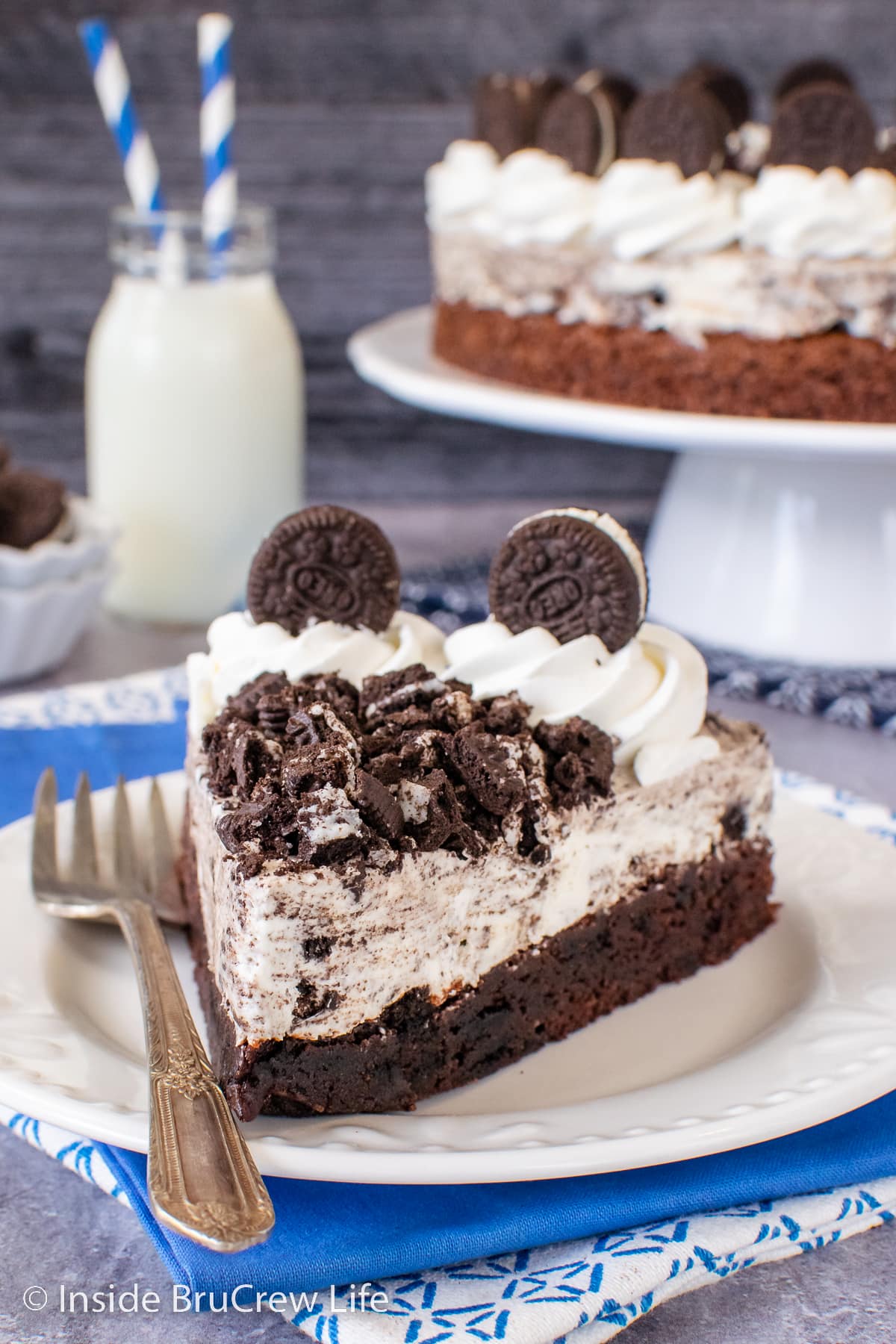 Jump to:
Making desserts with a brownie base is one of my favorite ways to make a fancy show stopping cake that is actually quite easy.
If you have never had a dessert with a brownie base then you are missing out. Some of my favorites include cherry mousse brownie cake, Snickers cheesecake, and this cookie dough cheesecake brownie pie.
This time I added some Oreo fluff to the top of a homemade brownie. Oh, my word! One bite of the smooth texture and chocolate and cream flavor of this Oreo mousse dessert will make you lose control. In a good way!
Why This Works
A chewy brownie crust topped with a light, fluffy mousse that is loaded with Oreos cookies is a match made in heaven. You can do our homemade brownies or use a box mix. Either works and tastes good, so do what makes you happy.
Chocolate cookies give the Oreo mousse cake an amazing cookies and cream flavor. The sweet fluff will melt in your mouth because the cookies soften and get cake-like after it sits for a while.
This is an absolutely amazing dessert to share with friends and family. I recommend making it for birthdays or special events when you want to "wow" everyone with your dessert making skills.
Key Ingredients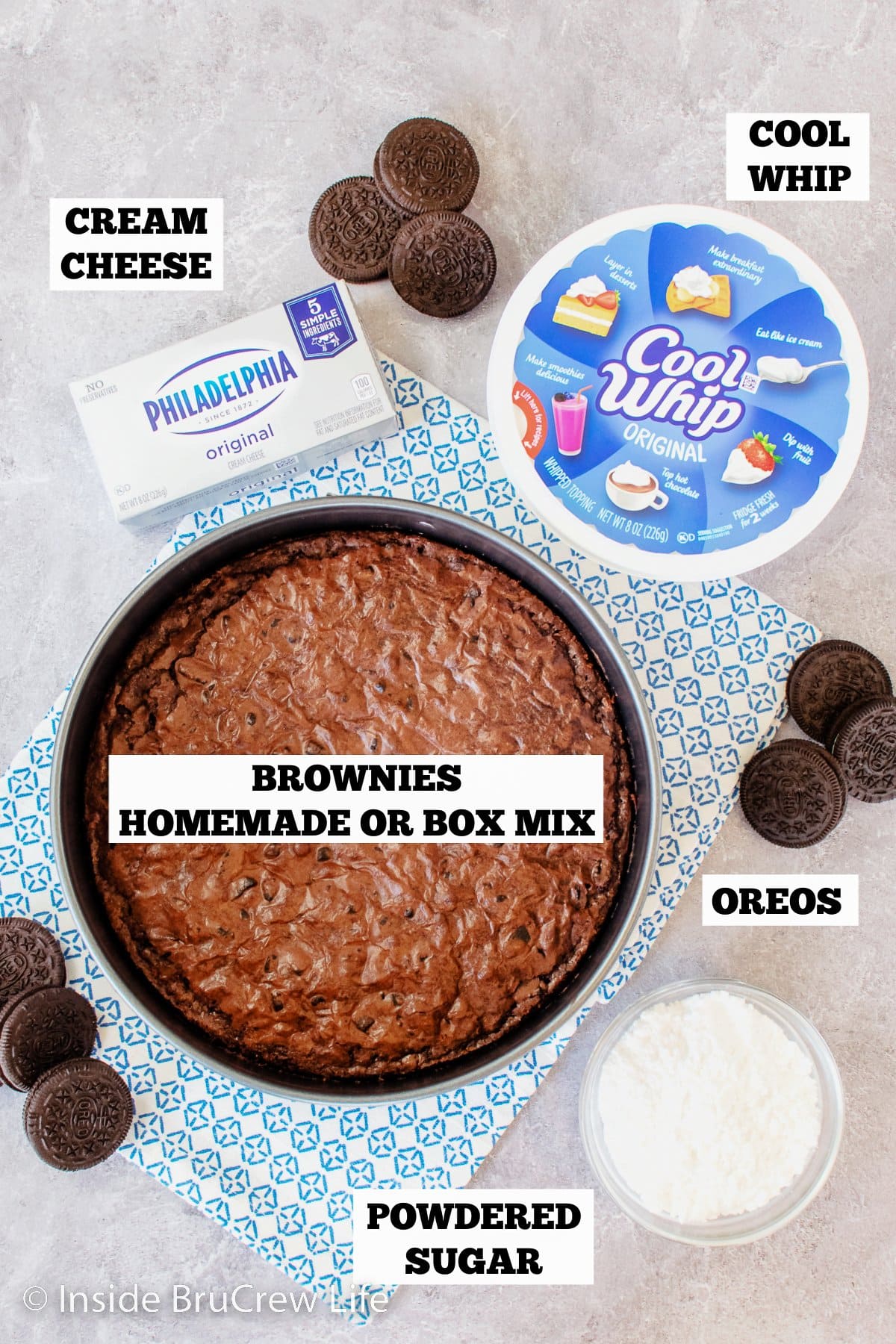 You can make this fancy looking Oreo dessert with just a few simple pantry ingredients. This dessert can be made in either a springform pan or a square baking dish.
Brownies - Check out this homemade chocolate chip brownie recipe. We use it for all our brownie recipes. You can also use an 8x8 boxed brownie mix if you would like.
Cream Cheese - For best flavor and results use regular full fat. The low fat blocks tend to be a little bit more watery which can affect how the filling sets up.
Powdered Sugar - Sweetens the cookies and cream mousse filling.
Cool Whip - One 8 ounce container is all you need. Make sure to put it in the fridge ahead of time, so it can thaw. If you prefer homemade, try this homemade whipped topping instead.
Oreo Cookies - Any chocolate sandwich cookie will do, but we prefer Oreos. For a fun twist, use peanut butter Oreos or mint Oreos.
How To Make an Oreo Mousse Cake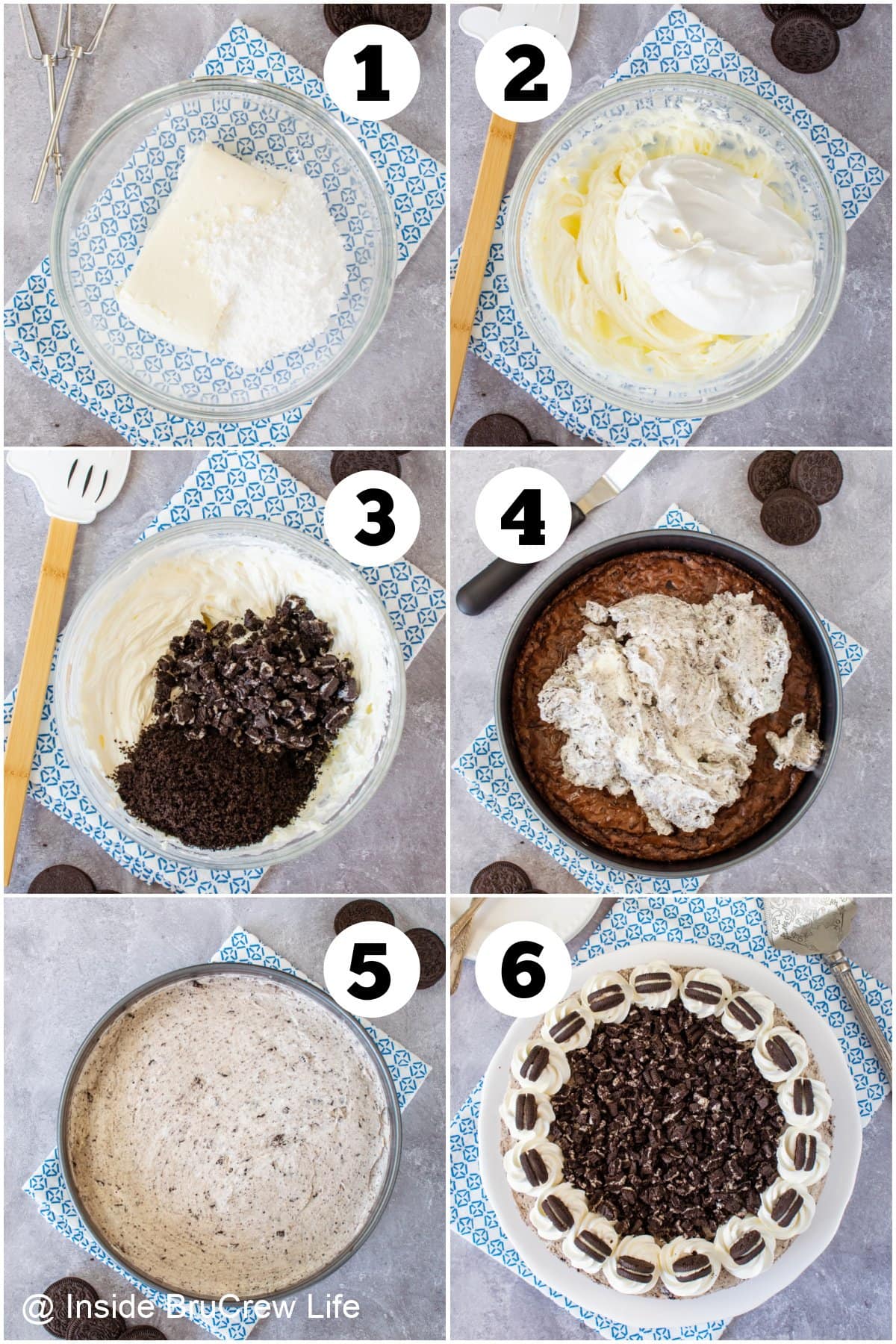 Follow our simple recipe and steps and you will have this amazing cookies and cream mousse cake chilling in your fridge in no time at all. It's an easy Oreo dessert that will impress everyone.
For the Brownie Pie Recipe
Prep the pan. Line an 8 or 9-inch springform pan with parchment paper. Make sure to spray the sides of the pan with nonstick baking spray before you spread the brownie batter in it.
Make the brownie crust. Mix the brownie batter in a large bowl. Add chopped Oreos to the batter, then spread in prepared pan. Bake for 25-30 minutes, depending on your pan size. Let it cool completely.
Unlatch the sides of the pan. Use a knife to gently loosen the brownie from the sides. Lift it out and remove the parchment paper. Place it back on the bottom of the springform pan and put the sides back on.
For the Oreo Mousse
Make no bake cheesecake filling. Beat the softened cream cheese and powdered sugar until creamy. Fold in some Cool Whip gently with a rubber spatula.
Add the cookies. Chop 5 Oreo cookies into small chunks and crush 5 Oreos into crumbs. Gently stir both into the filling. (If you want a cleaner, whiter filling, just chop all 10 cookies.)
Chill the cookies and cream mousse. Spread the cream cheese mixture on top of the cooled brownie. Refrigerate the cake for 1-2 hours to let the no bake Oreo cheesecake set up.
Remove from the pan. Use a knife to loosen the pan from the cake, so it comes out easier. Unlatch the sides of the pan and lift it off carefully.
Decorate and Serve
Add whipped cream swirls. Spoon Cool Whip into a decorating bag fitted with icing tip 1M. Add swirls around the edge of the Oreo cake.
Top with cookies. Add mini Oreos to the swirls. Chop 5 Oreo cookies into small chunks and arrange on the top of the cake.
Storage Recommendations
Cover any leftover Oreo chocolate mousse cake with plastic wrap and keep in the refrigerator for up to 5 days.
You can also freeze the undecorated cake for up to 1 month. Thaw overnight in the fridge, then add the toppings before serving. The texture of the mousse may change slightly when thawed, but it will still taste great.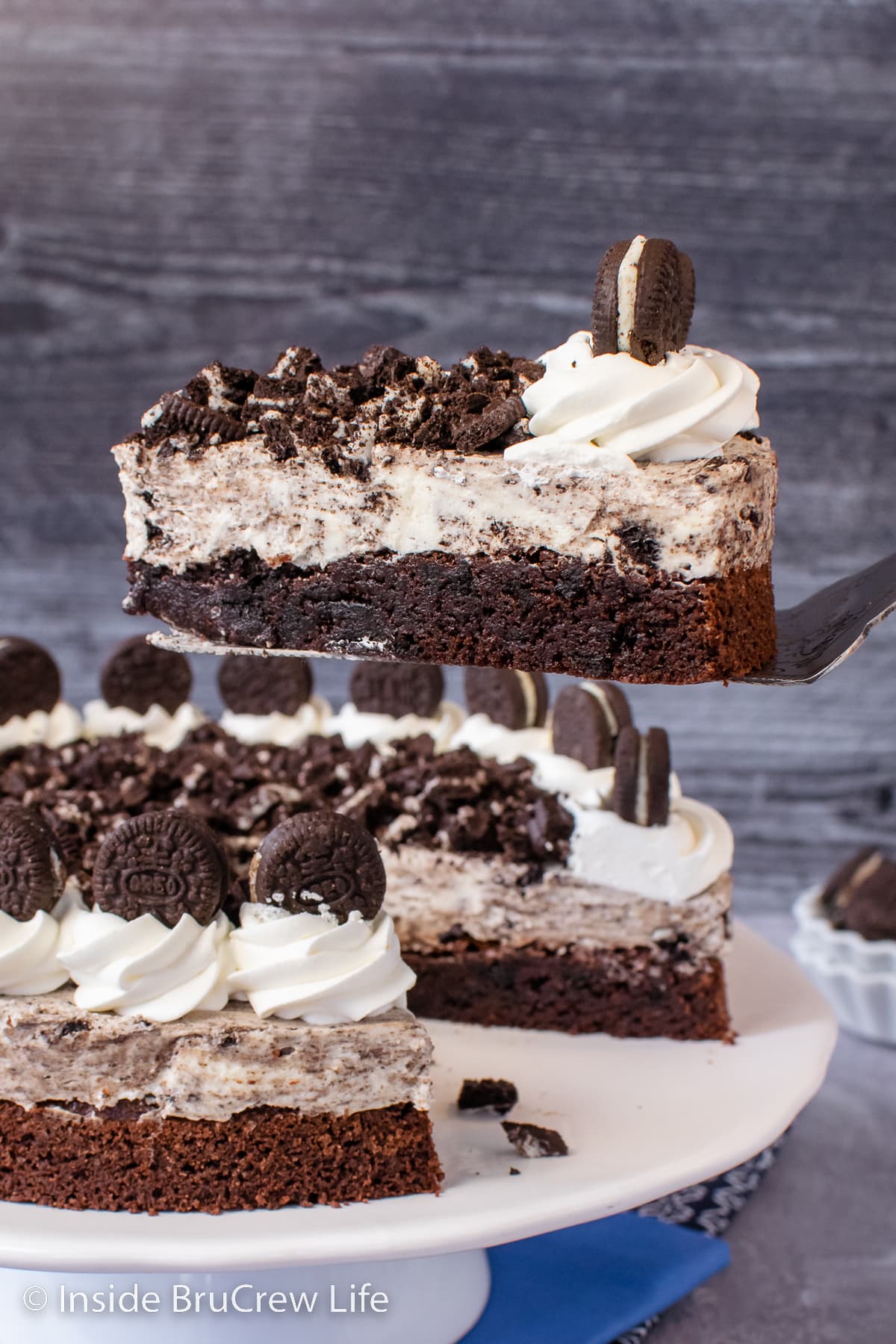 Tips and Tricks
Check the seal on your springform pan before baking a brownie in it. If the edges do not seal properly, the brownie batter will leak out all over your oven. The easiest way to check this is to fill the pan with water. If it runs out, then use a different pan.
Make sure you plan ahead of time when making this sweet treat. The Cool Whip needs to thaw and then the finished cake needs time in the fridge to set up properly.
Don't want to make homemade brownies? Use a store bought brownie mix for an 8x8 pan.
Use a rolling pin or sharp knife to break the cookies into small chunks. Crush Oreos into crumbs using a food processor.
Line the pan with parchment paper, so you can get the brownie out of the pan easily. If you do this, you will need to remove the parchment paper before adding the cookies and cream topping.
You can also bake the brownie on a cardboard circle. Once the entire cake is assembled, open the edges of the springform pan, and slide the cake right onto a cake plate.
Use a hot sharp knife to cut nice clean slices. I like to run a knife under hot water, dry it off, and cut one slice. Repeat for each slice for the cleanest cuts.
Love oreo and pudding? Then you have got to check out this Heavenly Oreo dessert!
Recipe FAQS
What other pan can I use to make this Oreo dessert recipe?
You can bake the brownie layer in an 8 or 9 inch round, square, or springform pan. Need a larger dessert? Double the ingredients and bake the brownie in a 9x13 pan.
Can I use a box mix?
You sure can. We love using our homemade brownies for these desserts, but sometimes we use a box mix to save time in the kitchen too. Do what works best for you.
Can this be made ahead of time?
This dessert definitely needs some time to chill and set up, so this is a great recipe to make 1 day ahead of time. Just make sure to wrap the pan tightly with plastic wrap and keep it in the fridge. Add your toppings right before serving.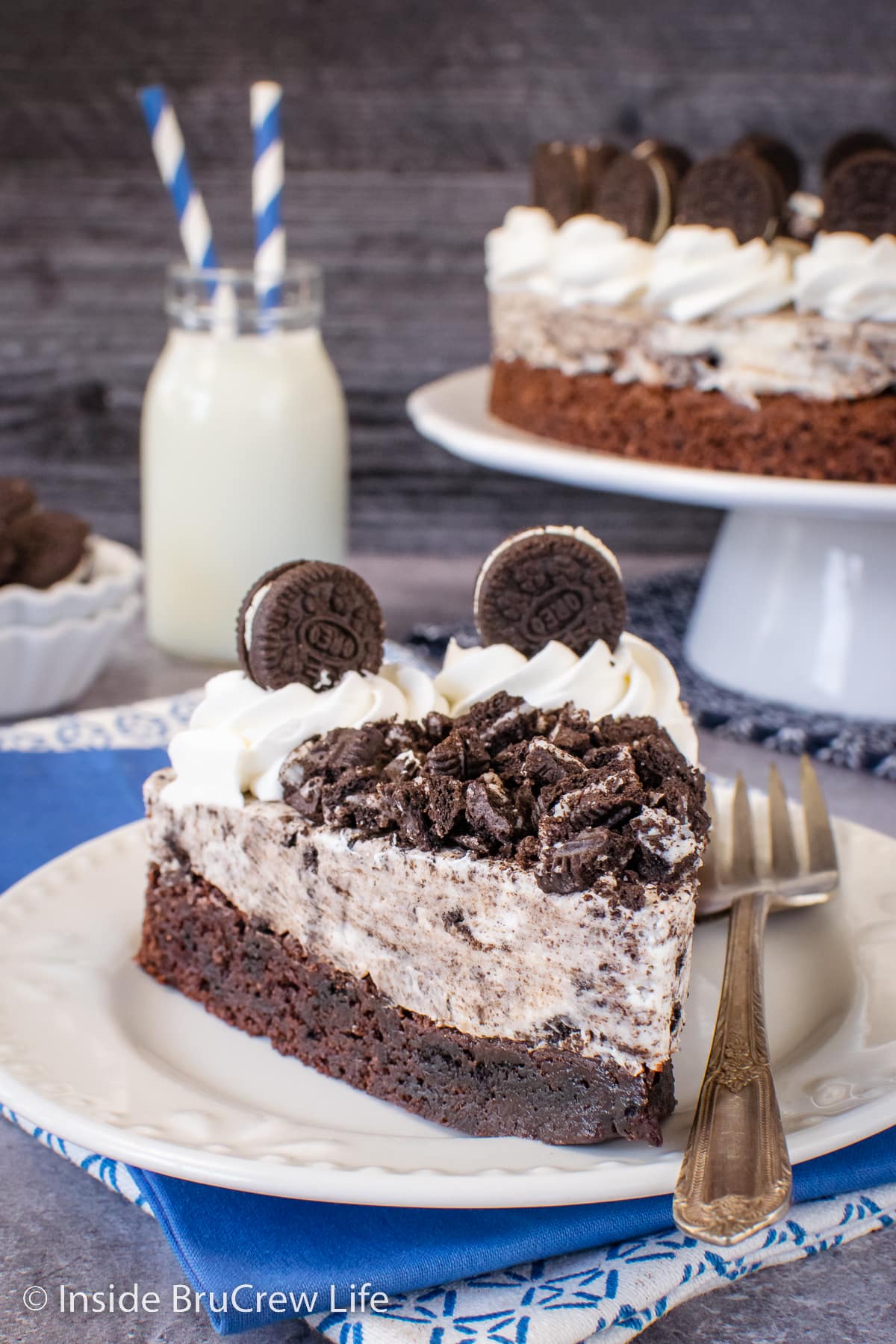 Other Cookies and Cream Desserts
Do you love a recipe you tried from Inside BruCrew Life?
Please leave a 5-star ⭐️ rating and a review in the comments section below.