Almond Berry Baked Oatmeal is perfect for cold mornings. Get the kids out of bed with the wafting scent of this delicious breakfast.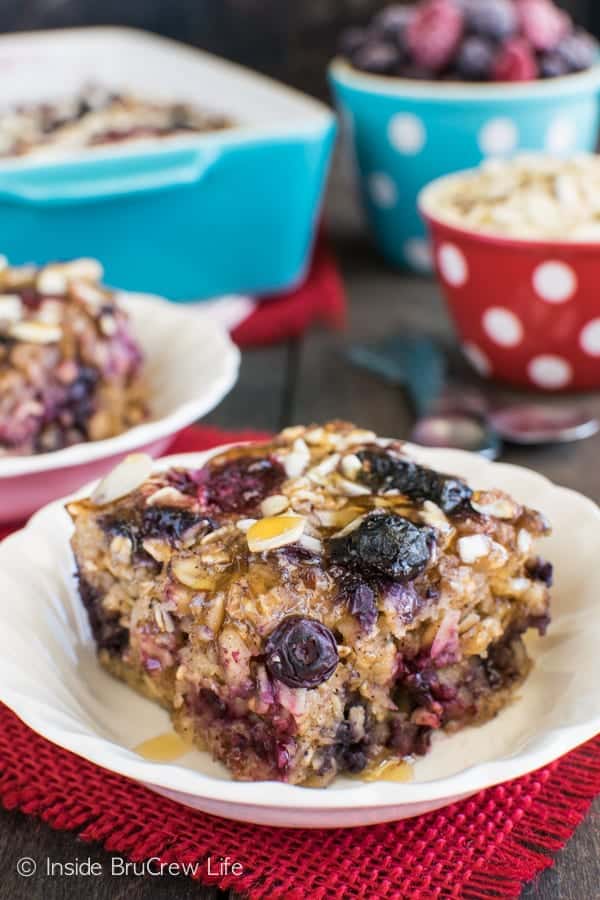 Cold winter days call for a warm breakfast full of bright, cheery fruit. This almond berry baked oatmeal will make you smile no matter how cold your day starts. I have been trying to come up with some different breakfast options for our family to eat each weekday morning.
Our kids tend to get in a routine of eating the same foods over and over, until they get tired of it and do not want that any more. After two weeks of vanilla pineapple smoothies and other fruit smoothies, they have moved on to frozen waffles with peanut butter and chocolate syrup.
I have a feeling that by next week they will be looking for something different to start the day with.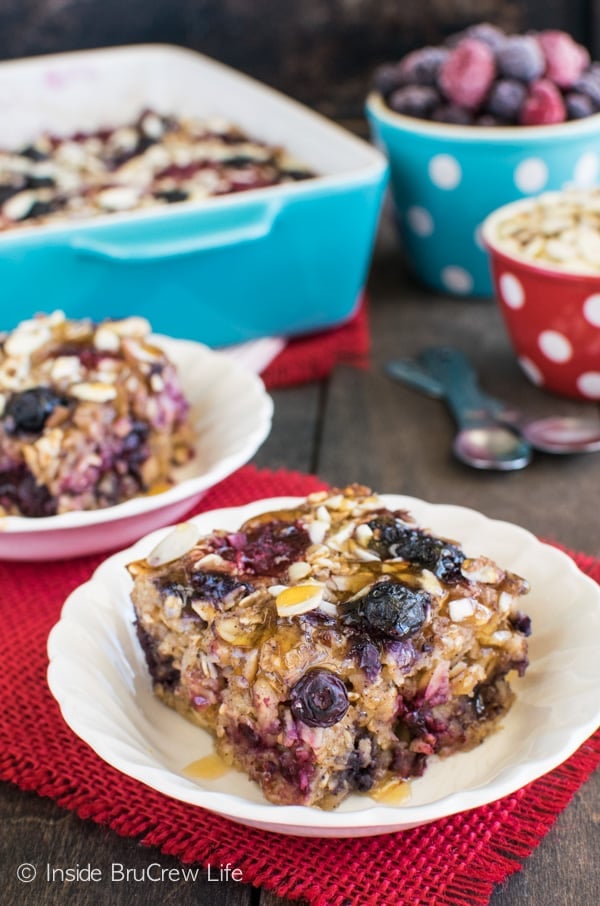 Since I love baked oatmeal, and we still have a few bags of frozen fruit from all the smoothies that were happening, I decided to marry the two together into one delicious breakfast bake.
Even though most of the time I bake a lot of sweet treats like this chocolate banana crumble cake, I do try to make healthier food for my family to enjoy daily. We call it moderation.
One healthy meal gets one cookie treat. This oatmeal is loaded with oats, fruit, and nuts for those good health benefit boosts. Instead of using sugar and butter, I replaced those ingredients with applesauce and honey. Yes, I know honey is actually a sugar, but at least it is a little better for you than a refined sugar, right?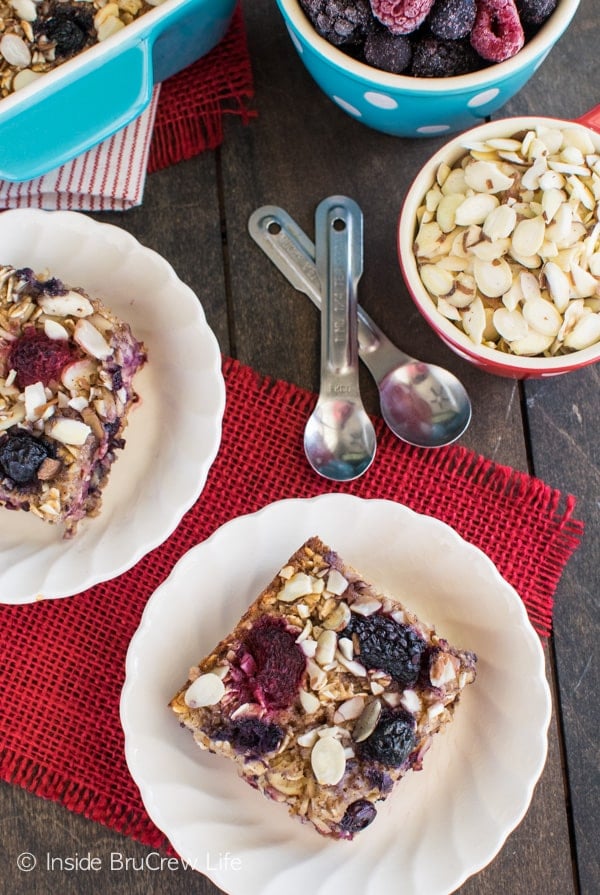 This oatmeal comes together so quickly. Stir together the wet ingredients. Sift the dry ingredients. Then mix and pour into a pan and top with more fruit and nuts before baking. Easy, peasy, right?
I tend to like my baked oatmeal to be a little thicker, so I used a 9x7 baking dish that I had in my cupboard, but an 8x8 dish would work just as well if that is what you have.
We like to serve this almond berry baked oatmeal with a drizzle of honey and a splash of milk. The crunchy nuts and juicy berries make this an oatmeal breakfast your family will keep asking for.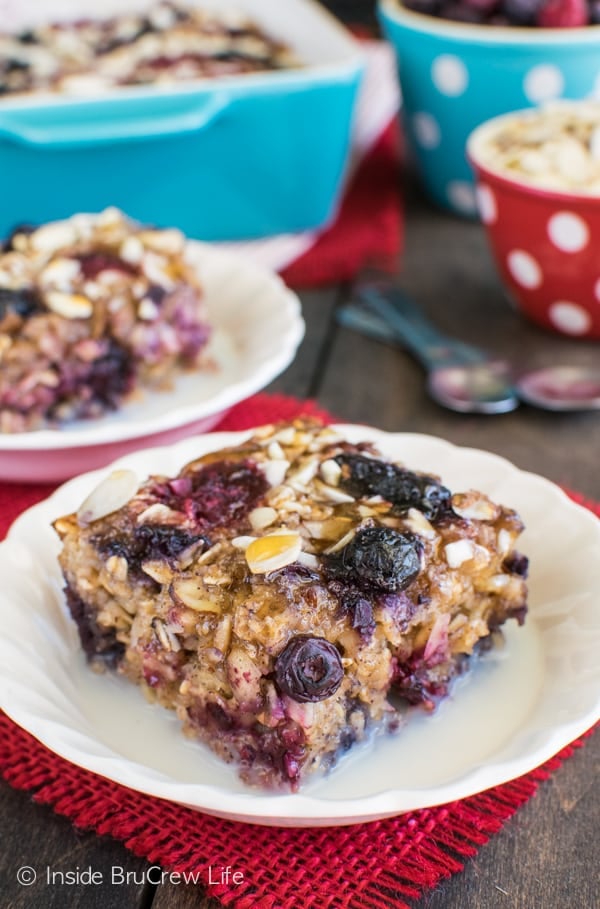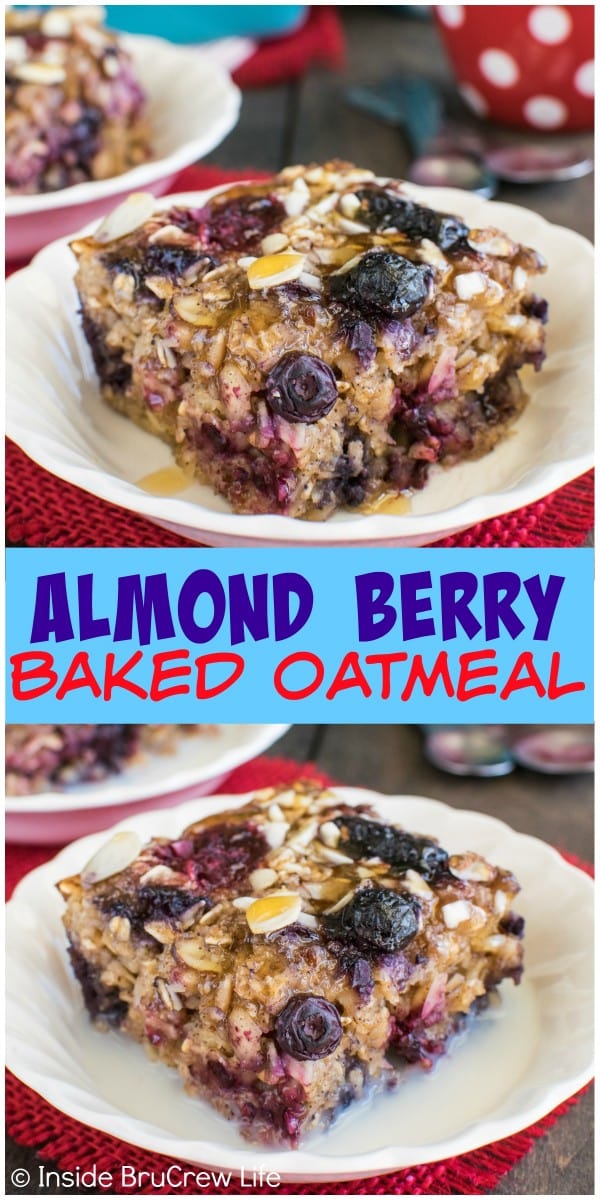 Other breakfast ideas that our kids love: