Eating healthy doesn't have to be boring.  We like to change up our smoothies with different fruits each week.  This Vanilla Pineapple Smoothie has a light refreshing tropical taste with a hint of oatmeal crumble.  Can we say dessert in a glass?  Well, almost.
*Have you signed up for the BruCrew email yet?  These delicious recipes can be delivered to your inbox each day.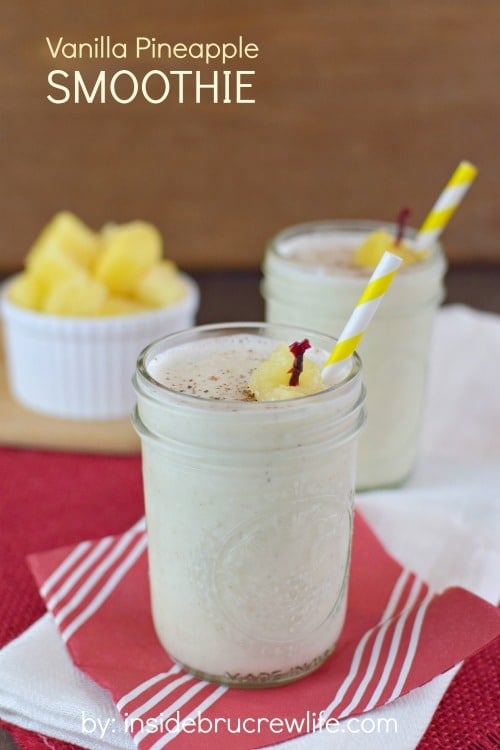 Today's the day!
The kids are back in school after break, and we are hitting it hard at the gym.  Well, not too hard because I still want to walk tomorrow.
And we are taking a few weeks to eat completely healthy starting now.  I'm a little bit skeered because my sweet tooth is the size of Texas…no, probably Europe.  It's big people.  And me not eating sugar has me worried.  Mostly because the food I enjoy making the most happens to be pretty sugar laden.  Hello, crazy dessert baker here!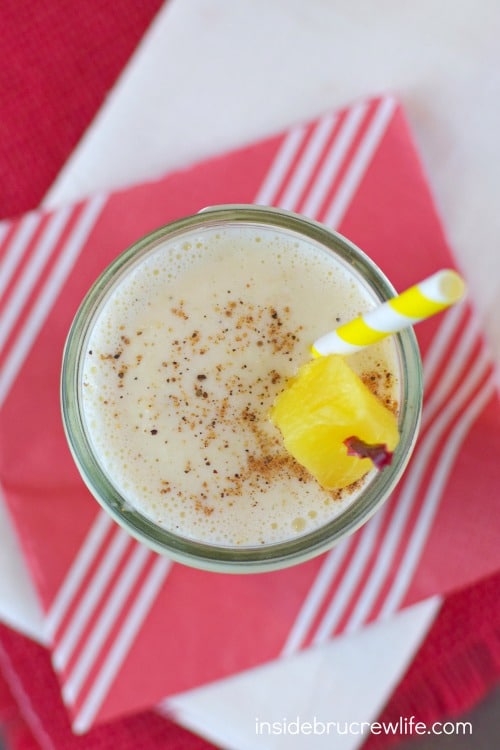 The past few days I have been slowly weaning myself off sugar.  The first day I went hard core and made it the entire day without even one bite, so I know it's totally possible.  How bad do I want this?  Well, I'd love to have my clothes not feel snug and to fit into those shorts from a few years ago that I have stored away.
Then this weekend I slipped a little and had a cookie, a granola bar, and a few bites of Hot Chocolate Cheesecake Dip…oh, and some chips, crackers, and then this Vanilla Pineapple Smoothie.  I think I was trying to stock pile…I hope that lasts me for the next few weeks.  Probably not because I'm feeling hungry now as I write this.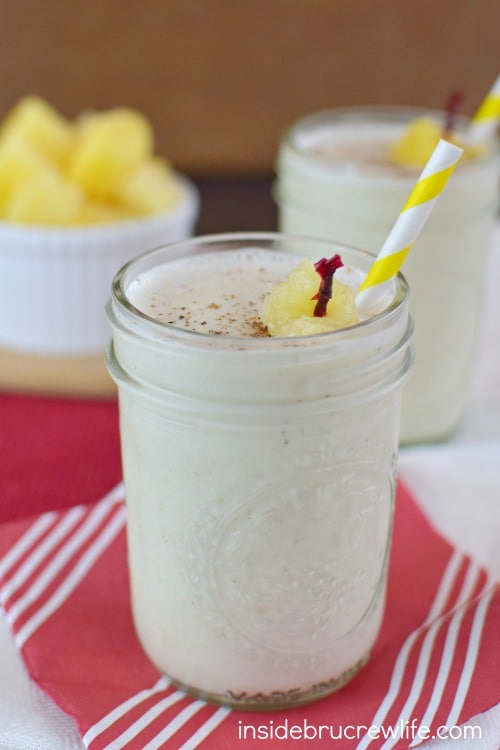 The smoothie for lunch totally cancels everything else, right?
Well, at least I got it all out of my system, and I'm ready to take on the challenge of no sugar.  I'll be sure to keep you posted on how I do.
But until then let's talk about this smoothie I had for lunch.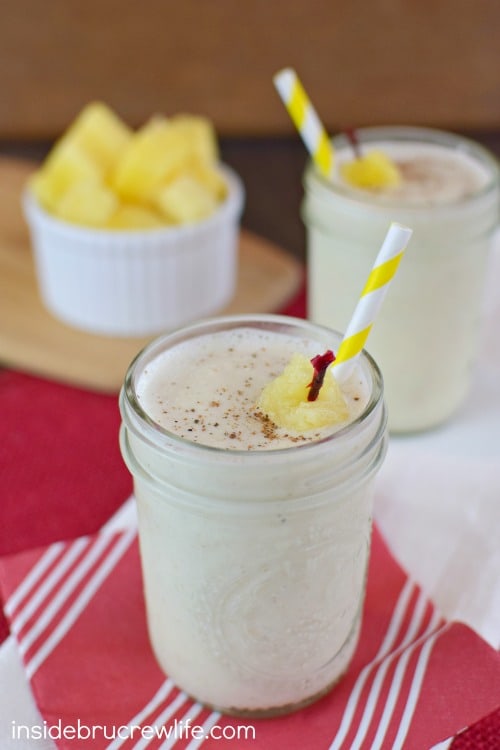 Most frozen pineapple comes in a bag with other assorted fruits, so I bought a can of chunk pineapple in juice, drained it, and froze it the night before.  If you know of where I can buy a bag of just pineapple, please let me know because that would save me a step.
I was going to throw some frozen cherries into the mix, but my daughter is a big pineapple freak, and she said to just do the pineapple alone.  I think she was on to something because this little treat was delicious.  Sort of like a Dole Whip…ok, not at all like one.  But it was really good.
Fruit, oats, vanilla protein powder, and greek yogurt went into our Smoothie Blender
 for a delicious smoothie win.  Totally healthy and perfect for curbing my sugar cravings on my "cheat" days…I mean my "refuel" days 🙂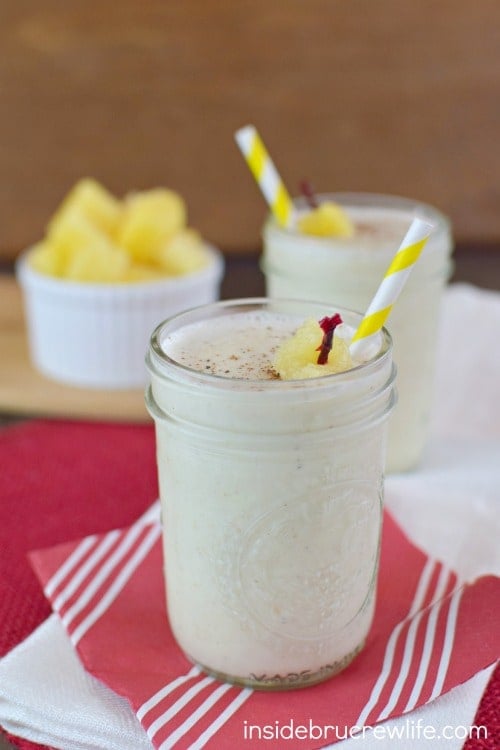 Stay up to date on all the BruCrew baking here:
FACEBOOK | PINTEREST | GOOGLE+ | TWITTER | INSTAGRAM | BLOGLOVIN
 Sign up to receive an email in your inbox for each new recipe:
EMAIL SUBSCRIPTION
Yield: 2 servings
Vanilla Pineapple Smoothie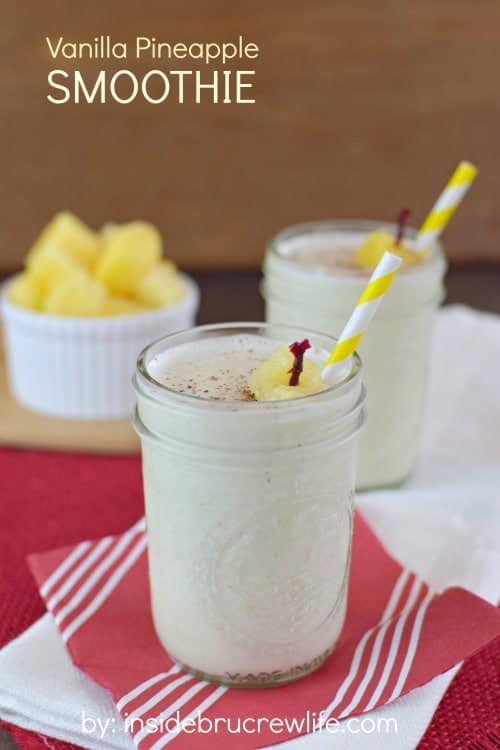 This light and refreshing Vanilla Pineapple Smoothie is a great treat to curb that sweet tooth with. The protein and fiber in this healthy snack will keep you full longer.
Ingredients
1 cup unsweetened coconut milk
1 1/2 cups frozen pineapple chunks
1/2 cup plain Greek yogurt
1/4 cup vanilla protein powder
1/4 cup old fashioned oats
pinch of nutmeg or cinnamon
Instructions
Place everything in a blender and pulse until completely mixed and smooth.
Pour into 2 glasses and serve.
Nutrition Information:
Yield:
2
Serving Size:
1
Amount Per Serving:
Calories:

298
Total Fat:

4g
Saturated Fat:

2g
Trans Fat:

0g
Unsaturated Fat:

1g
Cholesterol:

5mg
Sodium:

49mg
Carbohydrates:

52g
Fiber:

4g
Sugar:

41g
Protein:

18g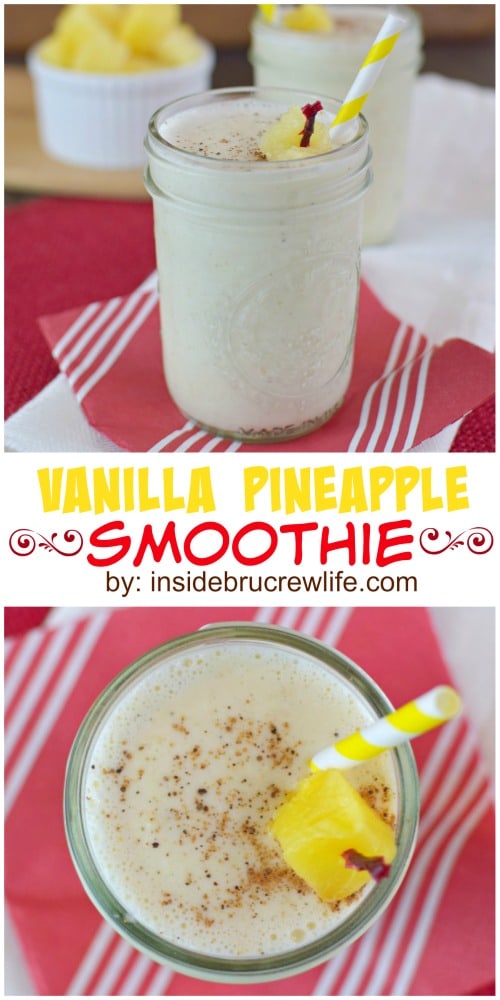 Try these smoothies when your sweet tooth threatens to take over: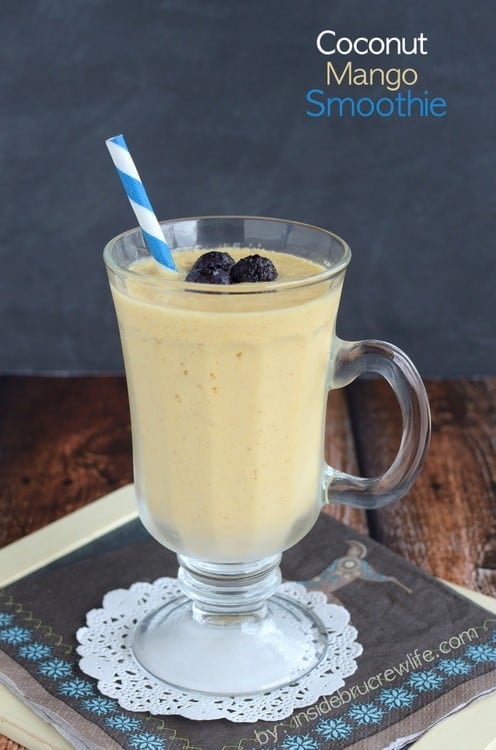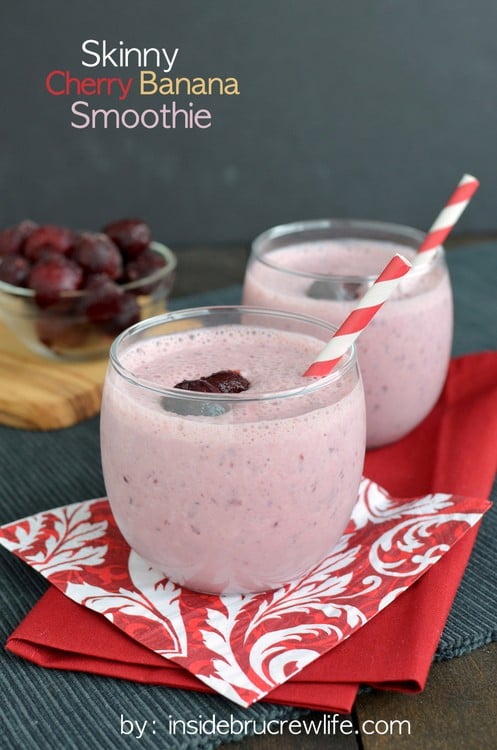 *This post contains affiliate links.  I receive a small percentage from sales made from these links to keep this blog running.  Thank you for letting me share products that I love.