This Vanilla Pineapple Smoothie has a light, refreshing tropical taste with a hint of cinnamon and vanilla. Easy and delicious protein shake to enjoy for breakfast or lunch!
Eating healthy doesn't have to be boring. We like to change up our protein smoothies with different fruits each week to keep them refreshing and nutritious.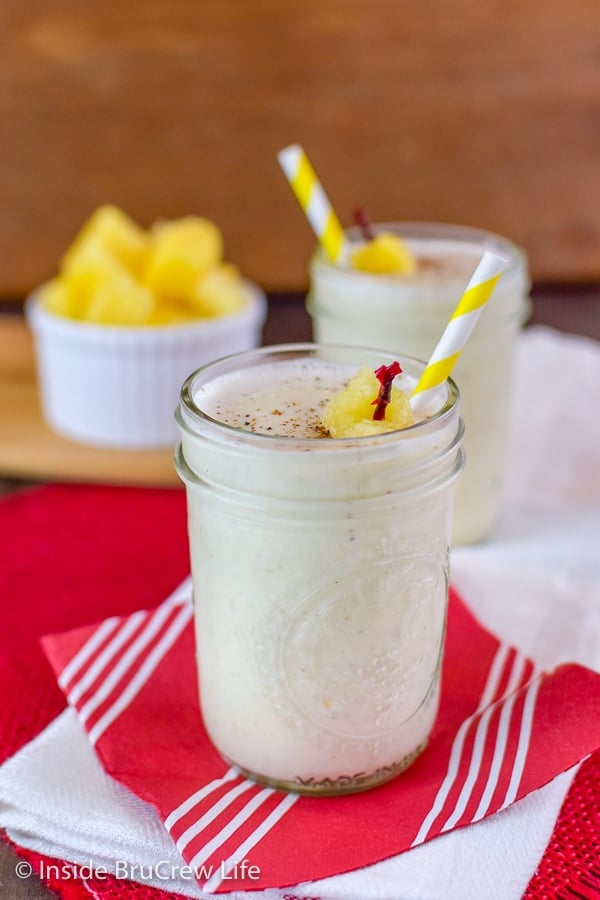 Today's the day! We are hitting it hard in the gym again this morning. Well, not too hard because I still want to be able to walk tomorrow.
And we are taking a few weeks to reset our bodies by eating healthy lean and green meals. That means no processed sugar. I'm a little bit skeered because my sweet tooth is the size of Texas...no, probably Europe. It's big people.
Not eating extra sugar has me worried. Mostly because the food I enjoy making the most happens to be pretty sugar laden. Hello, crazy dessert baker here!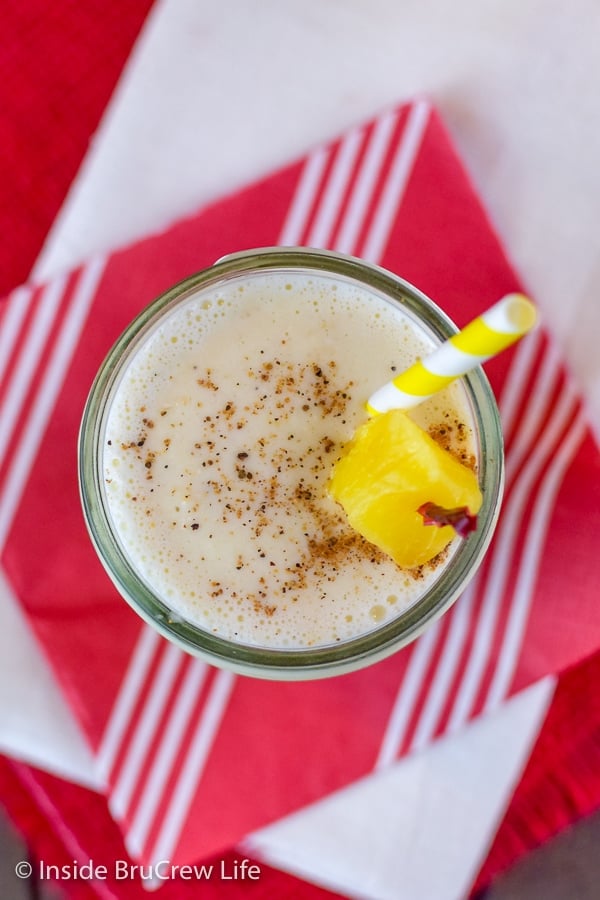 The past few days I have completely given up sugar. The first day I went hard core and made it the entire day without even one bite, so I know it's totally possible.
How bad do I want this? Well, I'd love to have my clothes not feel snug and to fit into those shorts from a few years ago that I have stored away.
This weekend I slipped a little by having two Strawberry Cheesecake Stuffed Sugar Cookies and a few bites of Hot Chocolate Cheesecake Dip, but then I got back on track the next morning with this protein smoothie.
The smoothie does have sugar from the frozen pineapple, but no extra processed sugars.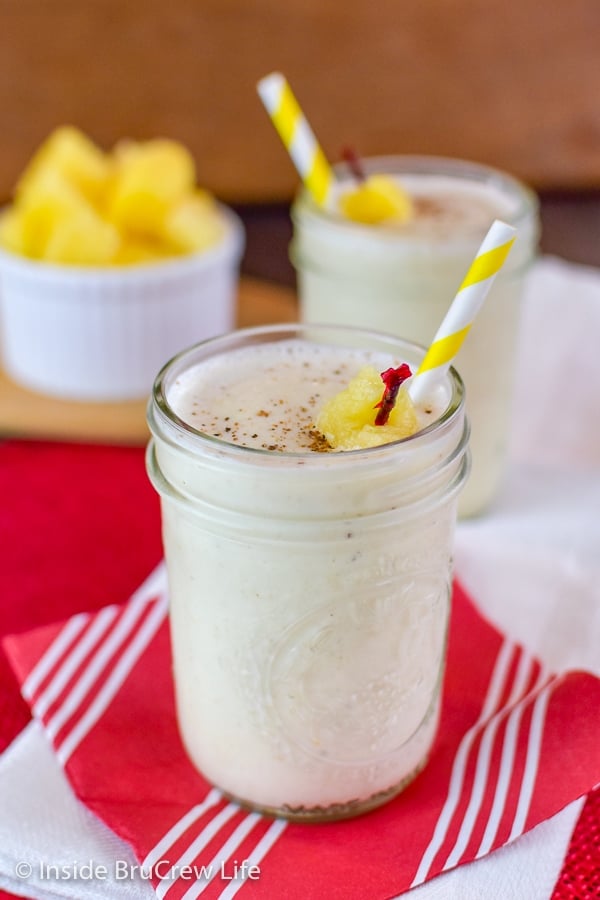 I thought about adding some frozen cherries into this pineapple smoothie. But our daughter is a big pineapple freak, so I left it alone. She is on to something because this protein shake was delicious.
If you love getting a Dole Whip at Disney, you will love the flavor of this healthy smoothie. I can totally get on board with eating a healthy Dole Whip a few times a week.
Ingredients:
Frozen Pineapple - frozen fruit thickens the consistency of the smoothie. You can also buy fresh pineapple, cut it up, and freeze it.
Unsweetened Coconut Milk - this keeps it dairy free and gives it the tropical flavor. Feel free to use any milk or water in place of it.
Rolled Oats - adds some fiber and thicks the smoothie a little bit. Hemp seeds are another option.
Vanilla Protein Powder - turn a smoothie into a well balanced meal by adding protein
Greek Yogurt - great source of calcium and probiotics
Vanilla & Cinnamon - adds a pop of flavor that brightens the fruit smoothie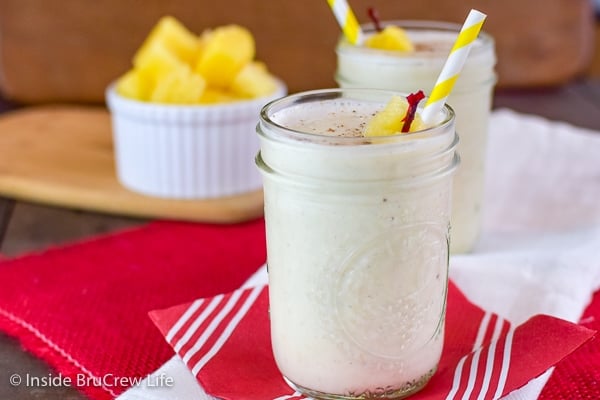 Fruit smoothies are so easy to make. Using the frozen pineapple gives it that thick, smooth texture.
How to make a Vanilla Pineapple Smoothie:
Place everything in a high powder blender, starting with the liquid first.
Pulse until smooth and creamy.
Pour into 2 glasses and drink immediately!
Boost your pineapple smoothie with mix-ins:
Chia Seeds
Spinach
Kale
Flax Seeds
Turmeric
Acai Powder
A frozen fruit smoothie is a totally delicious way to curb your sugar cravings and feel like you are indulging in a sweet treat!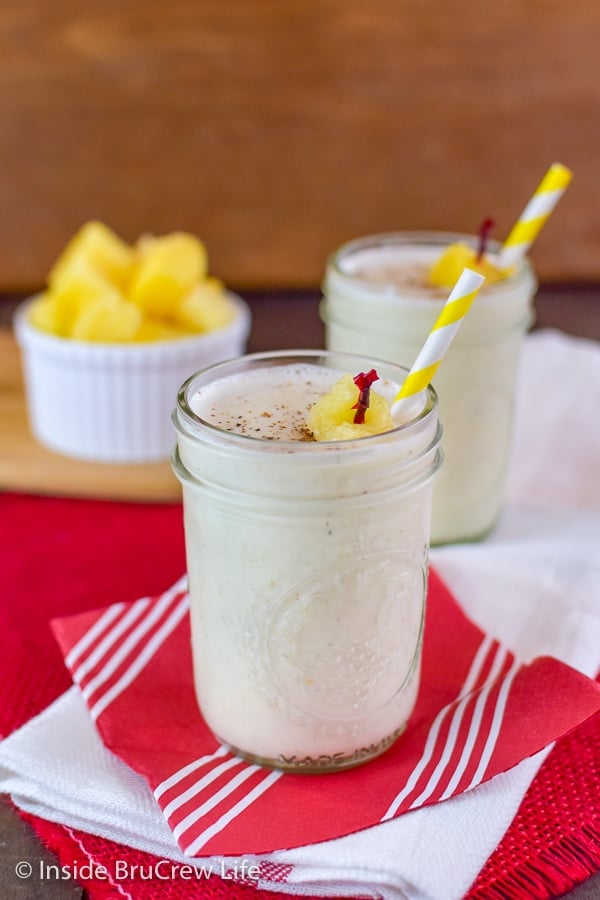 More healthy fruit smoothie recipes: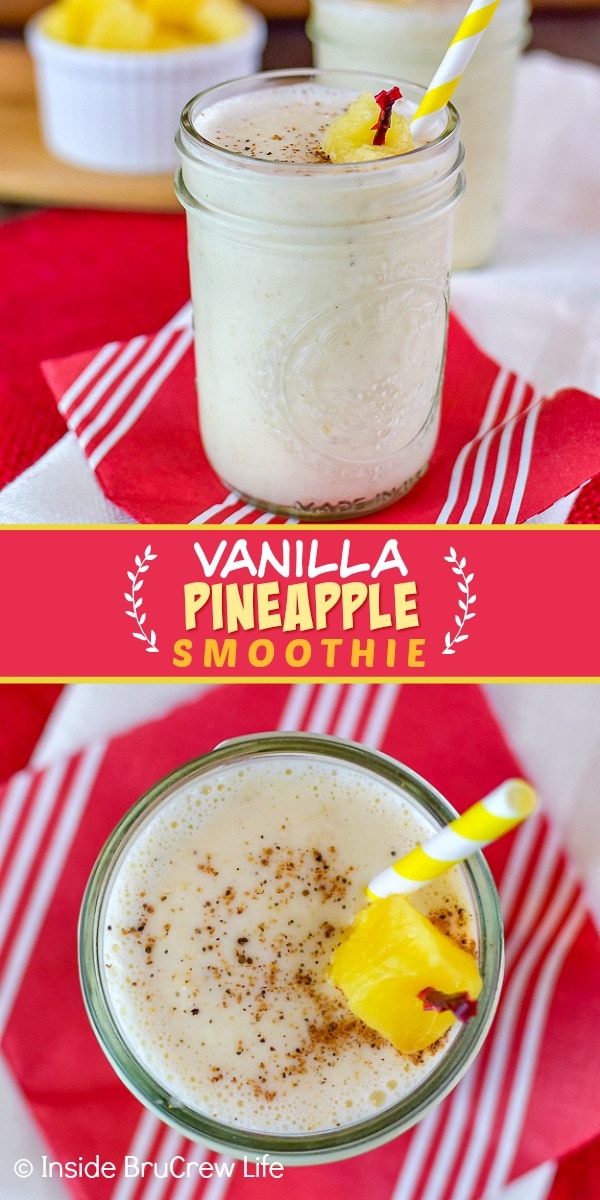 *The post for Vanilla Pineapple Smoothie was first published January 5, 2015. The post and photos were updated and republished January 3, 2021.
**This post contains affiliate links. We receive a small percentage from sales made from these free links. Thank you for letting me share products that we love.