Use your leftover turkey to make a big bowl of this Apple Cranberry Turkey Salad. This easy salad recipe is delicious served on rolls, bread, or croissants.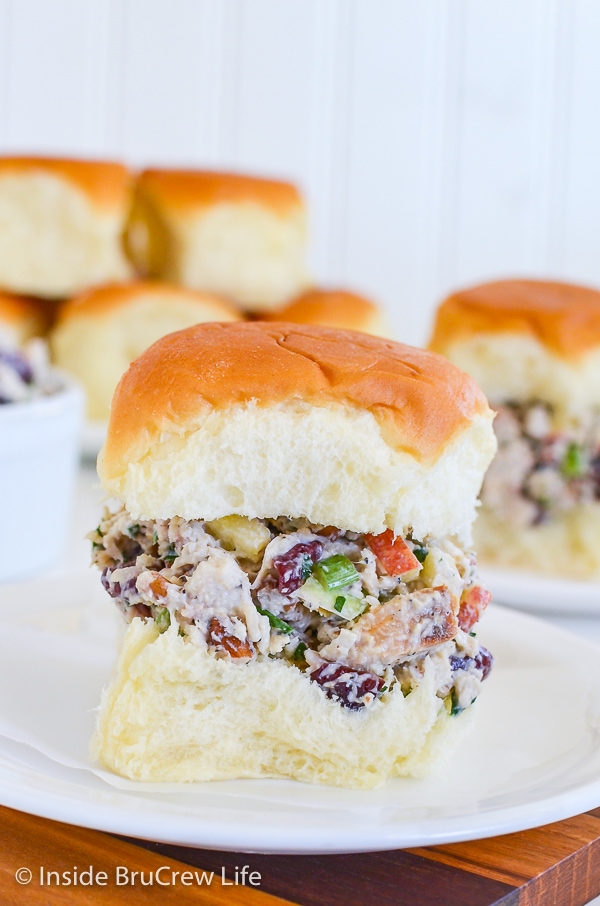 This time of year is my favorite. The cooler weather, the bonfires, s'mores, and of course, all the fun and festivities of the holidays.
We usually spend the holidays munching on appetizers, making and eating a big dinner, and then playing games as a family while we eat Pumpkin Pie or Apple Crisp Cheesecake.
Because of all the snacking and eating that goes on all day, we always have a refrigerator full of leftovers to deal with the next day. The day after a big holiday we stare into the fridge and wonder what to do with the food because no one here is big on eating leftovers.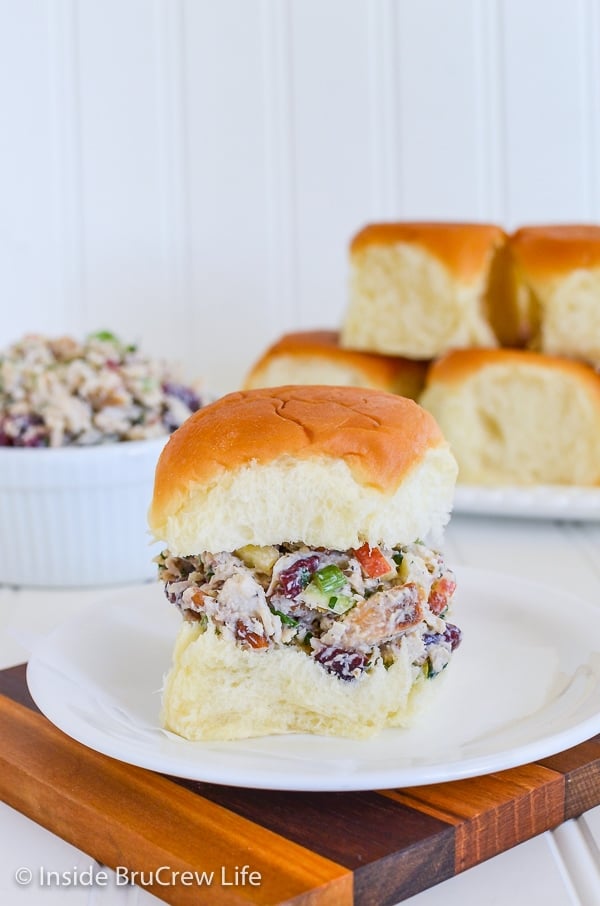 This Grape Pecan Chicken Salad is one that we eat all year long. I decided to change up the recipe and use some of the leftover turkey in the salad this time.
The ingredients in this turkey salad are ones that you should already have on hand because of making all those holiday recipes.
This turkey salad sandwich would be a great lunch to enjoy after getting back from scoring all those deals on Black Friday.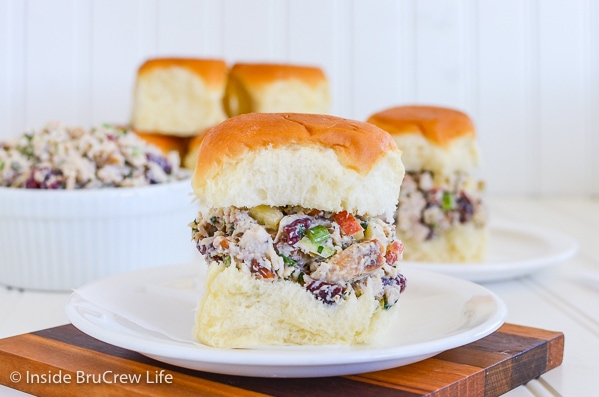 This salad is easy to mix up the night before when you are putting away the leftovers. Go ahead and shred the turkey into a bowl and add all the ingredients to it.
A mixture of Greek yogurt and mayonnaise helps to lighten the recipe and give it a good flavor. With all the food we will be eating over the holidays, we have to watch calories some where. If you want to lighten it even more, you can use all yogurt.
How to make Apple Cranberry Turkey Salad:
Shred the leftover turkey into a big bowl.
Add chopped pecans, apples, parsley, onions, and celery and mix together.
Stir in mayonnaise and yogurt and stir to coat everything.
Season to taste with salt and pepper.
Refrigerate for a few hours for the flavors to come together.
This turkey salad with cranberries is delicious served on bread, rolls, or croissants. You can also add a big scoop of it to a salad if you are limiting carbs.
CLICK HERE TO PIN THIS RECIPE FOR LATER!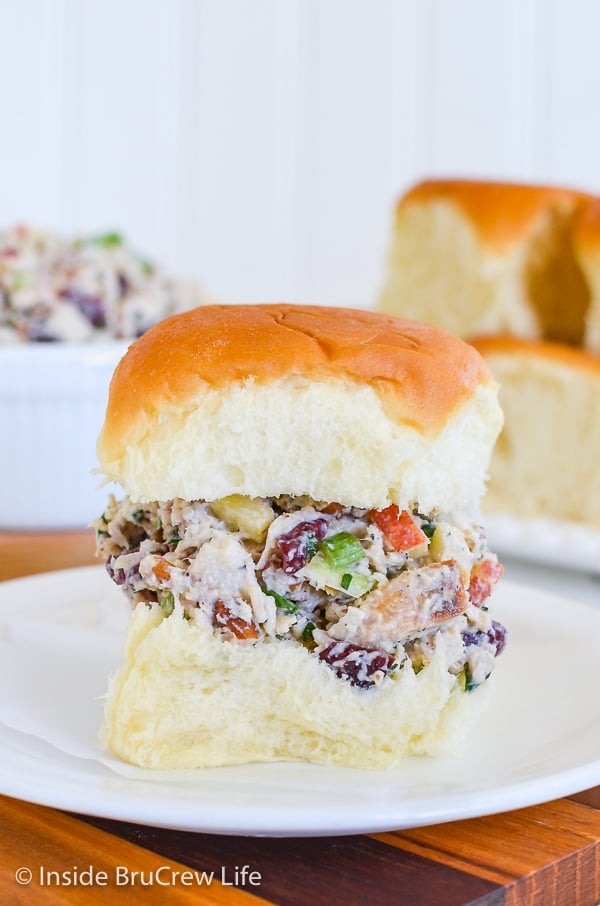 If you are still have quite a bit of turkey leftover from holiday dinners, you can chop it up into smaller pieces and freeze it to use in future meals. Turkey can be used in place of chicken in most recipes.
Other ways to use up leftover turkey: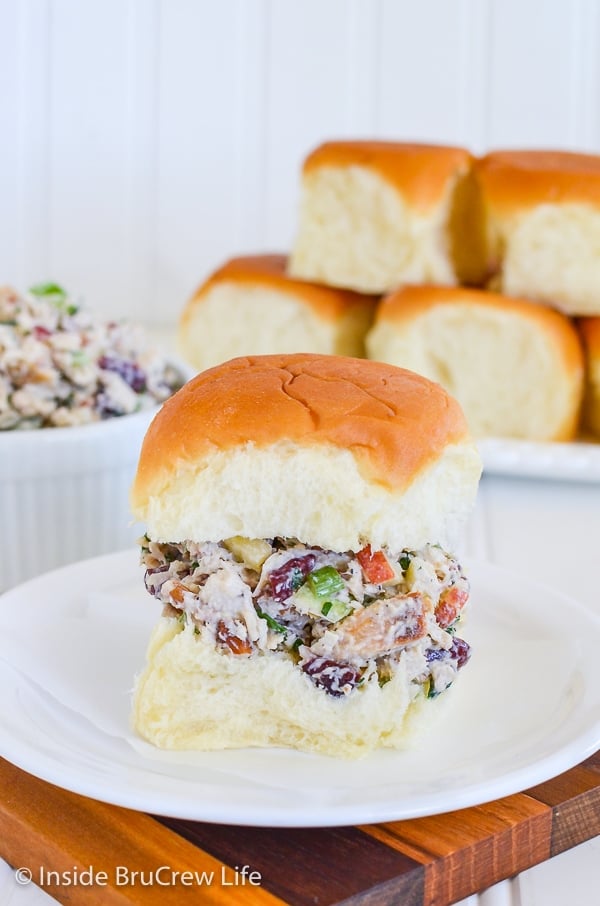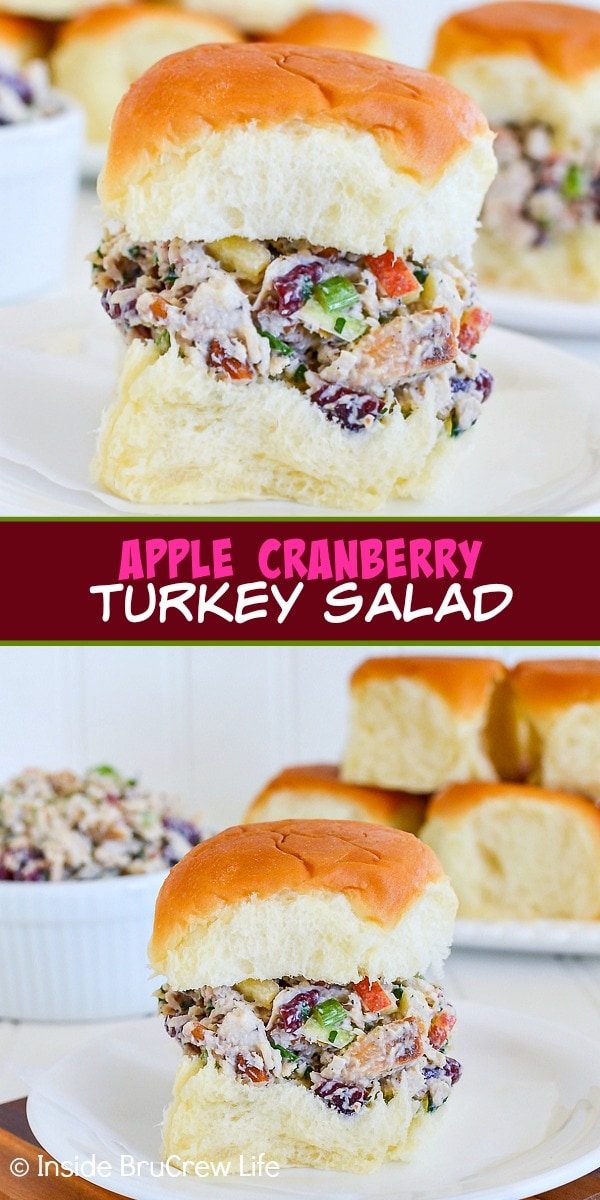 *The post for Apple Cranberry Turkey Salad was first published on October 28, 2013. The photos and post were updated and republished November 27, 2020.