A pot of this Spicy Rice and Chicken Soup is an easy way to warm up on a cold, rainy day. This easy soup recipe comes together in less than 30 minutes.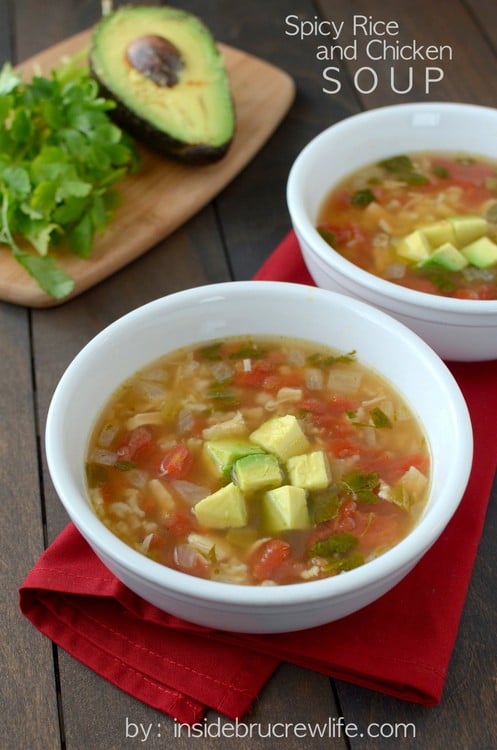 Hello Winter,
Even though you are my least favorite season,
you do bring lots of fun things with you.
Here are a few of my favorite things
that happen in the winter months.
Thank you for letting me enjoy these fun things:
Hot Cocoa
Snowmen
Coffee Dates
Icicles
Marshmallows
Boots
Cute Scarfs
Flannel Sheets
Fuzzy Slippers
Hot Soup
Love, Jocelyn
*******************************
One of the best soups I have had in a while is from Chili's restaurant.

Spicy Rice and Chicken Soup:
It is such a simple soup that I came home and threw together my own version using ingredients from the fridge and pantry because I had to have it again.
Plus, making it myself meant that I had a big pot of soup in my fridge for the rest of the week.
To make this meal lean and green and low carb friendly, I also used some of this Easy Cauliflower Rice that I had frozen.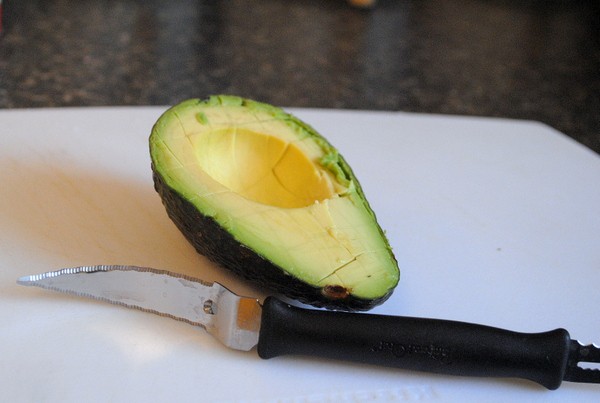 Here is a quick kitchen tip when you are cutting an avocado.
Slice the flesh with a knife, and then use a grapefruit knife to scoop out the yumminess, so you do not smash the fruit.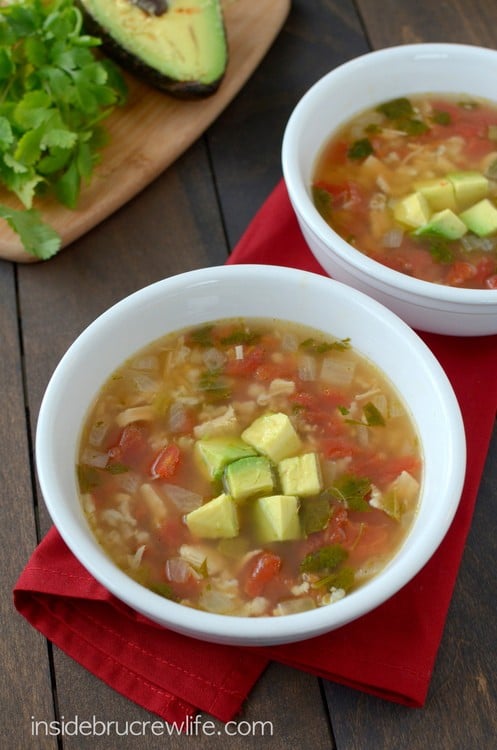 Yes sir, this is definitely something to love about winter! A nice big bowl of this Spicy Rice and Chicken Soup will keep you warm and toasty during the cold winter months.
And everyone in our family loves this easy dinner.  It's the perfect dinner to keep in a big pot in the fridge for busy nights.
Spicy Rice and Chicken Soup recipe:
Yield: 10 servings
Spicy Rice & Chicken Soup
This easy Spicy Rice and Chicken Soup is loaded with meat, veggies, and cauliflower rice. Great 30 minute dinner recipe for cold busy nights!
Ingredients
1 cup diced onion
2 Tablespoons butter
1 Tablespoon minced garlic
8 cups chicken broth
2 cups cooked cauliflower rice
2 - 10 ounce cans tomatoes & green chilies, undrained
3 cups chopped cooked chicken
1/4 cup lime juice
1 cup chopped cilantro
salt and pepper to taste
shredded cheese
diced avocado
Instructions
Sauté the onion in the butter for a few minutes. Add the garlic and saute another minute.
Add the chicken broth, tomatoes, chicken, cauliflower rice, and lime juice. Continue to stir over medium heat until it begins to simmer.
Remove from the heat and stir in the cilantro. Season to taste with the salt and pepper.
Top with cheddar cheese and avocado, if desired. Makes about 10 cups of soup.
Notes
*You can also use instant rice, if you prefer.