Add a big bowl of this Asian Chicken Salad to your dinner plans. This healthy chicken salad recipe is easy to make and full of delicious flavors. It is the perfect choice for lunch or dinner this week.
*I am partnering with BestFoodFacts and the United Soybean Board to bring you this recipe.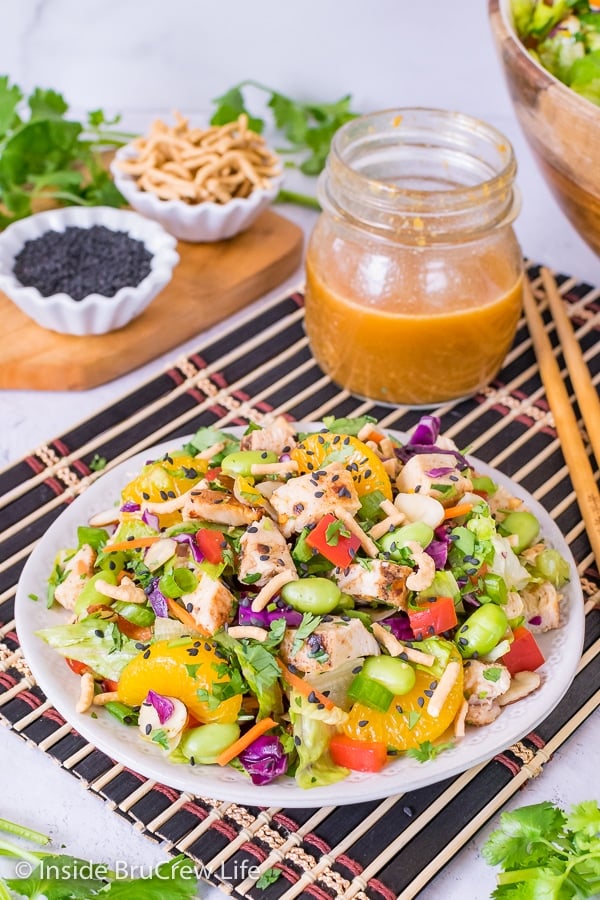 The last few weeks, we enjoyed eating all the foods. Now we are back to eating lots of lean and green meals and working out this week.
In order for me to not get bored with all these salads, I need to have lots of bright, crisp veggies and a delicious salad dressing that pulls it all together. Whoever says salad is boring, clearly has not had dinner at my house.
Todays salad is packed with bright veggies, good proteins, and then drizzled with a homemade dressing that adds so much flavor. It is sure to become your new favorite low carb dinner.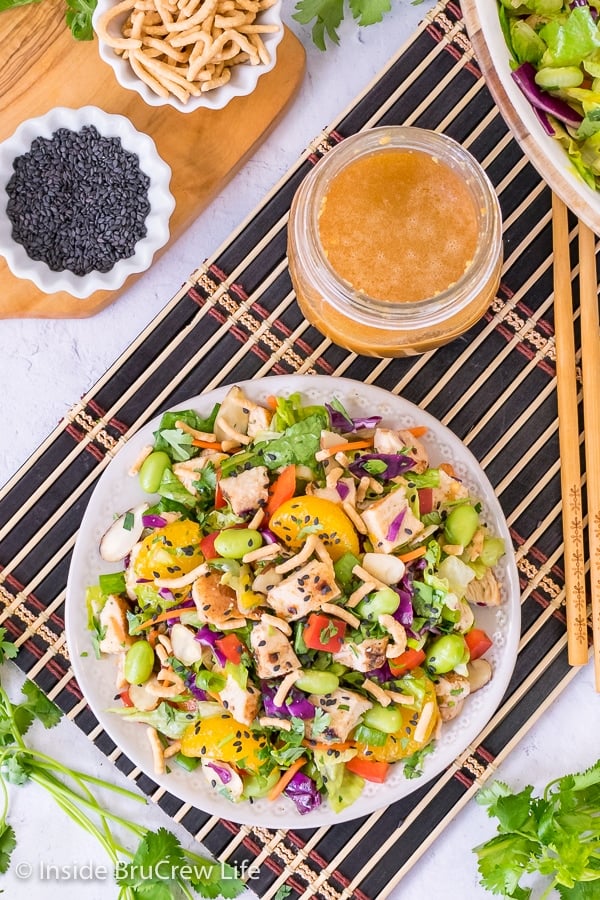 I love how easy making a salad can be. The bowl of bright greens are the perfect canvas for flavor and colors. Top it with a variety of fruits, veggies, and nuts and say goodbye to boring salads.
This salad is the perfect way to use up leftover chicken. If you have extra baked chicken, chop up the leftovers and add it to the salad. You can also make the salad ahead of time and then top it with hot, grilled chicken for a quick 30 minute meal.
PRO TIP: Fill containers with salad for a quick and easy low carb lunch idea. (Make sure to keep the dressing separate.)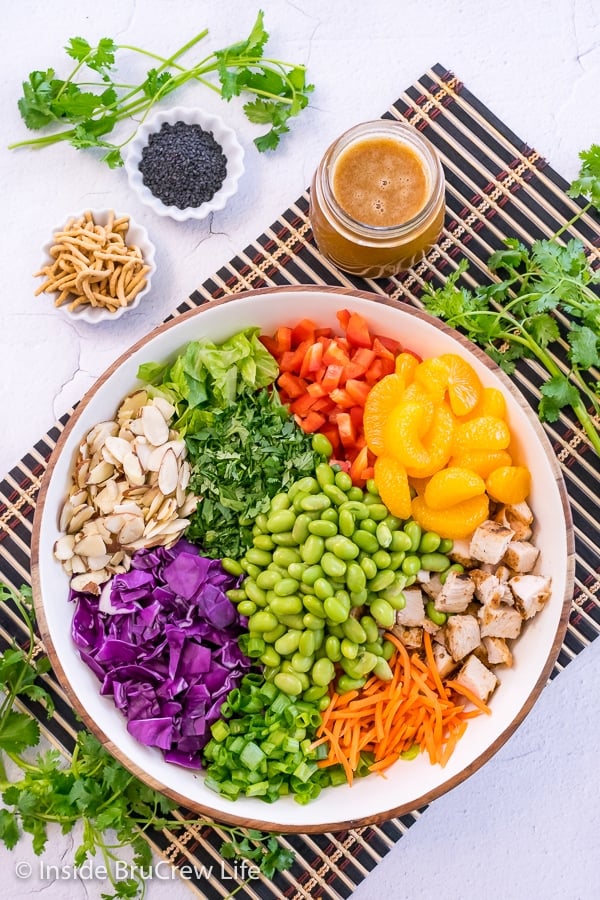 Recently, I had to opportunity to work with Best Food Facts and to talk with two soybean farmers from Iowa. I am always interested in learning more about where the food I eat comes from and how farmers are using technology and good practices in order to maintain Sustainable Farming.
Last year I also traveled to Maryland with Best Food Facts and learned so many Fun Facts about Soybeans. Did you know that soy protein is a complete protein? It contains all the essential amino acids that your body cannot make on its own.
Soybeans also contain the healthy fats that we need. This makes soy a nutritional powerhouse for anyone who is vegan or vegetarian.
Ingredients for an Asian Chicken Salad:
Greens: A mix of chopped romaine, purple cabbage, and cilantro makes a great base for the rest of the veggies. You could also use a spring mix or bagged coleslaw if you wanted to change it up or save time.
Veggies: Red pepper, edamame, and green onions add flavor and color to this healthy salad. Cucumbers, celery, red onions, and radishes are other good options in this salad.
Chicken: You can actually use any meat for this salad, but we prefer chicken. You can use grilled chicken, rotisserie chicken, or even canned chicken if you are in a hurry. Other things you could serve it with are shrimp, steak, pork, or fish. If you are looking for a vegetarian option, leave the meat off.
Toppings: Chow mein noodles, almonds, and sesame seeds add a little bit of crunch to this easy salad. We also love to top it with crispy wonton strips, dry ramen noodles, or sesame sticks.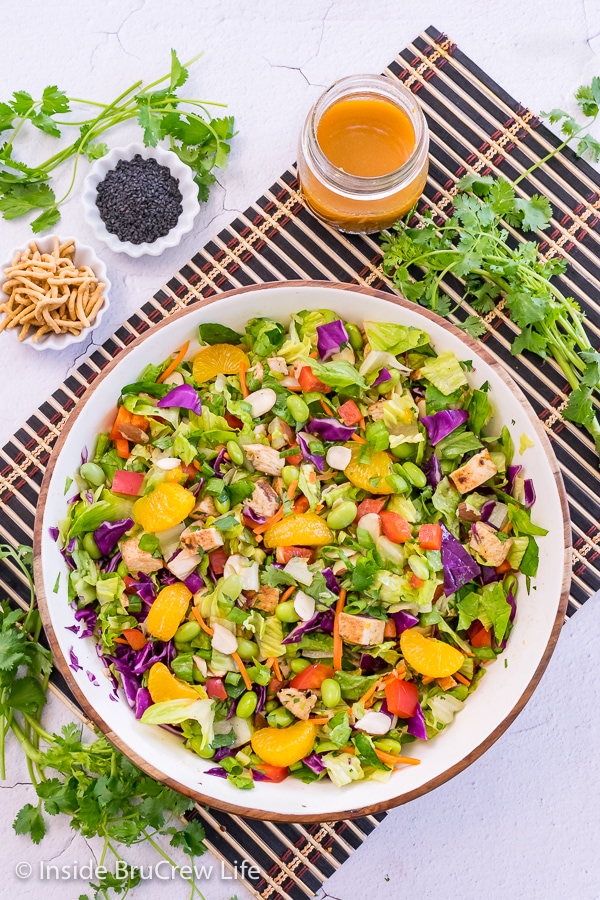 A homemade salad dressing is what takes this salad from good to great. We like to keep a jar of this Homemade Honey Balsamic Vinaigrette in our fridge all the time for pasta salads and/or spinach salads.
This asian salad dressing is another one that is easy to mix together and will keep for a few weeks too.
Asian Salad Dressing Ingredients:
You may have quite a few of these ingredients in your pantry already. Add the extra ones and you will be set to make your own homemade dressing for weeks.
Vegetable Oil: This neutral oil is the main base for the dressing.
Sesame Oil: Adds a slight nutty flavor.
Rice Vinegar: This vinegar has mild, sweet flavor. Apple cider vinegar would also work.
Soy Sauce: A lower sodium soy is what we like to use.
Miso: Fermented soybeans adds flavor and also adds minerals and vitamins. You can find it in the refrigerated sections of most grocery stores.
Honey: Adds just a little bit of sweetness to the dressing. You can also use agave syrup or maple syrup if you like.
Sriracha: Just a teaspoon gives this salad dressing a little bit of heat.
Ginger and Garlic: fresh grated ginger and minced garlic add good flavor to this asian dressing.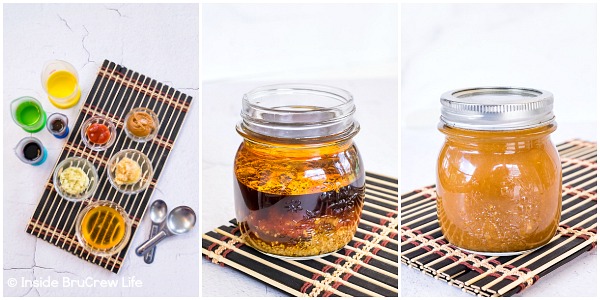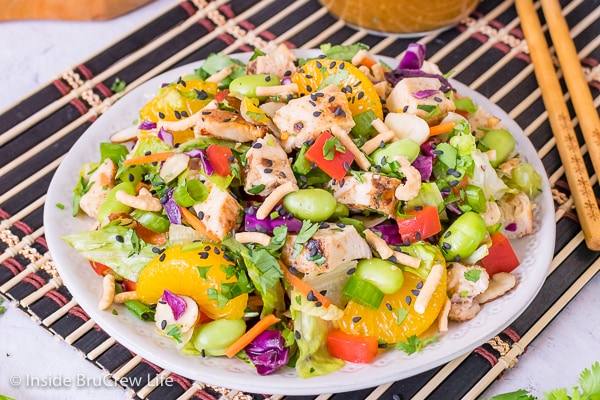 How to make an Asian Chicken Salad:
Combine the dressing. Add all the ingredients to a jar or blender. Shake or pulse until mixed together, then refrigerate until ready to use. Make sure to shake again before pouring on your salad.
Toss the salad. Add the greens, veggies, chicken, and oranges to a big bowl and mix together.
Plate and serve the low carb salad.
Garnish. Sprinkle with chow mein noodles and sesame seeds. Drizzle with dressing and dig in.
What can I use in place of miso?
You can substitute tahini paste or fish sauce in place of the miso in this recipe. Extra soy sauce would also work since this recipe doesn't call for much miso.
Can I make this salad ahead of time?
If you need to make this asian chicken salad ahead of time, mix the greens and veggies in a bowl. Store the chicken and oranges in separate containers and add right before serving.
Do not add any dressing to the salad. Veggies tend to get soggy very quickly if mixed in salad dressing.
How do you store this asian salad?
Keep the salad in a tightly sealed bowl in the fridge for up to 4 days. Make sure to store the dressing separately and add just before serving.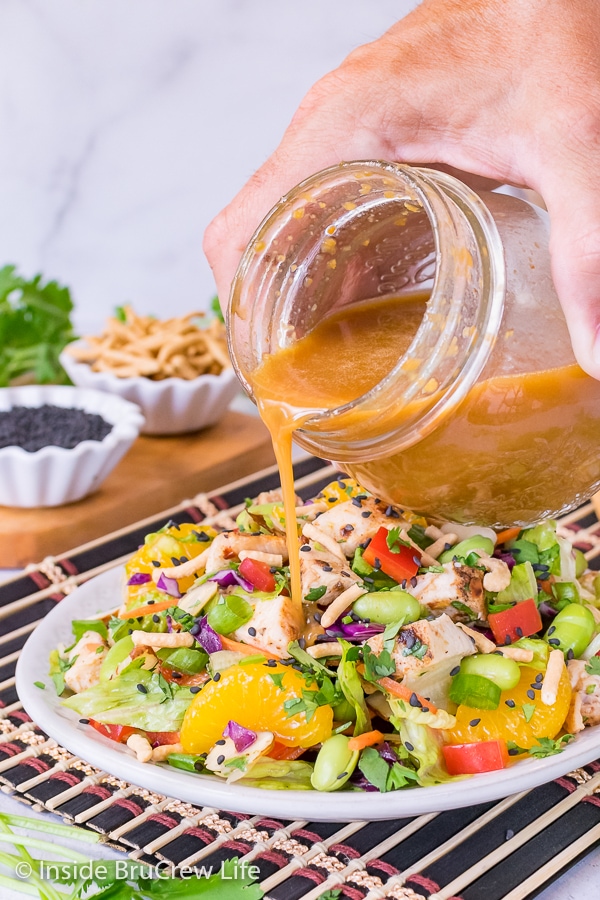 CLICK HERE TO PIN THIS RECIPE FOR LATER!
Other easy salads: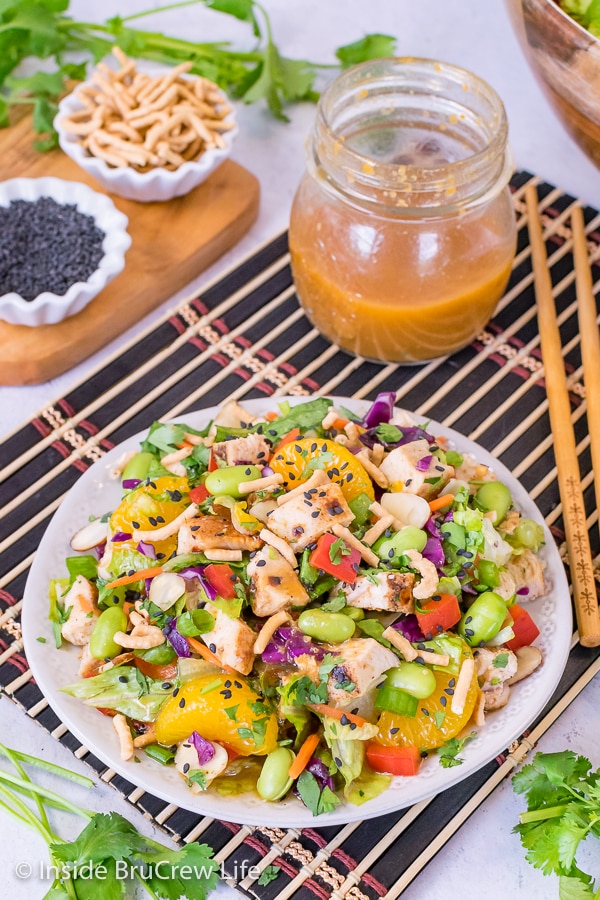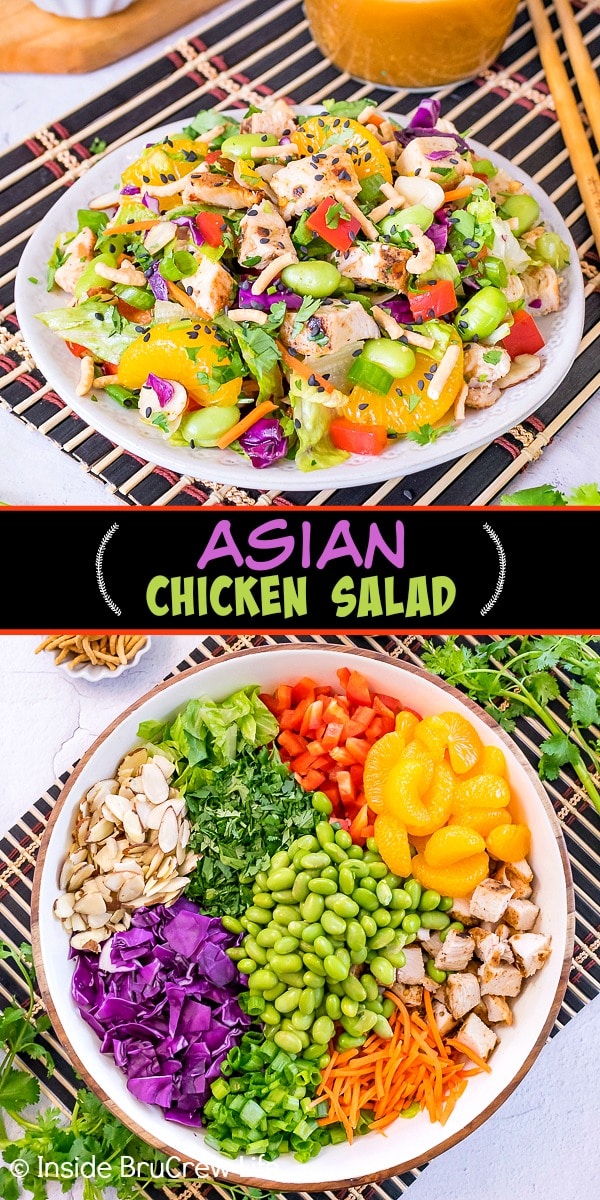 *This post has been sponsored by Best Food Facts. I was compensated for my time to join the call and to write this post. As always, all opinions are 100% my own.