Enhance your salads with a delicious, homemade Honey Balsamic Dressing! This sweet and tangy vinaigrette is easy to make in just 5 minutes - giving you the perfect flavor for your greens. Plus, you can use it as a marinade for chicken.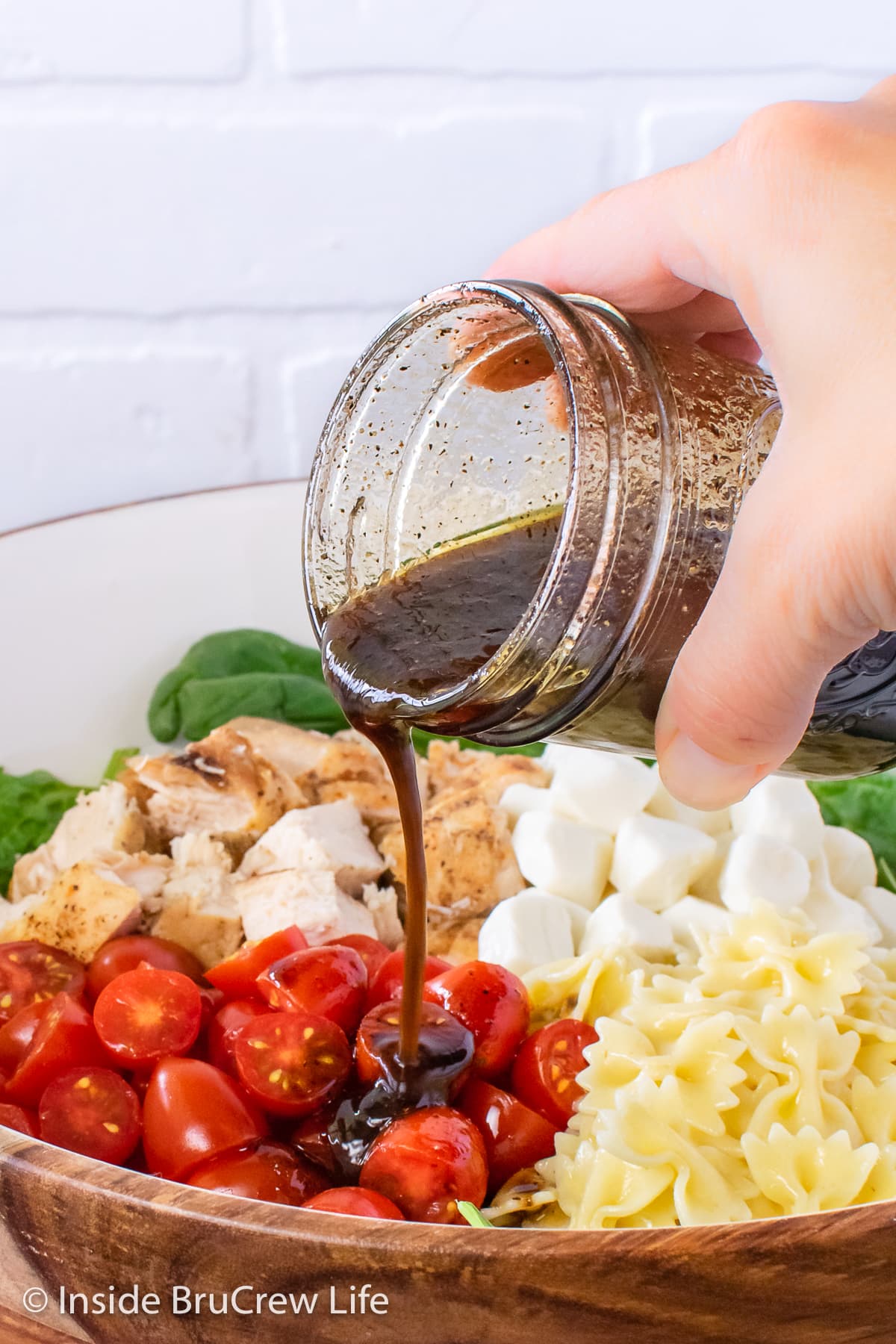 Jump to:
Why Make Homemade Dressing
One of my favorite ways to dress up a salad is with a delicious salad dressing. We usually keep a jar of honey balsamic vinaigrette in our kitchen at all times because it adds so much flavor to a spinach caprese salad or veggie salad.
Why spend money on store bought salad dressings when you can create your own blend in minutes? Homemade salad dressing is actually really easy to make, and it always tastes better too.
Sweet and tangy flavor. The sweetness from the honey blends perfectly with the tartness of the balsamic vinegar creating a delicious flavor your friends and family will love. No need to sacrifice on quality when you make your own dressing; homemade doesn't mean bland!
Easy to customize the flavors. Add more vinegar for a tangier twist! Drizzle in more honey for a sweeter flavor. It is easy to create a dressing that's perfectly tailored to your taste buds.
Control over the ingredients. Most store bought dressings are full of preservatives, additives, and extra ingredients that are not necessary. When you make your own dressing, you control what goes into the jar.
Saves money. Most ingredients like vinegar, oil, herbs, spices, and sweeteners can usually be found in your kitchen pantry. By using ingredients that you already have, you can avoid the higher costs associated with store bought dressings.
Remember, making homemade dressings is all about having fun and trying new things. So don't be afraid to experiment and adjust the ingredients to your taste. Once you start making your own salad dressings, you won't want to use store bought again.
Key Ingredients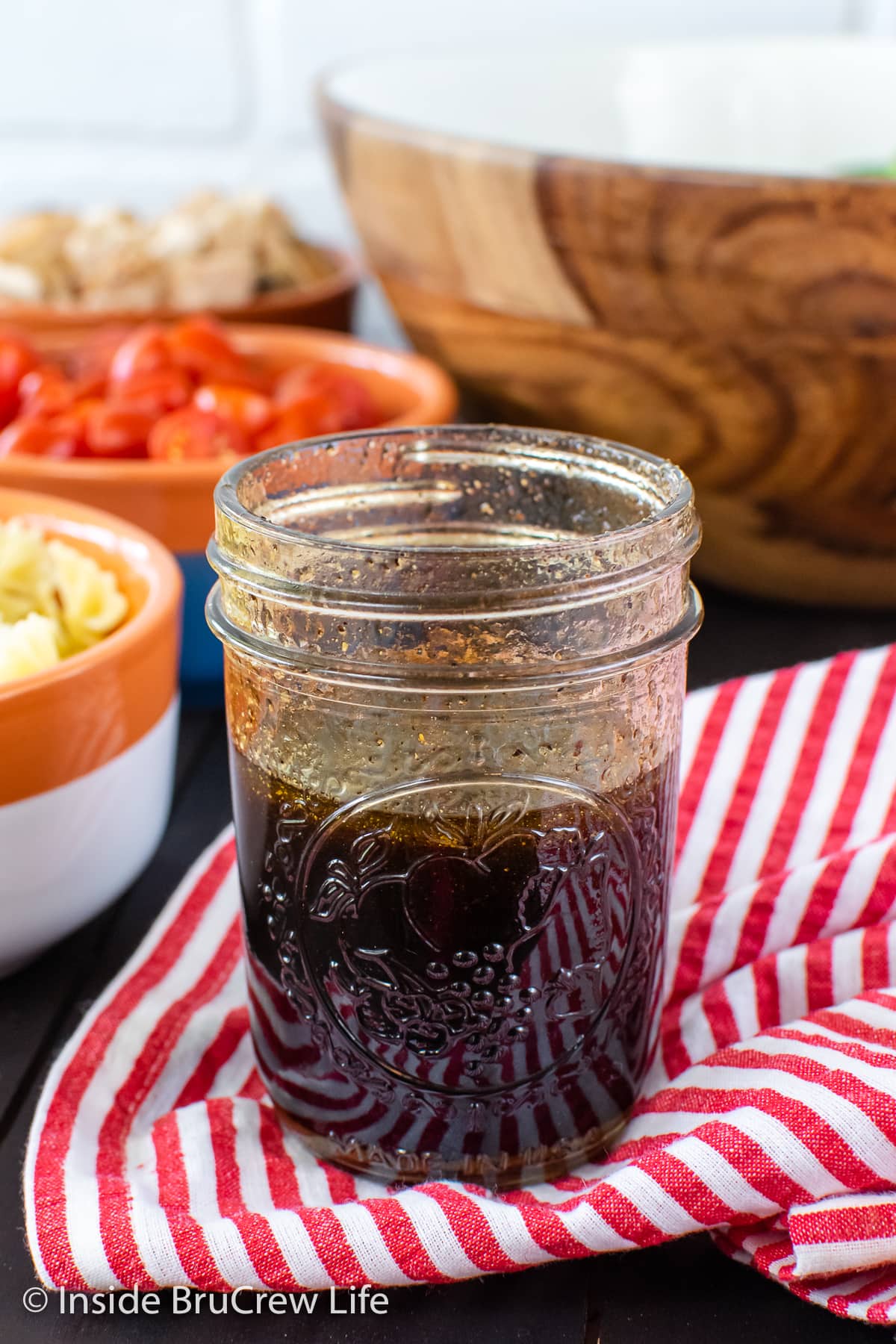 Whether you're in need of something new for your salads or looking for that perfect marinade – this balsamic vinaigrette could not be easier! All you need are a few simple ingredients that you probably already have.
Balsamic Vinegar - This dark tangy vinegar is full of flavor and tastes great with honey.
Olive Oil - While any oil will work, we prefer a light olive oil. The mild flavor pairs well with the vinegar and honey.
Minced Garlic - Feel free to use fresh pressed garlic or minced garlic from a jar.
Honey - Use raw honey for more health benefits. You can also use maple syrup, although it will taste a bit different.
Salt & Pepper - Adds flavor.
How to make Honey Balsamic Dressing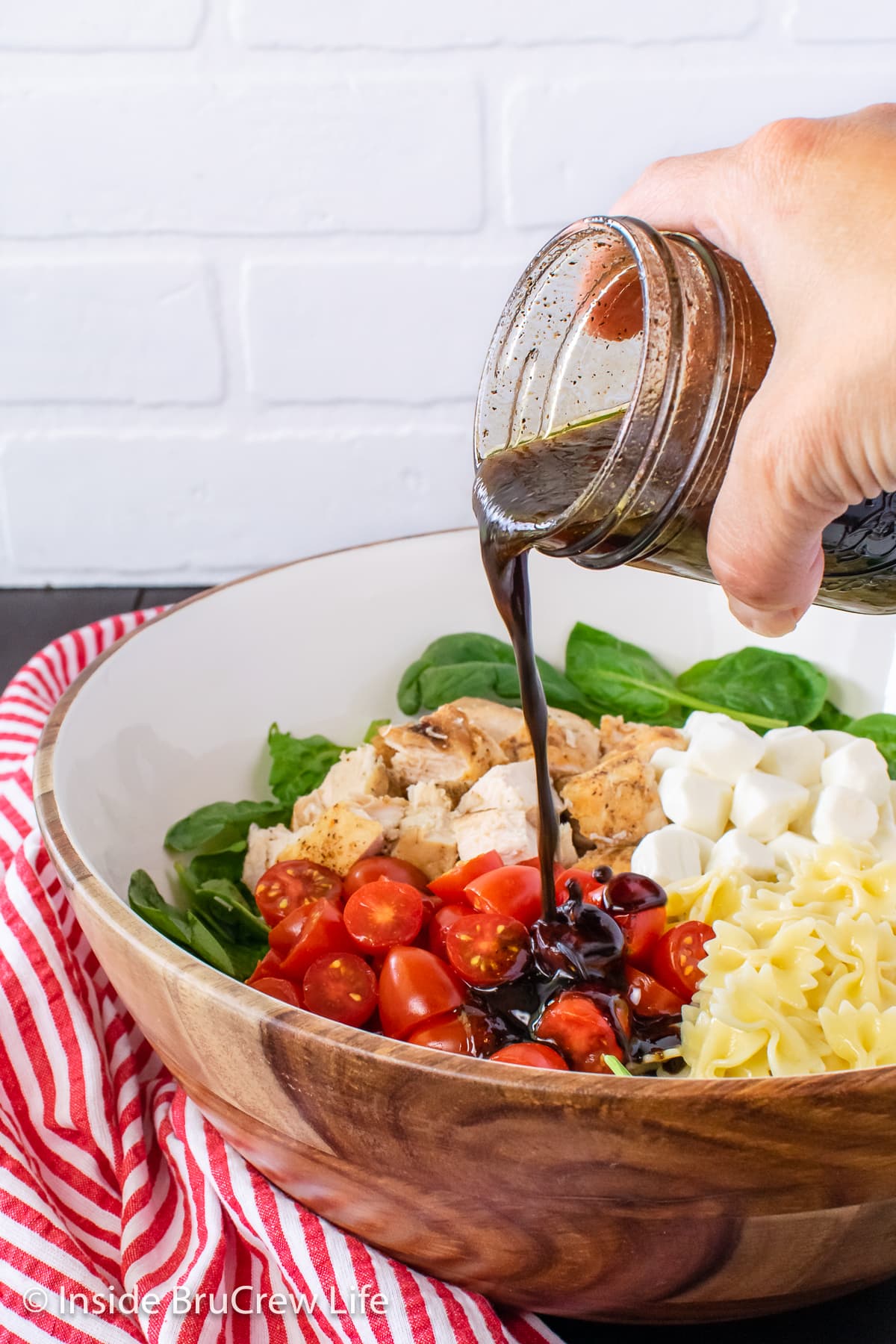 This honey balsamic dressing recipe is sweet and tangy and ready to serve in 5 minutes.
Add all the ingredients to a mason jar.
Screw the lid on tightly and shake very well. This helps to emulsify and thicken the dressing.
Serve immediately with a mixed greens salad or on a veggie salad.
BRUCREW TIP: The recipe calls for ½ teaspoon salt and pepper, but feel free to adjust that and add more if you like. We usually double it.
Storage Recommendations
Most opened dressings need to be stored in the refrigerator. But this one is not made with any perishable items, so you can leave it out on the counter.
On the Counter - Store the leftover dressing in a sealed jar on your counter. It will keep for up to 2 weeks.
In the Refrigerator - Place the jar in the fridge where it will keep for 1-2 months. Just let it come to room temperature, then shake vigorously before serving.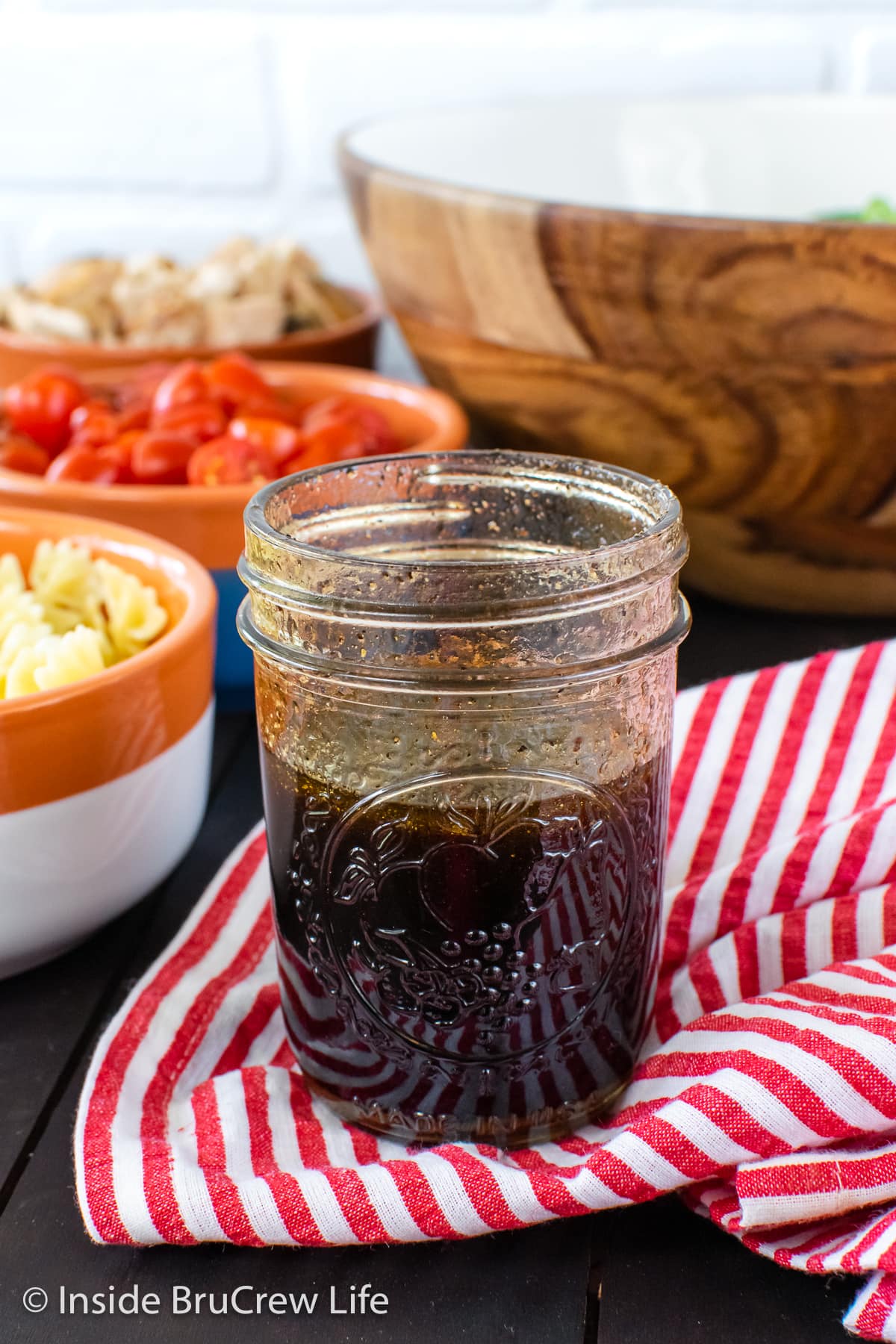 How to Use Balsamic Vinaigrette
This salad dressing is delicious with any green salad, but our favorite way to eat it is with salads that have fresh fruit or mozzarella cheese in them.
Tips and Tricks
When making a homemade honey balsamic salad dressing, here are some helpful tips to keep in mind.
Sweet Balance: Honey adds sweetness, but you don't want it to overpower the tangy balsamic vinegar. Start with a little honey and gradually add more until it tastes just right for you. Give it a taste test along the way to make sure it's not too sweet.
Quality Matters: Go for the good stuff! Get yourself some high-quality balsamic vinegar and extra virgin olive oil. Trust us, it'll make a huge difference in the flavor of your dressing. And don't forget a good honey too, preferably raw or pure, for that extra yum factor.
Shake It Up: Homemade dressings, especially those with honey, can separate over time. Before using your dressing, shake or stir to mix everything back together. If it gets a bit solid in the fridge, let it warm up a bit and then give it a good shake before pouring it over your salad.
Get Creative: Don't be afraid to play around with flavors! Add a little Dijon mustard, some minced garlic, or maybe some herbs like basil or thyme. A squeeze of citrus juice can give it a zesty twist too.
Adjust the Consistency: If you want a thicker dressing, try whisking in a bit of Dijon mustard or mayonnaise. This will thicken things up and give it a creamy kick. If you prefer a thinner dressing, add a little bit of citrus juice to make it pourable and light.
FAQs
Can I substitute honey for another sweetener like maple syrup?
Yes, you can use any other liquid sweetener such as maple syrup or agave syrup instead of honey. This will change the flavor though.
Can this be made ahead of time?
Yes, the salad dressing will keep for 2 weeks, so this is a great recipe to make a few days ahead of time. Just make sure to give it another shake before serving.
Does this salad dressing need to be refrigerated?
No, all the ingredients are shelf stable, so you can keep the jar of dressing on your counter for up to 2 weeks.
More Homemade Salad Dressings
Do you love a recipe you tried from Inside BruCrew Life?
Please leave a 5-star ⭐️ rating and a review in the comments section below.
*This post was first published July 2017. It was updated and republished May 2023.