A Strawberry Avocado Kale Salad is easy to make and is a delicious addition to spring or summer dinners. The refreshing flavors and homemade salad dressing will have everyone filling their plates again.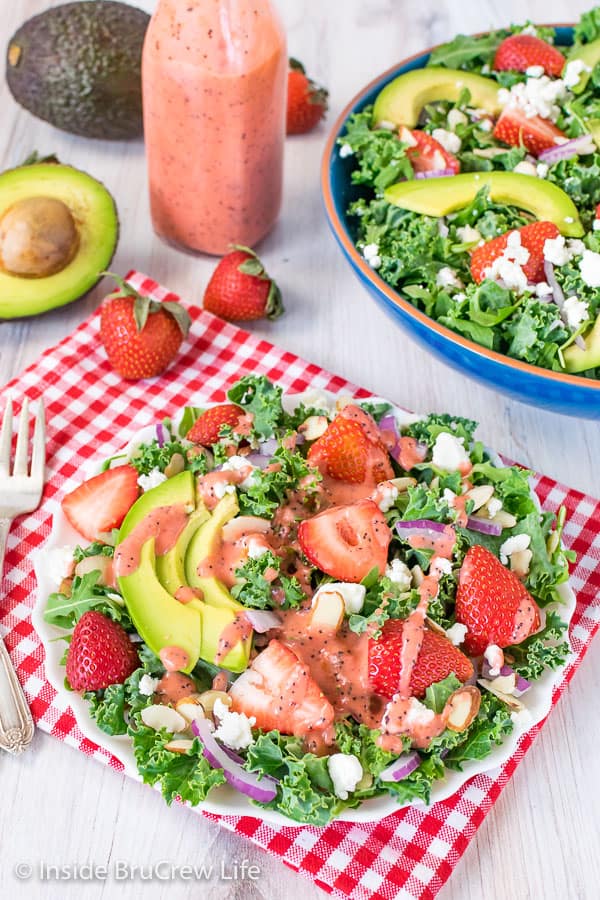 Here I go again, making salad for the thousandth time this week. Ok, ok, so yes, that's a huge embellishment of the true facts. We have probably only eaten salad 4 times this week.
But I'm starting to get a little bit tired of the green stuff. So, I had to add different toppings and drizzle it with this Strawberry Poppy Seed Salad Dressing to trick myself into thinking that salad was amazing again.
And you know what? It totally worked. The flavor combo of fresh strawberries, creamy avocados, and almonds really works well together.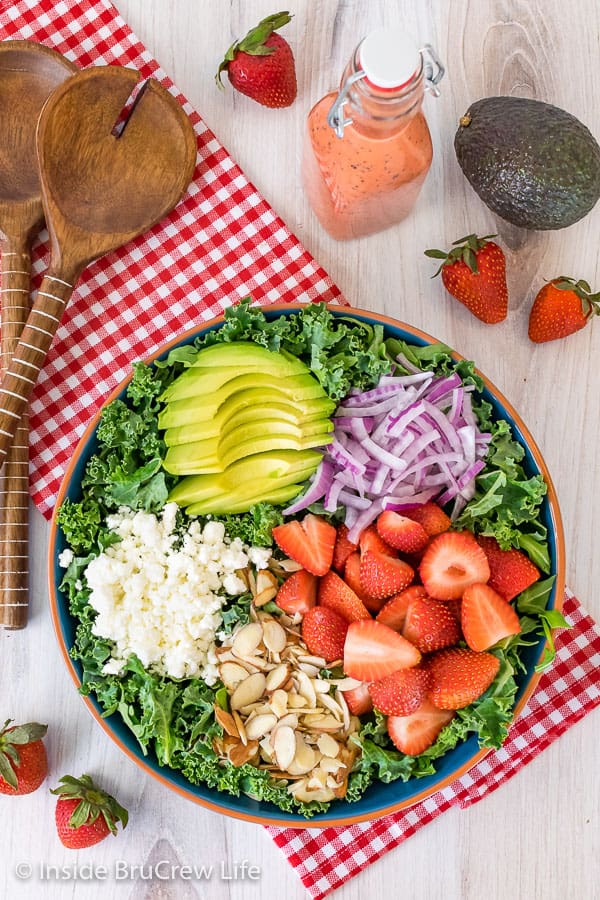 Avocados are a staple in our house. We usually buy them every single week to add to salads or wraps. Some of our favorites in the summer are this Southwest Avocado Ranch Pasta Salad or these BBQ Chicken Avocado Quesadillas.
Although, now I am looking forward to buying more avocados and strawberries next week and making this salad again. It seriously was so good!
I love that it is so easy to prep and have ready in just a few minutes. Usually, I chop all the toppings ahead of time and keep them in sealed bowls in our refrigerator.
It makes it a cinch to serve dinner when everyone is starving.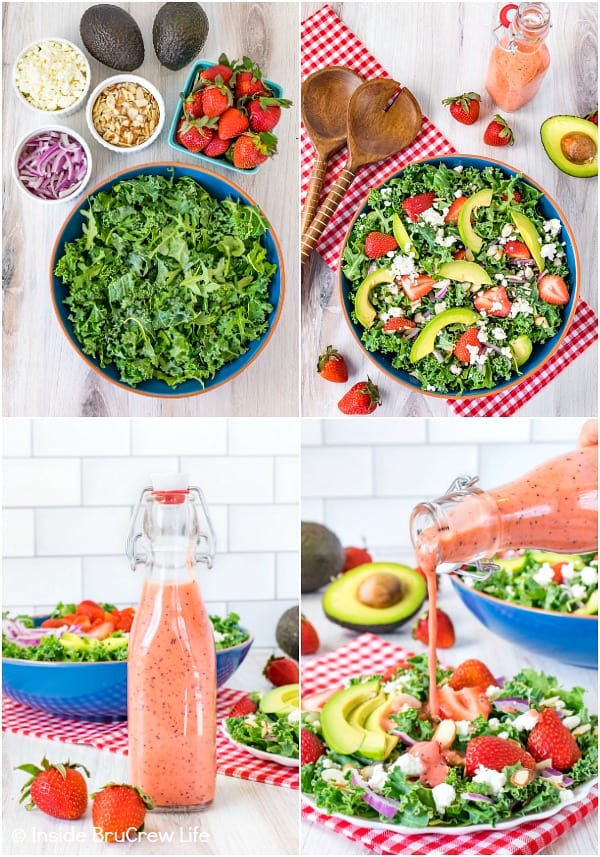 There are so many delicious textures and flavors in this strawberry avocado salad that will have you wanting it again and again.
How to make Strawberry Avocado Kale Salad:
Rinse and chop the kale and arugula and add to a large bowl.
Dice onions. Remove the tops of strawberries and cut in half. Open and slice avocados.
Add the onions, strawberries, cheese, almonds, and avocados to the greens. Toss gently.
Serve immediately with salad dressing.
You can easily change up the ingredients in this salad to fit your taste buds. Here are a few different suggestions.
Greens - Spinach, Spring Mix, Iceberg, Romaine
Fruit - Blueberries, Blackberries, Raspberries, Apples, Oranges
Nuts - Walnuts, Pecans, Pine Nuts, Cashews, Sunflower Seeds
Cheese - Feta, Bleu, Goat, Mozzarella, Cheddar, Parmesan
Meat - Chicken, Shrimp, Bacon, Steak, Pork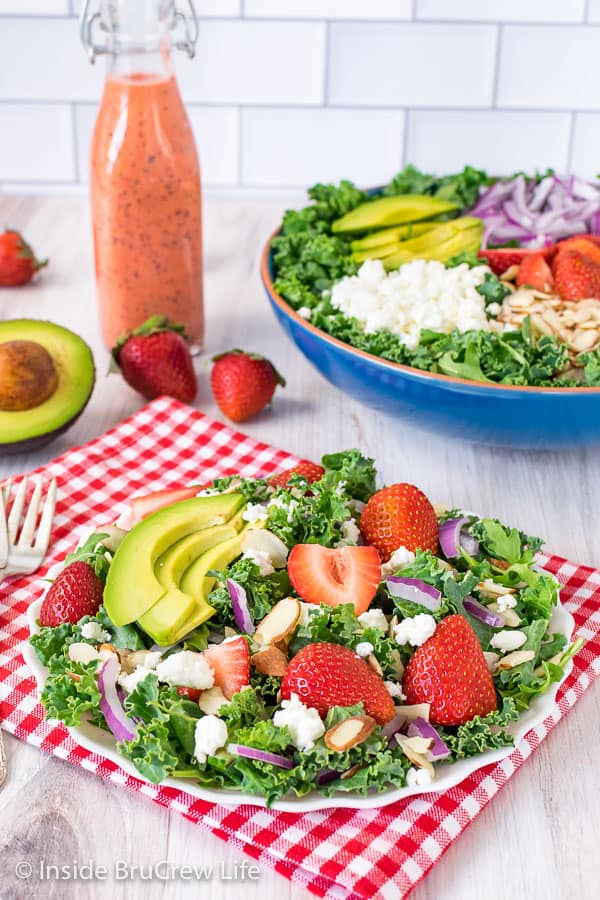 Serving/Storing:
This strawberry kale salad is best served right away. If you will be eating later, wait to toss everything together. It is also best to peel and slice the avocado at the last minute before adding it to the salad.
You can add the salad dressing and toss it all together, but I have found it better to let everyone drizzle their salad with the amount they prefer. This is also helpful because not everyone prefers the same dressing. We usually pull out 4-5 dressings and let the kids choose their favorite.
If you want or need to make the strawberry salad ahead of time, toss everything together, except the avocado slices and dressing. Cover the top of the bowl tightly with saran wrap and refrigerate.
This salad can be divided into smaller containers for a quick grab and go lunch.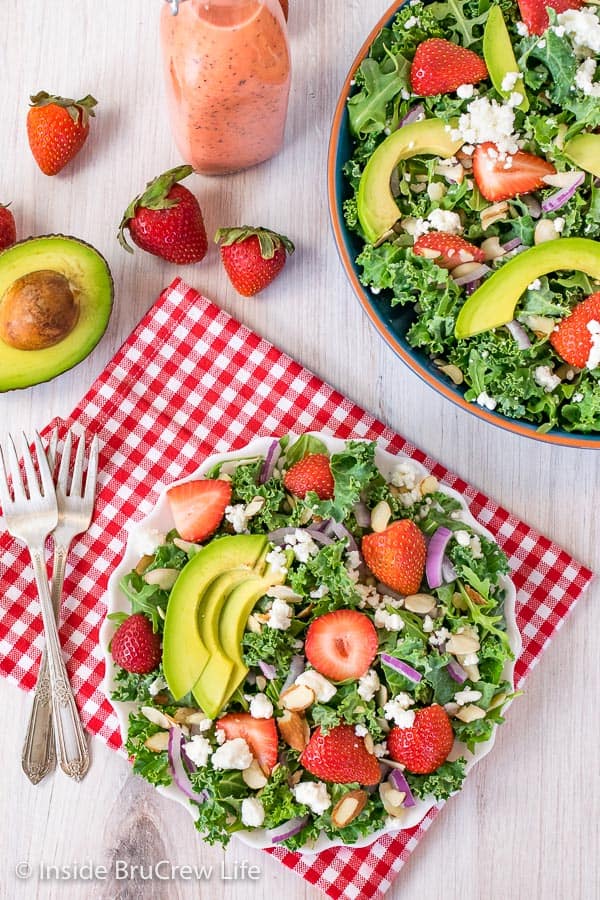 You can easily make this a main meal by adding your favorite protein source. If you are running short on time, canned chicken sprinkled on top is always a great option too.
What to serve with a side salad:
Grilled Chicken, Steak, or Shrimp
More summer salads you may like: