The fresh fruit and greens in this easy Blueberry Apple Spinach Salad will have you requesting salad for dinner all week long. This light and refreshing spinach salad is loaded with fresh fruit and drizzled with a homemade blueberry dressing. What are you waiting for?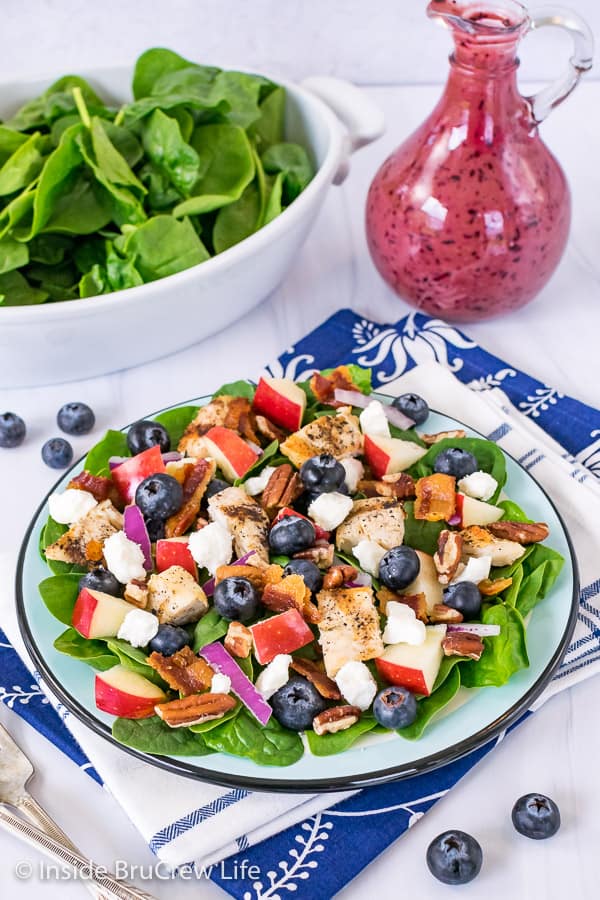 Say hello to my new favorite summer salad! I cannot get enough of this amazing green salad. In fact, I'm pretty sure I had it four times last week. Yes, it's that good.
Especially when you drizzle it with the Creamy Blueberry Balsamic Salad Dressing that I shared with you yesterday.
Can I be honest? I used to think salads were boring, AND I used to think that fruit with greens was crazy.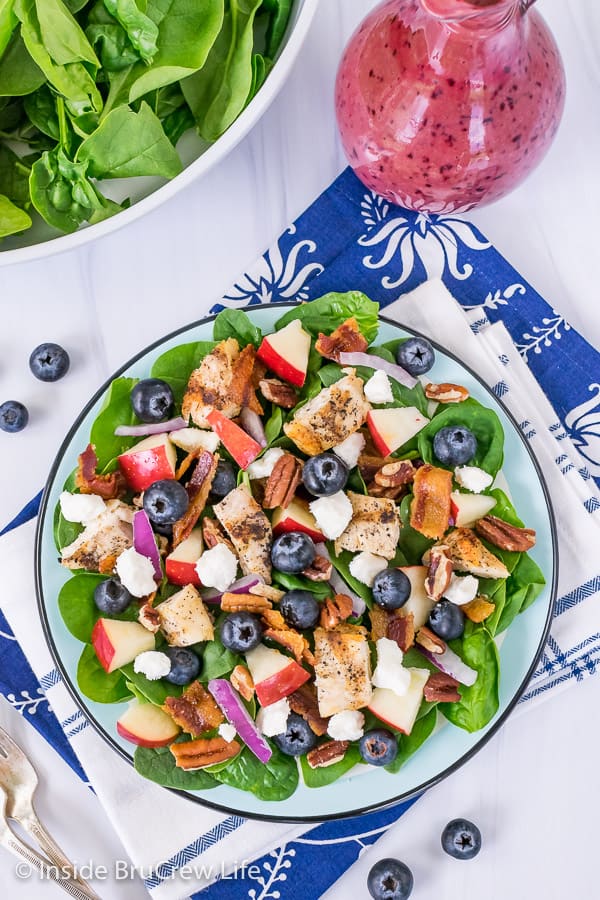 Then a few years ago I tried and loved this Strawberry Orange Spinach Salad. Now I am the biggest fan of fresh fruit on my plate of greens. It just gives it such a fresh and fruity pop of color and flavor that I can't get enough of.
I love how easy making a salad can be. The bowl of bright greens are a blank canvas just waiting for flavor and colors to be added. Top it with a variety of fruits, veggies, and nuts and say goodbye to boring salads.
This easy summer salad can be enjoyed as a side salad, or you can add plenty of grilled chicken and bacon and call it a light main meal.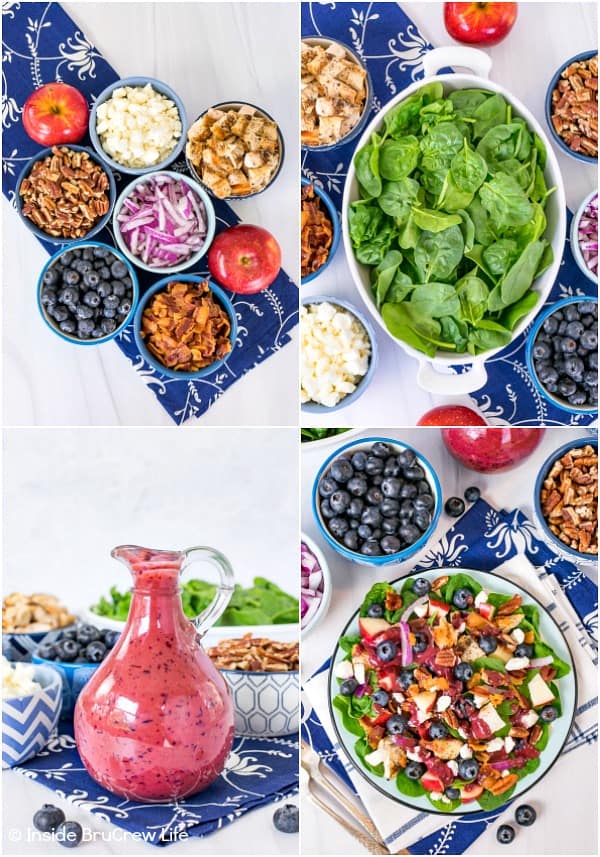 How to make a Blueberry Apple Spinach Salad:
Grill and cook the chicken and bacon ahead of time. (full recipe at bottom)
Cut up onions. Crumble the bacon. Slice the chicken. Chop apples.
Place a big bowl of baby spinach in the center of the table.
Place toppings in bowls and set them around the spinach.
Give everyone a plate and let them create their own spinach salad masterpiece.
This salad is delicious on its own, but I definitely recommend drizzling it with the homemade blueberry dressing or this Homemade Honey Balsamic Vinaigrette.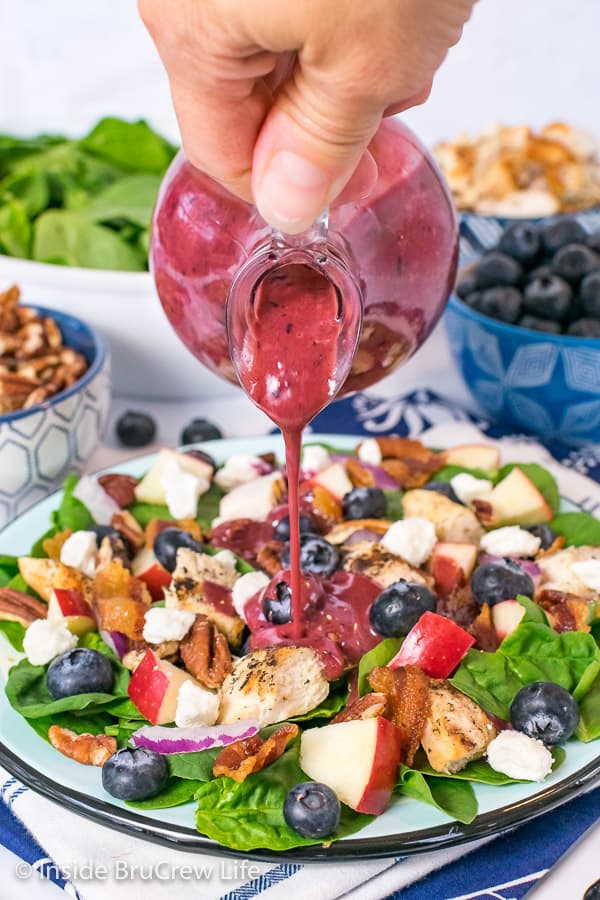 This blueberry spinach salad is so easy to put together. Fresh fruit goes so well with greens and chicken.
The great thing about this salad is that you can totally customize it by using the fruits and nuts that you like.
Other toppings for spinach salad:
Raspberries or Blackberries
Oranges
Feta or Bleu Cheese
Walnuts or Almonds
Grilled Steak
Avocados
This salad makes it easy to eat your daily fruits and veggies because it is loaded with so much goodness! I could easily eat this spinach salad every day.
So, if you are looking for a new salad for your dinner rotation, make this one. It will not disappoint you.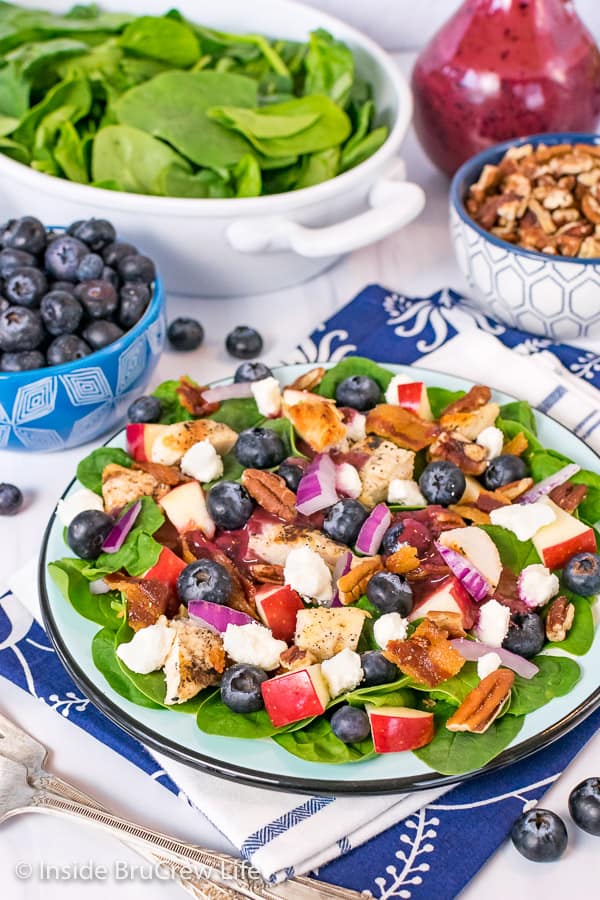 Other salad recipes with fruit you may enjoy: