This No Bake Banana Split Dessert is a keeper for all those hot summer days. The BEST Banana Split of all times in an easy, no bake cheesecake form.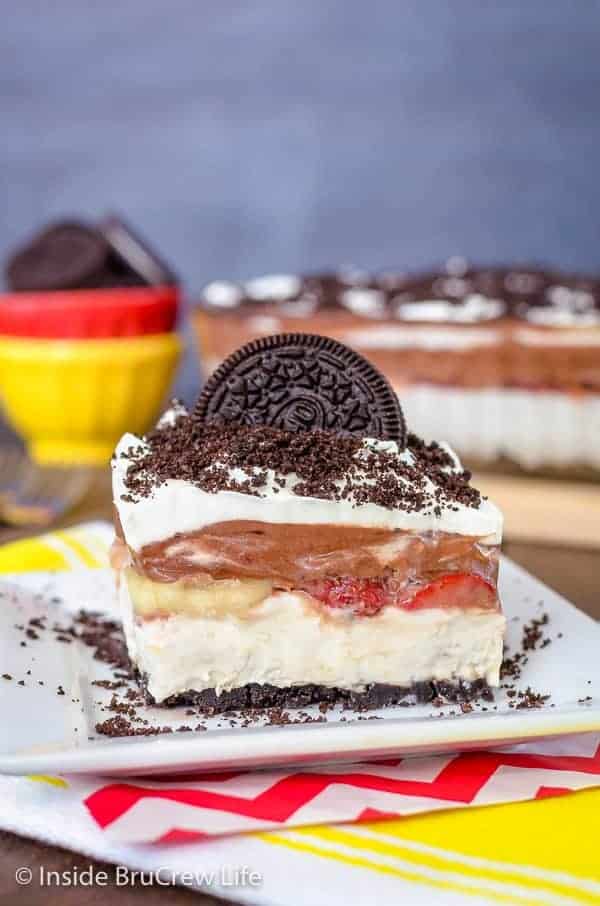 Let's talk about the weather for just a minute.
Weather in Florida changes quite often. One moment it's sunny, then it's cloudy and rainy, and then it goes back to sunny with a lot of humidity. Although, I don't think Florida weather is as fickle as the weather we used to have when we lived in Indiana.
I remember one summer where it was cloudy, rainy, and cool one day, then sunny and 87 degrees the next. In less than 48 hours we experienced summer and spring!
I think I'll take the hot and humid months here in Florida instead. Those days mean lots of days by the pool with Raspberry Orange Slushies.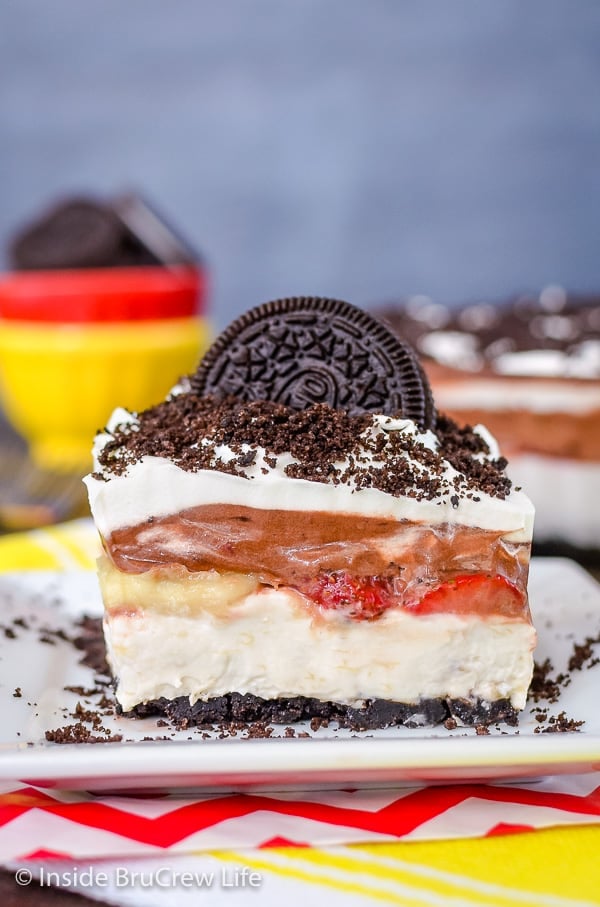 One of my favorite things about summer is all the ice cream cones and treats. I love a giant banana split sundae loaded down with all the toppings.
We usually make this Banana Split Fluff Salad for summer picnics and parties. It's a little less messy and doesn't melt! So, I decided to take all those same flavors and put them into a chocolate lush dessert.
In 20 minutes you can have layers of no bake cheesecake, bananas, strawberries, and pudding on top of an Oreo cookie crust. This banana split dessert lasagna that looks and tastes absolutely amazing!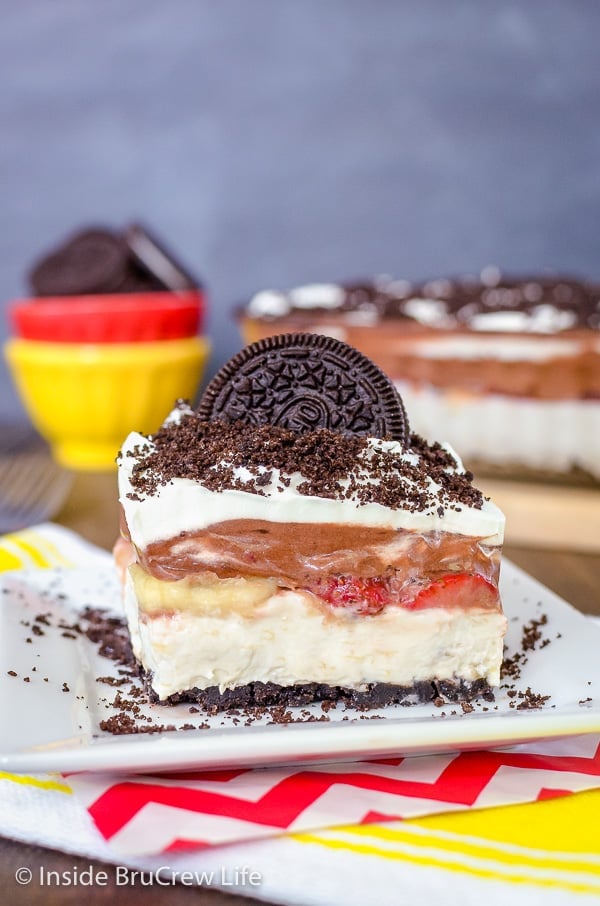 Tips for this Banana Split Lasagna
This dessert is heavy. No, not the actual food itself because that is pretty light and fluffy. The layers in the pan have some girth when you pick it up and move it to the refrigerator. Have your muscles ready.
You will not be able to stop eating this banana split dessert. Make it for a picnic where there will be others to share it with because it is dangerous to be around.
Do not attempt to cut this into picture perfect pieces. I may have butchered half the cake trying to get one piece where you could see the layers of goodness.
This dessert is best eaten within 24-48 hours of making it. Once you slice strawberries they start to get juicy. Juicy does not mix well with pudding and cookies.
Did I mention how many slices I ate? Let's keep it that way. Like I said it's extremely delicious and dangerous. I'm thinking it's probably the best Banana Split Dessert EVAH!!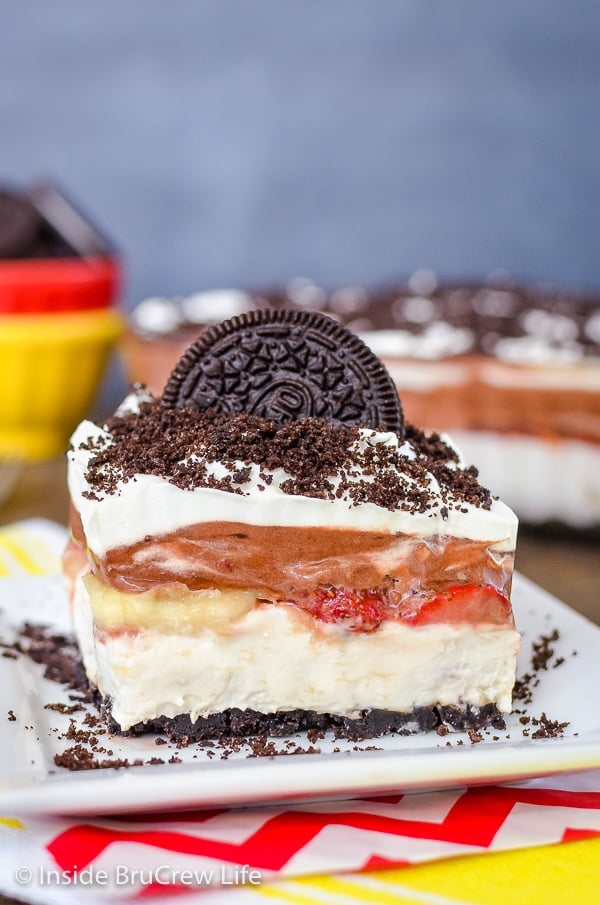 More Banana Split dessert recipes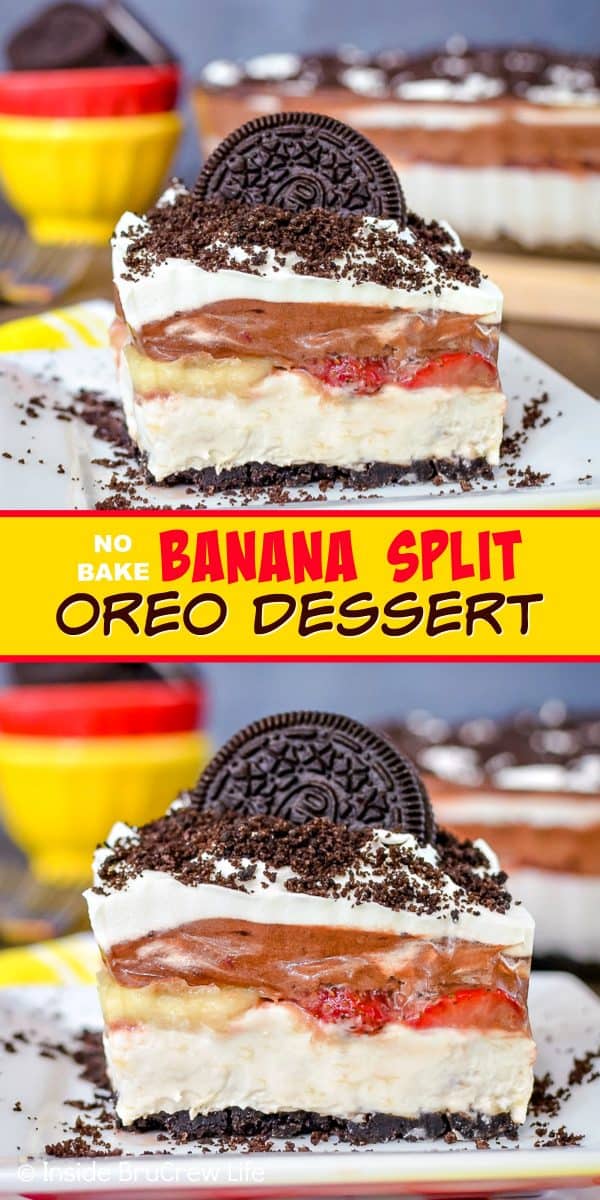 *The post for No Bake Banana Split Oreo Dessert Lasagna was first published on July 3, 2014. The photos have been updated and republished on May 29, 2019.