This No Bake Banana Split Oreo Dessert is a keeper for all those hot summer days.  The BEST Banana Split of all times in a no bake cheesecake form.
**Make sure you sign up for my email list…new recipes will show up in your inbox every time I post.**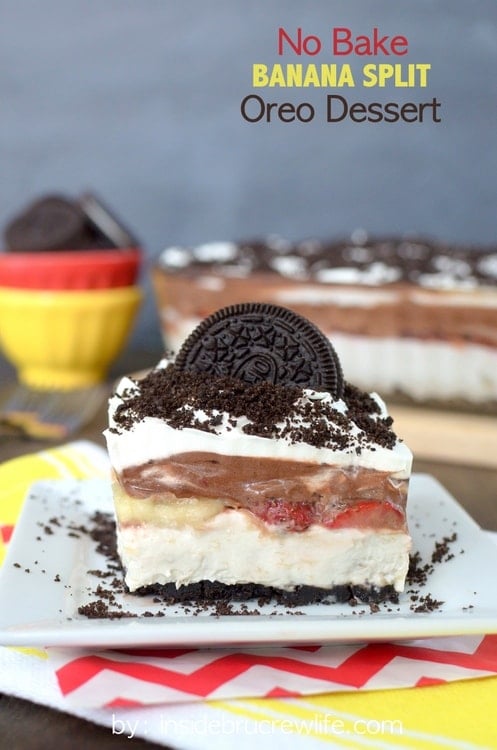 Let's talk about the weather for just a minute.
Apparently our summer doesn't realize what month we are in.  The other day it was cloudy and rainy, then it cleared up and was sunny and 87 degrees.  It was the perfect day to chill out at the pool.  We all came home a little bit red after spending 4 hours in the sun.
The very next day it was only 75 degrees, and I'm thinking it was even colder by the time we went to baseball practice.  I was sitting on the bleachers freezing my buns off because who knew I needed a sweater in July in the midwest.
All in less than 48 hours we had summer and spring!  So not happy I tell you!  This is the month I actually like hot days because it means lots of lazy days at the pool.  I can't get behind pool days when it is in the 70 something outside.  It just doesn't seem right to pay money to be cold at the pool.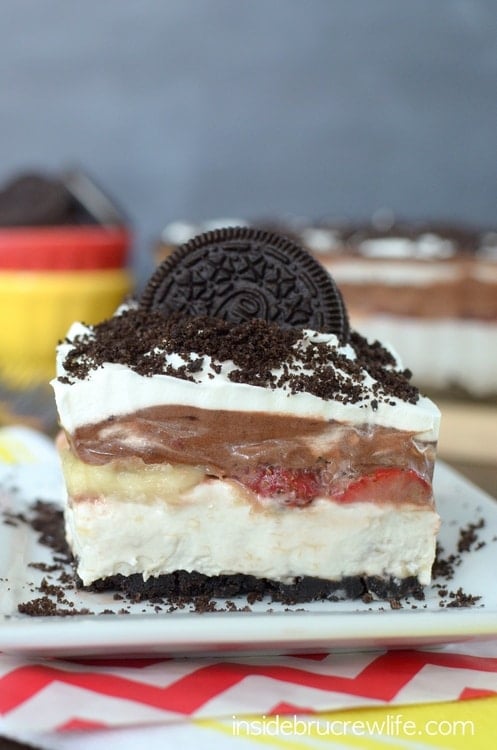 Now most of the time in summer you are scorching hot and want nothing to do with baking.  Well, do I have just the recipe for you.  That is if your summer is cooperating more than mine is.
In 20 minutes you can have layers of cheesecake, banana, strawberry, and chocolate pudding on top of an Oreo cookie crust.
How good does that sound to you?  It is definitely a treat worthy of winning round 3 in Banana Split Week.
Now I do have to warn you of a few things:
1.  This dessert is heavy.  No, not the actual food itself.  The pan has some girth to it when you pick it up and move it to the refrigerator.  Have your muscles ready.
2.  You will not be able to stop eating this dessert.  Make it for a picnic where there will be others to share it with because it is dangerous to be around.
3.  Do not attempt to cut this into picture perfect pieces.  I may have butchered half the cake trying to get one piece where you could see the layers of goodness.
4.  This dessert is best eaten within 24-48 hours of making it.  Once you slice strawberries they start to get juicy.  Juicy does not mix well with pudding and cookies.
5.  Did I mention how many slices I ate?  Let's keep it that way.  Like I said…it's dangerous.  I'm thinking it's probably the best Banana Split Dessert EVAH!!  So yeah…!
Make sure you visit Aimee today and see her No Bake Banana Split Cheesecake Bars.  They look amazing!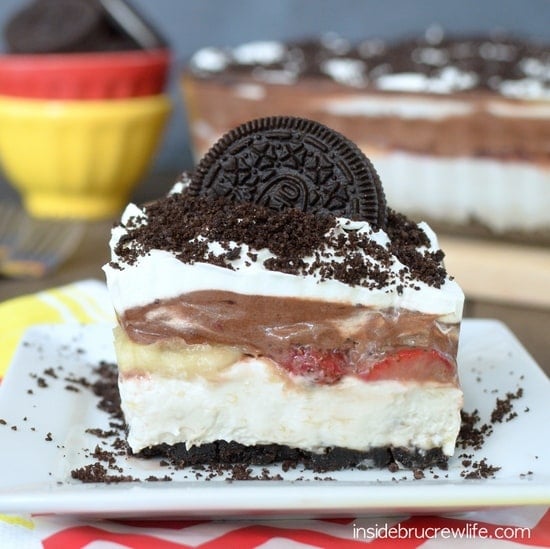 Stay up to date on all the BruCrew baking here:
FACEBOOK | PINTEREST | GOOGLE+ | TWITTER | INSTAGRAM | BLOGLOVIN
 Sign up to receive an email in your inbox for each new recipe:
EMAIL SUBSCRIPTION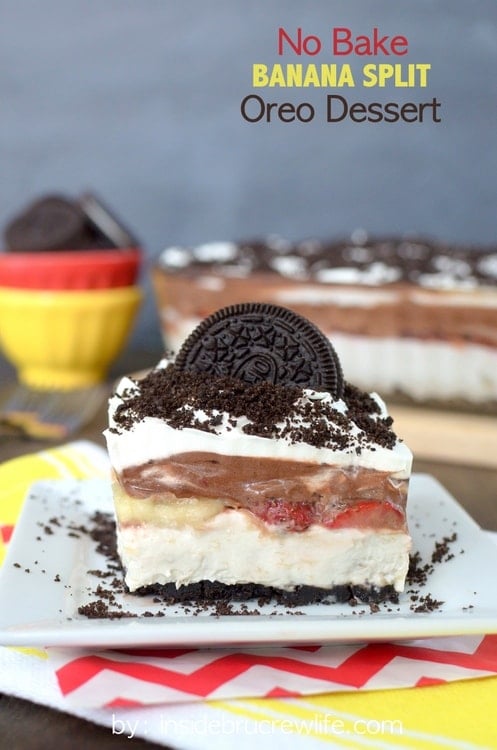 Ingredients
2 1/4 cups crushed Oreo cookie crumbs, divided
1/3 cup butter, melted
2 - 8 ounce packages cream cheese, softened
1/2 cup sugar
2 mashed ripe bananas
5 cups Cool Whip, divided
3 sliced ripe bananas
2 1/2 cups sliced fresh strawberries
2 - 3.9 ounce boxes instant chocolate pudding
2 cups milk
Oreo cookies, broken in half
Instructions
Combine 2 cups Oreo crumbs and butter. Press into the bottom of a 9x13 pan. Refrigerate.
Beat the cream cheese and sugar until creamy. Add the mashed bananas and beat again. Slowly mix in 2 cups Cool Whip. Spoon onto the crust and spread out.
Place the sliced bananas over the banana cheesecake layer. Top with the strawberry slices.
Whisk together the pudding mixes and milk. Fold in 1 cup Cool Whip. Spoon gently over the strawberry layer. Spread out very carefully. Top with the remaining 2 cups Cool Whip and spread out. Refrigerate for a few hours before serving. Sprinkle with remaining 1/4 crumbs. Cut into 24 squares and top each square with an Oreo half. Store covered in the refrigerator.
Notes
This dessert is best served within 24-48 hours of preparing it.
https://insidebrucrewlife.com/bake-banana-split-oreo-dessert/
Copyright Inside BruCrew Life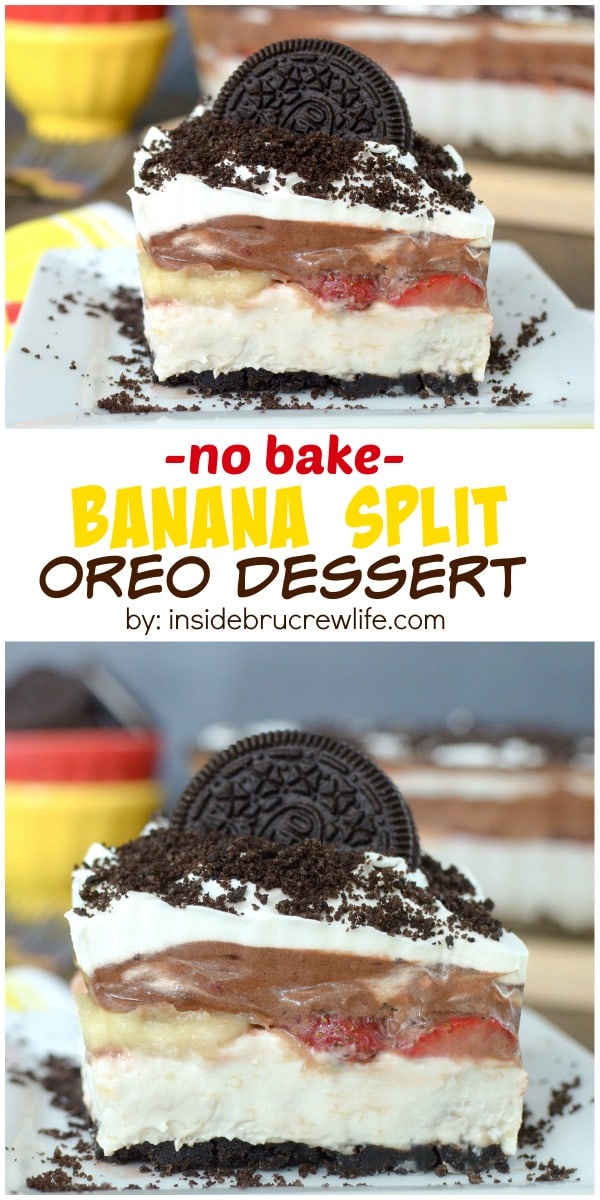 More delicious and easy no bake treats for when the weather is too hot to bake: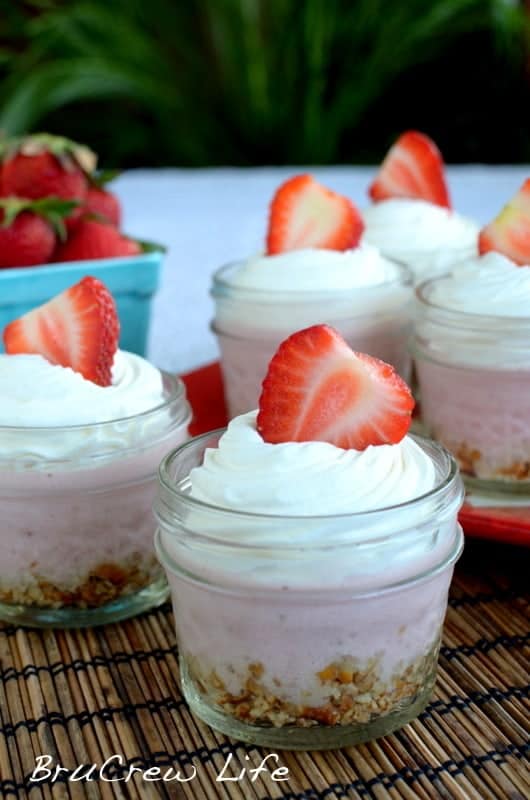 No Bake Strawberry Cheesecake Cups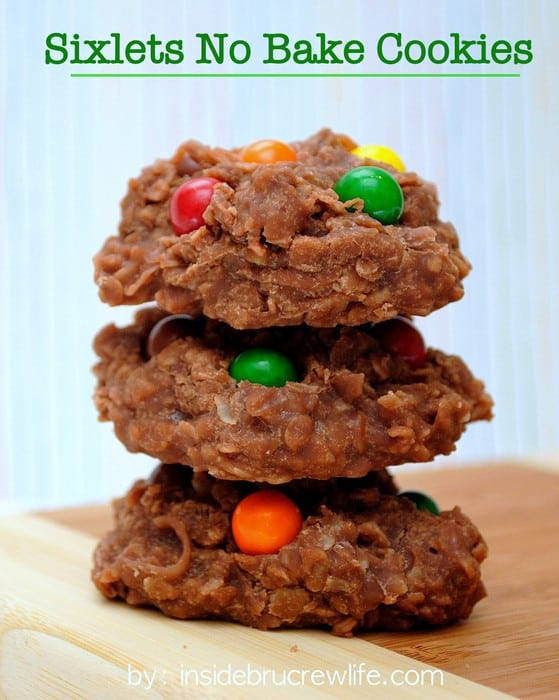 Sixlets No Bake Cookies