Looking for a way to use up those ripe bananas on the counter? This easy Banana Split Coffee Cake has all your favorite ice cream toppings in a delicious breakfast cake. It's the perfect way to start out the summer.
*I am partnering with Lucky Leaf® as a blog ambassador bringing you delicious recipes using their pie filling.
**Love these recipes? Be sure to sign up for the BruCrew email to have these recipes sent to your inbox each time a new recipe is share.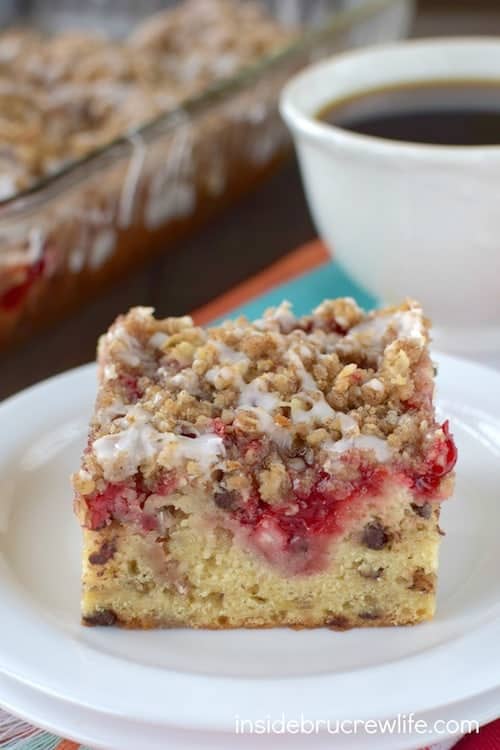 Summer officially started for us this week. Our kids are out of school. Bring on the sun, the shine, the pool, the ice cream, and all the fun that comes with these things.
Now obviously those things can't happen every single day because work, cleaning, chores, and sports still keep going even though summer has arrived.
We need to create a list of fun things to do at the house for days we have to work because I know the kids are going to start asking to watch tv all day long.
Eating ice cream and banana splits are always good for hot summer days, so that needs to be on the list. What am I saying? Ice cream is good all year long, right?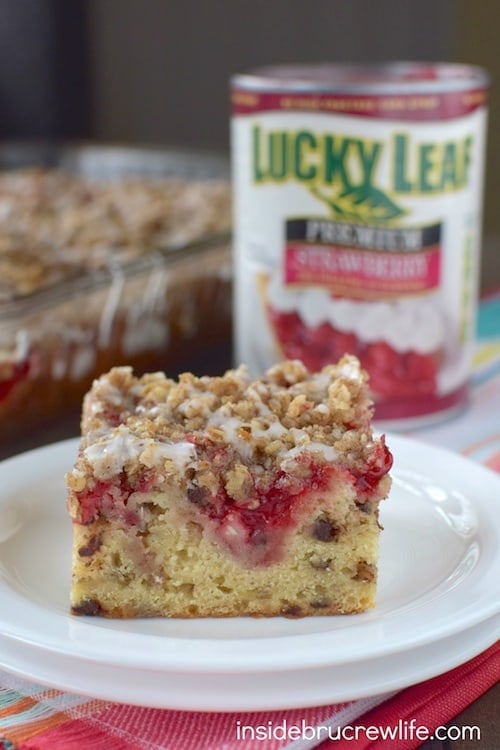 I have a thing for adding banana split flavors to all kinds of treats. Remember this Banana Split Fluff Salad and this Banana Split Bundt Cake?
Well, now banana splits are not just for dessert. That's right!!! I found a way to incorporate one of my favorite summer combos into a breakfast cake.
As a Lucky Leaf® blog ambassador, I am always looking for fun ways to use pie filling in my baking. Have you had a chance to try their pie filling? They are absolutely delicious and packed full of fruit.
The other great thing is that they do not use high fructose corn syrup in their fillings.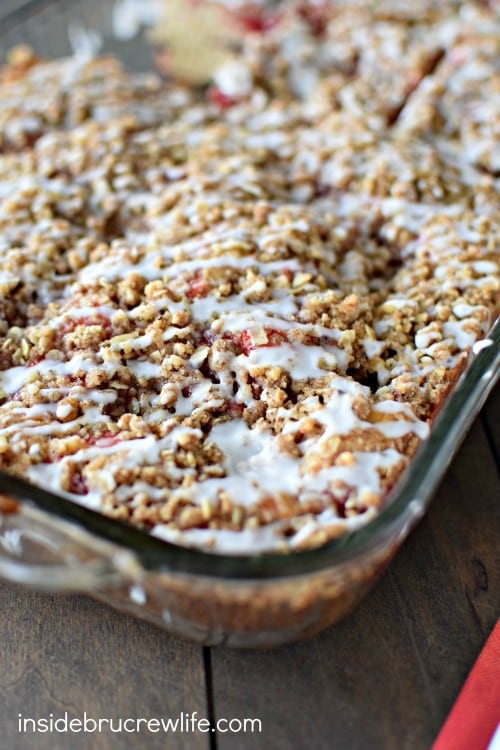 I had a few ripe bananas on my counter that needed to be used, so I decided to give this Banana Toffee Cake a summer makeover. Mini chocolate chips, walnuts, and strawberry pie filling gave it the perfect banana split twist.
How to make a Banana Split Coffee Cake:
Beat the butter, cream cheese, and sugars until creamy.
Add the eggs, vanilla, and smashed bananas and mix again.
Stir together the dry ingredients and slowly mix that into the butter mixture.
Add the chocolate chips and walnuts gently. Spread the batter in the pan.
Drop the strawberry pie filling on top of the batter and swirl it in gently.
Mix together the crumble topping and sprinkle it on top of the coffee cake. Bake and cool.
Drizzle the glaze on top of the cooled cake and let set before serving.
This banana coffee cake seriously got better every single day it sat on our counter. I mean it was delicious that first day with my coffee, but it was just as great on day 4 too.
I don't really want to admit how many slivers of this Banana Split Coffee Cake I ate. This sweet cake just kept calling out to me every time I walked through the kitchen.
Go into the kitchen for coffee...eat cake. Head through the kitchen to do laundry...eat cake. Make dinner...eat cake. Come home from working out...eat cake.
I like to call it a work hazard. Hey, someone has to take one for the team and eat all the banana cake, right?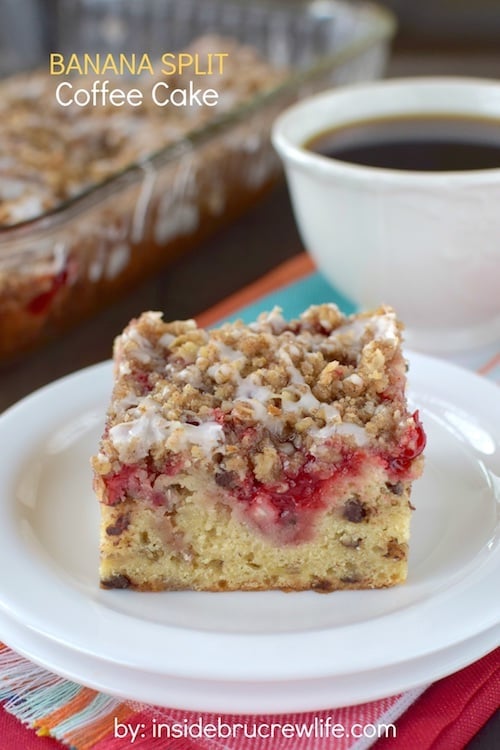 More easy breakfast recipes with pie fillings:
Connect more with Lucky Leaf®:
Twitter | Facebook | Pinterest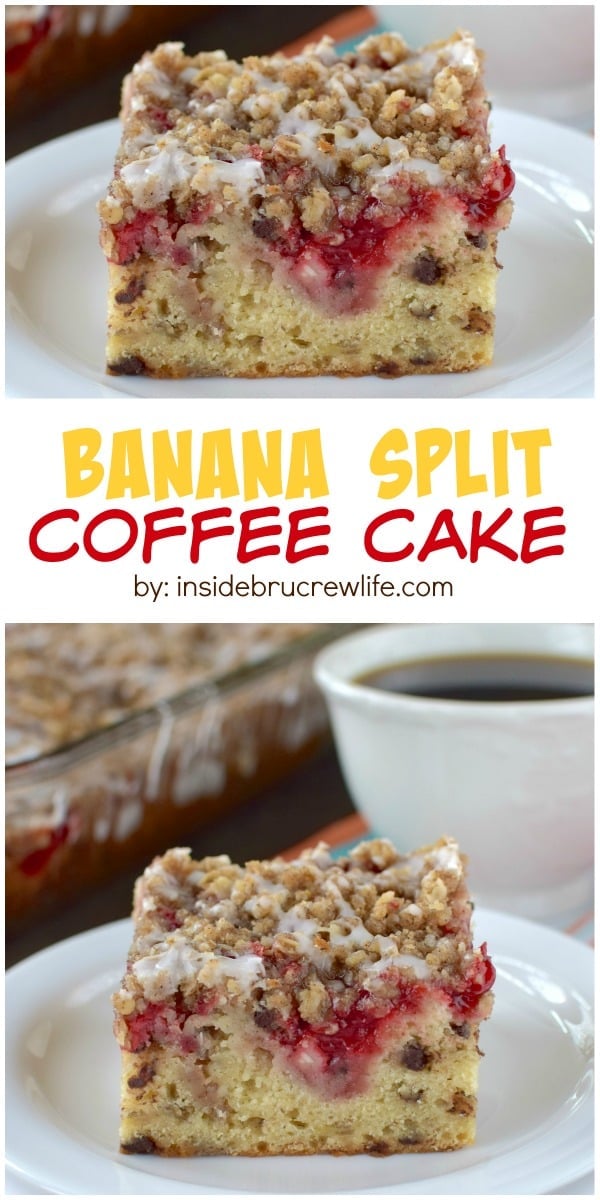 *This recipe was sponsored by Lucky Leaf. All opinions expressed are 100% my own. Thank you for letting me share products and brands I use and love. See my disclosure policy for more information.*