Keep a batch of these Baked Ham and Cheese Egg Muffins in your freezer for an easy healthy breakfast on busy mornings. These low carb/keto-friendly muffins are easy to make and taste delicious.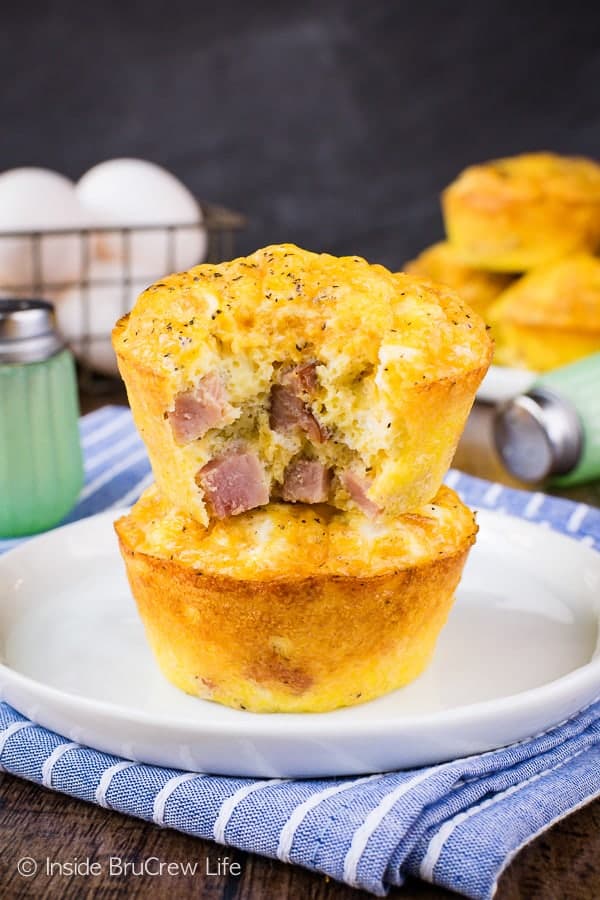 Do you go through different phases with the food that you eat? For me, eggs can be one of those foods that I eat in phases.
I either want them every day, or I cannot stand them. Lately I have been in the "want them every day" phase.
But as much as I love scrambled eggs with cheese and Bacon Breakfast Tacos, both of those can get old rather quickly.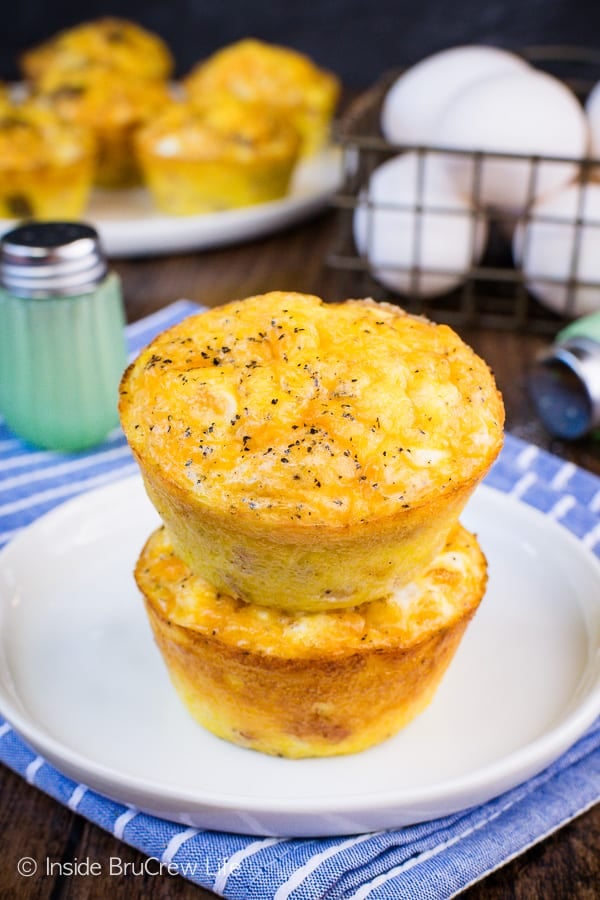 Why You Will Love Egg Muffins
Last week when I was cleaning out the fridge, I found a leftover chunk of ham behind some of the other leftover containers. I started dicing it up and placing it in freezer bags for future meals, so it would not go to waste.
All of a sudden, I decided to change up the eggs I had been eating by making some breakfast egg muffins. They are so easy to reheat for an easy grab and go breakfast or lunch.
We already had eggs and cheese in the fridge, so it was a no brainer to mix all of these ingredients together and make some easy keto breakfast egg cups.
I love that they are loaded with protein and can be made in less than 30 minutes.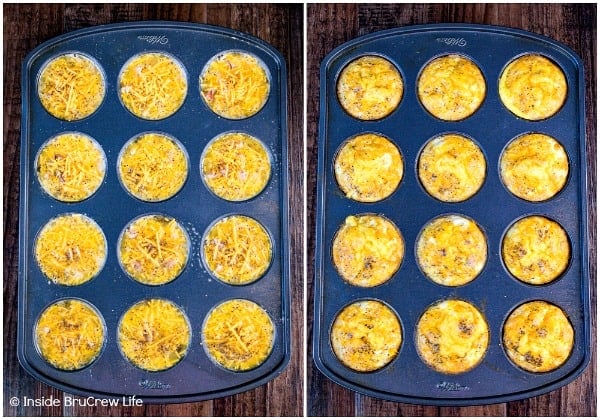 I do not know why I thought a batch of 12 egg muffins would last me the rest of the week. Apparently, I forgot about our children's love for egg muffin cups.
They devoured these Broccoli Egg Muffins when I made them a few months ago, so I should have known the same thing would happen with these Ham and Cheese Egg Muffins.
It's a good thing I have plenty of leftover ham in the freezer to make more. Now all I need to do is pick up another bag of shredded cheese, so I can bake another batch of low carb breakfast egg muffins.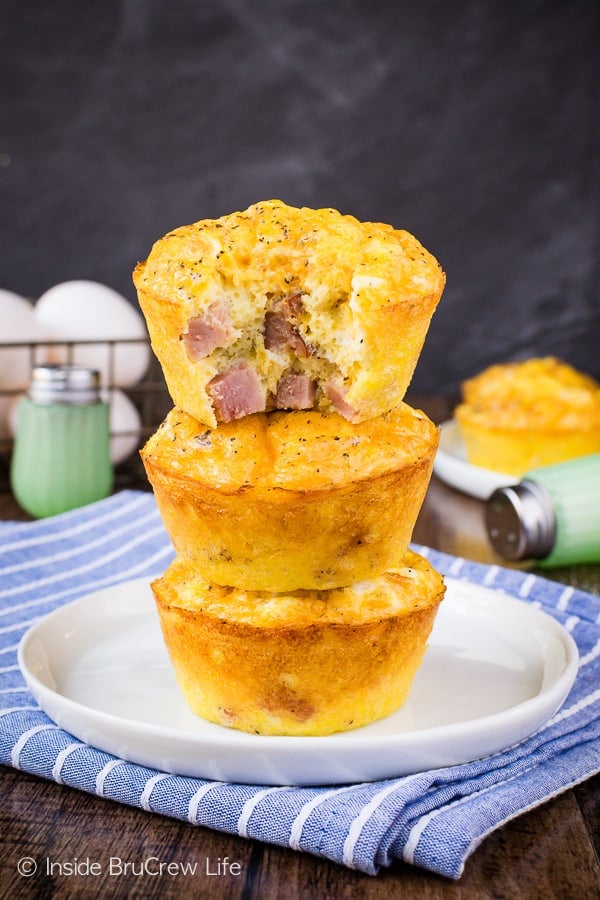 How to Make Ham and Cheese Egg Muffins
These egg muffin cups come together in minutes. Make sure to measure and set everything out before you start.
Spray your muffin tin with nonstick spray. This will keep the eggs from sticking to the pan later. You can also use silicon muffin molds if you have those.
Dice the ham into small bite-sized pieces.
Whisk the eggs completely. Stir in the ham, 1 ½ cups of shredded cheddar cheese, garlic, salt, and pepper.
Use a ¼ cup measuring cup to fill the greased 12-cup muffin tin completely. The cavities will be full. Trust me. They will bake up just fine.
Sprinkle the remaining shredded cheese on top of the egg mixture.
Bake the egg muffins for about 20 minutes. Remove the pan from the oven and let the egg cups cool in the pan for two minutes.
Run a butter knife around the edges of the egg muffin cups to loosen them from the pan. Lift them out gently and serve hot.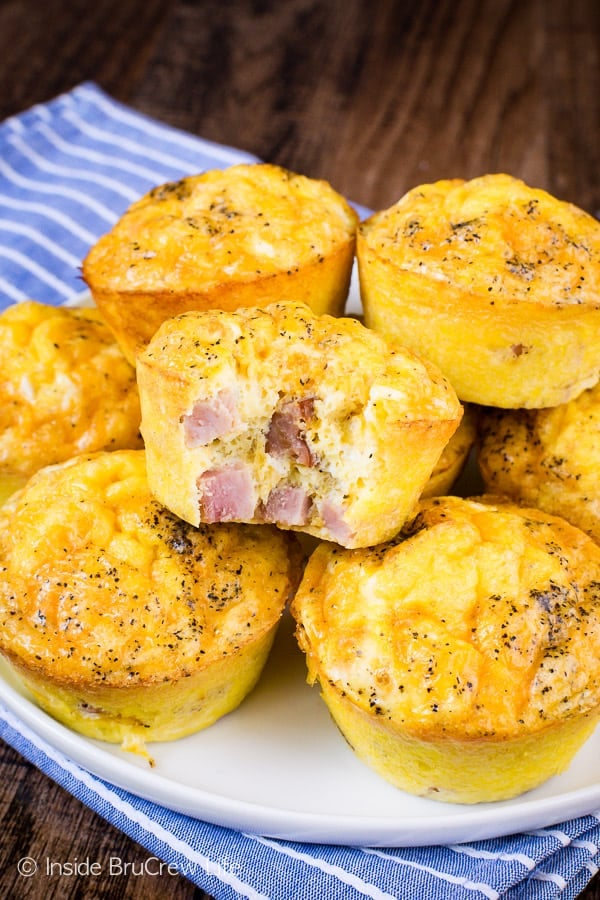 FAQ
How do you store these breakfast egg muffins?
Once the breakfast egg muffin cups are completely cooled, you can place them in a Ziploc bag or container and refrigerate them for a few days.
Reheat them in the microwave for about 15-20 seconds or until heated through.
Can you freeze egg muffins for later?
Yes, you can freeze these easy baked egg cups. Place them on a parchment lined tray and freeze for one hour. Remove and place the frozen eggs in a freezer safe container or bag. Store in the freezer for up to 3 months.
Heat each frozen egg muffin for 30-40 seconds in the microwave.
What else can I add to egg muffins?
Spinach - fresh or frozen (make sure to thaw the frozen spinach and squeeze it out very well)
Protein - Bacon, Sausage, Pepperoni
Veggies - Tomatoes, Broccoli, Mushrooms, Peppers, Onion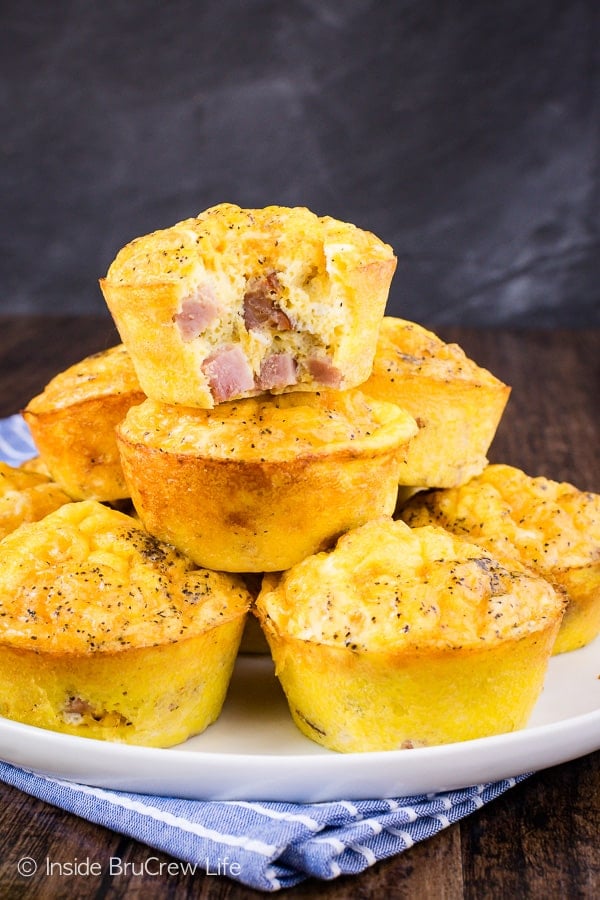 More Egg Recipes