A big bowl of this Balsamic Caprese Veggie Salad is a refreshing side dish that goes with any meal. It's a great healthy option to bring to all those summer picnics and potlucks.
Drizzle this Homemade Honey Balsamic Vinaigrette on top right before serving and watch it disappear.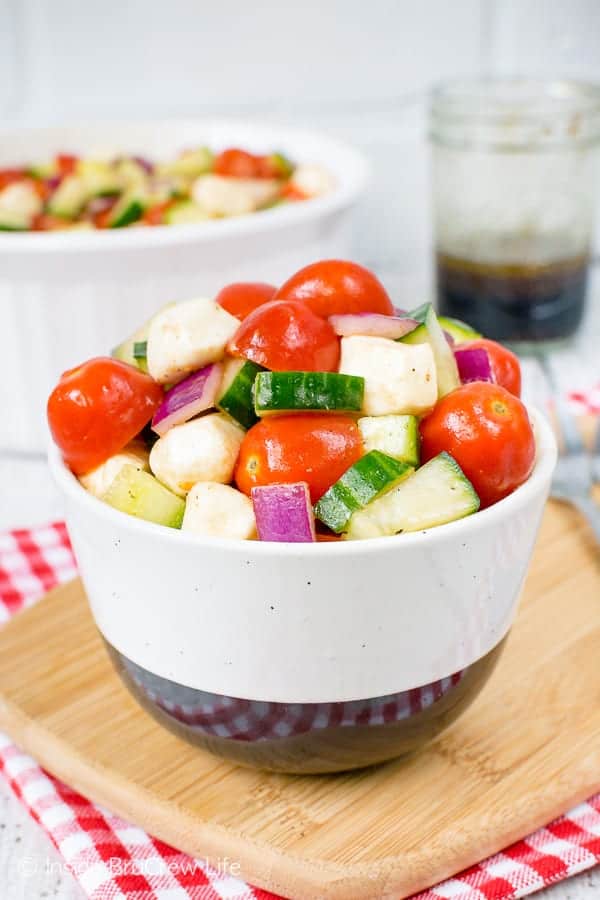 At the moment I could eat this veggie salad for every meal and be happy about it. Ok, ok, I would probably not be as happy eating it for breakfast. But you know what I mean, right?
We are still going strong with our healthy eating around here. Well, for the most part. Every so often we indulge and make these Mini Strawberry Pies or these White Chocolate Mochaccino Chippers. The sweet tooth has to have something every once in a while as a reward for hitting it hard in the gym and eating right.
Although, with swim suit season here, I am trying really hard not to eat all the sweets in the house. Trust me, I really do want to hide in my baking pantry and eat chocolate chips by the handfuls. But I'm resisting that urge because I just bought new summer clothes that I want to be able to still fit in.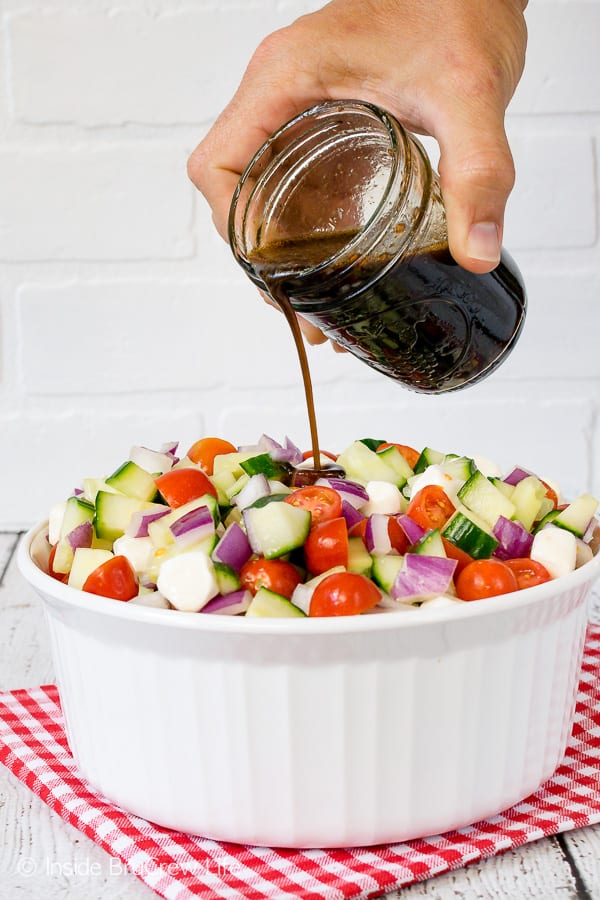 One of our favorite things to make all summer long is this Veggie Pasta Salad. It's great as a side dish with burgers or grilled chicken. Or you can add some diced up deli meat and shredded cheese and it becomes a meal all by itself.
Since noodles are one of the things I am trying to avoid at the moment, I decided to make another veggie salad that I could enjoy this summer.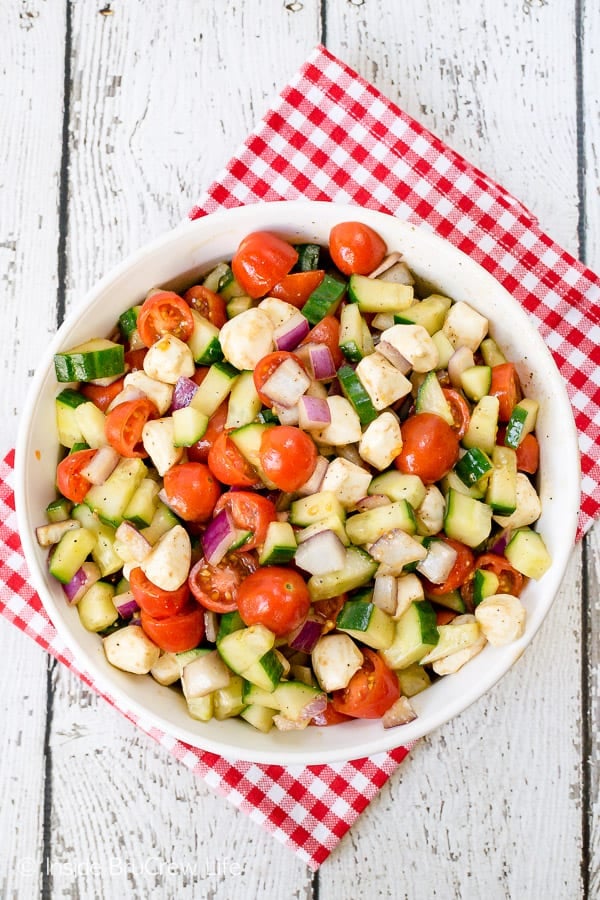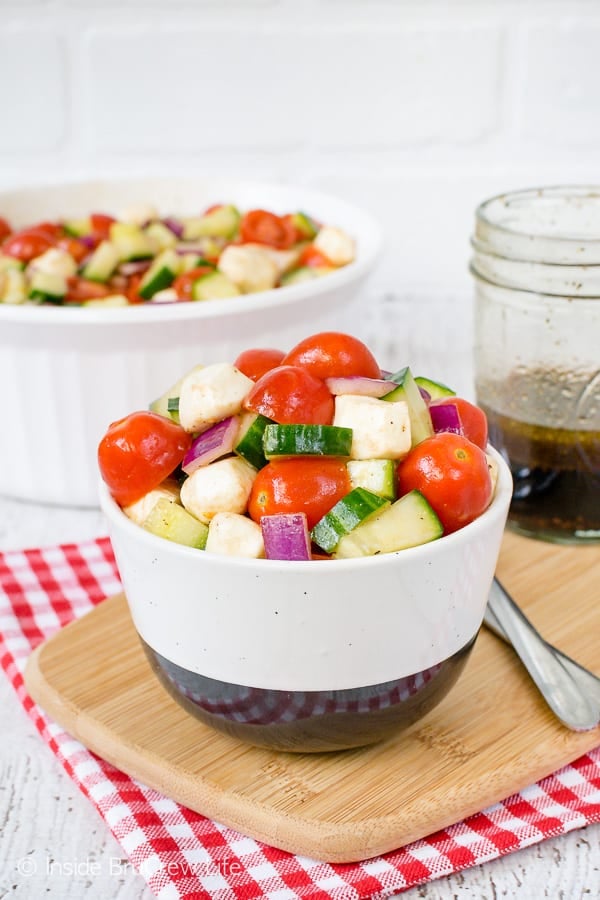 This salad is seriously so easy to make. Mostly because it only has four ingredients in it. And one of them you just have to open the bag and dump in. Easy peasy.
Feel free to chop the veggie smaller or larger. There really is no wrong way to make this summer side dish.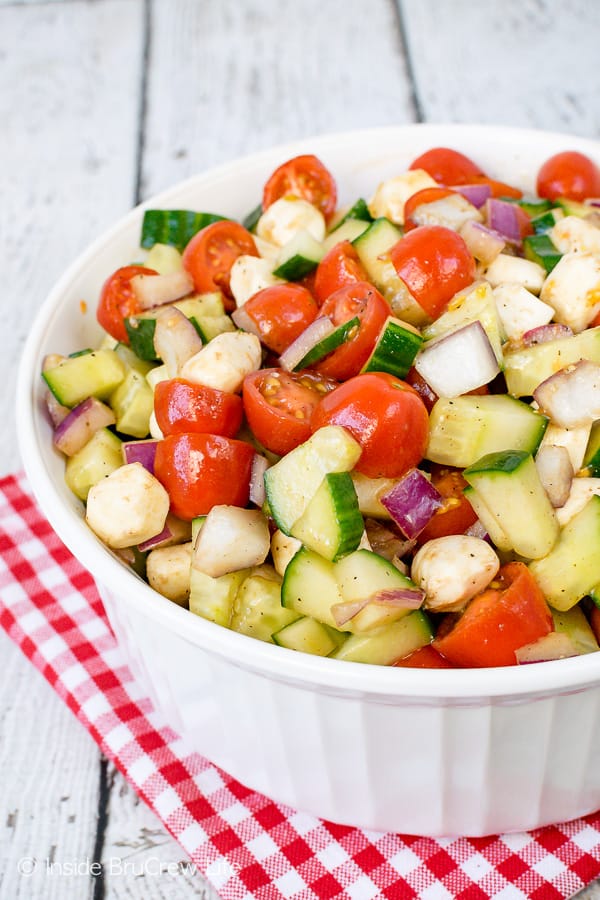 How to make Balsamic Caprese Veggie Salad
Dice your cucumbers and onions into small chunks.
Cut the cherry tomatoes in half.
Open the bag of mozzarella pears.
Stir everything together.
Drizzle with the dressing right before serving. (If you refrigerate the leftovers, the vinaigrette will thicken.)
More summer salads