The fresh veggies and oil & vinegar dressing in this Veggie Pasta Salad make it a delicious side dish for any dinner. It is an easy pasta salad recipe to bring to any summer picnic or barbecue.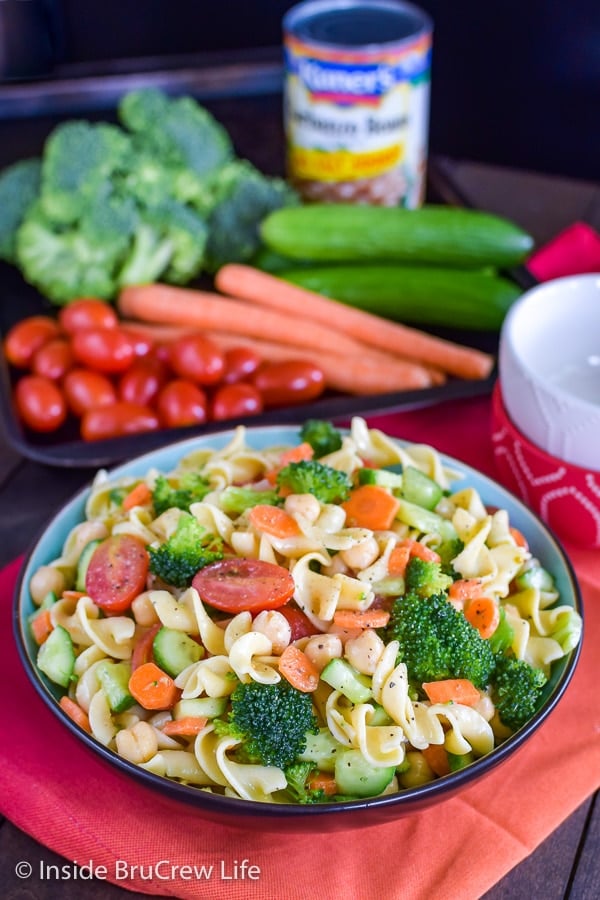 Pasta salad is one of our favorite things to make for dinners in the summer. I can't even tell you how many times we make and eat this Veggie Pasta Salad and this Pizza Pasta Salad over the summer months.
Everyone in our family loves this easy salad. Plus, pasta salad is the perfect side to any grilled food.
Burgers and pasta salad are delicious together. Ribs and pasta salad work well. Chicken and pasta salad are a great combo. See? It goes perfectly with all those summer dinners.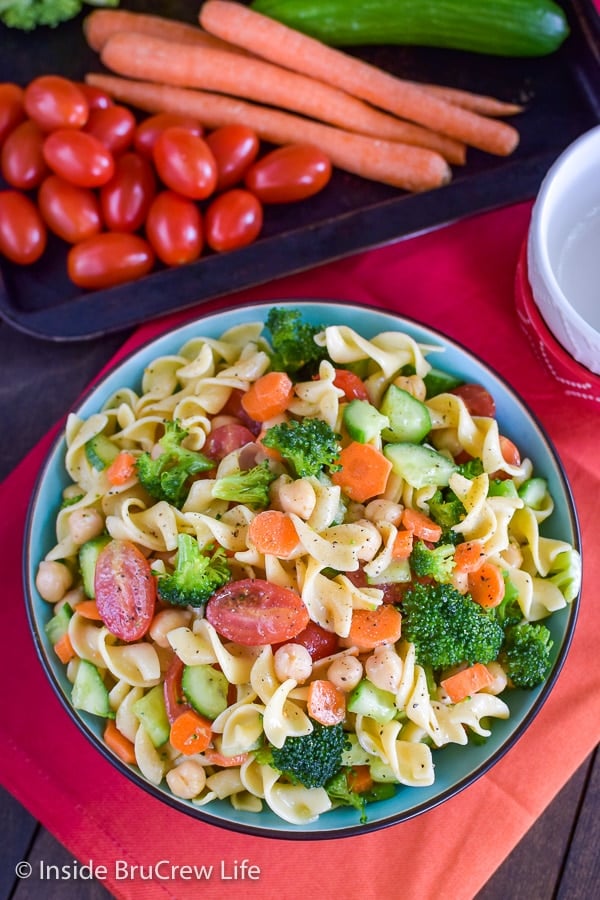 Each year for my birthday and Mother's day my husband and our kids make me the dinner of my choice. I usually choose this Bacon Shrimp Alfredo Pasta, but lately I have been craving this salad and burgers.
So, he and our younger two chopped veggies, while our oldest cooked the burgers on the grill. It is awesome now that the kids are old enough to help with dinner.
They were even talking about wanting to make one dinner a week all by themselves. I'm all for that because we all know how much I like making dinner.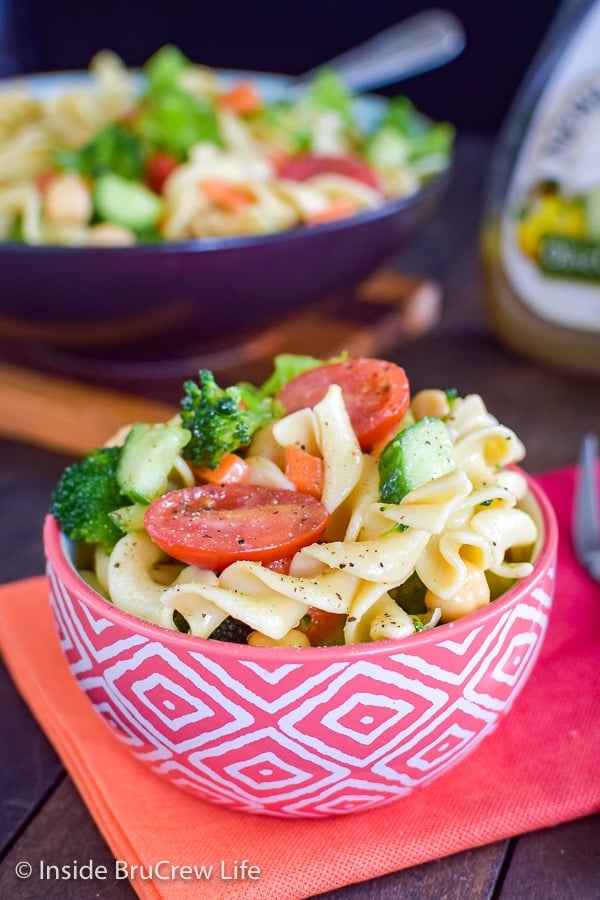 I have been making this easy pasta salad since I was a teenager. One of the church families that I used to babysit for always made it for church potlucks.
One day I asked her for her recipe, and it has become one of our family favorites over the years.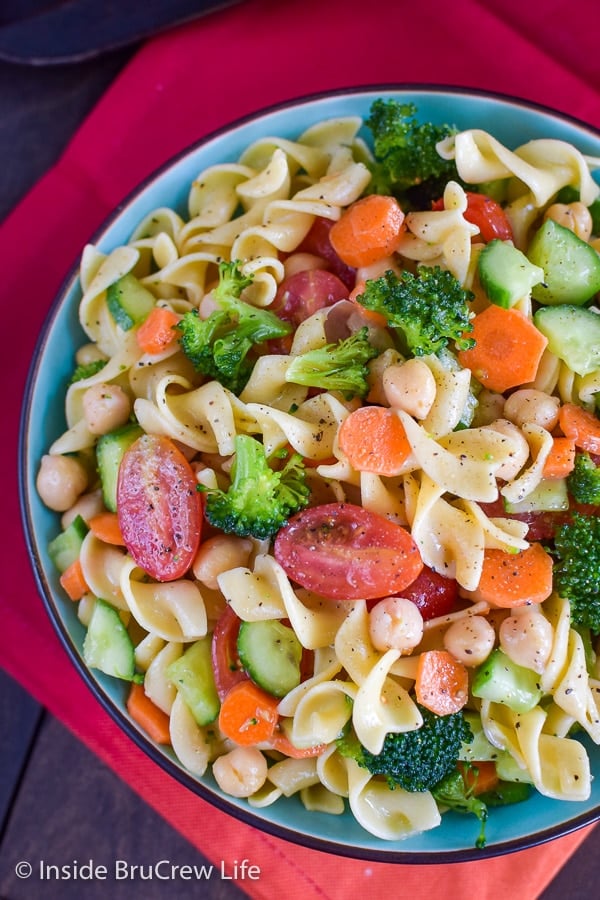 Feel free to make a mixture of oil & vinegar for the dressing. A good ratio to use is 3 parts oil to 1 part vinegar.
Or you can buy bottle of oil and vinegar dressing from the store. Either one works and tastes great.
How to make Veggie Pasta Salad:
Cook the noodles according to the package directions. You can use whatever pasta you like or have on hand. We usually use a wide egg noodle.
Chop and dice four different veggies into bite sized pieces. We like to do cucumbers, tomatoes, broccoli, and carrots.
Open and drain 1-2 cans of chick peas.
Stir the noodles, veggies, and peas in a large bowl.
Season to taste with oil and vinegar dressing and salt & pepper.
PRO TIP: You can also add cheese cubes and diced ham to make it a main dish. Or you can skip the noodles for a healthy carb free salad.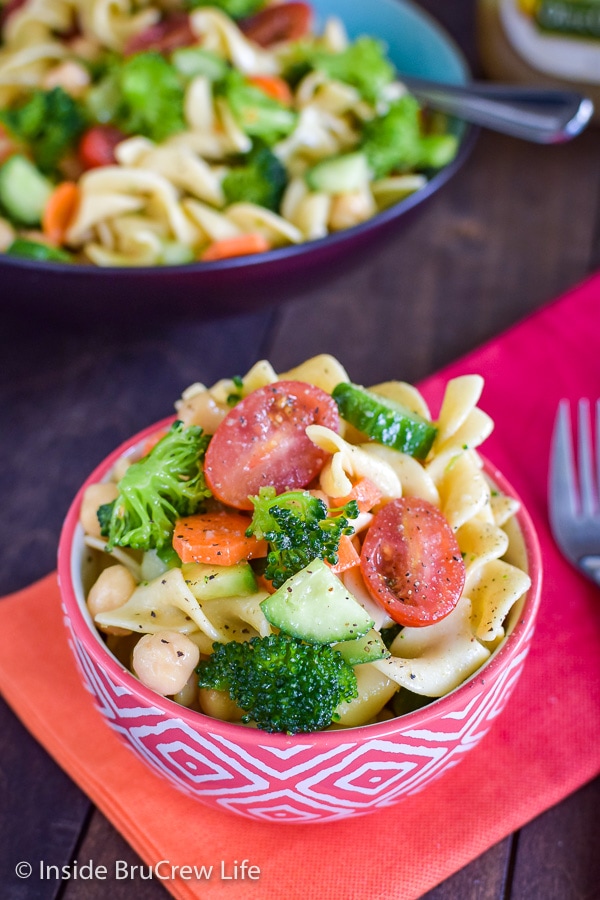 What do you serve this veggie pasta salad with?
More salad recipes you may like: