Looking for Picnic Salads for your next backyard party? Check out our collection of 31 delicious recipes that are perfect for summer celebrations. Whether you prefer fruity salads or the classic potato salad, we've got you covered. These ideas will definitely be a hit at your potluck.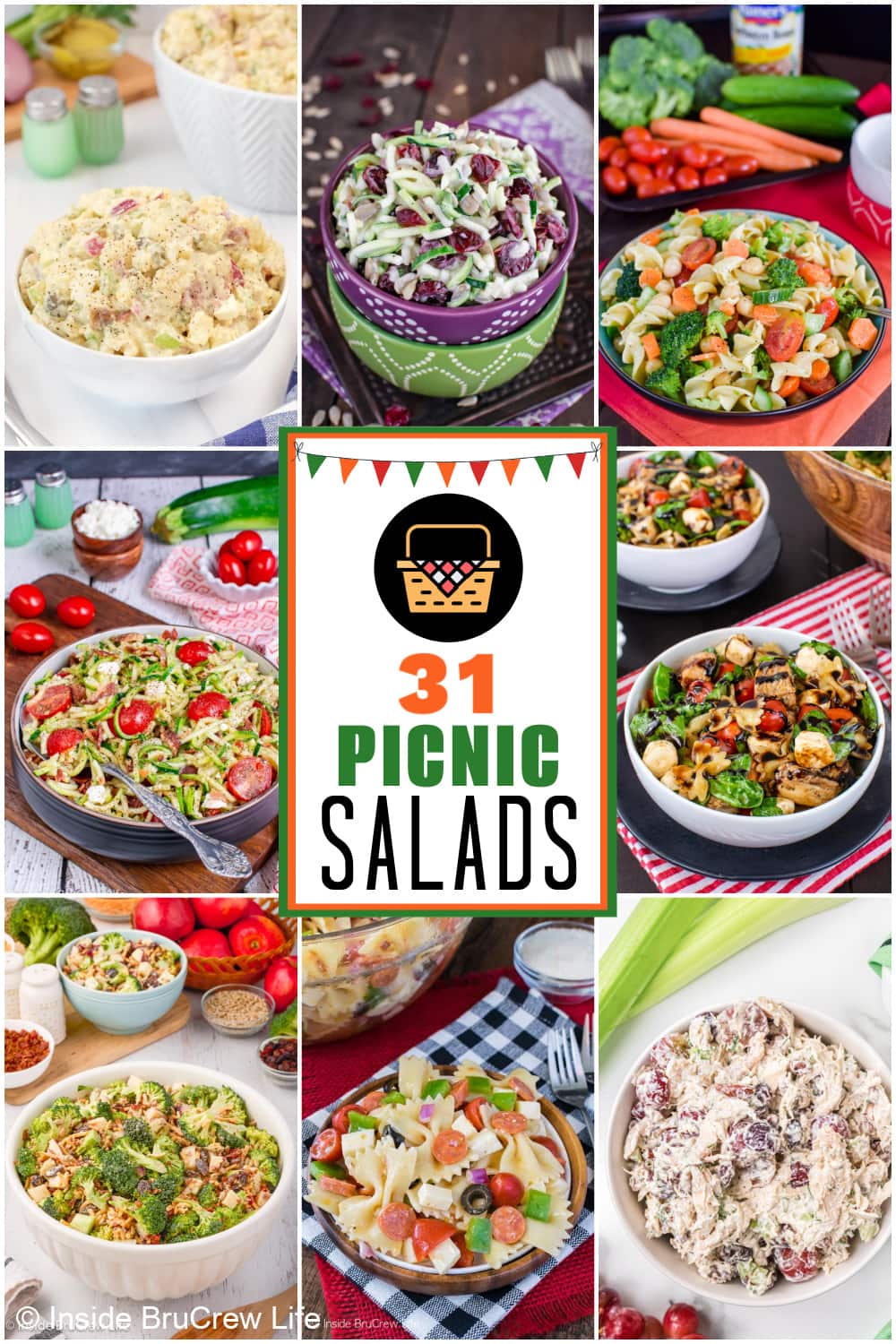 Jump to:
When it comes to potlucks and BBQs, my favorite thing is choosing what to eat. I absolutely love picnic salads. Whether they're creamy, crunchy, healthy, or sweet, I can never pick just one. Just pile it all onto my plate because tasting everything is absolutely necessary!
What are Picnic Salads
Picnic salads are a variety of salads that are enjoyed outdoors during summer picnics, barbecues, or other gatherings. They often combine vegetables, fruits, proteins, and grains, creating a balanced and flavorful dish.
These salads are convenient for travel, easy to serve, and can be doubled or tripled for a crowd. Whether heading to the park or the beach or having a backyard BBQ, a delicious cold salad is a great addition to the activity.
Different Kinds of Picnic Salads
There are various styles of picnic salads available to cater to everyone's taste. Some have fresh veggies, while others have cold fruit. You could have a salad with pasta or potatoes. Top them with a creamy dressing or season them with olive oil. As you can see, the options for easy picnic salad ideas are endless.
Pasta and Macaroni Salad - These use pasta as the primary ingredient. Add other toppings, such as cheese, vegetables, and some creamy or vinegar dressings for additional flavor.
Potato Salad - Made with boiled potatoes, this salad is mixed with mayonnaise or a vinaigrette, along with ingredients like chopped celery, onions, hard-boiled eggs, and herbs.
Tuna or Chicken Salad - These salads incorporate canned tuna or cooked chicken mixed with mayonnaise or yogurt, vegetables, and sometimes fruits or nuts.
Vegetable Salad - Different vegetables make great salads. Broccoli salad, cucumber salad, or caprese salad are popular choices.
Fluff Salad - These delicious salads are more like a dessert. They have a cream cheese or whipped cream base with fruit, cookies, or chocolate.
Fruit Salad - A refreshing option, fruit salads feature a mix of fresh fruits like berries, melons, citrus, and more in citrus-based syrup or yogurt.
When preparing salads for picnics, it's important to consider food safety. Use fresh ingredients, keep perishable items cold, and try to serve them within a reasonable time frame so they are safe to eat.
Basic Ingredients for Picnic Salads
To create the best picnic salads, you'll need a variety of fresh salad ingredients. Here's a list to get you started before your next picnic.
Fresh Vegetables - Broccoli, chopped red bell pepper, cucumber, tomatoes, red and green onions, baby spinach, celery, avocado, zucchini, corn, jalapenos.
Fresh Herbs - Fresh cilantro, chopped parsley, basil, dill, mint, pesto.
Fruits - Watermelon, berries, grapes, pineapple, melons, dried cranberries.
Pasta - Macaroni, penne, rotini, shells, orzo, or Farfalle cooked al dente.
Beans - Black beans, small red beans, garbanzo beans.
Potatoes - Russet, red potatoes, gold, Yukon.
Meats - Bacon, ham, grilled chicken, beef, pepperoni, tuna, shrimp, smoked sausage, eggs.
Whole Grains - Quinoa, brown rice, farro, cauliflower rice, couscous.
Dressings - Mayonnaise, sour cream, lemon juice, vinegar, Greek yogurt, honey balsamic dressing, red wine vinegar.
Nuts and Seeds - Pine nuts, sesame seeds, pepitas, pecans, sunflower seeds, walnuts.
Cheeses - Parmesan cheese, feta cheese, mozzarella, cheddar cheese, and goat cheese.
Additional Flavorings - Honey, kosher salt, black pepper, chili powder.
Oils - Extra virgin olive oil, sesame oil, avocado oil.
With these ingredients, you can create the perfect picnic salads for your next outdoor adventure. Whether you prefer a crunchy vegetable mix or a creamy pasta, these picnic salads will be a hit among friends and family.
How to Store Picnic Salads
Most salads taste best when served cold. Salads that contain dairy, hard-cooked eggs, or meat products need to be kept cold, or they will go bad. Keep the salad in an airtight container in the refrigerator until you are ready to enjoy it.
If serving at a picnic, keep it in a cooler with ice until it is time to eat.
FAQs
How do you keep salad cold when traveling?
The best way to keep salads cool is by using a well-insulated cooler. Place ice or frozen gel packs in the cooler and put your salad containers on top. Add more ice packs around the sides and top of the salad. Tightly seal containers to prevent any water from melting ice from getting into the salad.
How do you keep salads cool at a picnic?
Keep the cooler and table in the shade to minimize exposure to direct sunlight, which can heat up the contents quickly. Remove food before serving and place the bowls in a tray of ice.