A swirl of homemade chocolate whipped cream and fresh banana slices make these little Banana Chocolate Chip Cheesecakes a sweet way to end every dinner.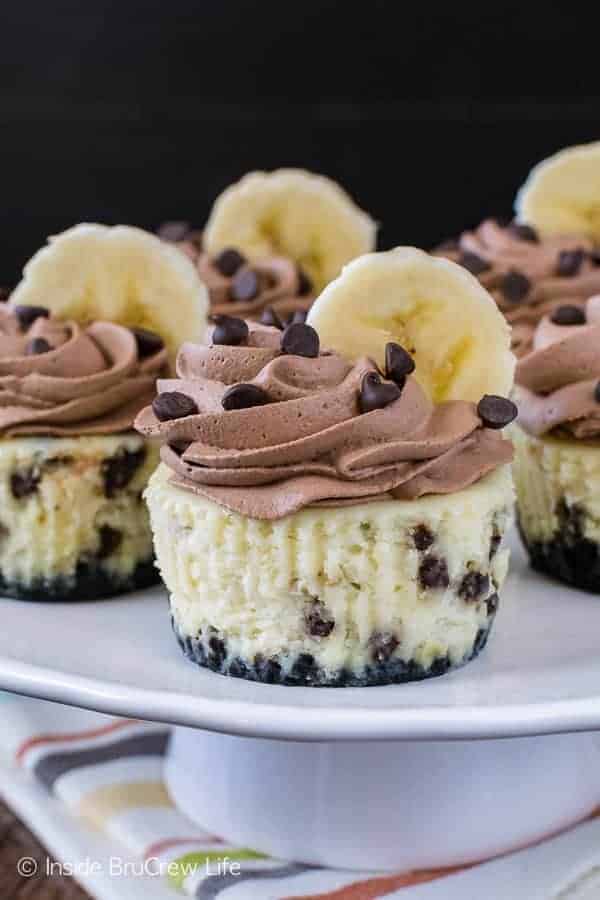 CLICK HERE TO PIN THIS RECIPE FOR LATER!
So last month I was going through some photo folders when I came across the pictures of these cheesecake cupcakes. Yup, it turns out that I have been holding this recipe hostage from you since last year.
Honestly, I did not do it on purpose because I would never purposely keep you from cheesecake.
The sad thing is that when I saw the pictures, I remembered making them...twice. They were so good that I made them for a dinner we were going to, and I made them again for pictures.
Then I promptly forgot about them. To be honest, we did have a busy couple of months. Now I'm wondering what else I have forgotten about...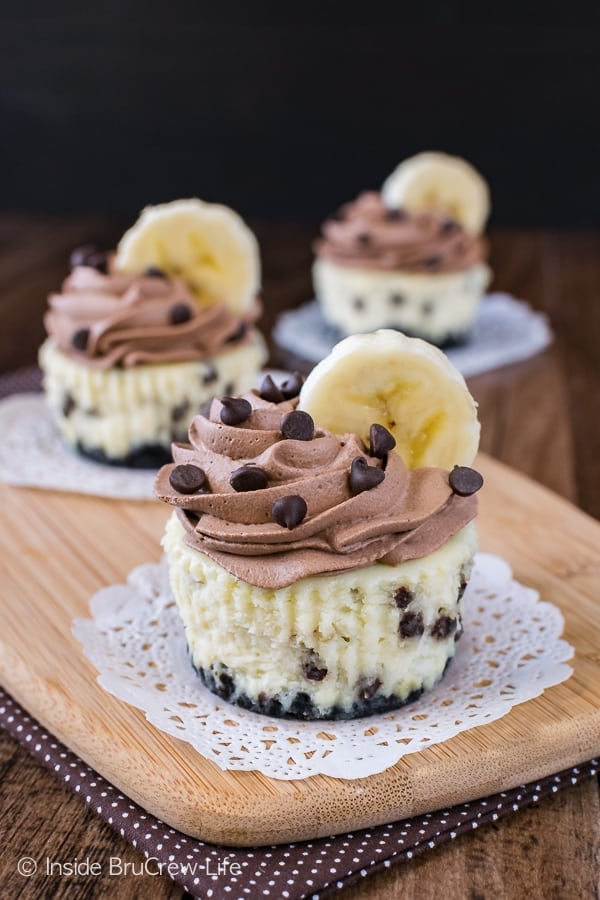 I guess if I can't remember what I have forgotten it can't be that important, right? Eventually something will jog my memory, and I'll finish up the missing projects.
Until then, let's just make and eat mini cheesecakes because we all could use more cheesecake goodness in our lives.
I highly suggest making these Chocolate Chai Cheesecakes and these Butterfinger Mousse Cheesecakes very, very soon too.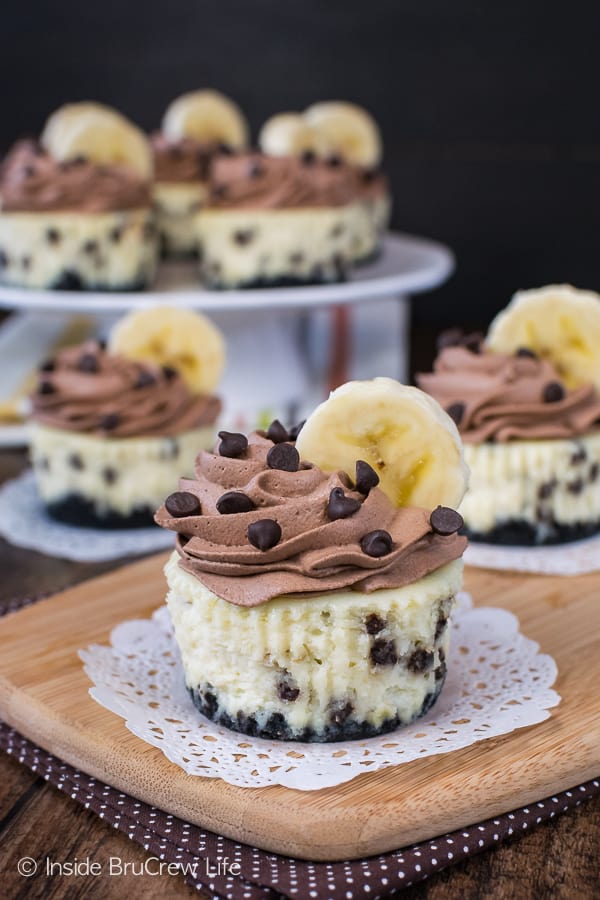 We had some extra ripe bananas sitting on the counter, so I decided to adapt a recipe from my Cheesecake Love cookbook to make more cheesecake cupcakes.
These banana cheesecakes are so easy to put together, and they are a fun and easy dessert to make for parties or bake sales.
How to make Banana Chocolate Chip Cheesecakes:
Crush the cookies with the cream filling still inside. Stir in the butter, then divide the crumbs evenly in the bottom of your cupcake liners.
Use something small to press the crumbs down firmly.
Beat the cream cheese and sugar until creamy. Add the sour cream, vanilla, and flour and beat again.
Pour in the mashed banana and egg and beat one more time.
Spoon the banana cheesecake batter evenly onto the prepared crusts and bake.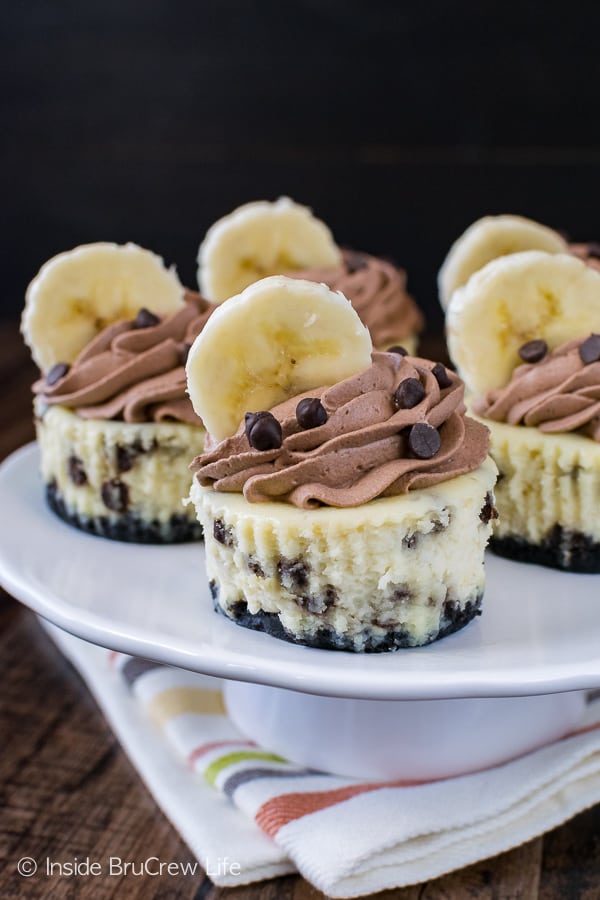 Recipe Tips for making Mini Banana Cheesecakes:
Make sure you let those bananas ripen completely before using them. I suggest buying TWO bunches of bananas when you do your grocery shopping. One to eat and one to let ripen for these cheesecakes and for the Best Banana Cake you will ever have.
Set out your cream cheese ahead of time. If you forget, unwrap it and microwave it for 20 seconds.
Do not over beat the batter once the egg is added because this can add air bubbles that result in cracks.
Bake the cheesecakes with a pan of water underneath the muffin tin. This adds moisture to the oven as they bake creating a creamy cheesecake texture. Remove the pan from the oven as soon as your timer goes off.
Let the cheesecakes completely cool before adding the extra toppings. A swirl of homemade chocolate whipped cream adds a fun flair to these little Banana Chocolate Chip Cheesecakes.
I recommend adding the fresh banana slice right before serving because they turn brown quickly.
The final cheesecakes are so thick and creamy and studded with lots of mini chocolate chips. Plus, that creamy chocolate topping is to die for!
Extra chocolate is always a good idea in my book.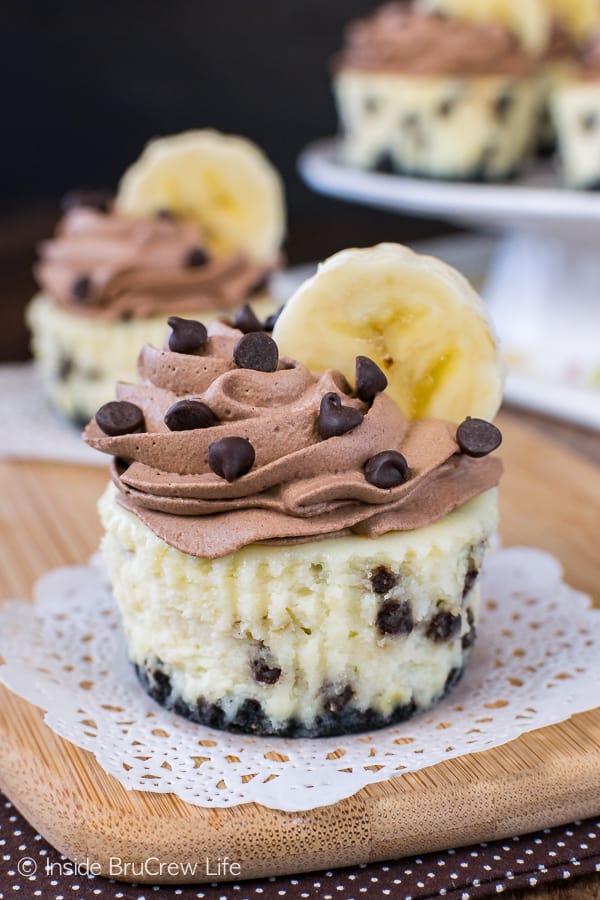 More mini cheesecakes recipes you may enjoy:

*The post for these Banana Chocolate Chip Cheesecakes was first published on January 24, 2018. It has been updated and was republished on October 21, 2019.
SaveSave
SaveSave
SaveSave
SaveSaveSaveSave
SaveSave
SaveSave
SaveSave