A slice of this Banana Toffee Cake with a hot cup of coffee is the perfect way to start the day. This easy banana cake recipe has a sweet cinnamon sugar swirl with toffee bits and chocolate chips in the center and on top, and it bakes up so gooey and delicious.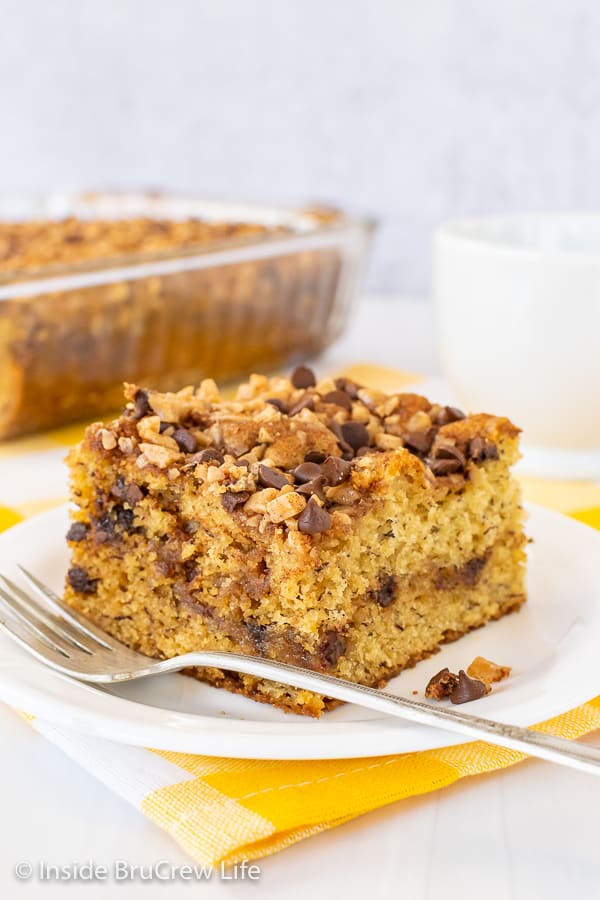 CLICK HERE TO PIN THIS RECIPE FOR LATER!
A few weeks I was at Walmart, and they had boxes of "baking" bananas on sale. I already have 2 large ziplock bags of ripe bananas in our freezer, but I decided to purchase a few more bunches.
It's safe to say we will be making lots of banana recipes for the next week. I'm not going to lie. I cannot wait for another slice of the Best Banana Cake, so that one is first on my list to make again.
So far this week we have made Chocolate Banana Bread, Peanut Butter Cup Banana Bread, and then we made this Banana Toffee Cake twice. And there are still a few bananas waiting to be use up...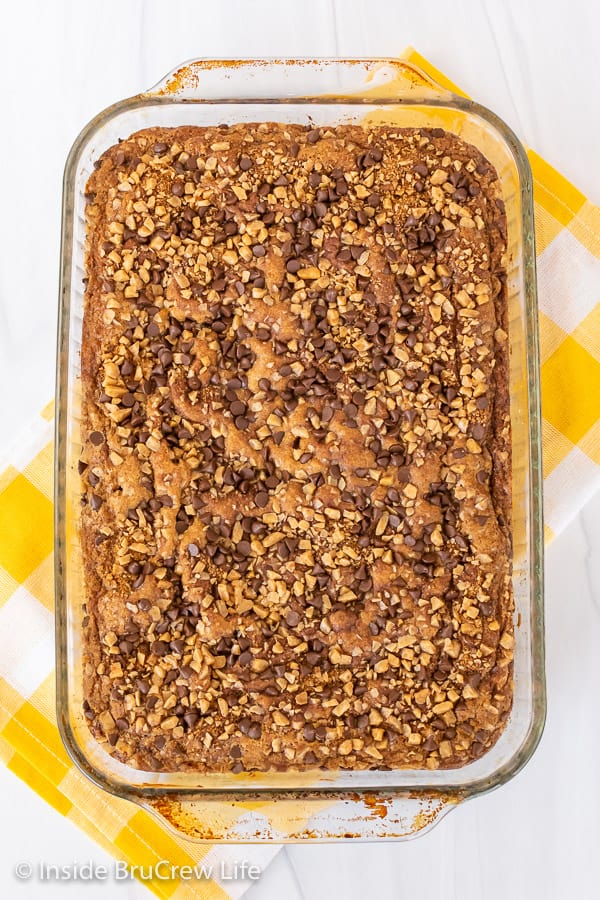 I have a feeling I'm going to need to freeze the few ripe bananas on the counter because I'm a little over baking with bananas right now.
Plus, that way we can make more Peanut Butter Banana Ice Cream. It's our daughter's favorite way to make a quick "ice cream" dessert.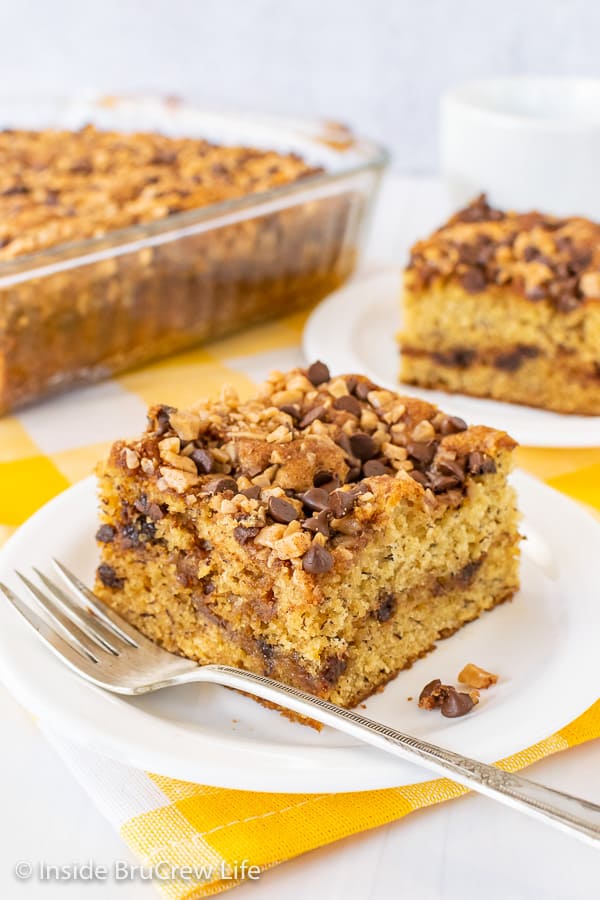 This banana cake recipe is one I found in an old Quick Cooking cookbook years ago, and we have been making it ever since then. The original recipe has you stir some of the topping ingredients into the batter, but I like to layer it instead.
The center bakes up gooey and delicious with that little cinnamon sugar swirl in the center and on top. Trust me. It's the best way to bake this cake.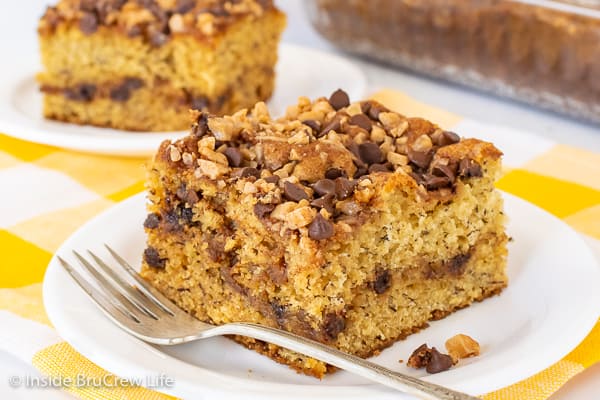 How to make Banana Toffee Cake:
Stir together toffee bits, chocolate chips, brown sugar, and cinnamon. Set aside.
Beat the cream cheese, butter, and sugars until creamy.
Add eggs, banana, and vanilla and beat again.
Slowly mix in the dry ingredients and beat until everything is mixed in.
Spread half the batter in a 9x13 pan. Sprinkle half the topping ingredients evenly over the top.
Repeat the layers and bake.
This easy banana cake is one that tastes amazing fresh out of the oven, but it also seems to get better as it sits covered on the counter.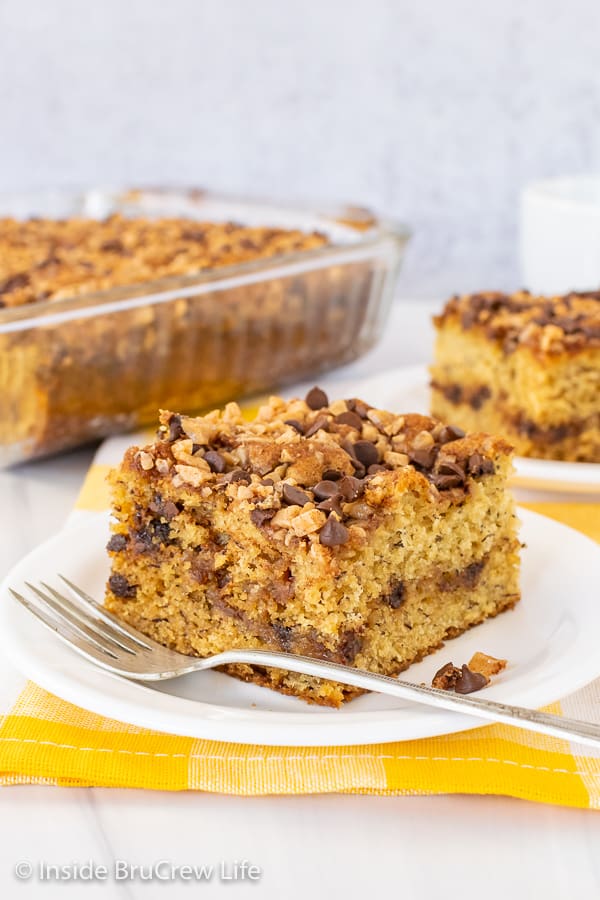 Other banana cake recipes you may like:
More easy banana recipes: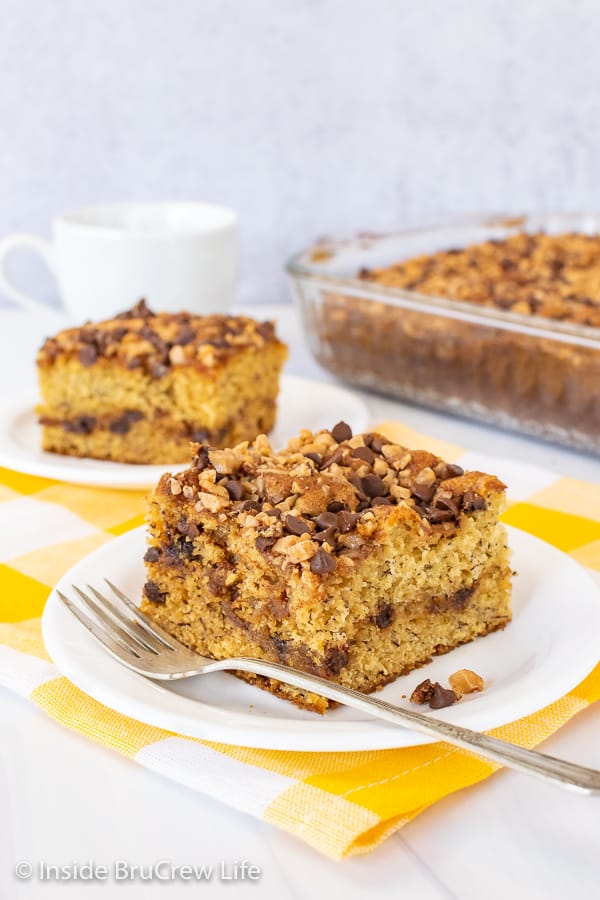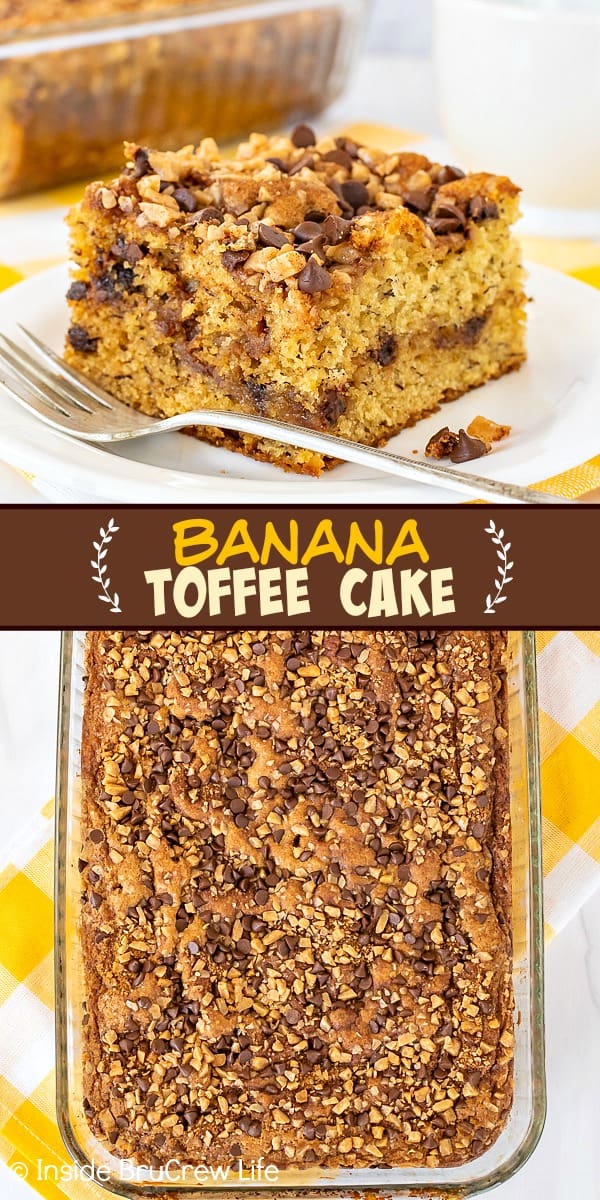 *The post for Banana Toffee Cake was first published on September 13, 2012. The photos and post were updated and republished on April 17, 2020.