These Cheesy Taco Taquitos are full of taco meat, cheese, and tomatoes.  They make a quick and easy 30 minute dinner for those busy nights.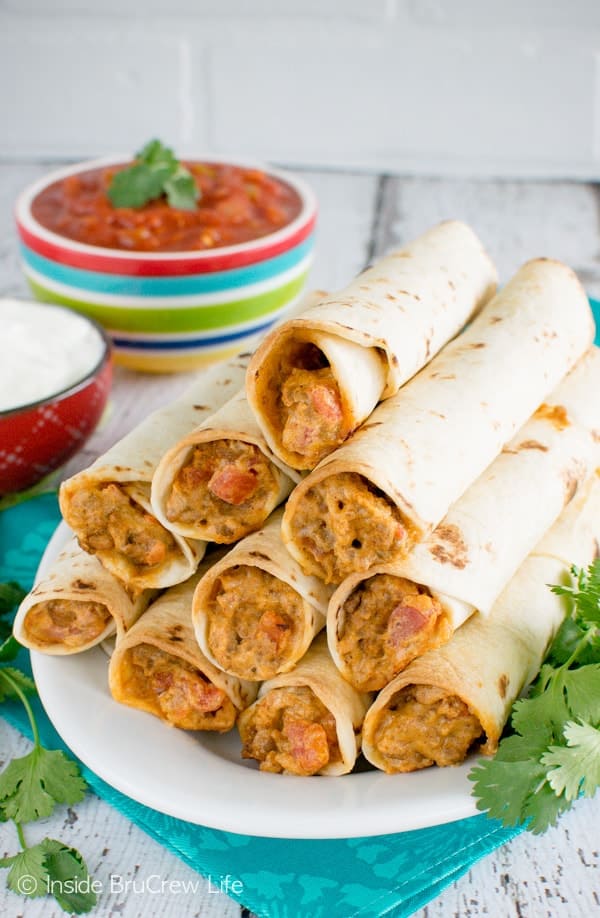 PIN IT NOW TO SAVE THE RECIPE FOR LATER!
The one thing that I can count on our family to eat are tacos.  Tacos and pizza are the two top things we eat almost weekly. And sometimes we even eat them as one thing…go taco pizza!!!
Last week we had extra taco meat that I had thrown into the freezer for a later meal.  We always make a big batch of taco meat, so that we can do extra meals with it throughout the week.  Nachos and salad are the two big ones that we will enjoy after a taco night. And of course, a batch of spicy guacamole is a must when we do all things taco related.
When I was in the freezer getting out some frozen bananas yesterday for my skinny raspberry mint smoothie, I saw the taco meat and decided something fun and different was needed for our taco Tuesday night dinner.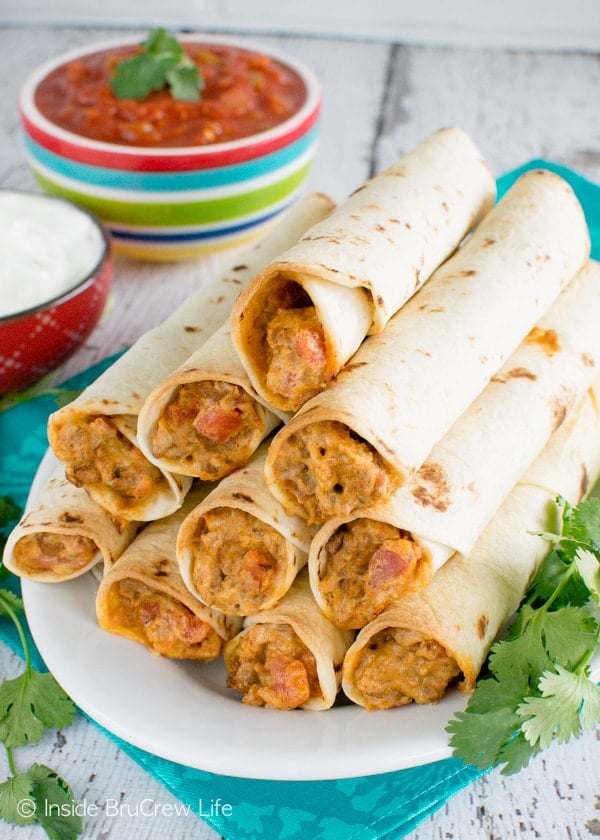 Of course, our taco consuming is not just limited to Tuesdays.  We do tacos any night of the week.  Thankfully it is a meal that every single person loves.  It just happened to fall on the famed taco Tuesday this particular week.
I mixed the extra taco meat with some cheese and tomatoes and then rolled it in some extra small flour tortilla shells we had on hand.
All three of our kids loved this fun and different taco.  Yay for finding something that they will eat since they are boycotting my sweet baking.  Of course, it's tacos, so I wasn't too worried about them not liking it.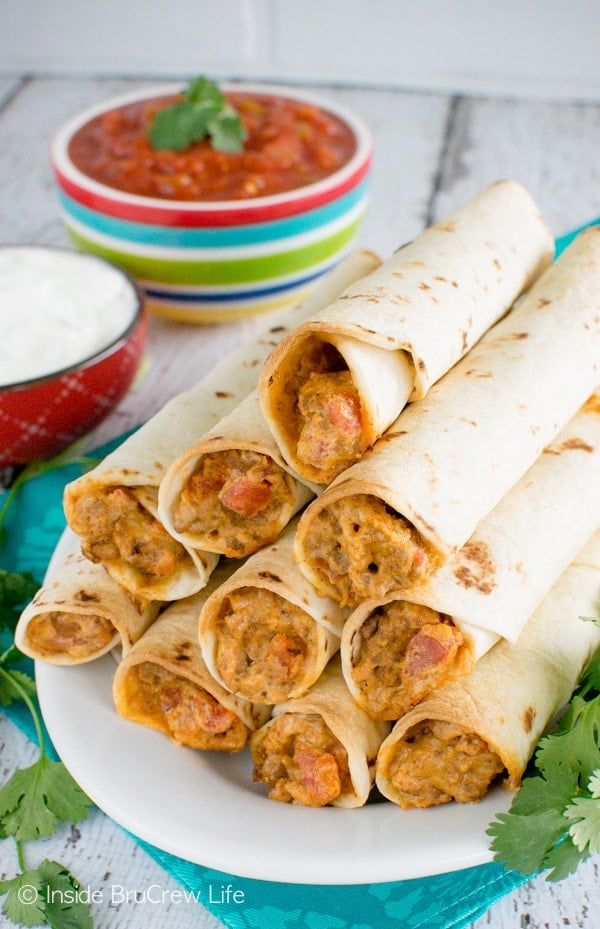 This taco mixture would be easy to make up in the morning, so all you had to do was fill the tortilla shells at dinner time before baking them. Any time saving tricks when the hungry monsters are begging for dinner is something I look for in a meal.
A little bit of the filling will melt and fall out of the cheesy taco taquitos at the ends while they are baking.  Lining your pan with parchment paper will make it easier to scoop up that filling and put it back in the ends of the rolls with a spoon, if you want.  Or just pick it up and eat it like I did…
Plus, lining the pan will save you one extra dish to wash later.  I'm all about lining every pan I use in the kitchen, so I don't have as many dirty dishes in my sink.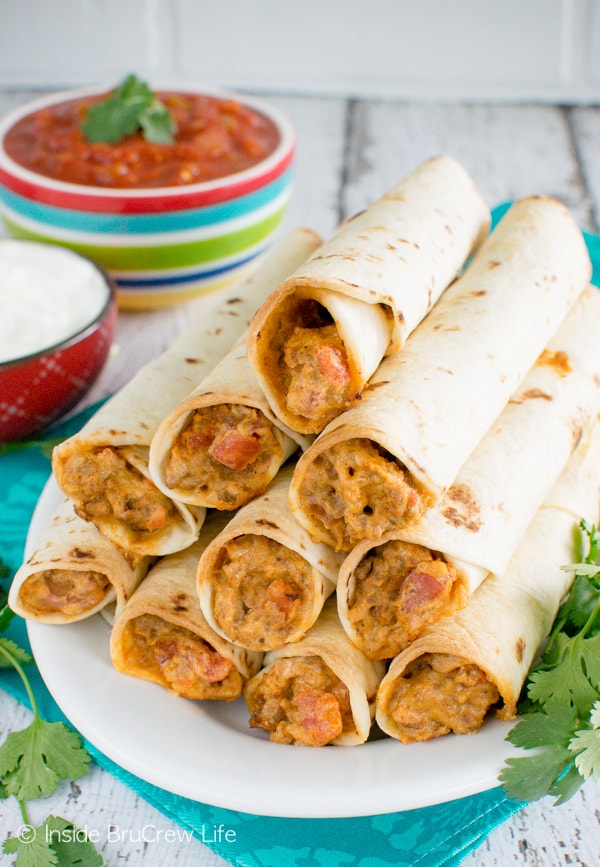 Stay up to date on all the BruCrew baking here:
FACEBOOK | PINTEREST | GOOGLE+ | TWITTER | INSTAGRAM | BLOGLOVIN
 Sign up to receive an email in your inbox for each new recipe:
EMAIL SUBSCRIPTION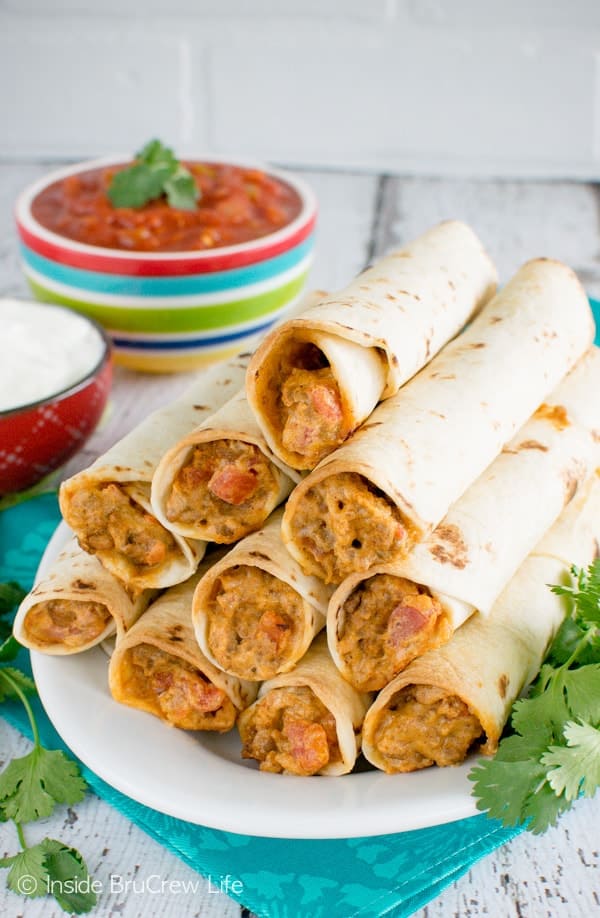 These Cheesy Taco Taquitos are full of taco meat, cheese, and tomatoes. Great 30 minute dinner idea for busy nights.
Ingredients
4 ounces cream cheese, softened
1/4 cup sour cream
1 Tablespoon taco seasoning
2 cups taco meat
1 - 14 ounce can diced tomatoes with green chilis, drained
1 1/2 cups shredded fiesta blend cheese
15 - 6 inch flour tortillas
salsa
Instructions
Preheat the oven to 425 degrees. Line a large baking sheet with parchment paper.
Beat the cream cheese until creamy. Add the sour cream and taco seasoning and beat until smooth.
Stir in the taco meat, drained tomatoes, and shredded cheese gently.
Lay the 15 tortillas out on the counter and divided the taco mixture evenly on each one.
Tightly roll the tortillas up and place seam side down on the prepared pan. Spray the tops of the rolls lightly with non-stick baking spray. Bake for 14-15 minutes. Remove and serve hot with sour cream and salsa, if desired. Makes 15 taco rolls.
Notes
*Lay the unbaked rolls flat on a baking sheet and freeze for 30 minutes, and then place in a freezer bag for later meals. Bake the frozen rolls at 425 degrees for 20 minutes.
https://insidebrucrewlife.com/cheesy-taco-taquitos/
Copyright Inside BruCrew Life

More ways we enjoy tacos around our house: