These Green Chile Pulled Pork Tacos are loaded with meat, cheese, and salsa. They are such an easy and delicious dinner for busy nights.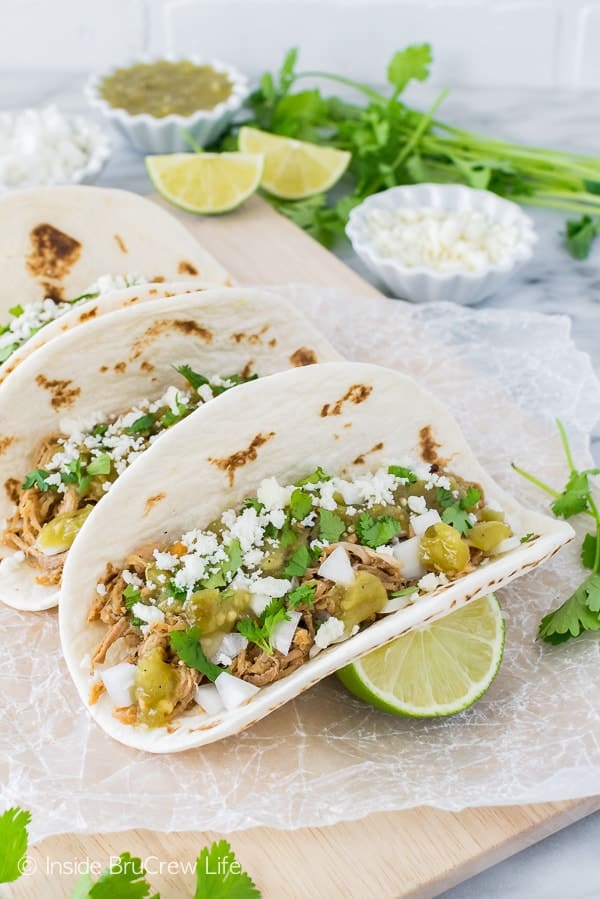 Are you ready for my current taco obsession? Last year I was all about these Caribbean Jerk Shrimp Tacos, and now I cannot get enough of these easy pork tacos.
It's funny how your tastes can change in just one year. Don't get me wrong, I still love to make or order shrimp tacos. But for the time being these tacos have gone to the top of my list.
My hubby and I love to go on dates to some of the local taco places in our town. Our absolute favorite place is Torchy's Tacos. They seriously have the best tacos, queso, and margaritas.
We are going to miss that restaurant when we move later this month. I guess that just means we need to scope out another fun date place in Florida.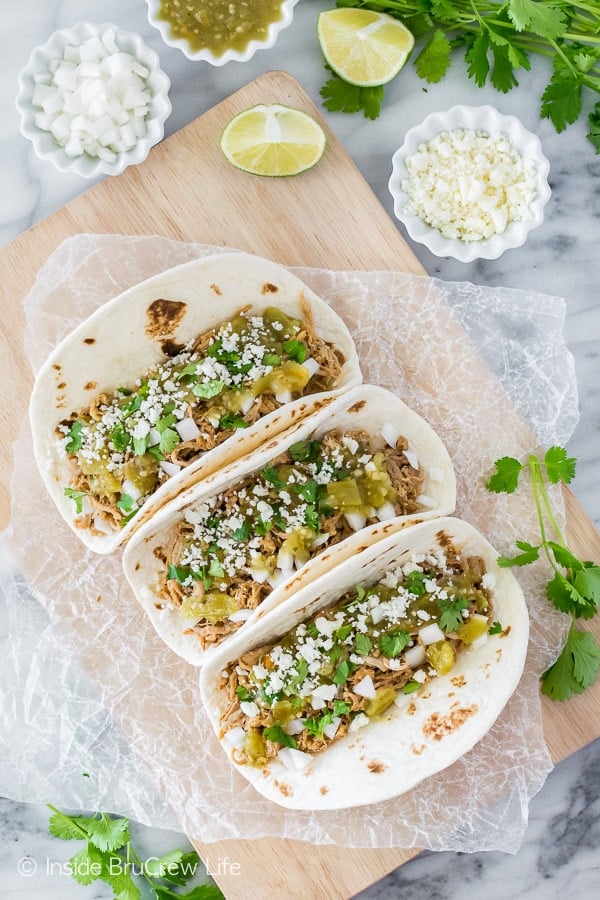 At least for now we can make these green chile pulled pork tacos at home. These are so easy to have ready for dinner after a busy day at work.
You just need to make a batch of Easy Slow Cooker Pulled Pork the day before, or you can put the tenderloin in your crock pot that morning. Either way, dinner can be ready in less than 30 minutes.
There really isn't an exact recipe for these tacos because you can fill them with as little or as much meat and toppings as you like.
I usually just put bowls of pulled pork, onions, green chile salsa, cilantro, and cheese on the table and let everyone go to town building their own tortillas.
The best thing is if you have leftover pork, you can make this BBQ Pork Pineapple Pizza the next night. Score major points with the family for having two delicious homemade meals in a row! Oh, yeah!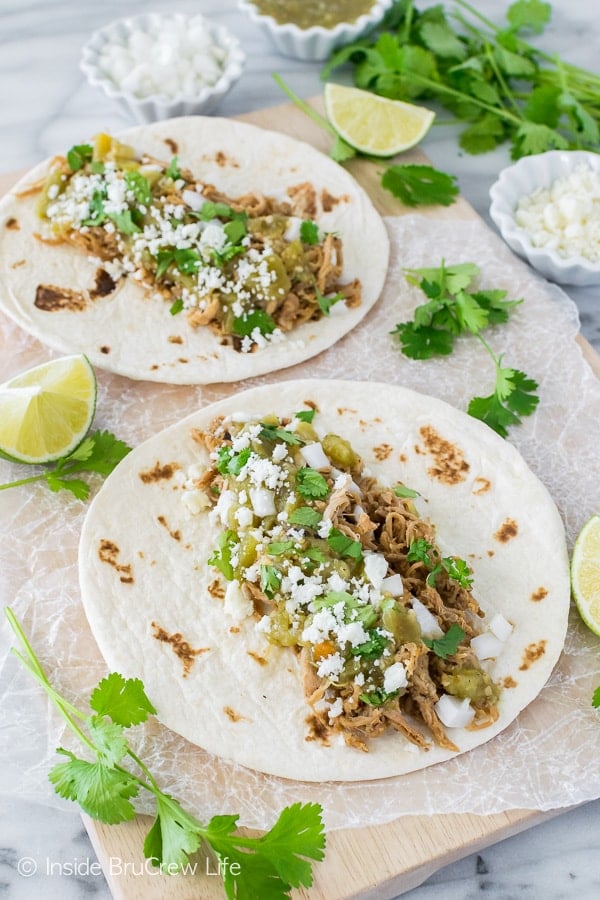 More easy taco recipes you may like:
These Low Carb Fish Taco Bowls are an easy way to give taco Tuesday a healthy twist that everyone will love.
Crispy Sriracha Ranch Fish Tacos loaded with a sweet and spicy coleslaw and crumbled cheese makes an easy and delicious dinner.
Taco Salad Bowls are a delicious and healthy 30 minute meal that satisfies everyone at the dinner table. They are simple, fresh, and easy to make.
These Cheesy Taco Taquitos are full of taco meat, cheese, and tomatoes. They make a quick and easy 30 minute dinner for those busy nights.
Enjoy Citrus Fish Tacos loaded with fruit and veggies for a quick and easy meal on Taco Tuesday.